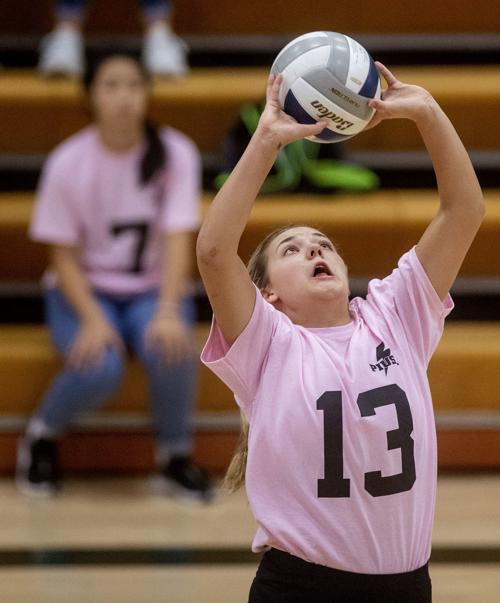 Three of the top-five teams in Class A battled against each other on Thursday night in the Lincoln Pius X triangular, and, as has been the case all season, No. 1 Papillion-La Vista emerged without a blemish on its record.
No. 4 Omaha Marian took on No. 5 Lincoln Pius X in the first match of the day, taking a 6-2 lead early in the first set. Pius then scored 15 of the set's next 17 points to take a commanding 17-8 lead en route to a 25-17 first-set victory.
The second set was a much tighter affair from start to finish. Pius managed to take a late lead, but Marian came charging back to tie the set at 23-23.
Lincoln Pius X coach Katie Wenz said she felt her team switched off mentally during the pivotal second set, but she challenged them to stay locked in and finish the match strong.
The Thunderbolts did just that, as kills from Alexis Markowski and Carly Rodaway gave them a 25-23 win. Lauren Taubehim led the way with 10 kills and Markowski added seven more to power Pius to the early victory.
After entering the triangular with a seven-match winning streak, Marian's tough day continued in a two-set loss to Papillion-La Vista. The Monarchs used two big runs to take set one 25-17 before Marian (16-10) pushed them to the limit in set two, a 25-23 Monarch win.
"That's been one of our challenges all season, just finishing," Omaha Marian coach Amy McLeay said. "We get up two or three points, but (we need to work on) sustaining a lead and not letting them go on serving runs."
In the day's final match, Papillion-La Vista put Pius on the ropes early with a big 12-4 lead in the first set. Pius steadily trimmed the lead to a five-point deficit but couldn't do much more, falling 25-18. The second set went to the Monarchs by the same score, 25-18, and by the same formula, as Pius (22-6) fell behind in the early stages and couldn't mount a comeback.
"You can't go down by seven to a team like that and expect it to be an easy comeback," Wenz said.
Norah Sis led the way for Papillion-La Vista in that match, recording 12 kills, but it was the team's defense that led to the victory. A strong blocking effort helped hold Taubenheim to just five kills as the Monarchs improved to 28-0.
"Our block got a lot of touches, and that allowed our defense to swarm around the ball," Papillion-La Vista coach John Svehla said. "I thought the block was the key to us playing defense well."
Lincoln Pius X played a pair of matches in a home volleyball triangular Thursday, defeating Omaha Marian and losing to Papillion-La Vista. Jou…
Get in the game with our Prep Sports Newsletter
Sent weekly directly to your inbox!