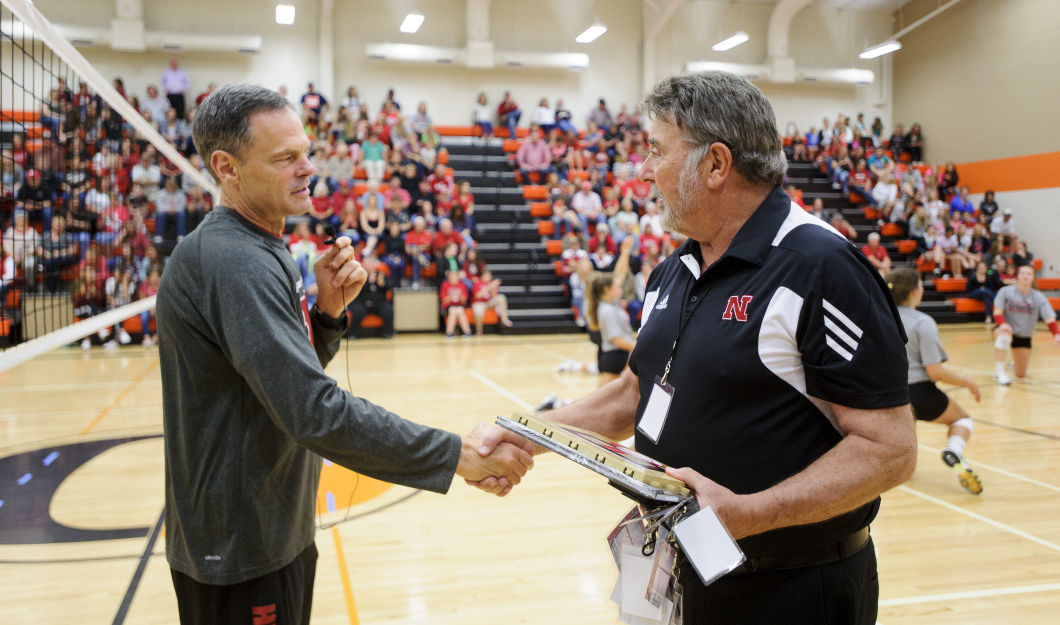 Steve Morgan has been in the front row for 45 years, watching the evolution of high school volleyball.
He has seen it all, but the continual rise in skill level in this state continues to amaze him.
"When I look back, way back when it was two out of three to 15 points, there was no thought of a rally score," Morgan said. "And now the skills these kids have, I don't care if they're 5-5 or 6-1, kids and coaches are getting better and better and learning the sport.
"Every year I just ask my wife how much better are these teams going to get in Nebraska? (Husker coaches) Terry Pettit and John Cook had a heck of a lot to do with that."
Ask any high school or youth volleyball coach, and they'll tell you Morgan had a similar influence — from coaching his high school teams to the thousands and thousands of hours he puts into his youth camps, teaching the basic skills.
Morgan, considered a pioneer in high school volleyball in Nebraska, is stepping down after 45 seasons at Ogallala.
"It was a tough decision," said Morgan, who was inducted into the Nebraska High School Sports Hall of Fame in 2012. "I still have the energy and I have a passion for the game. But I just think after my 45th season that it was time, at least for now, to step back, take a look at things and go on."
Morgan is held in high regard from border to border in this state. The Nebraska volleyball team played an exhibition game in Ogallala in 2016. The selection of Ogallala as the host site was a salute to Morgan and what he had done for the game, Cook told the Journal Star at the time.
Morgan created a dynasty at Ogallala. He led the Indians to three state championships (1975, 1983 and 2000), four state runner-up trophies and 30 state tournament appearances. He is second in the state in career wins, and was closing in on No. 1,000.
That's a lot of winning. But Morgan said he'll remember the kids more, and the work they put into the sport.
Morgan, who didn't completely shut the door on returning to coaching in the future, said he met with the team a few days earlier to deliver them the news.
"When they told me goodbye the other day, that was pretty tough," he said.
Though Morgan is stepping away from high school volleyball, he's not leaving the sport. Morgan has put on camps throughout the state for years, drawing players from across the country and Canada, and he intends to keep doing that.
It keeps him young, the 72-year-old said.
"I think right now my biggest passion is working with young people and bringing them up with mastery of the volleyball skills," Morgan said. "That's always been a passion of mine, to improve young kids, and I want to follow through on that.
"Just to even see a first-grader, a fourth-grader getting their foundation down on the passing, on the setting, on the serving, all of those fundamental skills that are so important to winning, then I can sit back and watch them in a little tournament and then a state championship, just to watch the improvement."
Morgan said he couldn't have done it without his wife, Kate, and their three children, Ryan, Amanda and Lindsay, who is an assistant volleyball coach at Ogallala.
"They got me through most of it, just their support," Morgan said.
Yes, Morgan will remain heavily involved in the sport of volleyball, but he'll have some more flexibility in his schedule to do a couple of things he hasn't had time for.
He was exchanging text messages with Cook about that on Wednesday night.
"I told him I wanted to come down and finally have an opportunity to watch some Husker volleyball," Morgan said. "He thought he could find a place for me."
MARRIAH BUSS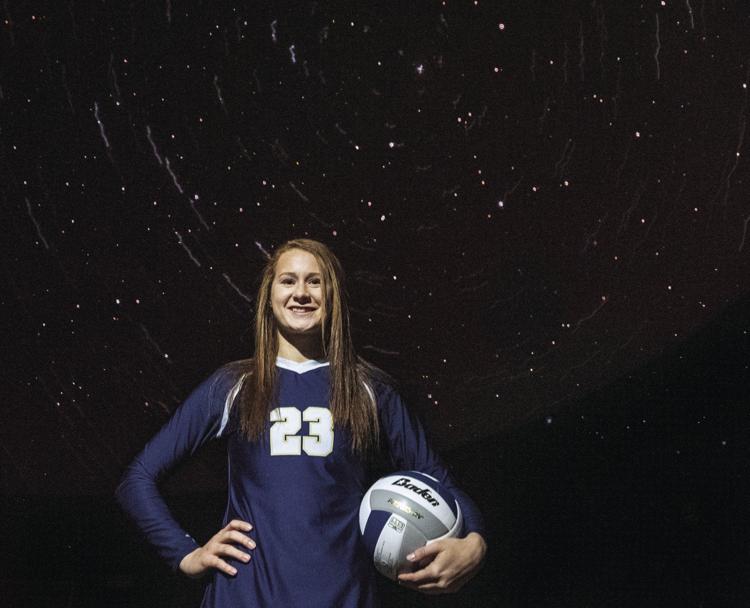 Honorary captain
Lincoln Lutheran, 6-0, jr., OH
College: Wichita State.
Reaching for the stars: The junior racked up a staggering 637 kills to lead the state while also finishing second in hitting percentage at .437. Buss also put up increased numbers in digs, aces and blocks while leading Lutheran to the state runner-up finish. Her career kill total now sits at 1,748 so if she continues producing as she has, she'll in line to reach 2,000 career kills. 
Coach's view: "It's something that other teams dread going up against. They will try to key in on (Buss) or triple block her so we have to have other options other options around her but it sure is nice to have a player that is significant enough that other teams know they have to focus in and try to challenge her. Marriah is that player. She's put in a lot of hard work and dedication on the court for us and our success shows that." — Lincoln Lutheran coach Sue Ziegler.
FALLON STUTHEIT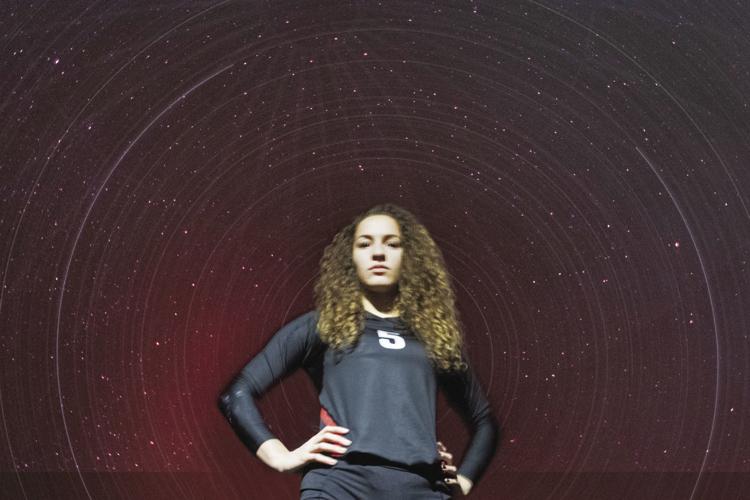 Johnson-Brock, 6-2, sr., MB
College: Nebraska.
Reaching for the stars: The future Husker recorded 475 kills in her final season, slightly below her average over the past two years, but Stutheit still found a way to succeed with defenses focusing on her. She finished third in the state with a .415 hitting percentage while her defense remained intimidating at the net. Johnson-Brock fell short of its fourth straight title, but Stutheit's three titles and Super-State appearances make her a lasting figure in the Eagles' history book.
Coach's view: "Fallon is really easy to coach. She has a passion for volleyball and has so much natural ability. She's grown into a strong leader and worked hard to guide the underclassmen this year. Her competitive nature and determination were truly the driving force behind many of our wins. I think she's left a nice legacy as an Eagle both on and off the court." — Johnson-Brock coach Tera Stutheit.
KAYLNN MEYER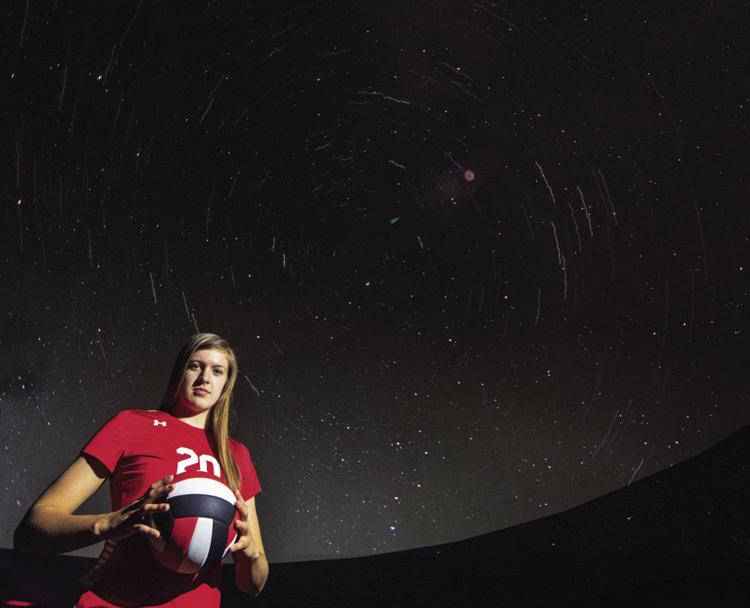 Superior, 6-3, jr., MH
College: Nebraska.
Reaching for the stars: Meyer finished just outside the top five kills leaders in the state this season with 524, and her digs and service ace numbers were both up from a dominant sophomore season. Her impact on the court guided the Wildcats back to the state tournament, where she recorded 57 kills over three matches. Meyer's athletic prowess goes well beyond the volleyball court — she was the Journal Star's female athlete of the year last season — but volleyball is clearly her future.
Coach's view: "Kalynn is an amazing kid and a joy to coach. She's smart, kind and extremely gifted when it comes to sports. She works very hard in the weight room. She has worked hard to develop, not only her front-row play, but back-row defense and passing as well. Kalynn brings intensity and leadership to our team, and yet stays humble and has fun through all the pressure." — Superior coach Kelsea Blevins.
EMILY BRESSMAN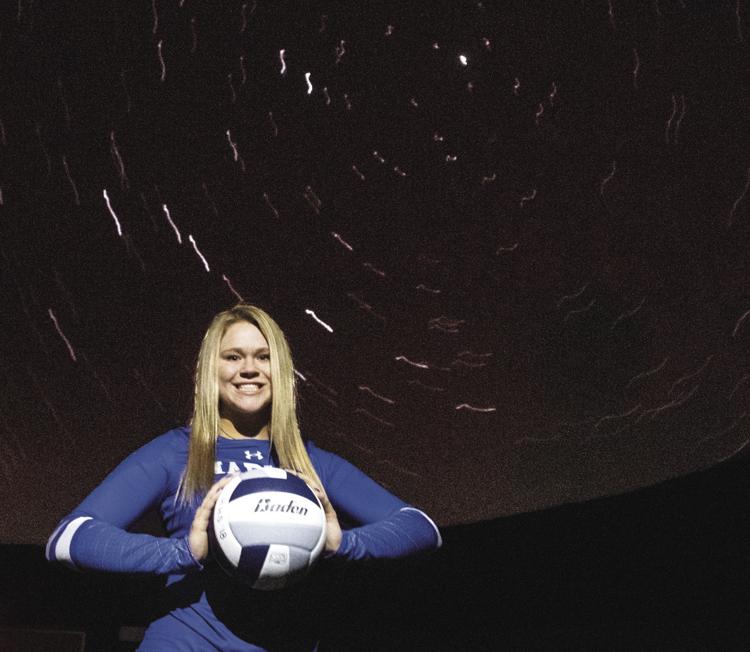 Omaha Marian, 5-11, sr., OH
College: Creighton.
Reaching for the stars: Bressman may have saved her best season for last. She recorded 435 kills, her highest total in high school, while adding 420 digs, her highest season total by nearly 100. Bressman also broke the Marian career kills record, which is no small feat, with 1,412 kills over her four seasons. The Crusaders lost several players to Division I schools after their state title last season, but Bressman guided a fresh-faced Marian squad to the semifinals before losing in a five-set thriller to Lincoln Pius X.
Coach's view: "Emily is a competitive leader. She has had a tremendous impact on Marian volleyball and each season has strived to improve on different aspects of her game. She is self-motivated and always looking for ways to win, whether it is in practice or during a match." — Omaha Marian coach Amy McLeay.
LINDSAY KRAUSE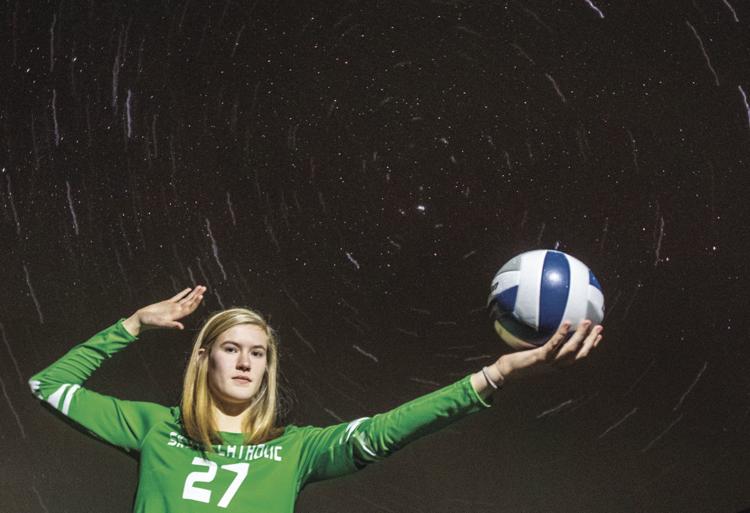 Omaha Skutt, 6-3, so, OH
College: Nebraska.
Reaching for the stars: Krause missed several games at the start of the season due to U-18 Youth National Team duties, but once she returned to high school competition, there was no stopping her. She played in only 77 sets, yet recorded 260 kills to help push the SkyHawks to their fourth straight Class B state title. Her block numbers were up from last season despite playing 34 fewer sets.
Coach's view: "Lindsay brings a new dimension to our team. She has the ability to take over matches with her attack and block, but also plays within our system. This season she learned that she does not have to do everything perfectly or on her own. She learned to play hard at all times and not worry about making mistakes, and to let the game come to her. She is also a very competitive person who holds her teammates accountable in practice and in games. She is respected by everyone on the team even though she is only a sophomore. She is a team player who has a desire to succeed." — Omaha Skutt coach Renee Saunders.
McKENNA RUCH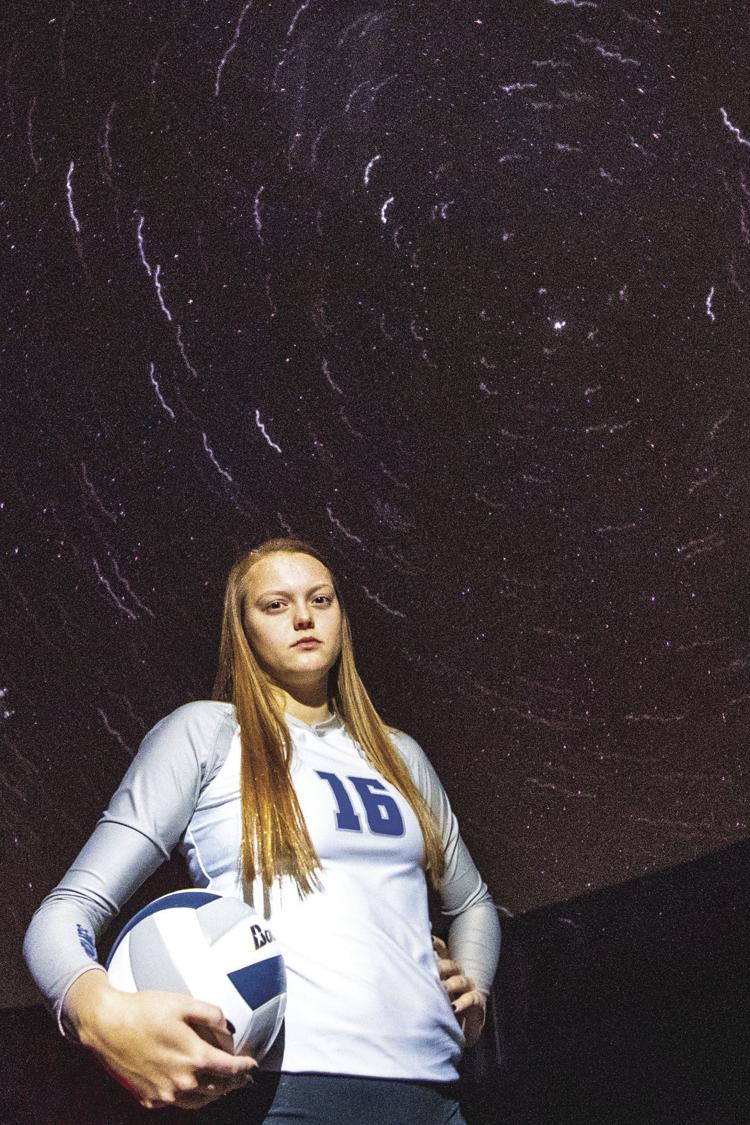 Millard North, 6-1, jr., OH
Reaching for the stars: Ruch helped bring Millard North its second title in three years behind 362 kills and 75 total blocks. On a Mustang team loaded with talent, Ruch found a way to stand out as a versatile player. She recorded 363 digs this season, nearly 300 more than her sophomore or freshman season totals. She's now just 15 away from 1,000 career kills, and she'll be the key factor in the Mustangs' quest for back-to-back titles next season.
Coach's view: "McKenna played a major role in our state championship run this year. We used her as a full six-rotation player, which allowed us to use her as an offensive weapon in the front and back row. Night after night McKenna led the teams in kills. She had the second-highest digs on the team as well and is one of the best full six-rotation players in the state. One thing that stands out about McKenna is her volleyball IQ. She is extremely smart and sees the court very well." — Millard North coach Lindsay Peterson.
IZZY LUKENS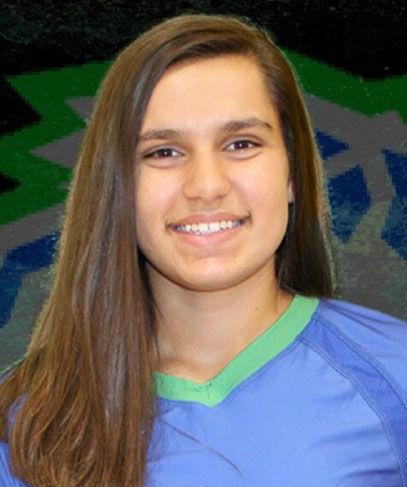 Millard North, 5-10, jr., S
College: Arkansas State.
Reaching for the stars: The Mustangs couldn't have found a better setter to lead their high-powered offense than Lukens. She finished with 1,103 assists, which placed her fifth in the state. She also broke the 100-kill mark as a setter with 123 and added 44 ace serves and 41 total blocks to her resume, all coming as season highs. Lukens has recorded a staggering 3,342 assists during her Mustang career and she, alongside Ruch, will be back next season.
Coach's view: "Izzy has been running a 5-1 for us since she was a freshman. As a freshman we knew she was going to be special. Her court awareness is incredible. She sees the other side (of the) court, not just the blockers, but the entire court. She isn't just a setter, she is an offensive threat. Many nights Izzy's stats showed her hitting percentage was extremely high. Because she reads the court so well, she strategically places the ball on the other side of the court aggressively. She has some of the best hands and ball placement I have seen." — Millard North coach Lindsay Peterson.
Get in the game with our Prep Sports Newsletter
Sent weekly directly to your inbox!