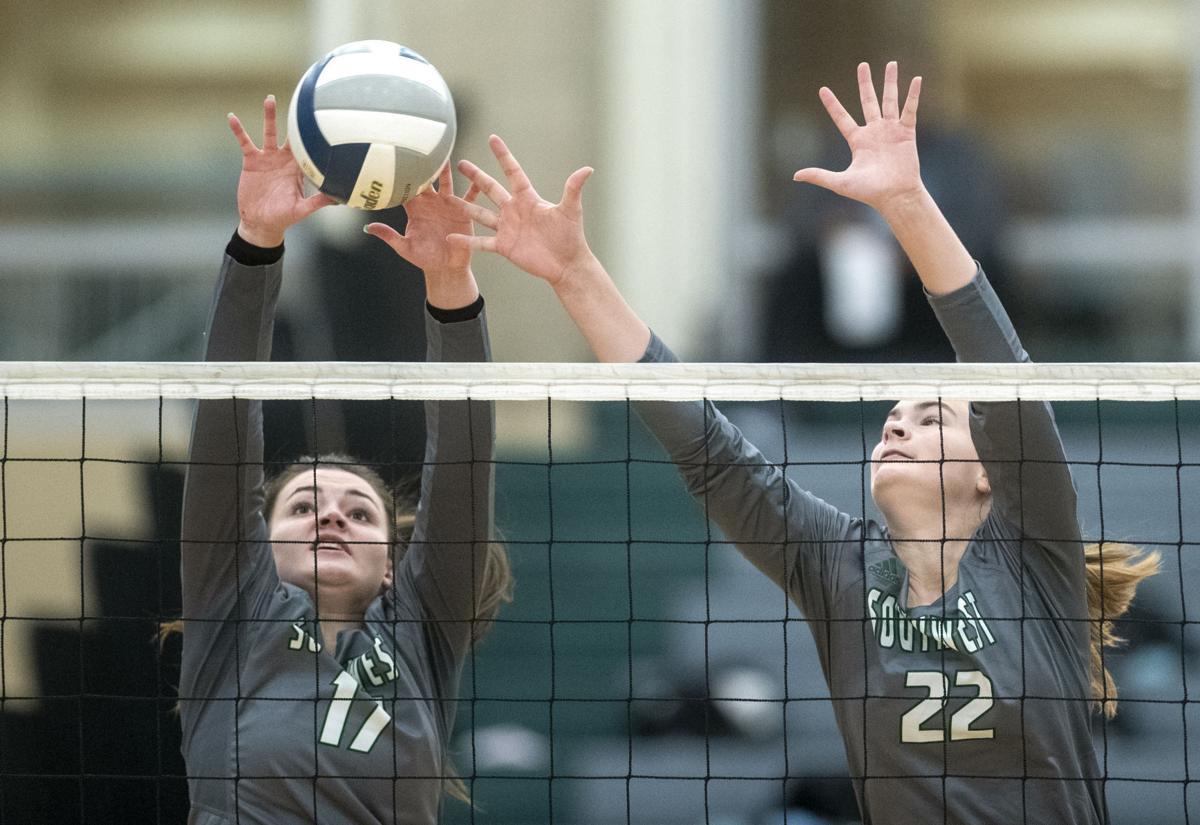 Class A No. 2 Lincoln Southwest looked ready to contend for a state title at home on Wednesday night.
They'll get their chance in one week in the state volleyball tournament.
Lincoln Southwest was a well-oiled machine to start the first set. The Silver Hawks sprinted out to a 15-2 lead and didn't let up on their way to a 25-13, 25-16, 25-12 sweep of Norfolk in the A-3 district final.
The Silver Hawks' season started with a 3-0 sweep of Norfolk and it's come full circle as this 3-0 sweep sends them to the state tournament.
"We're super excited," Silver Hawk Shaylee Myers said. "I think we've gotten much better over the season. We're ready to go to the state tournament and go all out."
Lincoln Southwest coach Mark Novotny said they have to be able to bring it every match.
"No matter who it is, we have to bring the energy all of the time," he said. "We played much better than I felt like we did yesterday, and it's a bigger match. Very happy with how we finished it out."
Myers led her team with 18 kills, while fellow senior Courtney Holsteen hit another nine.
With the win, Lincoln Southwest likely will secure a top-three seed in the state tournament. Novotny said there's a significant difference in pressure when you're in the top half.
"If you're the 5-, 6-, 7- or 8-seed, it's a little bit of an underdog mentality. I think the pressure is on a little bit more to defend that top-half seeding. The pressure is there, but there's a lot of options of who could be our first-round opponent, and I think the girls are excited and ready to take on any of them."
The two major challengers to Lincoln Southwest's title chances in Class A are top-rated Papillion-La Vista South and No. 3 Millard West. They're likely to meet one of them if they win their opening-round match.
"If we see Millard West in the semis, it will be a big grudge match," Novotny said. "We're 1-1 with them. It's going to come down to who can finesse the other one because both matches were pretty one-sided at different times throughout. … As far as Papio South, a couple of teams have knocked a couple of sets off of them but that's about it. We're going to have to be doing everything as well as we can, and we're going to have to get a little bit of luck on our side."