CLASS A
Gretna--Jadyn Makovicka, Baylie Shearer, Lydia Yost; Kearney--Jordyn Kohlz, Ashton Mehlin, Alexis Mishou, Lily Novacek, Aspen Rusher, Claire Vanderbeek, Adi Wood; Lincoln North Star--Bekka Allick, Cassandra Corral; Lincoln Northeast--Logan Gronewold, Maddie Bahm; Lincoln Pius X--Morgan Christiansen, Alexis Markowski; Lincoln Southeast--Brittnay Wulf; Lincoln Southwest--Jaden Ferguson, Mariah Zcolanek; Millard North--Emma Grunkmeyer, Allie Kerns, Samantha Steele; Millard South--Sam Steele, Jaisee Stinson; Millard West--Gaby Nordaker, Hailey Peterson, Bailey Wilson; Norfolk--Anden Baumann, Alex Ruth, Gabby Ruth; Omaha Central--Delaney Demman, Peyton Preston, Savanna Vacek; Omaha Marian--MC Daubendiek, Ellie Miller, Sophia Moes, Ashely Straub, Hailey Zuroske; Omaha Northwest--Taniya Golden; Papillion-La Vista--Erin Broin, Chloe Paschal, Samantha Riggs, Brooklyn Schram; Papillion-La Vista South--Mara LeGrand, Leah Palensky.
CLASS B
Alliance--Jordan Hopp, Ryley Rolls; Aurora--Paxtyn Dummer, Cassidy Knust, Adde Smith; Beatrice--Mariah Allen, Devyn Burroughs, Makenzie Hatcliff, Mckenzie Osborne, Alexis Thavenet; Bennington--Grace Jensen, Elizabeth Rupprecht; Columbus--Jaidyn Garrett, Kylie Wisehart; Crete--Ellie Allen; Elkhorn--Emma Crouch; Maggie McElhose; Elkhorn South--Ibi Green, Lexie Booth, Kenzie Saitta, Kylie Weeks, Madi Woodin; Hastings--Kamri Adler, Cecelia Beahm; McCook--Peyton Doucet, Jayceea Hanson, Mackenzie Smith; Nebraska City--Madison Borns, Brooke Brown, Isabella Denniston, Jolie Thompson; Norris--Maisie Boesiger, Lauren Borer, Michaela Boon, Nyah Chambers, Maddy Ramsey, Molly Ramsey, Brianna Stai; North Platte--Abbie Hedgecock, Peyton Neff; Northwest--Whitney Brown; Omaha Duchesne--Sofia Bressani, Caroline Ortman, Mary Pat Taylor; Omaha Skutt--Lauren Diederich, Shayla McCormick, Megan Skovsende; Platteview--Anna Koehler; Ralston--Americas Lakin, Janelle Madden, Reese Madden; Seward--Anna Covalt, Rebekah Klenke; Sidney--Mattie Johnson, Payton Jung, Katelyn, Sylvester; Waverly--Annika Evans, Mollie Grosshaus, Tyza Hoos, Kelsey Perrotto, Halle Schawang, Kennely VanScoy; York--Erin Case, Hailee Pohl, Masa Scheierman, Alexis Velde.
CLASS C-1
Adams Central--Tara Krehans, Hannah Lonowski, Caitlyn Scott, Regan Thomas; Aquinas--Kloe Ruth, Larissa Sellers, Breana Stouffer, Micaiah Vrbka; Arlington--Chase Andersen, Milee Young; Ashland-Greenwood--Saige Christo; Auburn--Rachel Bohling, Emma Goering, Jacelyn Lambert, Sydnie Reeves, Ashley Teten; Bisohp Neumann--Jamie Chratal, Emily Confal, Kali Jurgensmeier, Alyssa Rezac, Lauren Thiele, Lindsey Thiele; Broken Bow--Majesta Valasek; Brownell Talbot--Savannah Brym Bailey, DiNucci, Lily Teimossem, Amanda Zhang; Central City--Chesney Reeves, Ryah Richardson, Alyssa Wilshusen; Centura--Elaynor Hoslomb, Kaleigh Johnson, Grace McDonald, Sam Simdoen; Chadron--Shea Bailey, Allie Ferguson; Chase County--Adelaide Maxwell, Mollie McNair, Allison Owings, Madison Schuller; Columbus Lakeview--Kaycee Grotelueschen, Reese Janssen, Abby Kapels, Mattie Purcell, Britney Stock, Emily Van Cleave; Columbus Scotus--Courtney Kosch, Chloe Odbert, Emily Stutzman; Conestoga--Mattie Haizlip, Allison Lewien, Naomi Simones, Lindee Watson, Riley Zimmerman; David City--Payton Andel, Morgan Eickmeier, Macy Svoboda, Lauren Vandenberg; DC West--Leah Bevington, Chloe Foral, Brynn Glock, Regan Glock, Graci Rittenhouse; Fairbury--Sara Huss, Mikasa Lierman, Leah Mach, Izze Schwab; Falls City--Michelle Beer; Ellicyn Gilkerson; Hannah Kirkendall; Grand Island CC--Jenna Lowry, Avery Kalvoda, Katie Maser, Kam Willman; Hershey--Emily Barr, Ashley Hassett, Channing Holm; Kearney Catholic--Sarah Clinch, Kayla Lee, Olivia, Micek; Lincoln Christian--Sierra Beukelmann, Alexis Johnson, Barrett Power; Lincoln Lutheran--Lexie Kriezel, Josie Puelz; Louisville--Avery Heard, Olivia Zahn, Faye Jacobsen; Malcolm--Ellie Baumert; Milford--Hannah Kepler, Nevaeh Stauffer; Minden--Jenna Rowse; Mitchell--Keyana Wilfred, Anabelle Gillen; Norfolk Catholic--Mary Fennessy, Abby Miller, Hayden Wolf; North Bend Central--Lauren Emanuel, Megan Ortmeier; Ogallala--Mackenzie Anderson, Jaedy Commins, Lily Fair, Emma; Omaha Concordia--Sami Clarkson, Taylor Pribyl, O'Neill--Brianna Bauer, Alyssa Echelberger, Claire Morrow; Ord--Megan Benton, Kelli DeRiso, Abbi Stethem; Pierce--Maggie Brahmer,  Kenzie Moeller, Kayla Simmons, Rhayna Waldner; Raymond Central--Kiley Elkins, Kelbie Schnieder St. Paul--Bree Carlson, Grace Jerabek, Josie Jakubowski, Brooke Poppert; Syracuse--Lauren Meyer, Jessie Moss, Brooke Snyder; Tekamah-Herman--Sydnee Brummond, Anna Wakehouse; Wahoo--Kendal Brigham, Lauren Kavan, Lillie Mann, Kelsie Sears; Wayne--Emily Armstrong, Ashton Boyer, Lauren Pick; West Point-Beemer--Brooke Haase, Sierra Kile, Kendra Paasch, Sidney Swanson, Brooklyn Weddle; Wilber-Clatonia--Rylee Hayek, Delaney Splichal,
CLASS C-2
You have free articles remaining.
Amherst--Abbie Martenson, Sidney Province, Jaydin Schake, Breanna Trampe; Arcardia-Loup City--Calli Bauer, Nadia VanSlyke; Battle Creek--Tria Mclean, Shelby Obst, Riley Seifert; Blue Hill--Brooklyn Kohmetscher, Madison Menke, Emily Meyer; BRLD--Brandi Simonsen, Halle Wortman, Burwell--Anna Gideon, Karissa Gideon, Carlie Helgoth, Emma Hoffschneider, Katie Watts; Centennial--Katie Fehlhafer, Brooklyn Gierhan, Hunter Hartshorn, Kate Hirschfeld, Jaycee Stuhr; Clarkson/Leigh--Keegan Held, Hannah Kasik, Ashlynn Novotny; Creighton--Kirsten Adams, Ashtyn Fritz, Maycee Zimmerer; Crofton--Josie Sanger; Danielle Steffen; Cross County--Cortlyn Schafer; Doniphan-Trumbull--Maddie Fitch, Kalee Meyer, Logan Poppe; East Butler--Madison Helman, Jadyn Robley; Elm Creek--Abby Bauer, Whitney Bauer, Ashley Brown, Maci McCarter; Elmwood-Murdock--Lauren Justeson, Sydney Kunz, Nicole Meyer; Fillmore Central--Erin Schmidt, Macy Scott, Halle Theis, Lexi Theis; Freeman--Emma Alberts, Rachel Buehler, Kayla Haynes, Macy Holland; Guardian Angels CC--Sophia Hass, Hannah Knobbe; Hartington CC--Kenlee Goeden, Megan Heimes, Abby Hochstein, Brianna Miller, Aiden Wortmann; Hastings SC--Makenna Asher, Katharine Hamburger, Chloe McCauley, Lexi Vertin; Homer--Emily Rasmussen; Johnson Co. Central--Lexi Carahm; Laurel-Concord-Coleridge--Lorna Maxon; Lourdes CC--Ansley Esser, Emma Heng, Jacey Kreifels, Elaina Madison, Gina McGowen; Maxwell--Jonie Summer, Birkleigh Vrbka; Norfolk Catholic--Hayden Wolf, Abby Miller, Mary Fennessy; Oakland-Craig--Bailey Helzer, Natalia McNeill; Palmyra--Giorgia Bellotto, Macy Reynoldson, Jenna Wilen; Ponca--Kaci Day, Josie Reid; Sandy Creek--Grace Messenger, Calie Schliep; Shelby-Rising City--Reece Ingalls, Jamie Hopwood, Jordie Nekl, Kamryn Pokorney; Southern Valley--Maggie Bose, Grace Hogeland, Sawyer Quinn, Lauren Samuelson; South Loup--Jadeyn Bubak, Jessie Sallach, Sydnee Sallach; Stanton--Liz Christensen, Makenna Espinoza, Reba Waskowiak; Superior--Shayla Meyer, Trisha Hayes; Sutton--Kylie Baumert, Madison Nuss; Thayer Central--Maggie Harris, Sydney Havel, Katelyn Richardson, Jasa Wiedel, Maddison Williams; Tri County--Madison Freese, Hannah Holtmeier; Wisner-Pilger--Rachel Otten, Jordan Wegner, Aspin Waterman.
CLASS D-1
Alma--Dakota Hughes, Kayla Kindler, Carlee Stuhner, Tiffany Wells; Ansley-Litchfield--Carli Bailey, Kennedy Berkie, Falan Ryan, Laney Stunkel; Arapahoe--Chloe Carlson, Joslyn North, Hannah Utterback, Mariah Watson; Archbishop Bergan--Allie Degroff, Kaia McIntyre; Axtell--Erica Bertrand, Camille Fishell, Kailey Trampe; Boyd County--Kalli Kayl, Mariah Smalley; Brady--Emily Mann; Cambridge--Kaelie Tomlin; Cedar Bluffs--Alyssa Classen, Skylar Shanahan, Kalley Sukstorf; Central Valley--Colby Grossart, Ashlyn Wright; Clearwater/Orchard--Avery Cheatum, Jocee Johnston, Taylor Sanne, Katie Stearns, Taelyn Switzer, Julian Tuttle; Diller-Odell--Kyleigh Barnts, Addison Heidemann, Madeline Meyerle, Emily Swanson; Dundy County-Stratton--Grace Fredrick; Elgin/PJ--Kaylee Martinson, Anna Heilhecker, Ally Wemhoff, Haley Zegers; Elkhorn Valley--Amber Miller; Hannah Ollendick; Elwood--Baylee Diefenbaugh, Alivia Knoerzer, Hadley Martin; Fullerton--Hanna Plumbtree, Macy Voichahoske, Josie Sonderup; Giltner--Brooke Good, Aubrey Leichty, Hannah Preissler, Cassidy Tompkin, Hartington-Newcastle--Isabelle Harms; Heartland--Olivia Casper, Allison Kroeker, Cassidy Siebert, Kalea Wetjen, Rhianna Wilhelm; Hitchcock County--Kyleigh Scott; Howells-Dodge--Jessi Brester, Alyssa Coufal, Erin Prusa, Taya VanLengen; H-TR-S--Katilyn Glather, Lauren Nanninga, Natalie Novak; Humphrey/LHF--Danie Brandl, Jessica Olmer, Addison Schneider, Allie Schneider; Johnson-Brock--Jordyn Hahn, Mattie Nichols, Aubrey Sandfort, Hailey Sandfort; Lawrence-Nelson--Karigan Drudik, Hallie Epley, Taylor Harrington, Allison Miller; Leyton--Ella Draper, Mariah Draper, Carly Fortune, Danielle Higgins, Kelcie Van Anne, Madelyn Watchorn; Lutheran Northeast--Becca Gebhardt; Meridian--Josiee Sobotka; Nebraska Christian--Adrienne Falk, Kendyl Jividen; Neligh-Oakdale--Haylie Kerman; North Central--Brooke Fleming; North Platte SP--Calli Groseth, Kaleigh Kummer, Brooke McClellen; Overton--Rachel Ecklund, Haley Fleischman; Pawnee City--Even Beethe; Plainview--Andrea Haase, Kylie Mosel, Carissa Wacker; Pleasanton--Cadee Nichols, Isabelle Paitz, Kaci Pierce, McKenna Siegel; Randolph--Emma Bermel, Sophia Harder, Carlie Nordheus; Southwest--Jadyn Brooks, Nicole Dewey, Johanna Sughroue; Sutherland--Payton Hoatson, Erica Hopping.
CLASS D-2
Anselmo-Merna--Taylan Myers, Kourtney Safranek, Hadlee Safranek; BDS--Regan Alfs, Jorden Bolte Emile Schardt; Bertrand--Erin Boggs, Lindsay Schutz; Cody-Kilgore--Kenzie Barnes, Bailey Cady, Elle Ravenscroft, Hayley Schied; CWC--Ryann Haburchak, Jordan Laetsch, Tess Metschke, Taylor Jean Peter, Morgan Ramsey; Dorchester--Abigail Plouzek, Abigail Zeubek, Jacee Zeubek; Elba--Kenna Graves; Eustis-Farnam--Katy Bartell, Gracie Gibbens, Gretchen Hodge; Ewing--Ashley Koenig, Sidney Stallbaum, Summer Schroeder, Brenna Wagner; Exeter-Milligan--Emma Olsen, Jaiden Papik, Anna Sluka; Falls City SH--Ahren Ebel, Elizabeth Keithley, Randee Witt; Hampton--Jaylon Arndt, Alexis Gyhra, Jacey Klassen, Lexie Wolinski; Heartland Lutheran--Trinity Blase, Calie Hiegel; Humphrey SF--Tara Foltz, Caitlin Jorosz, Alissa Kosch, Allison Weidner; Hyannis--Brittany Brosius; Kenesaw--Stephanie Anderson, Hope Nienhueser, Hannah Schnitzler, Haley Schulci, Ashley Tildena, Ashley Uden; Lewiston--Payton Bledsaw, Dana Christen; Loomis--Alley Beisner, McKayla Meyer; Maywood-Hayes Center--Jaycee Lapp, Avery Johnson, Jaycee Widener; McPherson County--Rainah Holm, Aubrey Schultis, Alexx Starr; Mead--Rebecaa Halbmaier, Emily Quinn, Brianna Lemke, Josie Parham, Delaney Patocka, Emily Quinn; Medicine Valley--Alex Ellermeier, Acelyn Klein; Mullen--Alysen Daniels, Kaitlyn Crowe, Madison Jones, Samantha Moore, Courtney Rice; Osceola--Kamryn Hahn, Jadyn Johnson; Paxton--Faith Kennicutt; Red Cloud--Julia Shipman; Riverside--Alix Bloom; Silver Lake--Makyla Dinkler, Amanda Ehrman, Kerigan Karr; Sioux County--Bailey Oetken; St. Mary's--Abbey Everitt; Stuart--Reaghan Engel, Lexi Schroder; Spalding Academy--Elizabeth Buaer; Sterling--Morgan Haner, Nicole Harms, Colby Thies, Ella Wingert; Wallace--Jacee Wallaw; Wauneta-Palisade--Haylee Sandman; Wilcox-Hildreth--Abby Quadhammer; Winside--Andrea Bargstadt, Brooklyn Behmer, Haylee Cummins, Kati Topp; Wynot--Whitney Hochstein, Shalee Planer, Edyn Sadbrek, Noelle Weisler.
MARRIAH BUSS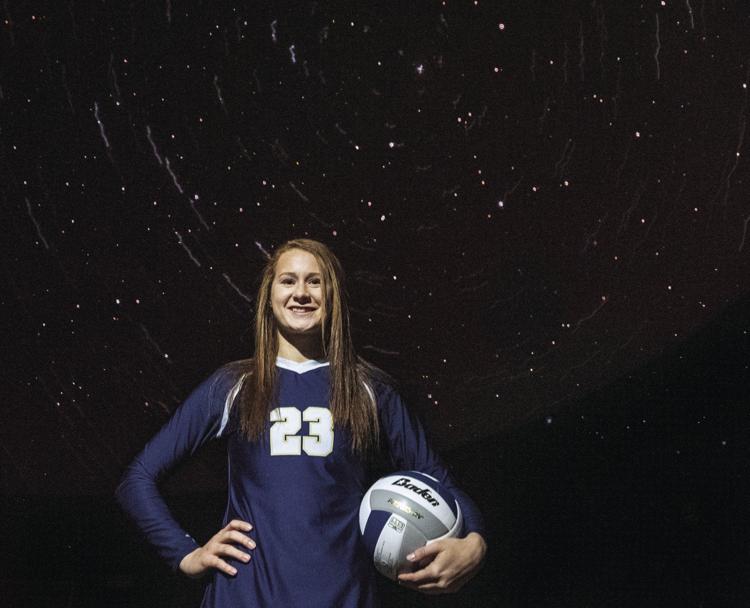 Honorary captain
Lincoln Lutheran, 6-0, jr., OH
College: Wichita State.
Reaching for the stars: The junior racked up a staggering 637 kills to lead the state while also finishing second in hitting percentage at .437. Buss also put up increased numbers in digs, aces and blocks while leading Lutheran to the state runner-up finish. Her career kill total now sits at 1,748 so if she continues producing as she has, she'll in line to reach 2,000 career kills. 
Coach's view: "It's something that other teams dread going up against. They will try to key in on (Buss) or triple block her so we have to have other options other options around her but it sure is nice to have a player that is significant enough that other teams know they have to focus in and try to challenge her. Marriah is that player. She's put in a lot of hard work and dedication on the court for us and our success shows that." — Lincoln Lutheran coach Sue Ziegler.
FALLON STUTHEIT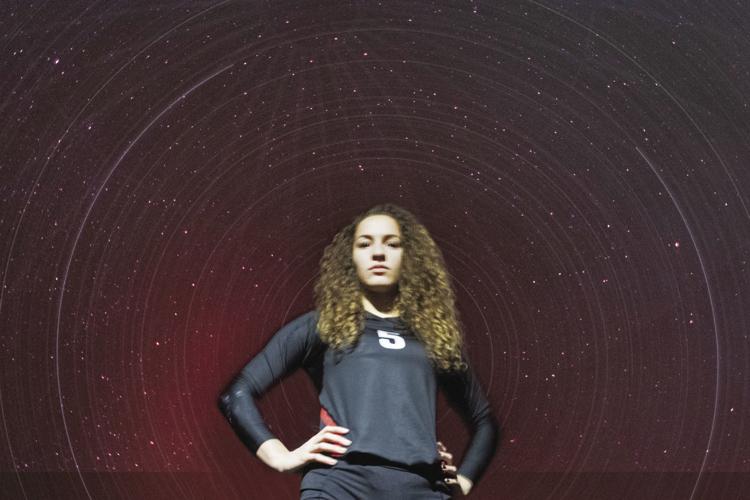 Johnson-Brock, 6-2, sr., MB
College: Nebraska.
Reaching for the stars: The future Husker recorded 475 kills in her final season, slightly below her average over the past two years, but Stutheit still found a way to succeed with defenses focusing on her. She finished third in the state with a .415 hitting percentage while her defense remained intimidating at the net. Johnson-Brock fell short of its fourth straight title, but Stutheit's three titles and Super-State appearances make her a lasting figure in the Eagles' history book.
Coach's view: "Fallon is really easy to coach. She has a passion for volleyball and has so much natural ability. She's grown into a strong leader and worked hard to guide the underclassmen this year. Her competitive nature and determination were truly the driving force behind many of our wins. I think she's left a nice legacy as an Eagle both on and off the court." — Johnson-Brock coach Tera Stutheit.
KAYLNN MEYER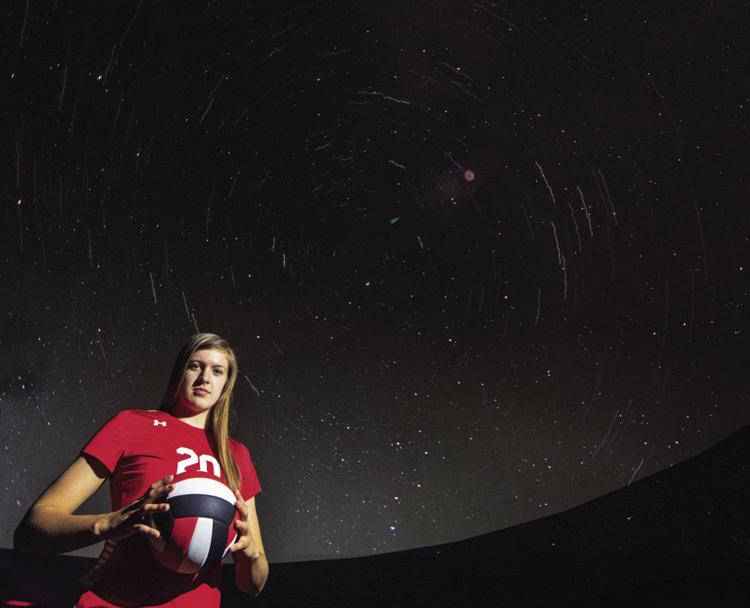 Superior, 6-3, jr., MH
College: Nebraska.
Reaching for the stars: Meyer finished just outside the top five kills leaders in the state this season with 524, and her digs and service ace numbers were both up from a dominant sophomore season. Her impact on the court guided the Wildcats back to the state tournament, where she recorded 57 kills over three matches. Meyer's athletic prowess goes well beyond the volleyball court — she was the Journal Star's female athlete of the year last season — but volleyball is clearly her future.
Coach's view: "Kalynn is an amazing kid and a joy to coach. She's smart, kind and extremely gifted when it comes to sports. She works very hard in the weight room. She has worked hard to develop, not only her front-row play, but back-row defense and passing as well. Kalynn brings intensity and leadership to our team, and yet stays humble and has fun through all the pressure." — Superior coach Kelsea Blevins.
EMILY BRESSMAN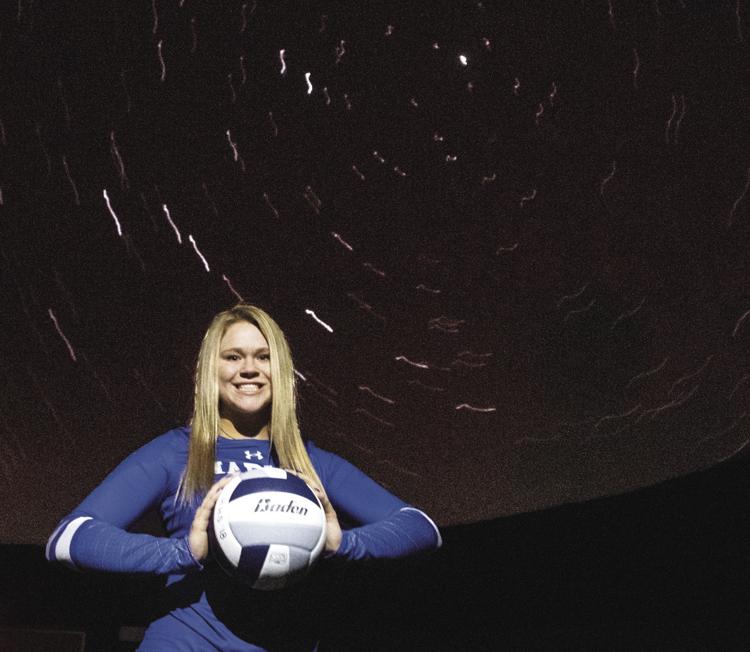 Omaha Marian, 5-11, sr., OH
College: Creighton.
Reaching for the stars: Bressman may have saved her best season for last. She recorded 435 kills, her highest total in high school, while adding 420 digs, her highest season total by nearly 100. Bressman also broke the Marian career kills record, which is no small feat, with 1,412 kills over her four seasons. The Crusaders lost several players to Division I schools after their state title last season, but Bressman guided a fresh-faced Marian squad to the semifinals before losing in a five-set thriller to Lincoln Pius X.
Coach's view: "Emily is a competitive leader. She has had a tremendous impact on Marian volleyball and each season has strived to improve on different aspects of her game. She is self-motivated and always looking for ways to win, whether it is in practice or during a match." — Omaha Marian coach Amy McLeay.
LINDSAY KRAUSE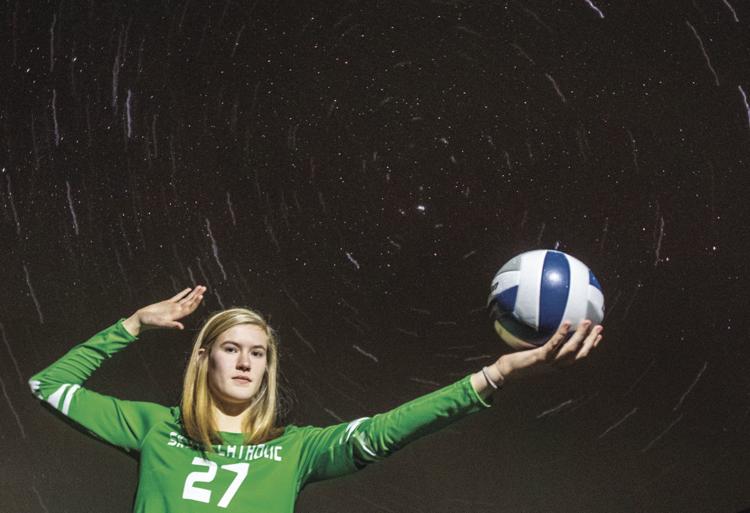 Omaha Skutt, 6-3, so, OH
College: Nebraska.
Reaching for the stars: Krause missed several games at the start of the season due to U-18 Youth National Team duties, but once she returned to high school competition, there was no stopping her. She played in only 77 sets, yet recorded 260 kills to help push the SkyHawks to their fourth straight Class B state title. Her block numbers were up from last season despite playing 34 fewer sets.
Coach's view: "Lindsay brings a new dimension to our team. She has the ability to take over matches with her attack and block, but also plays within our system. This season she learned that she does not have to do everything perfectly or on her own. She learned to play hard at all times and not worry about making mistakes, and to let the game come to her. She is also a very competitive person who holds her teammates accountable in practice and in games. She is respected by everyone on the team even though she is only a sophomore. She is a team player who has a desire to succeed." — Omaha Skutt coach Renee Saunders.
McKENNA RUCH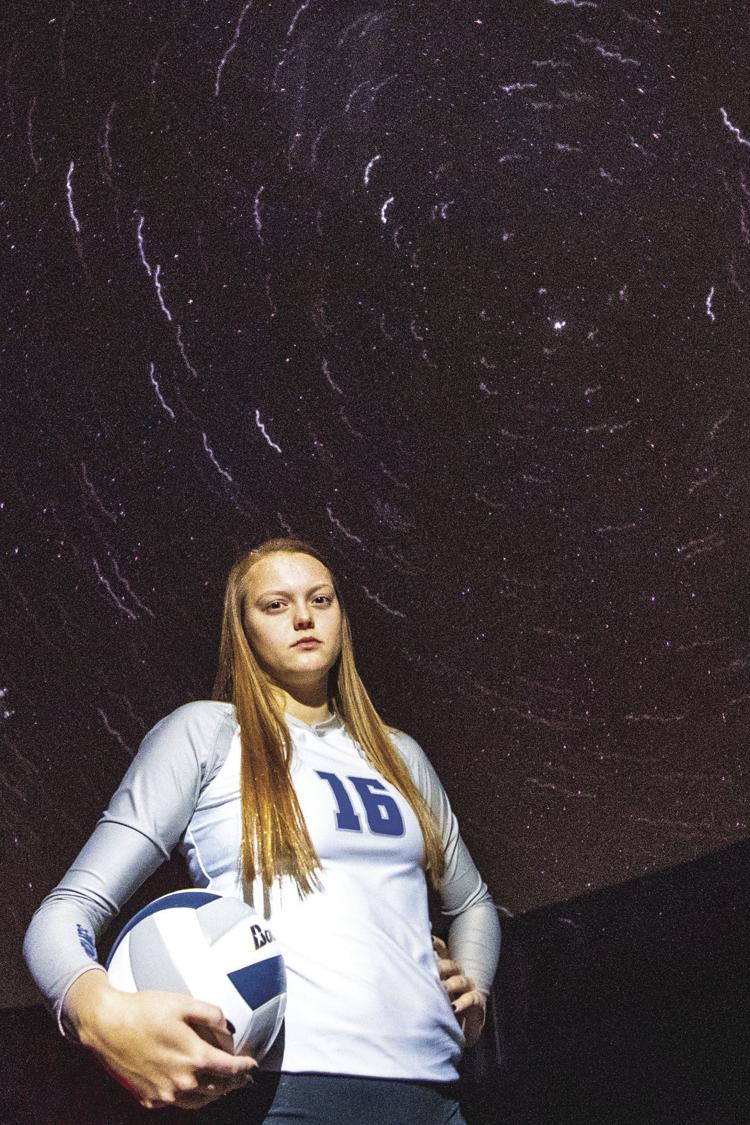 Millard North, 6-1, jr., OH
Reaching for the stars: Ruch helped bring Millard North its second title in three years behind 362 kills and 75 total blocks. On a Mustang team loaded with talent, Ruch found a way to stand out as a versatile player. She recorded 363 digs this season, nearly 300 more than her sophomore or freshman season totals. She's now just 15 away from 1,000 career kills, and she'll be the key factor in the Mustangs' quest for back-to-back titles next season.
Coach's view: "McKenna played a major role in our state championship run this year. We used her as a full six-rotation player, which allowed us to use her as an offensive weapon in the front and back row. Night after night McKenna led the teams in kills. She had the second-highest digs on the team as well and is one of the best full six-rotation players in the state. One thing that stands out about McKenna is her volleyball IQ. She is extremely smart and sees the court very well." — Millard North coach Lindsay Peterson.
IZZY LUKENS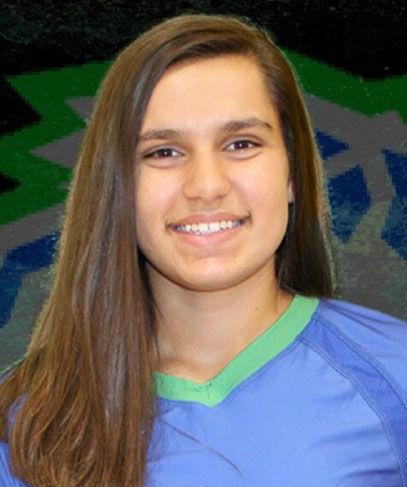 Millard North, 5-10, jr., S
College: Arkansas State.
Reaching for the stars: The Mustangs couldn't have found a better setter to lead their high-powered offense than Lukens. She finished with 1,103 assists, which placed her fifth in the state. She also broke the 100-kill mark as a setter with 123 and added 44 ace serves and 41 total blocks to her resume, all coming as season highs. Lukens has recorded a staggering 3,342 assists during her Mustang career and she, alongside Ruch, will be back next season.
Coach's view: "Izzy has been running a 5-1 for us since she was a freshman. As a freshman we knew she was going to be special. Her court awareness is incredible. She sees the other side (of the) court, not just the blockers, but the entire court. She isn't just a setter, she is an offensive threat. Many nights Izzy's stats showed her hitting percentage was extremely high. Because she reads the court so well, she strategically places the ball on the other side of the court aggressively. She has some of the best hands and ball placement I have seen." — Millard North coach Lindsay Peterson.