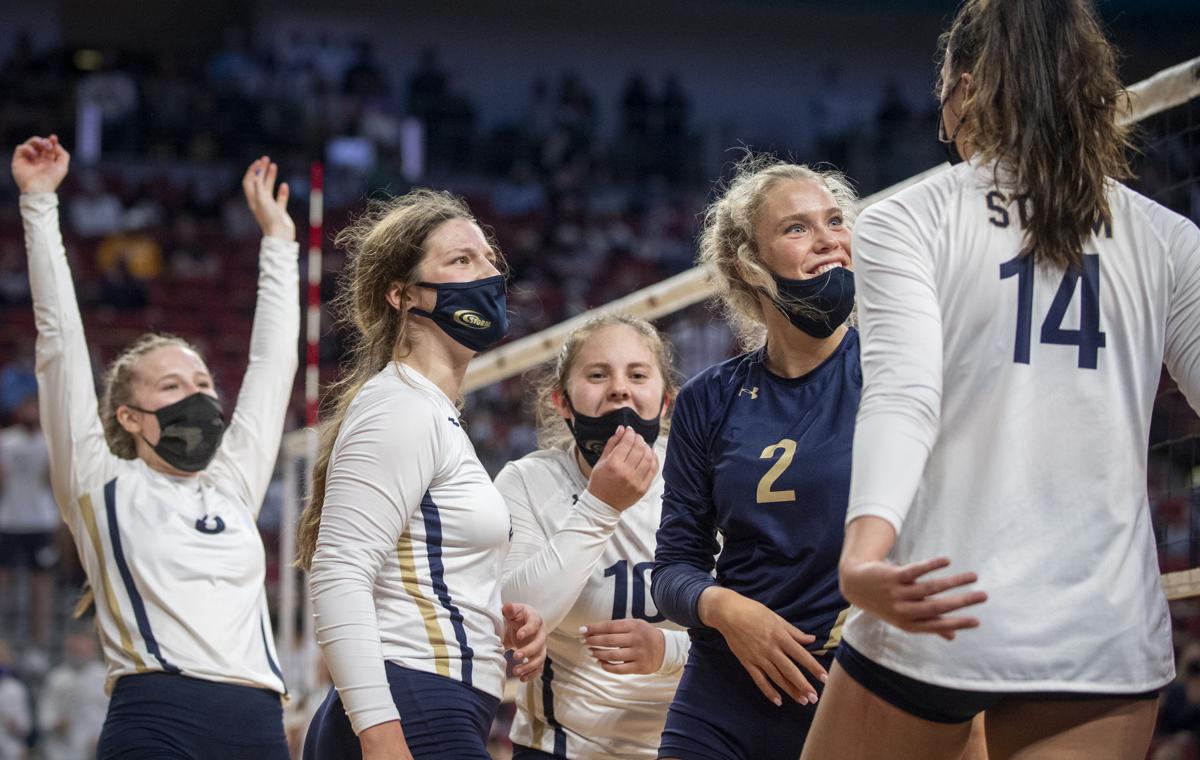 The list of the best stories in volleyball in Nebraska during 2020 isn't as long as most years.
The biggest team in the state, Nebraska, didn't play a match in 2020 due to the coronavirus pandemic. The Huskers haven't played in about 12½ months (Dec. 14, 2019). Most of the college volleyball season was postponed until the spring semester.
The Olympics were scheduled for 2020, but that also was postponed. A couple of former Huskers probably would have played for Team USA, including the state's most famous player, Jordan Larson.
So it was high school volleyball that got the most attention in 2020, and the top volleyball coach in the state, John Cook, was watching — socially distant style, of course.
"To me, I think the big news for volleyball in Nebraska is that two Nebraska teams are ranked in the top 10 in the country," said the Nebraska head coach. "That's a huge deal. And the fact that the high school season was able to pull it off (playing during a pandemic)."
Cook was referring to the high school volleyball teams at Omaha Skutt and Elkhorn South. In the final national rankings for the fall season by Prepvolleyball.com, Omaha Skutt was ranked No. 2 and Elkhorn South was No. 8.
Omaha Skutt won the Class B state championship — its sixth consecutive state title — and finished with a 35-1 record.
Elkhorn South won the Class A championship and was 30-1.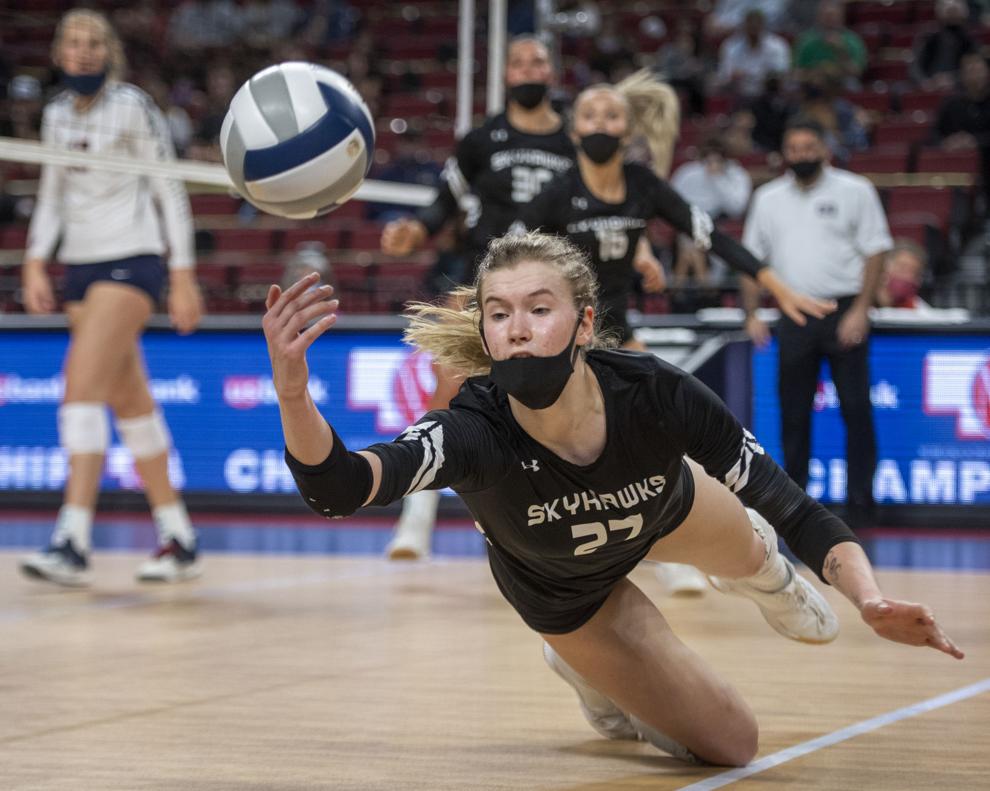 "Two teams being ranked in the top 10 is pretty impressive, and the level of play was ridiculous," Cook said.
Lovejoy High School in Lucas, Texas, is ranked No. 1 in the poll. The team finished with a 26-0 record in the state's second-largest class. Lovejoy only lost two sets all season.
In the most recent USA Today national poll, Skutt is No. 2, and Elkhorn South 13th.
Usually, when the state volleyball tournament takes place, the Huskers are playing and hit the road that weekend so that the high school teams can play the championship matches at the Devaney Sports Center. Cook tries to watch a few matches during the first day of the tournament.
But with Nebraska's season on hold, Cook was just like other fans of volleyball in Nebraska and watched parts of the six state championship matches on TV on NET.
"The level of play was off the chart. I was so impressed," said Cook, who got his start in the sport as a high school coach in San Diego.
Cook was also impressed how Pinnacle Bank Arena made changes to be able to host the tournament, and that the city has purchased the same Taraflex courts the Huskers use for the arena.
Cook closely watched Omaha Skutt, which had Lindsay Krause. The 6-foot-4 outside hitter will join the Huskers this summer for the fall 2021 season.
"That's a special high school team right there," said Cook of Skutt. "That's a team that will go down as one of the best high school teams in the state, along with Papillion-La Vista and Lincoln East way back. (Skutt was) fun to watch. They do some great things. We were talking about it the other day, and it's like watching a college team."
Skutt's team in 2020 had five players committed to NCAA Division I programs: Krause, Allison Gray (Arizona State), Shayla McCormick (Omaha), Ava Heyne (Ohio) and Abigail Schomers (UCF).
Nebraska signee Rylee Gray played on Elkhorn South's state championship team. And Husker signee Ally Batenhorst won a state championship with Seven Lakes High School in Texas' largest class, meaning three of the four Husker signees who played a fall season won a state championship. Seven Lakes is ranked No. 3 in the final national poll.
At least 23 players committed to NCAA Division I programs played in the Nebraska state tournament, with 11 teams having at least one Division I recruit.
Briefly
Krause and Batenhorst were each chosen as first-team high school All-Americans, and would have played in the Under Armour All-American match that numerous Husker recruits have played in the past 10 years. The match, which was scheduled for Friday in Orlando, Florida, was canceled due to the pandemic.
Norah Sis from Papillion-La Vista (Creighton recruit) also was chosen for the first team. Husker recruits Lexi Rodriguez and Whitney Lauenstein were second-team All-Americans. Elle Glock from Wahoo also made the second team, and Allison Gray made the third team.
Introducing the 2020 Journal Star first-team Super-State volleyball players
LINDSAY KRAUSE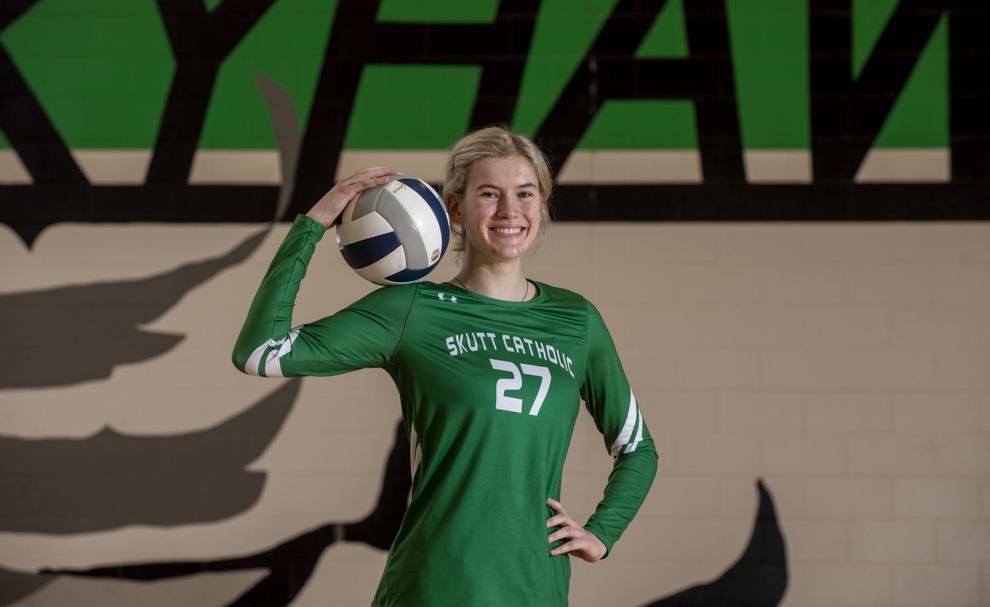 OH | Sr. | 6-foot-4 | 
Ad campaign: Krause ended a dominant high school career with her fourth consecutive state championship, and 2020 may have been her finest season at Omaha Skutt. She led the state in both hitting percentage (.475) and aces (88) on top of career-highs in kills and digs. Krause was a first-team Super-State selection four years in a row, and she captains the 2020 squad.
NORAH SIS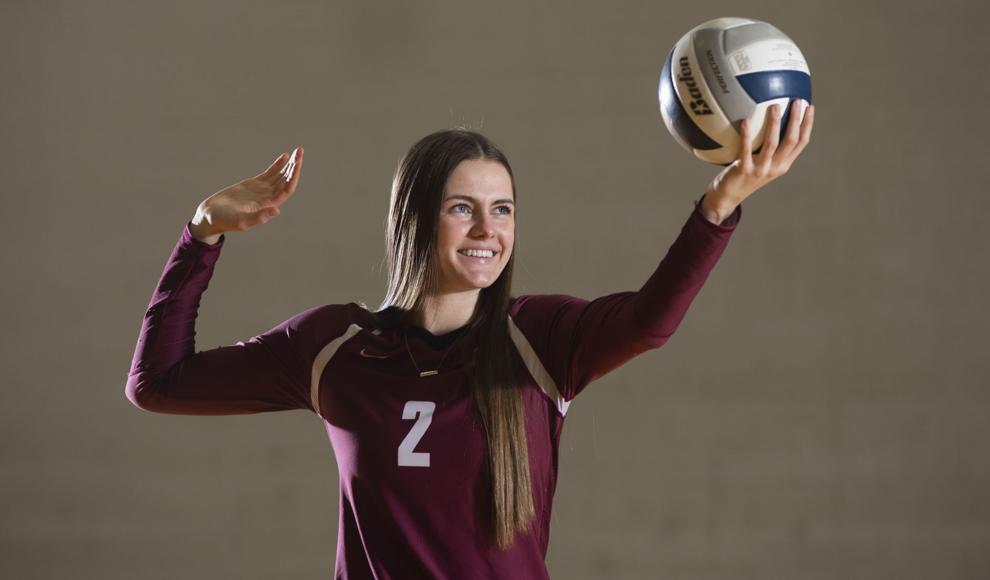 OH | Sr. | 6-foot-2
High school: Papillion-La Vista 
Ad campaign: Sis topped 500 kills in a season for a second time at the high school level, and she ends her Monarch career with 1,910 terminations. Papillion-La Vista won at least 20 matches and qualified for the state tournament in each of her four seasons, and a college career at Creighton is up next for Sis.
MYA LARSON
OH | Jr. | 5-foot-11
Ad campaign: Larson may not have reached the 600-kill mark she did a year ago, but her 532 kills were still the second-most in the state this season. Her 41-kill performance in the Class C-1 title game was integral to Wahoo claiming the state title in five sets, and the junior recently announced her commitment to Montana State.
WHITNEY LAUENSTEIN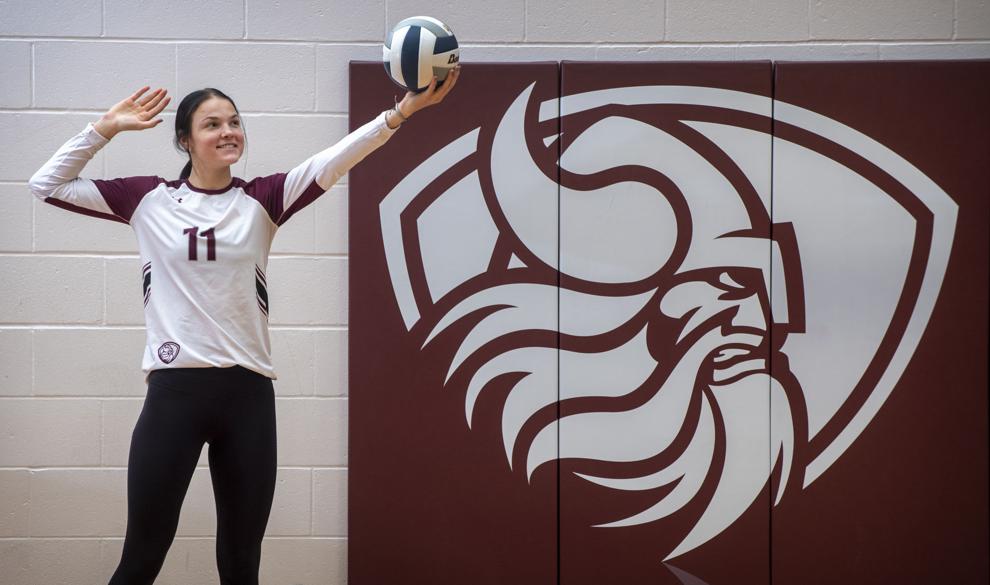 OH | Sr. | 6-foot 2
Ad campaign: While some players are ready for the varsity level immediately, Lauenstein didn't make the jump until her sophomore year. She had 400 or more kills three seasons in a row while leading Waverly to the state tournament at each opportunity. A talented back-row player as well, Lauenstein is headed to Nebraska next year.
RYLEE GRAY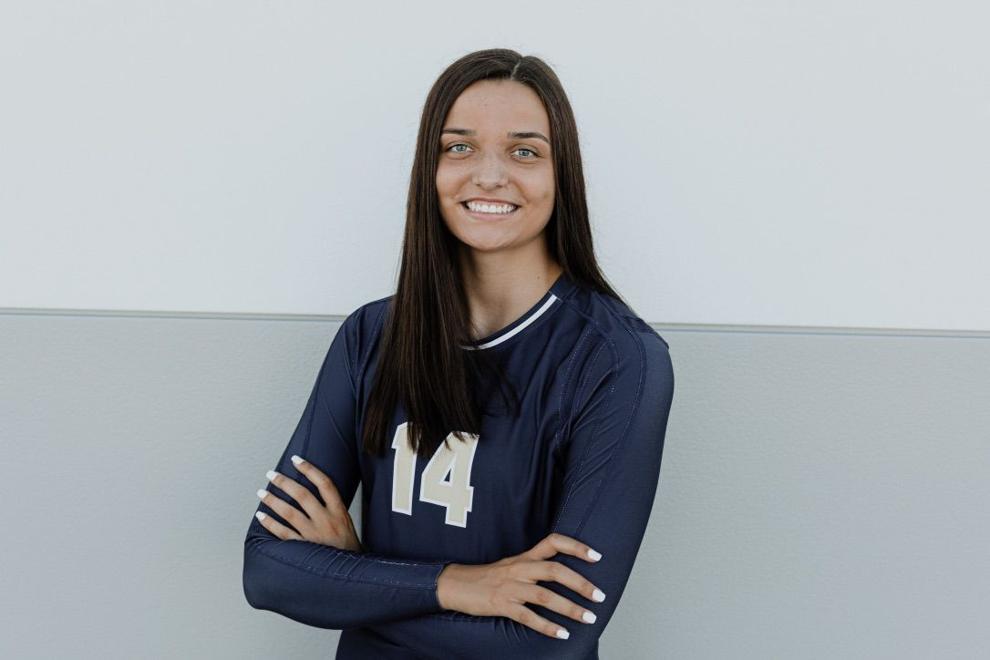 MB | Sr. | 6-foot-4
High school: Elkhorn South
Ad campaign: A true force at middle blocker, Gray closed her high school career by leading Elkhorn South to its first state title in school history. Gray set a new career high in hitting percentage while topping 300 kills for the fourth straight year, and another stellar blocking season brought her career total to 476.
ALLIE GRAY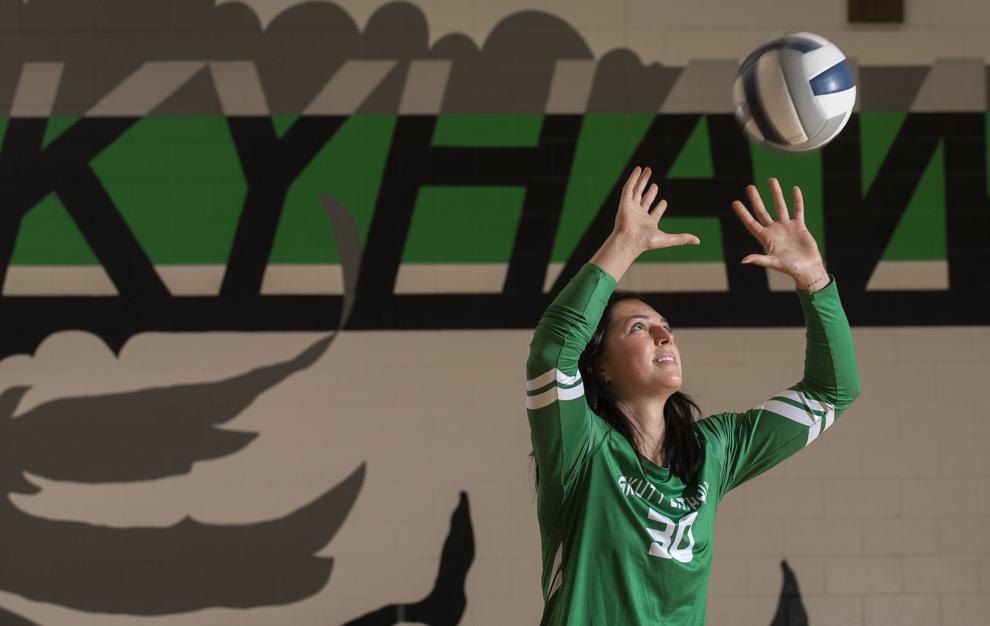 S | 5-foot-11
Ad campaign: A three-year starter at setter, Gray's steady hand running the offense has allowed hitters such as Krause to shine. Her 1,023 assists were second-most in the state this season, and Gray also set a new career-best with only 12 ball-handling errors as she makes back-to-back appearances on the Super-State first team.
ELLE GLOCK
S | Sr. | 6-foot
Ad campaign: After beginning her high school career as a hitter, a move to setter resulted in three straight 1,000-assist seasons. Her four-year starting career includes three state championships, and Glock holds the Class C-1 record for the most assists in a season (1,167).