Fallon Stutheit's next volleyball match at the Devaney Sports Center will be in a Husker uniform.
Fourth-ranked Humphrey/Lindsay Holy Family used 27 kills from senior all-state middle blocker Taya Beller to edge three-time defending Class D-1 state champion and third-ranked Johnson-Brock 25-21, 22-25, 23-25, 27-25, 15-12 in just over two hours Friday in the semifinals of the state tournament at Pinnacle Bank Arena.
The Bulldogs (29-4) advance to the D-1 title match at 11 a.m. at Devaney against top-ranked Archbishop Bergan. The 6-foot-1 Stutheit, a two-time first-team Super-State middle and Nebraska walk-on recruit, pounded 31 kills for Johnson-Brock (30-4).
A fiery speech by coach Cami Oelsligle after the Bulldogs dropped the third set produced the desired effect.
"I had to chew their butts a little to try to get them to play at a different level of intensity," Oelsligle said.
It certainly worked on the 6-foot-2 Beller, who ripped 10 kills and registered an ace block in the fourth set. Humphrey/LHF needed every one of those after Johnson-Brock wiped out a 21-13 deficit to tie it at 23 on a left-side kill from freshman Jaydn Hahn, who finished with 15 kills.
The Bulldogs finally forced the fifth set when a right-side kill from Allie Schneider broke a 25-25 tie and Brooklyn Magsamen served an ace to extend the match.
Humphrey/LHF never trailed after five straight  points produced a 10-8 lead in the decisive set. The Bulldogs won four of the last five points, finishing the victory on a kill in the middle by Beller, a Wayne State recruit.
The Bulldogs also needed five sets to get past Diller-Odell in the first round, and that experience "really helped us today," said Beller, who also had 31 digs. "We were able to stay calm and keep everyone confident that we could get that next set if we'd lose one."
For Johnson-Brock, it was the Eagles' first five-set match since they beat Friend in the Pioneer Conference in 2016. Johnson-Brock coach Tera Stutheit said her team's inexperience in that situation was a factor.
"There were a lot of long rallies and they (Humphrey/Lindsay Holy Family) played really good defense," saud Coach Stutheit, Fallon's mother. "We made a lot of hustle plays, but we also made too many small errors there at the end."
Coach Stutheit said her team "came a long way from the beginning of the season" after replacing a pair of all-staters — setter Brynn Westenberg and middle Kaitlynn Simon — who graduated off last year's title team.
"It just hurts when you come this far and fall just short."
Archbishop Bergan 3, Pleasanton 0: Archbishop Bergan may have been late to the party, but it served up a mean dish at Pinnacle Bank Arena on Friday.
The No. 1 Knights' dominant performance on the court, a 25-15, 25-12, 25-16 sweep, included 13 aces over No. 2 Pleasanton in the the D-1 semifinal came after the Knights were the last team to reach the Pinnacle Bank floor for warmups.
That didn't affect the Knights, including a little weather on the way to Lincoln from Fremont.
"We have a ritual we do all the time," Bergan coach Sue Wewel said. "We got here, but the weather was pretty bad from Fremont to Mead. It was pretty icy and we had to slow down. We were getting a little nervous about that, but we just said we may have to rush a little bit."
Lexie Langley led Bergan with five service aces, including three in a row in the third set to help send Bergan to its first state championship match since 2004.
"I think to win a game, you have to serve aggressive," Langley said. "That was a really good thing for us."
Pleasanton used the same format in its sweep Thursday over Nebraska Christian, but Wewel and the Knights were right there watching from the stands at Lincoln East High School.
"For us, if we are on the positive side, it changes the game drastically," Wewel said. "We just know if we can get into a couple people's heads; and it's just part of the game. We want to serve in areas that we can work the ball effectively and give us a good option on our attack."
Johnson-Brock vs. Humphrey/LHF, 11/09/18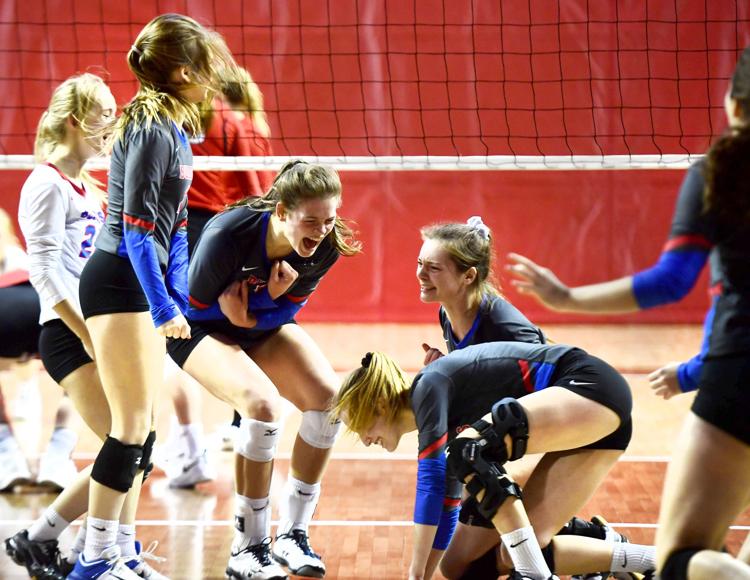 Johnson-Brock vs. Humphrey/LHF, 11/09/18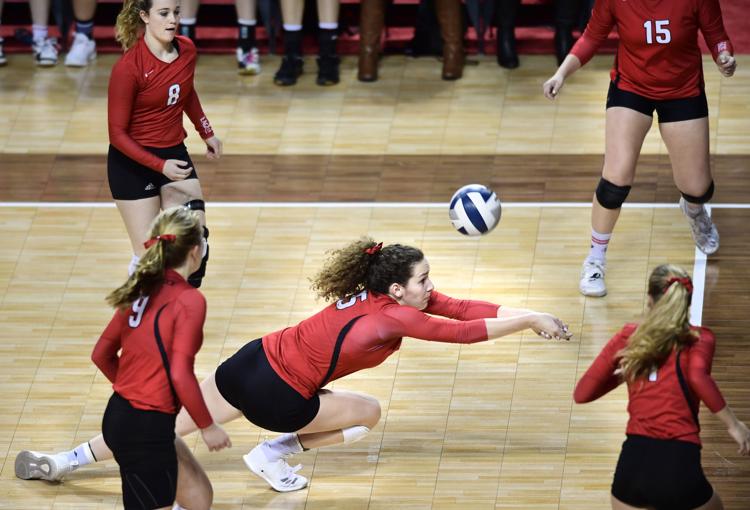 Johnson-Brock vs. Humphrey/LHF, 11/09/18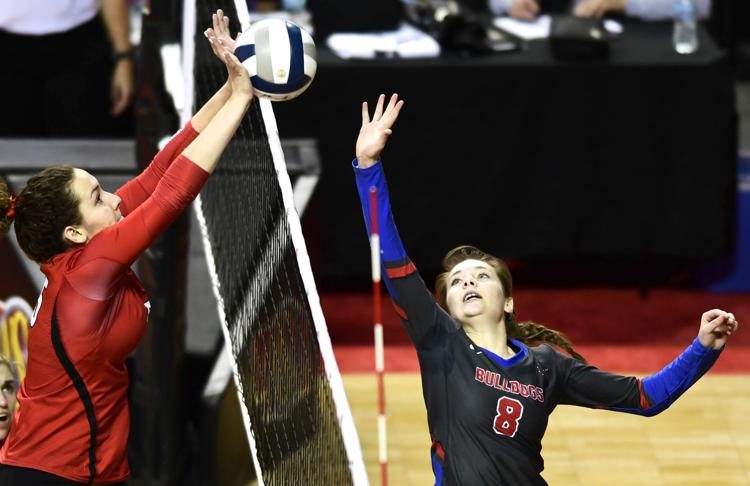 Johnson-Brock vs. Humphrey/LHF, 11/09/18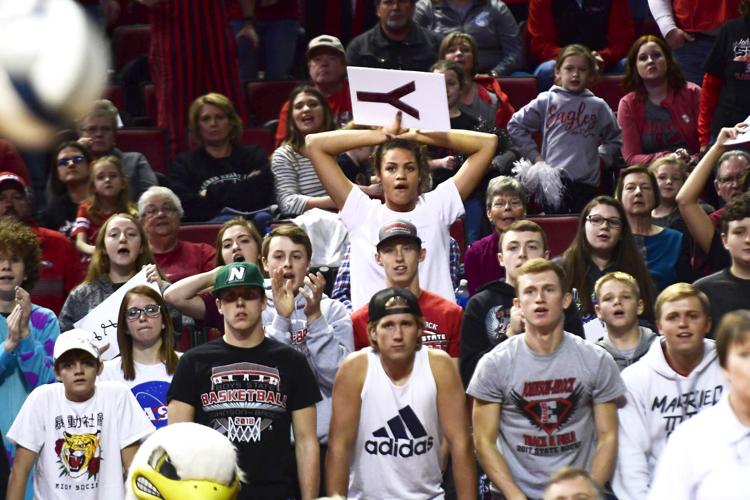 Johnson-Brock vs. Humphrey/LHF, 11/09/18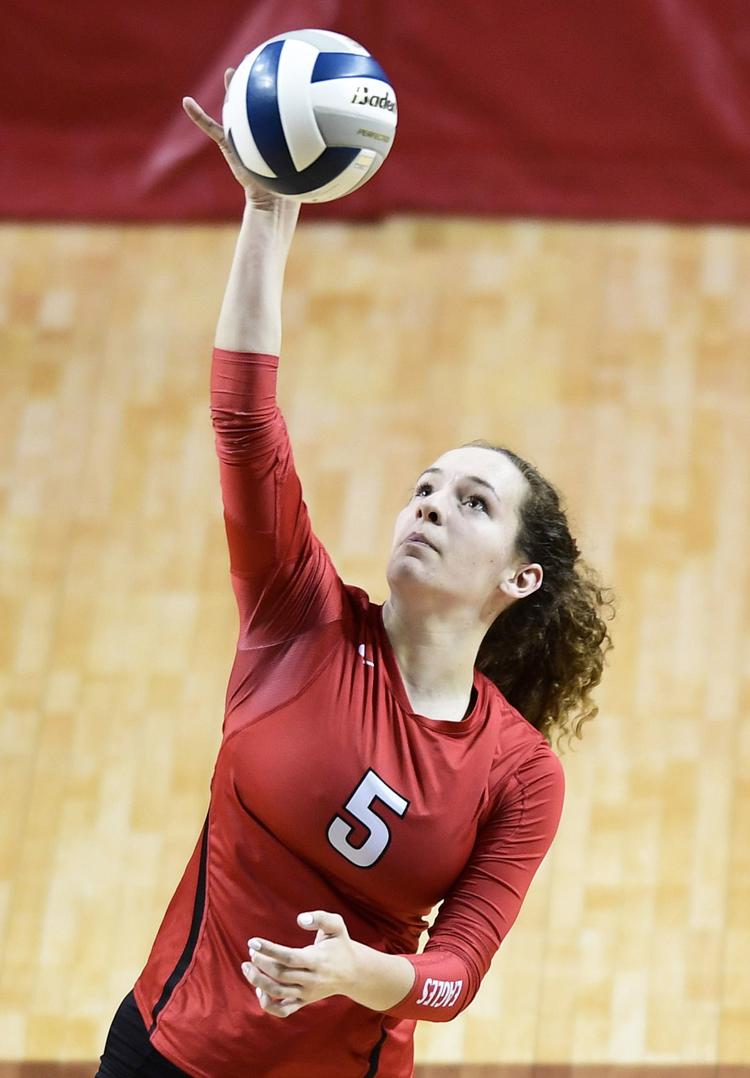 Johnson-Brock vs. Humphrey/LHF, 11/09/18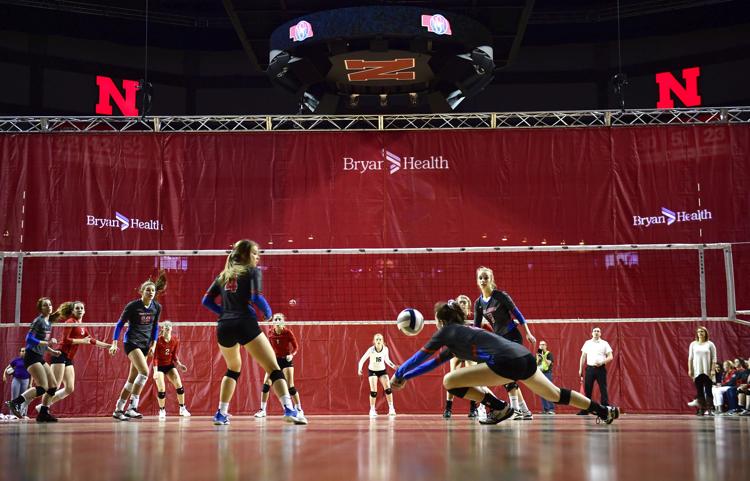 Johnson-Brock vs. Humphrey/LHF, 11/09/18
Johnson-Brock vs. Humphrey/LHF, 11/09/18