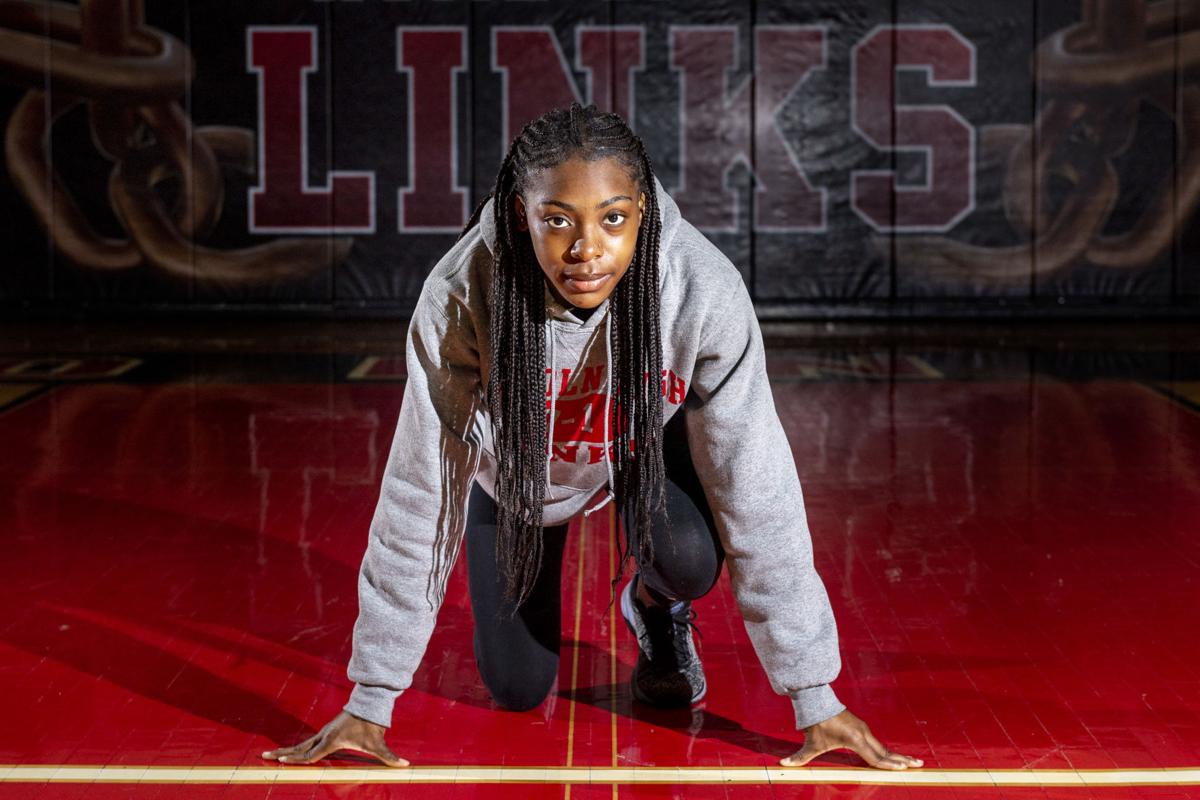 Lincoln High sprinter Dajaz DeFrand is fast. Her times in the girls 100- and 200-meter dashes verify that, as the junior has a legitimate shot at the state records in both events this spring.
But she has another attribute that may be just as important, and that's perseverance. First, she had her freshman season in 2019 reduced to junior varsity and freshmen track and field meets after having to sit out the Nebraska School Activities Association's mandatory 90 school days from varsity competition after moving from Denver midway through her ninth-grade year.
She ran times of 12.10 and 25.15 seconds in the 100 and 200, respectively, in the Lancaster County Ninth Grade meet in 2019 that would've placed her second behind Lincoln Southwest's Kate Dilsaver at the Class A state meet.
Then, the COVID-19 pandemic hit in 2020 and wiped out everybody's track season last spring. The groundwork for a huge sophomore season was also erased — a sixth-place finish at the AAU Junior Olympic Nationals (15-16 age division) in the summer between her freshman and sophomore year and tying Concordia's Bulldog Fieldhouse record of :7.69 in the 60-meter dash in an indoor meet weeks before COVID-19 shut everything down.
DeFrand finally got a chance to show what she could do in a varsity invitational last Thursday at the Omaha Westside Invitational. She ripped off times of :12.36 in the 100 and :25.26 in the 200 to not only win both events but also record the fastest times in the state so far this spring in both races.
"It's been really challenging because I've worked super hard, and then not being able to run is kind of frustrating," said DeFrand, the daughter of former Husker football player Donald DeFrand, who now doubles as her sprint coach.
"I really want to show people how I've grown over the years and how all my practice has been paying off for me," she said.
DeFrand lowered her 60 indoor time to :7.47 this past winter, a sign that with the right weather conditions she will soon be near her personal bests of :11.9 in the 100 and :24.0 in the 200. Right now, however, times are secondary goals for her.
"I hadn't run in such a long time, so I wasn't expecting great times last week," said DeFrand, who is getting recruiting interest from a number of Division I college programs. "It just felt good to get back out there and just start putting everything back together.
"Right now, I just want to get better on my form, keep my legs up and make sure I don't tense up when someone's right next to me," she added. "If I do those things, the times will take care of themselves."
Lincoln High head track coach Bob White said DeFrand is close to breaking the school records of 12.1 in the 100 and 25.1 in the 200. He thinks the fastest electronic times in state history of :11.68 and :24.06, both by Sarah Lyons of Brownell Talbot in 2006, are within reach this season as well.
"Just give her a good day and she's feeling good, you're going to see her somewhere in the 24s in the 200 and well into the 11s in the 100," said White, who is in his 43rd season coaching at Lincoln High.
"She's talented, a very hard worker and she hates to get beat," White added. "That's a pretty good combination."