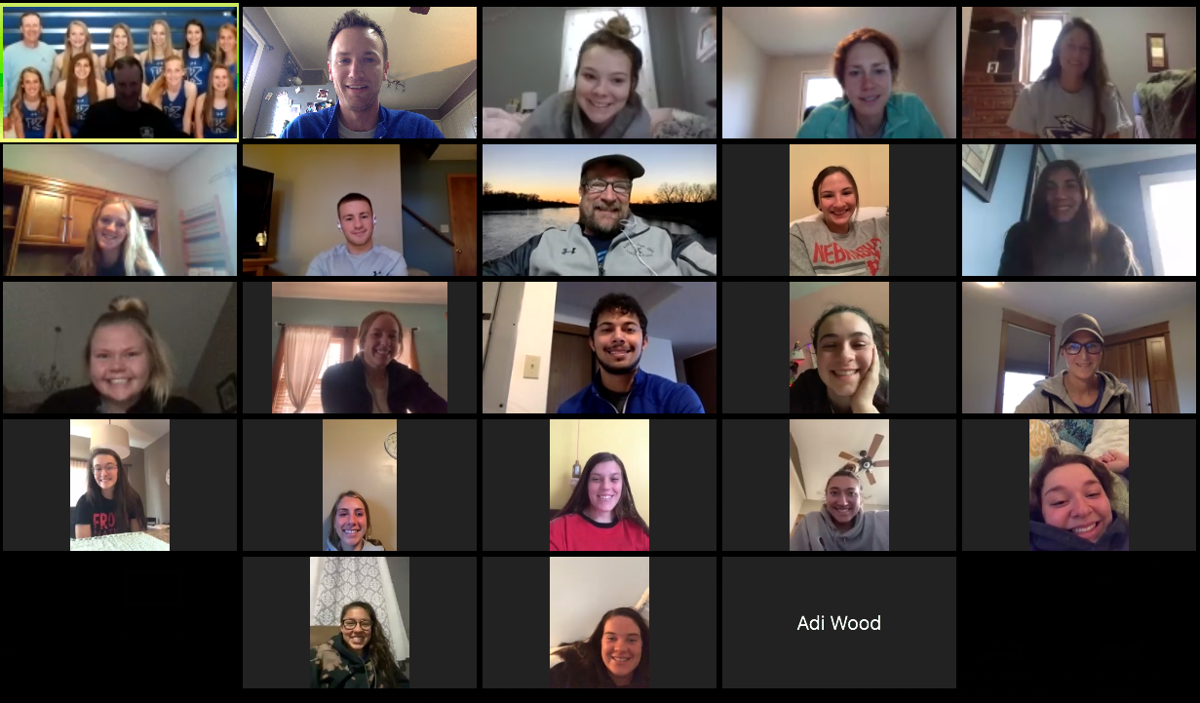 There is a lot of sadness now for high school seniors for all of the moments and opportunities they lost because of the pandemic, including their final season of high school sports.
But you can look at a photo of the seniors on the Kearney girls track team and smile. They did.
On one of the most disappointing days of their high school careers, the day the track season was canceled, the Kearney girls smiled.
That afternoon 17 of the 18 seniors on the team got on a Zoom videoconference call together, along with girls head coach Nate Polacek and six assistant coaches.
They cried. They laughed. They told stories. And in the process they reminded themselves that while the competition and the medals were important, so were the people and the experiences they had in track.
And near the end of a meeting that didn't have to go on for two hours but did, Polacek decided he wanted to remember the moment. So he asked everybody to smile, and he took a photo with his computer. They nailed it, with big, genuine smiles. Now that picture is a source of pride.
"It just makes me really proud of our kids, and it just let me know that they are resilient," Polacek said.
This spring, after two weeks of track practice, the season was suspended. But the team still had weekly meetings on Zoom with its event groups. The coaches talked about workouts they could be doing, but they also just wanted to check in to make sure everybody was OK. The students talked about what they were doing to keep busy (dying their hair and making TikTok videos were popular).
When practice was suspended, Polacek told the athletes that if there was any news about the season they would hear it from the coaches. And on April 2,that became necessary when the NSAA canceled the season.
Polacek scheduled a video meeting with the seniors. For about half of them, that's how they first learned that the season was over.
"It was probably one of the hardest moments of my coaching career," Polacek said. "Some of the kids knew, and some of them hadn't heard yet so we were passing that message along. It was real. We cried together, and talked through and processed just everything that was going on in their heads. How they had their last day of (in-person) high school without knowing it was their last day of high school."
The meeting started with Polacek talking for about 10 minutes, but after that everybody had a chance to share.
"For about 30 minutes we just talked about how much we appreciated the team, and how much we enjoyed it, and instead of it being a somber moment it was just a really good reflection for all of us on just what the team had meant for us," Polacek said.
"We hadn't been together for three weeks at that point, and it was electric," he said. "It was like we were in the gym together, and it was like we were on a trip together. It was about as close to normal as we have had for weeks."
The students talked about what the program had meant to them, and some of favorite things about track. For some it was competing at the state meet or the Kansas Relays. Others said that they had a hard time sticking with something in high school, but track became their thing.
Five of the seniors medaled at the state meet last year. Five of them are doing track in college.
Polacek is a Kearney graduate and was also a pole vaulter at Nebraska. This was his first year as head coach. He took over the program from Pat McFadden, who stayed as an assistant coach.
Concerned about COVID-19?
Sign up now to get the most recent coronavirus headlines and other important local and national news sent to your email inbox daily.