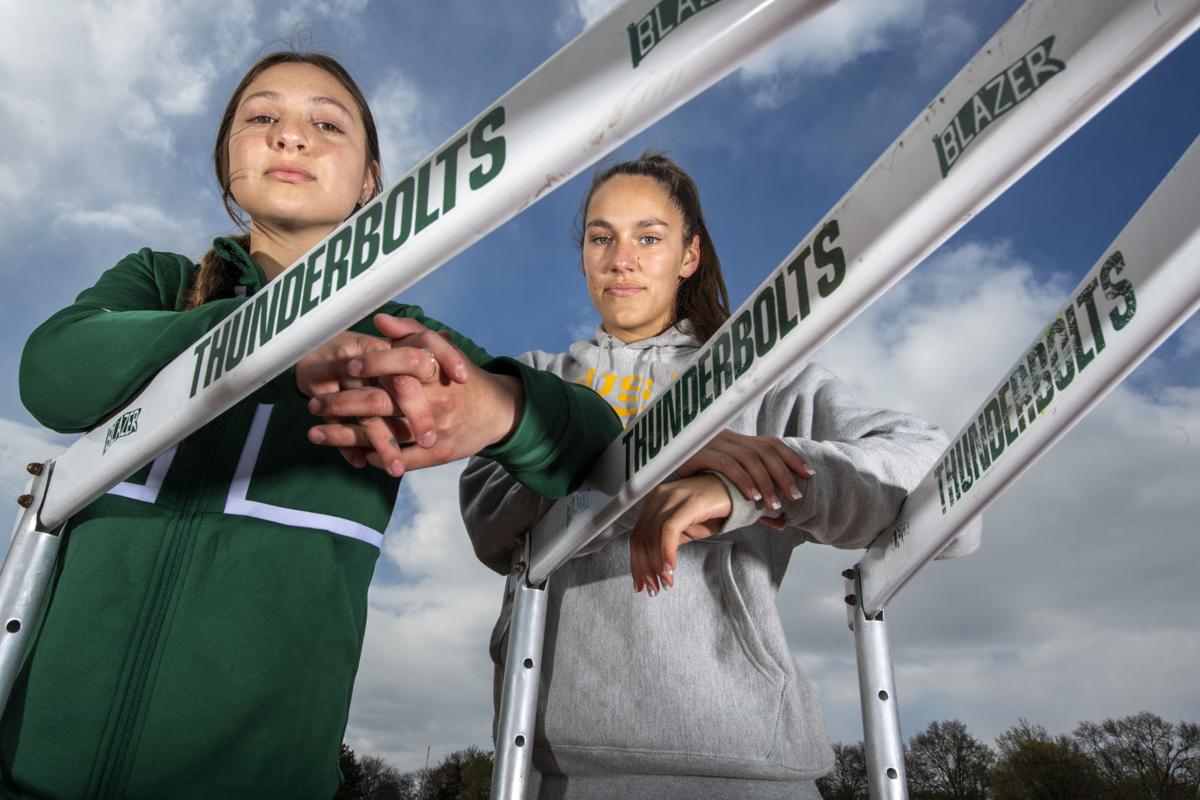 Anna Vedral is doing her part to expand her family's athletic legacy beyond football and the hurdles.
In just four months, the Lincoln Pius X senior has gone from a total novice in the girls pole vault to leading the state high school charts by clearing 11 feet, 6 inches, last week at the Kruger/May Invitational at Elkhorn.
She's the granddaughter of Tim Turman, the retired Nebraska High School Hall of Fame football and track coach at Bishop Neumann, and the younger sister of Noah Vedral, Rutgers' starting quarterback and a former Husker who was a state champion hurdler during his days at Neumann.
One of her uncles is former Nebraska quarterback Matt Turman, now a renowned football coach at Omaha Skutt with five state titles there.
All of her siblings as well as her aunts and uncles on the Turman side of her family have been championship-level hurdlers. And while Anna is a strong Class A contender in the 100-meter high hurdles and the 300 lows along with her Thunderbolt sophomore teammate Kate Campos, pole vault has become her passion in Pius X's first season to have athletes competing in the event.
Anna Vedral, who took second in the Class B girls 100 hurdles in 2019 as a sophomore at Bishop Neumann, is also part of Pius X's cheerleading squad. Anna's been involved in competitive cheer "for a really long time, so I know how to throw my body around," she said.
It was her friendship with several of the Pius X cheerleaders while doing competitive cheerleading at a gym in Lincoln that convinced her to transfer at the beginning of her junior year in 2019.
She thought that background was perfect for giving the pole vault a try indoors at The TrackVille at the Lincoln Sports Foundation Complex in January.
"My family has been really supportive because they all know that I like to try all this crazy stuff," said Anna, who will be competing in the 13-team Harold Scott Invitational meet at the Beechner Athletic Complex on Thursday. "The hurdles are a little bit of a daredevil mentality and so is the pole vault, so there's some similarity there.
"I think they're all just enjoying the same thing I am just learning the event and how it all works," added Anna, who is coached by former Lincoln High and Husker pole vaulter Lyon Avila, now the Midland pole vault coach.
"If you would've told me last year that this is what I'd be doing, I wouldn't have believed you."
When Anna approached Pius X track coach Bill Rice in January about possibly doing the pole vault this spring, he gave her a cautious go-ahead to do it.
"We told her we'd give her two months and then see where she was at," Rice said. "We told her that if we didn't think she could score points at state, she wouldn't continue with it (the pole vault).
"Well, she's progressed so much that she's leading the state," Rice added, laughing. "I think we'll keep going."
Anna has a full day with the addition of the pole vault, and keeping her legs healthy and free from injury and fatigue has been a challenge this spring.
She does Zoom classes in the morning, then stops at The TrackVille for a pole vault session on her way into town from Wahoo before going to Pius X for afternoon in-person classes and track practice.
She has cheerleader practice after her track workouts before heading home to Wahoo.
The state leaders in both the boys and girls pole vault will be competing Thursday at Lincoln High. Lincoln Southeast senior and Kansas recruit Brady Koolen moved into a tie for 10th on the boys state all-time charts by going 16 feet Tuesday at the Nebraska Track & Field Festival at Papillion-La Vista South.
Koolen also spent the winter training at The TrackVille, "and he's set a really good example for me," said Anna, who hopes to continue her pole vault career in college. "The first day I saw Brady jump, I was like, 'I want to be just like him.'''
Vedral is second overall in the state and leads the Class A charts in the 100 hurdles with 15.02 seconds, while Campos is third in A and fourth overall with a :15.18. In the 300 hurdles, Campos is second in A and fourth overall with a :46.64.
After losing her freshman season when the COVID-19 pandemic wiped out the 2020 spring high school sports season, Campos has put herself in contention for a state gold medal as a sophomore, especially in the 300s.
"I like running the 300s, it's like an endurance race, which I enjoy," Campos said. "It's a tough race, but it's a good kind of pain. It hurts, but afterwards, you feel like you've accomplished something."