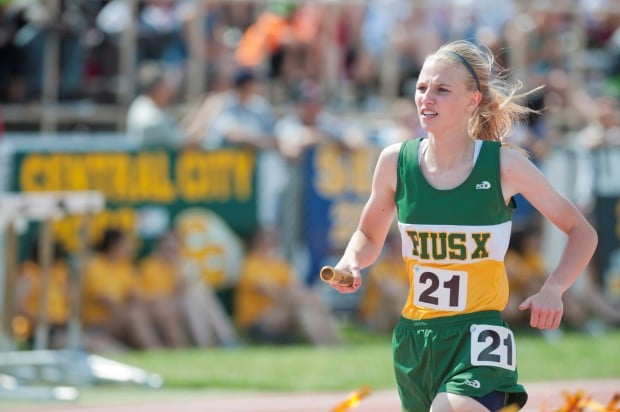 Seward and Lincoln Pius X defended its girls 3,200-meter relay titles Friday at the state track meet without the drama nor the fast times of a year ago.
Seward won the all-class Gold Medal for the second straight year by winning the Class B race in 9 minutes, 39.05 seconds, in the morning session. Pius X took the Class A title with a 9:41.41 in the afternoon.
In 2011, Seward's Hannah Tvrdy needed a furious finish on the anchor leg to pull out the win over McCook. The Bluejays' time of 9:29.02 landed them eighth on the state's all-time charts.
This time, Tvrdy was just 20 meters behind the leader when she got the baton, went in front on the final lap and won comfortably. Sidney took second in 9:41.65.
"That was crazy last year. I didn't want that again," said Tvrdy. "It was nice having the lead a little earlier this time. I had a feeling they were right behind me, so I went as hard as I could to the finish."
Tvrdy was joined by two other juniors — Taylor Seaman and Marti Vlasin — and sophomore Shelbi Sloup.
The Thunderbolt foursome of sophomores Tarin Van Slyke and Sarah Kottwitz, senior Paola Mwenentanda and junior Alyssa Thavenet wanted to break the school record of 9:30.23 set two years ago when Pius X finished second to Lincoln Southeast. Thavenet and Mwenentanda were on last year's relay team that won in 9:30.83.
The slower time meant a more measured celebration by the Bolts after the race.
"We were expecting a better time than this," said Thavenet, who ran the anchor leg. "It's always humbling to win, but we expected more. It was hard to breathe because of the heat and humidity, and the wind hits you hard."
WEEDER WINS FOURTH STRAIGHT GOLD: Lindsay Holy Family senior Andrea Weeder fell short last fall in her bid for a fourth straight Class D cross country girls title, finishing second in the 2011 race.
You have free articles remaining.
Weeder, however, was not denied her place in track history, winning her fourth straight 3,200 gold medal with a time of 11:31.92. She also anchored the Bulldogs' 3,200 relay team, which won for the fourth straight year as well.
Holy Family, the three-time defending state champions, scored 38 points Friday to lead the D team race.
Taking second in cross country "definitely gave me the motivation to go for it in track," said Weeder, who will run at South Dakota State next season. "Being my senior year, there was pressure. There's a lot of good runners, so there's always a question of whether my best will be good enough."
After she finished, Weeder stayed around the finish line and offered congratulations to the runners as they came in.
"Sportsmanship is something I've grown up with," Weeder said. "Give people respect and you'll get respect back."
Another D multiyear winner was Cynthia Mick of BDS, who captured her third straight D pole vault by clearing 9 feet, 10 inches.
NEW SCOREBOARD: The video screen that was at Rosenblatt Stadium is now on the north end of Burke Stadium. It provides instant results after races, video of races and video of field events when there's no action on the track.
Weeder admitted she was looking at the video board running the back stretch of the 3,200. "I was watching the field events. I didn't know they'd have that," she said. "It gets you distracted so you're not thinking too much about the race."
FRAUENDORFER BUSIER AT STATE: Humphrey junior Alyssa Frauendorfer won the Class D long jump with a season-best throw of 18 feet, 1 inch, in an event she didn't do at state a year ago when she was nursing a back injury.
"I missed doing everything I normally do," said Frauendorfer, who won the triple jump and took second in the 400 last season at state. "I've come back strong this year."
Frauendorfer qualified for the 200 and 400 finals in addition to trying to defend her triple jump title Saturday.
The 6-foot Frauendorfer, an all-state basketball player and a third-team Super-State volleyball player who led Humphrey to the Class D-1 state title last fall, recently committed to play volleyball at Wayne State beginning in the fall of 2013.