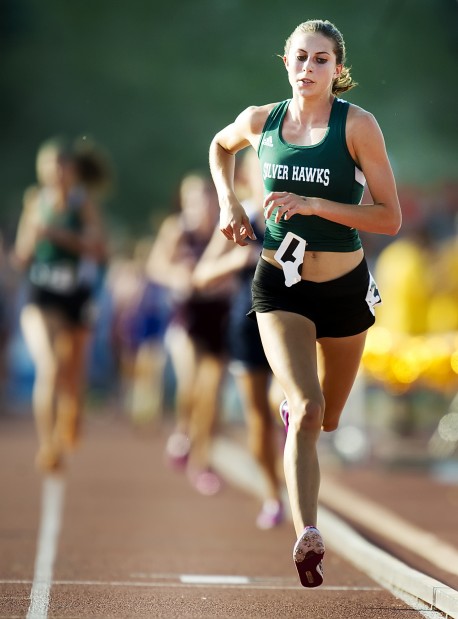 OMAHA — Lincoln Southwest's Mary Hillis and Fillmore Central's Maggie Malone had always been close to winning gold in the girls 3,200-meter run and long jump, respectively, at the state track meet.
The seniors finally made it happen in the heat and wind Friday at Omaha Burke Stadium.
Hillis had no problems dealing with the conditions, finishing the Class A race in a personal-best time of 11 minutes, 7.24 seconds, good for the all-class Gold Medal. Lincoln North Star freshman Jeralyn Poe was second in 11:18.52, while last year's champion, Millard West's Sidney Hirsch, was third in 11:24.62.
Hillis had finished third, fifth and sixth in her previous three years at state.
"This is just icing on the cake," said Hillis, who recently committed to Cal Poly. "If I didn't win a gold medal, it would've been fine. I've had a good high school career."
Malone ended any suspense early in the Class C long jump, the last class to jump Friday. The Nebraska recruit beat the winning distance of the other three classes on her first jump, then unloaded a personal record of 18 feet, 11 1/2 later in the preliminaries to secure the all-class Gold.
"I have to thank God, because six weeks ago I couldn't jump because of a quad injury, and I didn't think I'd even be here (at state)," said Malone, who was second the last three years in the Class B long jump. "It's unbelievable that today I'd win the all-class Gold Medal."
Hillis stayed closely behind Hirsch and Poe before taking the lead with two laps to go and gradually pulling away after that.
"I felt calm and ran relaxed," Hillis said. "At the mile mark, I was totally feeling it. I knew I had it then."
You have free articles remaining.
That's the same feeling Malone had after popping an 18-8 1/2 on her first jump, putting her in a commanding position. While Malone won all-class Gold, she was unable to claim her family's title, at least in high school.
Her mother, Fillmore Central coach Nancy Kindig-Malone, is fourth on the state's all-time long jump charts with a 19-5 1/2. Kindig-Malone later competed at Nebraska.
"I've still got four more years (at NU) to get her records," Maggie said. "My goal this year was to hit 19, and I didn't get it today. Those 10 (team) points, that was the most important thing."
Fillmore Central, last year's Class B champion, ended the first day with 25 points. The Panthers' 3,200 relay also finished first (9:51.40) and Maggie's younger sister, Audrey, picked up five points with a fourth-place finish in the long jump.
While Maggie showed no effects from an earlier injury this season, Omaha North senior Brianna McGhee also looked completely healed from a hamstring problem earlier this season that knocked her out of the Metro Conference meet.
McGhee, a UTEP recruit, won the A long jump (18-6 3/4) and registered the fastest 100 high hurdle preliminary time with a :14.55. She's third on the state's all-time charts in the hurdles with a :14.23 last year.
"I'm ecstatic," McGhee said. "This is the best I've felt all year. The hot weather really seems to be loosening up my hamstrings. I'm going for my record tomorrow."
The upset of the first day may have come in the B long jump, where Gothenburg freshman Tiani Reeves won the gold with an 18-7 1/2, with 2011 champion Tierra Williams of Auburn taking second with an 18-5 3/4. Williams is tied for ninth on the all-time charts with a 19-2 1/2.
"My coaches told me I had nothing to lose, just stay calm and compete," said Reeves, who was slowed by a strained calf and a hip flexor injury earlier in the season. Her best jump coming into state was a 17-9 3/4.
"I wish I'd felt like this all season."
George Mason recruit Michelle Wallerstedt of Omaha Burke won her second all-class Gold Medal in the last three years in the discus with a fling of 156-10. The senior's effort was close to cracking the all-time charts. Lori Uher of Fairbury is tenth with a throw of 157-8 in 1997.