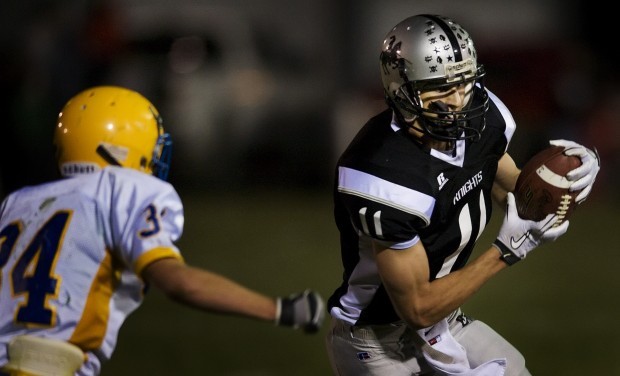 Elmwood-Murdock senior Sam Burtch accepted a walk-on spot on the Nebraska football team instead of track opportunities at NU and Kansas State and the chance to compete in both sports at Northwest Missouri State. He has some academic scholarships lined up to ease the financial burden.
"I like track, but I couldn't see myself running it for four years,'' said Burtch, an all-state receiver who had 44 catches for 1,038 yards and eight touchdowns in 2010. "Football is so much more exciting, and doing what I love every day is something I'm looking forward to.''
The 6-foot-3, 190-pounder is open to playing any position the Husker coaches have in mind.
"Whatever helps the team and gets me on the field, I'll do it,'' Burtch said. "I love defensive back just as much as I do receiver.''
Burtch won the Class C 800-meter run last year at state with a time of 1:56.28, but the gold medal in the first event on the meet's final day came with a price. He settled for second in the 400 for the second straight year, this time being edged at the finish by Burwell's Grant Gebhardt. Burtch finished eighth in the 200 and helped Elmwood-Murdock finish second in the 1,600 relay, the final event of the meet.
"I spent so much energy winning the 800, I could tell I was fatigued the rest of the day,'' Burtch said. "In the local meets, I can ration my energy for races. But at state, you have to go all-out every time you step on that track, or you're going to get left behind.''
Burtch says this season "is going pretty slowly, but I'm getting there.'' He won the 400 and 800 Tuesday at the Yutan Invitational, but his times (:52.2 in the 400 and 2:08.6) are not where he wants them to be.
Burtch is running at the Kansas Relays next weekend, "and that should help bring my times down,'' he said.
He didn't play basketball so he could train for track.
"I wasn't the most popular guy around here (at school) this winter, but I had some football injuries I needed to heal and I wanted to get a head start on my track workouts,'' he said. "There's a couple records I'd like to make a run at this year.''
It will be a hectic summer for Burtch. He reports for Shrine Bowl camp just after the state track meet in May, then starts summer school at Nebraska on June 6, two days after the Shrine Bowl. The credit hours he takes are paid for, which will make up for not having a summer job this year.
"The last couple years I've worked for a farmer just outside Louisville,'' Burtch said. "It was hard work, throwing hay bales and stuff like that, but it was fun. It definitely got me in shape.''