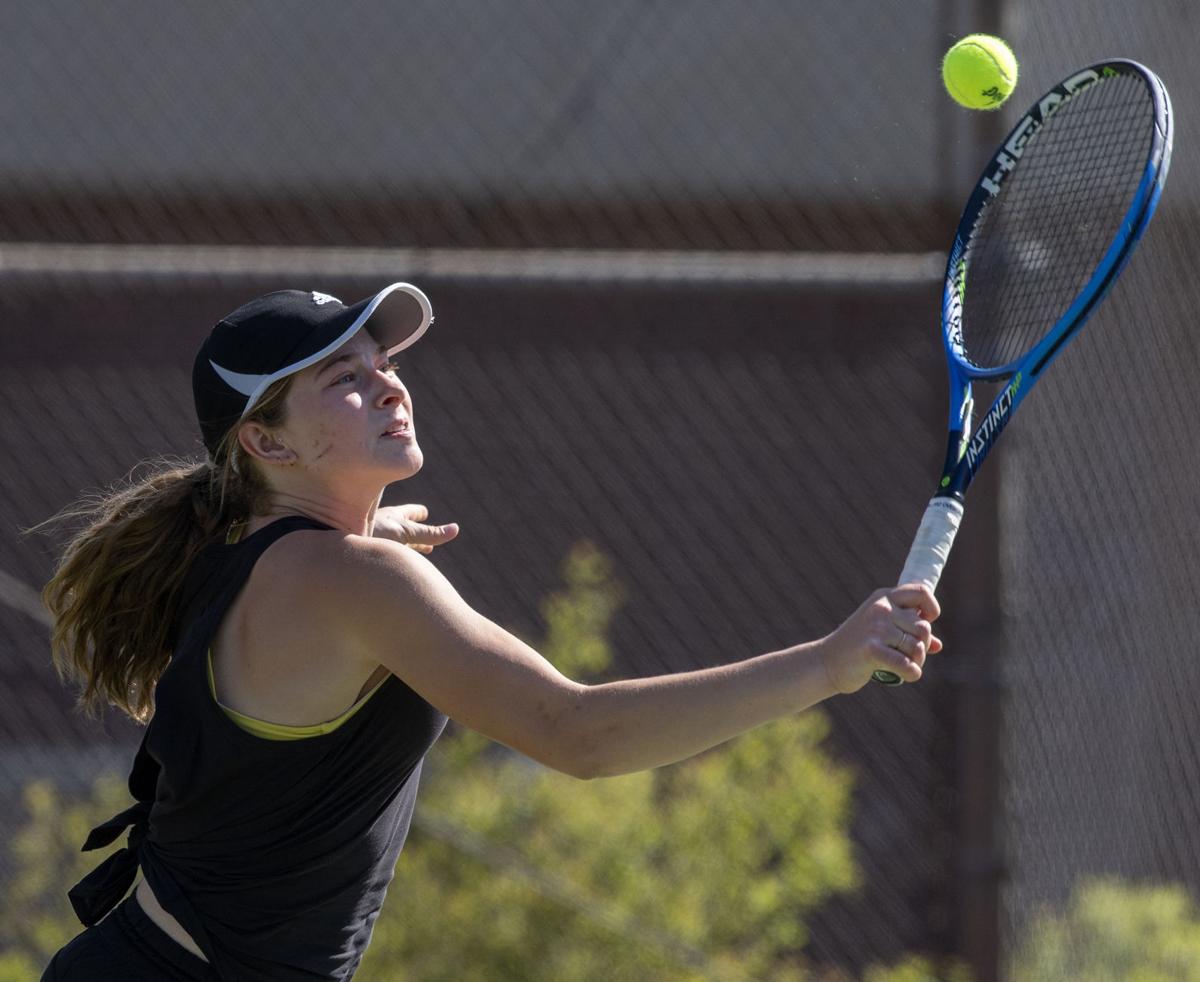 In a meeting of teams with Class A state title hopes, Lincoln Southeast edged Lincoln Southwest 5-4 in girls tennis Tuesday at Woods Tennis Center.
The Silver Hawks won four of six singles matches, including at No. 2, where Lainie Fanton defeated Ella Kostal 8-3.
But the Knights, who won the 2019 state title, were aided with a sweep of the three doubles matches. Caroline Miller and Ally Keitges defeated Ella Dean and Grace Bartolome 8-3 at No. 1 and Averie Dodds and Lily Rippeteau were victorious at No. 2.
Southeast's Camilla Ibrahimova continued her dominant season with an 8-2 victory against Natalie Thompson at No. 1 singles.
Tuesday's close match followed last week's Millard West Invitational, where Southeast and Southwest each scored 88 points. Southeast won the tiebreaker to win the tournament.
Lincoln East 8, Lincoln High 1: East freshman Gibsen Chapman won 8-1 at No. 1 singles, and teamed with Kendal Hasemann for a No. 3 doubles win. Elly Johnson and Kristina Le won at No. 1 doubles for the Spartans.
BOYS GOLF
Lincoln Southwest Invitational: A back-nine 34 lifted Omaha Westside's Jacob Hellman to the individual title at Highlands Golf Course. Hellman finished with a 70 and won the meet by four shots over Lincoln Pius X's Jason Kolbas.
It was a Westside sweep in the 18-team tournament. The Warriors shot a 310 to take the team title. Pius X (314) was second, Grand Island (321) was third and Lincoln East (323) was fourth.
Lincoln Northeast's Caden Peppmuller shot a 77 to place fourth and Lincoln East's Thomas Gatlin carded a 78 to take sixth.
Elmwood-Murdock Invitational: Brady McGerr shot a 71 to lead Lincoln Christian to a titles sweep at Grandpa's Woods. The Crusaders shot a 303 to win the team title. McGerr won the individual crown by four shots over four golfers who each shot 75.
BASEBALL
Lincoln Southeast 15, Lincoln High 5: Will Barrett had three hits, including a double, and four RBIs to lead the Class A No. 10 Knights, who jumped to a 5-0 lead in the first inning. Barrett also started on the mound for the Knights, tossing an inning and striking out two.
Carson Hillhouse and Alex Gable collected an RBI each to lead the Links.