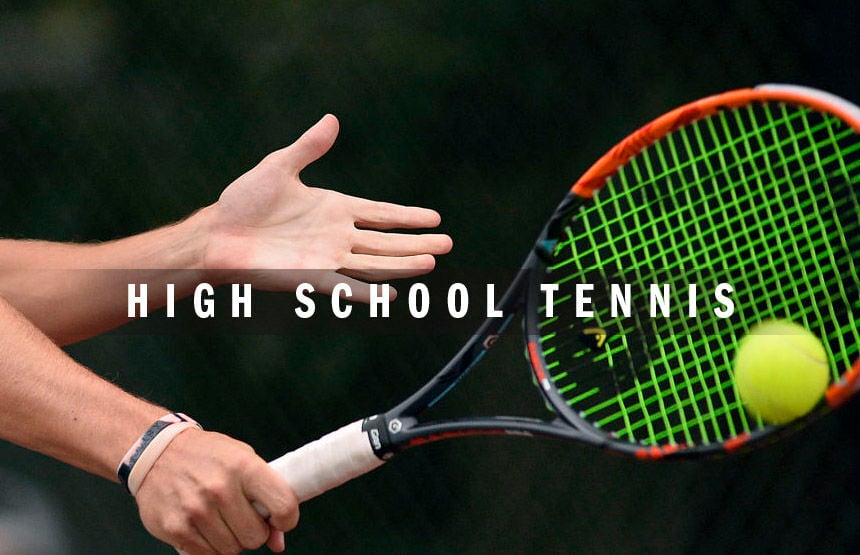 OMAHA — The boys state high school tennis tournament represents the last chance to settle some old scores, and Lincoln Southeast sophomore Camden Hjermstad is taking full advantage of his opportunity to avenge losses.
After two setbacks earlier in the season to fourth-seeded Jonathon Sabirianov of Millard North, the fifth-seeded Hjermstad finally broke through in the Class A No. 2 singles quarterfinals Thursday at Koch Family Tennis Center. He outlasted the Mustang senior 6-4, 6-2 to advance to a 9 a.m. Friday semifinal against top-seeded Yakub Islamov of Lincoln East.
Hjermstad's (25-12) previous two losses were tight, hotly contested eight-game pro set matches (8-5 and 9-7) at the end of a quadrangular and the Millard South Invitational, and the left-handed Knight was feeling the physical effects of both hot, steamy days.
He was fresher for Thursday's meeting, meaning he was more willing to get drawn into long rallies and was able to simply make one more shot than his opponents after many of the long exchanges.
"I had to figure out a way to be consistent enough to play through him and keep it away from his forehand, which is really good," Hjermstad said. "I had the energy to stay out there with him all day if I had to."
Hjermstad, a No. 2 doubles player in 2020 for the Knights, has plenty of resources available to enhance his tennis game. Besides the daily practice sessions with his Southeast teammates, he also gets regular hitting in with his father, Erik, a former Lincoln Northeast player who went on to become a Nebraska Wesleyan standout and the top adult men's player in the state in the mid-to-late 2000s.
Southeast coach Chris Salem was one of Erik Hjermstad's teammates at NWU during that time.
In many ways, Camden Hjermstad is a completely different player from his father, who plays right-handed and pounds consistent, flat groundstrokes off both sides. The left-handed Camden, on the other hand, is much more content throwing up topspin shots, particularly off the forehand side.
"He definitely provides some insights on errors I'm making and helps me to hit more consistent shots," Camden Hjermstad said. "He considers himself a backboard, so I get to hit a lot of balls when we work out."
The Hjermstad revenge tour will attempt to move on against a semifinal opponent who is 3-0 against him. Islamov, also a sophomore, won the first meeting 8-6, then blanked Hjermstad 6-0, 6-0 in the Heartland Athletic Conference championship match. Three days later (Oct. 7) in a quadrangular, the 31-0 Islamov posted an 8-3 victory.
"The second time wasn't very close, but the third one was a pretty good match," Hjermstad said about his previous matches against Islamov. "Hopefully it will be a good match and I'll be able to change some things tomorrow."
The Knights also advanced to the No. 2 doubles semifinals, where the fourth-seeded duo of Tyler Blair and Ruyter Jamison pulled out a 6-4, 2-6, 1-0 (10-7) quarterfinal victory against the Omaha Westside tandem of Thomas Pate and Zev Gordman.
Lincoln Southwest was not as fortunate in its quarterfinal matchups. Fourth-seeded Markus Rutledge fell 7-5, 2-6, 1-0 (10-6) to No. 5 seed Jeremiah Witkop of Bellevue West, who posted his school-record 118th victory in the process.
The Silver Hawks' sixth-seeded No. 2 doubles squad of Matthew Sorrell and Blake Johnson had match points to topple Elkhorn South's third-seeded Gabriel Jordan and Tanuskh Sharma, but the Storm prevailed 3-6, 6-3, 1-0 (13-11) to move on to the semifinals.
Elkhorn South also advanced to the No. 1 doubles semifinals with a 4-6, 6-4, 1-0 (10-3) quarterfinal win over Southeast's Jackson Miller and Sam Weyeneth, setting up a semifinal showdown with the Lincoln East undefeated team of Kyle Givens and Garbirel Whiston.
The Spartans, who lead the team race after Day One with 36 points, qualified for the semifinals in all four divisions as second-seeded Kirby Le improved to 35-1 at No. 1 singles and the No. 2 doubles team of Kaiden Bradley and Caden Haar moved to 31-0 with two wins.