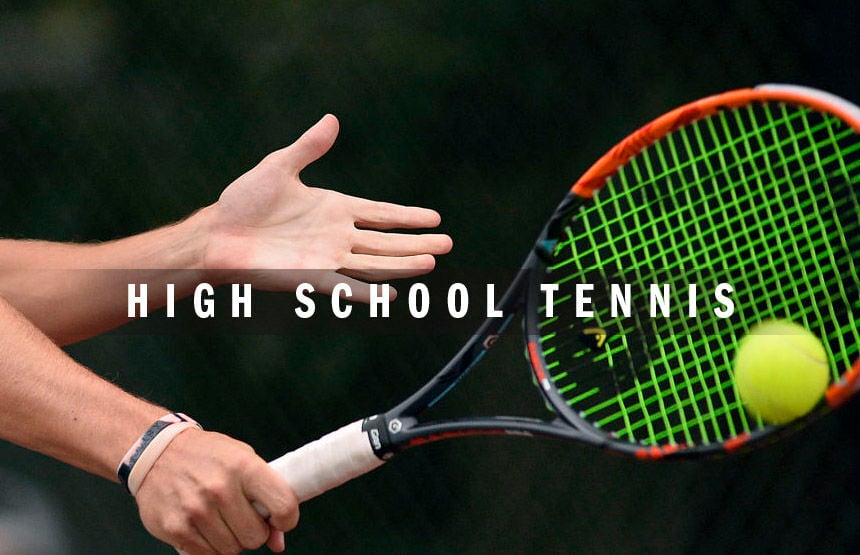 Clare Plachy didn't need a refresher on her finals-round opponent at the Heartland Athletic Conference girls tennis tournament Wednesday at Woods Tennis Center.
The Lincoln Pius X senior and Lincoln Southeast junior Camilla Ibrahimova share a strong connection to the sport that dates to when they were little and hitting together.
"We play each other probably a hundred times and it goes back and forth every time," Plachy said. "You never know who is going to win."
Plachy had the edge this time.
She jumped to quick starts in each set on her way to a 6-2, 6-2 victory at No. 1 singles while capturing her first HAC championship. She was runner-up at No. 1 singles as a sophomore, and there was no season last year.
"It feels really great, especially because I'm a senior and it's my last chance playing in HAC," Plachy said. "It feels good to play my game and to play one of my friends, and it was a fun match."
Plachy's win fueled a big day for the Thunderbolts, who won the team title. Pius X also had a champion at No. 2 singles, where sophomore Cece Ulrich outlasted Lincoln Southwest senior Lainie Fanton 4-6, 6-4 (10-7) in a back-and-forth match. The two players split their two previous meetings this season.
"Once we started the tiebreak, Cece asked if she should play safe or play her game," Pius X coach Nolan DeWispelare said. "(I said), 'Play your game, and she did."
Plachy and Ibrahimova met once during the season — at the Omaha Westside Invitational — and the Southeast Knight won in a 9-7 tiebreaker. This time, Plachy looked to capitalize on a fast start.
"She's really good at coming back in matches when I'm up," Plachy said. "I have to stay strong and don't let her come back, because she can dictate the point really well when she has the opportunity. So keep it deep and not give her any of her shots."
Plachy will go into next week's Class A state tournament with a lot of momentum. Of her three losses this season, two have come against opponents — Ibrahimova and Millard North freshman Mary Faulk — she has defeated. The other came to a foe in Class B.
In a tournament fielding multiple state title contenders, Pius X won with 100 points, Lincoln Southwest was second at 94 and defending state champion Lincoln Southeast was third at 86.
Southwest's Grace Bartolome and Ella Dean teamed up for a conference title at No. 1 doubles, and Southeast's Averie Dodds and Lily Rippeteau outlasted Southwest's Meg Hove and Ella Ford in a super tiebreaker for the No. 2 doubles crown.
The Thunderbolts won the Spartan and Papillion-La Vista meets late in the season, and those were springboard meets for the HAC, DeWispelare said. Another complete team effort has Pius X feeling good heading into state.
"We've been talking about what they have the potential to do, so for them to come out and for everybody play where we thought they could play today was huge, because this is an extremely tough conference and an extremely tough day," DeWispelare said.