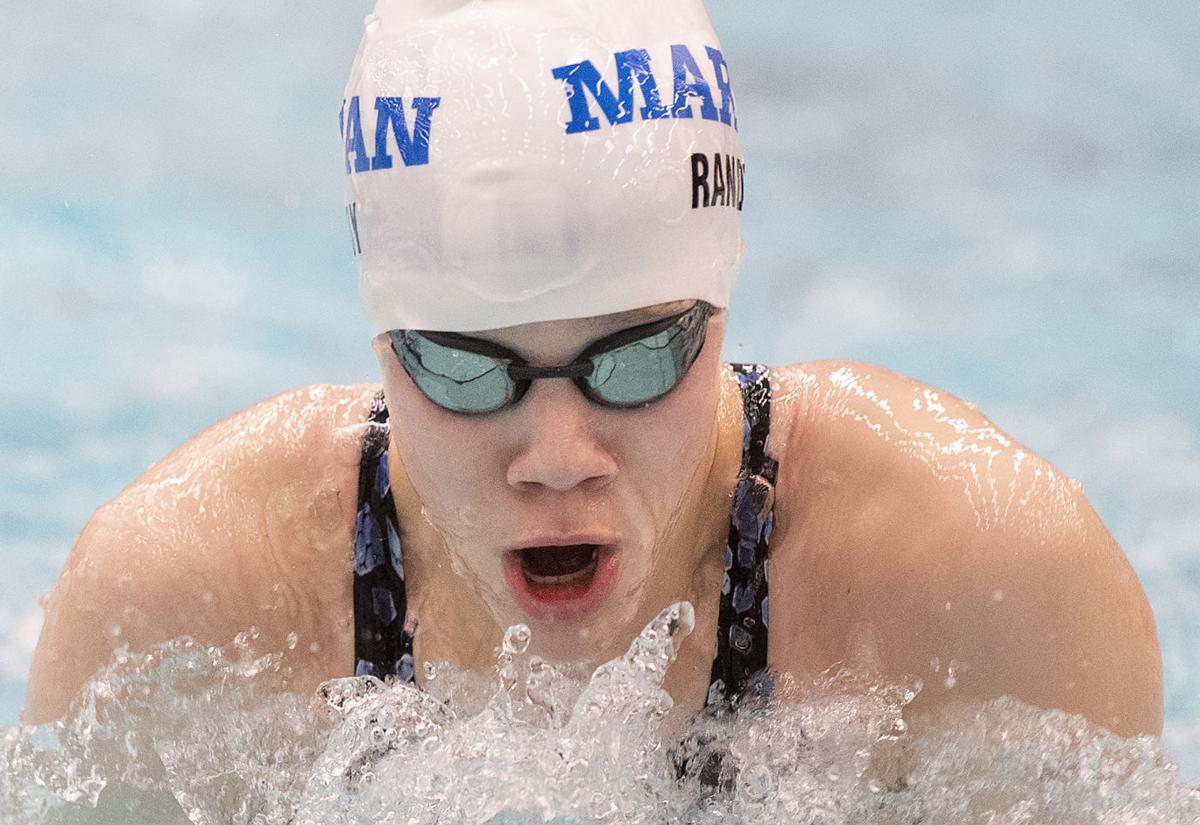 JoJo Randby was at the top, and in the record books.
The Omaha Marian swimmer blazed her way to a time of 1 minute, 1.29 seconds in the 100-yard breaststroke at last year's state swimming meet.
No high school girls swimmer in state history has gone faster.
Randby said she was very happy with her swim. But as a student of the sport, her coach says, the Crusader swimmer is always looking to gain another edge.
That's why Randby likes to take a deep dive into watching video of her races, dissecting what she can do better.
"Even her state races, she'll probably go home after this weekend and watch the video and see how she can improve, even if she breaks a record, just because she wants to get faster," Marian coach BJ Christiansen said. "The growth mindset ... it's not a coincidence that those swimmers are the ones that reach some of the highest accolades."
The state swimming and diving meet is this week at the Devaney Sports Center, and Randby indeed wants to go faster. She'll be defending her gold medals in the 50 freestyle and 100 breaststroke while trying to help lead the Crusaders to back-to-back team titles.
Ranked as one of the nation's top 150 recruits in the 2021 class by CollegeSwimming.com, Randby went :23.23 earlier this season in the 50 free, which is already faster than her state finals time (:23.43) from a year ago. She'll then take aim at a lofty goal in her signature event.
"I'd like to go a :59.9 (in the breaststroke)," she said after swimming a 1:03.14 at Metros. "I've been kind of aiming toward that."
Setting such a goal shows Randby's desire to reach new times despite the challenges that have come before it.
Like any other swimmer, Randby had her training put on hold last March when the COVID-19 pandemic took grip of the country. Pools were closed.
But Randby, who will swim at Nebraska, took a proactive approach with her sights set on a strong senior season and a potential Olympics Trials cut.
Out of the water for three or four months, Randby focused on mental and core training and visualizing her races. More sit-ups and pullups.
"Being out of the water wasn't great, but I really improved some things that I wanted to do that I might not have done if I hadn't taken a break," Randby said.
Christiansen said Randby leads by example each day in practice.
"Once they got back in practice, JoJo gives 120%," he said.
Randby will have a chance to add four more gold medals, including two relays, this week.
Would that make her the most famous Randby in the family's house? Her parents are KETV meteorologist Bill Randby and news anchor Julie Cornell.
"I'd say they're a little more famous than me, but I would say I do get some attention from their Facebook pages whenever they post something," Randby said. "I do get a little recognition."
Another strong state meet will get Randby and her team a lot of recognition.
The Crusaders are the deepest girls team in the state and are aiming for back-to-back state titles.
"I'm not sure if I was on another team that I would be at the level that I am," said Randby, whose twin sister Maddie is a team manager. "We have some really, really awesome and deep talent at Marian and I'm really thankful to be able to work with my teammates each and every day. To push them and for them to push me is really something special and I think it's unmatched. I'm really excited to see what we can do."