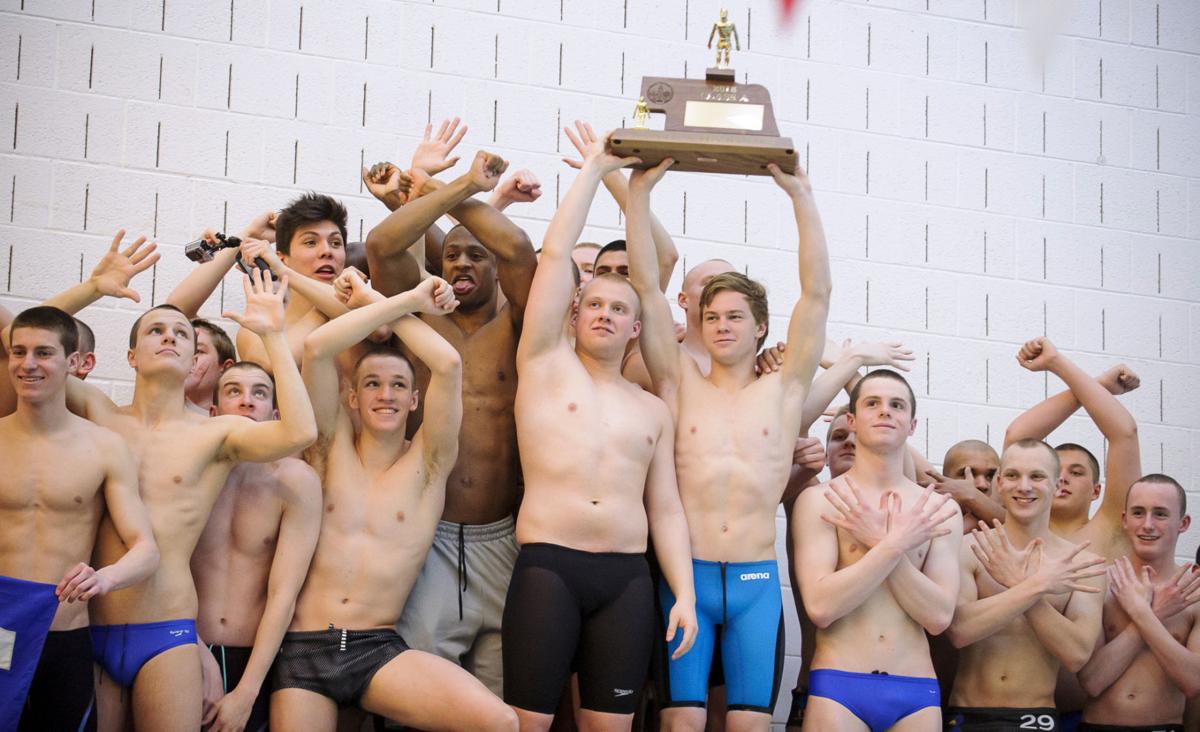 For the past 14 seasons, Creighton Prep has been the top dog in boys swimming.
The Junior Jays have won 14 straight state championships, an unprecedented run that started in 2007, just months before the rollout of the first iPhone.
And in many of those seasons, Creighton Prep was the overwhelming favorite going in. Teams knew the Junior Jays were not going to be touched. Their depth and dominance has shined.
But Tom Beck has delivered a different and rare message to his squad this year.
"They understand that it's going to be a huge challenge for them, and I've been telling them for a while now, I think we're the underdog coming in," the Creighton Prep coach said.
The state swimming and diving meet is Thursday through Saturday at the Devaney Sports Center, and the boys team race will be among the biggest storylines.
Creighton Prep's run of consecutive titles will have some challengers. Lincoln Southwest is expected to be the main threat, and Elkhorn/Elkhorn South will have several swimmers racking up a lot of points, too.
The Juniors Jays, who have 22 state qualifiers, are very much looking forward to the challenge, Beck says.
"The guys, they just have a lot of pride," Beck said. "They have a lot of pride in their team and in what they've done, and they don't want to let anybody down.
"They have a lot of pent-up energy that hopefully comes out in a good way this weekend."
Lincoln Southwest has the depth to make a run. The Silver Hawks also have multiple swimmers expected to swim for gold medals, and they're seeded No. 1 in all three relays (though it's very close).
The makings are there for a special weekend for Southwest. But coach Ross Mueller said that's not the team's focus.
"We talked about it just briefly," he said of the team race. "We say, 'Hey, look, we have an opportunity to do what no team has done in a long time. Let's make sure we are practicing everything we need to in the pool, and we'll see what we can do come state,' and that's the last time we talked about it.
"We've got to be able to perform and we can't worry (about) are we going to win state, are we not going to win state. Your performance will determine that."
Ethan Reida is a senior for the Silver Hawks, who have 16 state qualifiers, and he has seen the team's growth firsthand.
"It feels really exciting, especially with what this team used to be," he said. "We worked our way up from 12th (place at state in 2018) to fourth (2019) to third (2020), and making that jump is really exciting."
A tighter team race makes Friday swimming preliminaries that much more important. Beck called it the most important meet day of the season.
A swimmer narrowly missing out on reaching the championship final (top eight) can make a difference in the team race. A top-eight finish in prelims means you're guaranteed to score at least 11 points the next day, barring disqualification.
"That's the key," Beck said. "From the consolation finals, the best you can finish is ninth. It doesn't matter what your (finals) time is, or if you happen to be 17th (in prelims), it doesn't matter how fast you could have gone Saturday, you're still 17th.
"But if you're eighth, you've got a shot to move all the way up to first. If you're 16th, you've got a shot to move all the way up to ninth. Taking advantage of those opportunities on Friday I think is the key to the meet."
Southwest has multiple swimmers seeded in the 15-16 range or eight-nine range.
"They're kind of right there on the bubble, and everybody else in the state is going to be stepping it up at that time, so we've got to make sure that we really get after it in prelims so that we can kind of grab those spots," Mueller said.
The relays will be important to watch, too. Lincoln Southwest, Elkhorn/Elkhorn South and Creighton Prep are the top three schools in each on the boys side, and they're big point-grabbers.
Creighton Prep's streak of 14 straight state titles is the longest of any sport in the state. Only four other dynasties come close.
Omaha Skutt won 13 straight wrestling championships from 1998-2010, Kearney boys track won 11 straight (1994-2004), Oakland-Craig boys golf won 11 straight (1979-89) and Crofton girls cross country won 10 straight (2006-15).