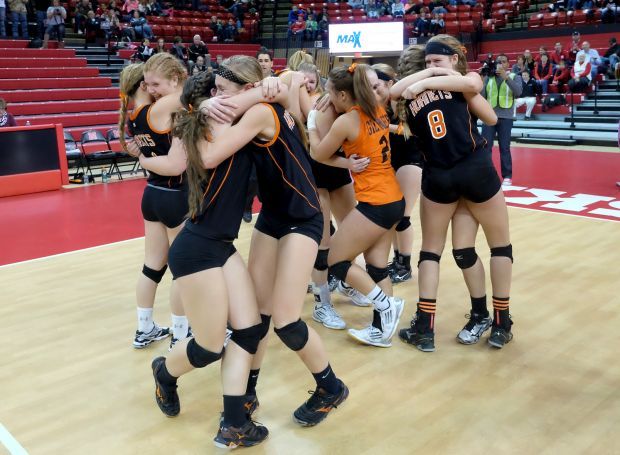 Sometimes it takes a little adversity to win back-to-back state championships, and on Saturday, the Giltner Hornets got all they could handle in a rematch of last year's final.
After winning the first two sets, the Hornets held on for a 25-16, 26-17, 23-25, 21-25, 15-10 victory against top-ranked Stuart in the Class D-2 state volleyball championship at the Devaney Sports Center.
The No. 2 Hornets flew through the first two sets and seemed destined to become the first repeat D-2 champions since Hampton in 2000 and 2001. But the Broncos had other ideas, only trailing twice over the next two sets. In the final set, the Hornets had the extra push when it counted.
"There's a big difference between last year's championship team and this year's team," said Giltner coach Kurt Polt. "We graduated five seniors off last year's team, so that's a real compliment to this year's team to regroup in a short amount of time and come together and play like they did this year."
Two transfer students, senior Bailey Craig and junior Chainey Tompkin, formed a strong defensive partnership for the Hornets during the season and did so again during the state tournament. Craig, who chose Giltner after moving into the area and seeing a picture of last year's championship squad, was a force in the middle Saturday, shutting Stuart's high-powered offensive attack.
"The senior class this year was so supportive of us," Craig said. "Coming from so far away, it was so special to me that they took us in and under their wing. It's amazing to help them win back-to-back championships."
The Hornets, who swept Crawford and Exeter-Millligan in the first two rounds, looked well on their way to a state championship without dropping a set before the Stuart offense finally warmed up. Sophomore Harlee Fischer led the charge for the Broncos with nine kills and two crucial service aces over the third and fourth sets. The Broncos even held a 4-3 lead in the fifth set, but back-to-back service aces from Tompkin got the Hornets a lead they wouldn't relinquish.
"We set our goals really high this year and we wanted to get back to the championship game," Stuart coach Stacey Dexter said. "I'm so proud of these girls, it's a great accomplishment. We came up a little short, but hats off to Giltner. They're a great team and a great program."
Stuart was coming off a five-set thriller against Lawrence-Nelson on Friday and fatigue might have been a factor early on in the match. The Hornets never trailed during the first two sets as Tompkin dominated the Broncos offensively.
"It feels amazing to be a senior and leading the team back to a championship," Giltner libero Madison Omel said. "It takes a lot of focus to recover from a deficit, Stuart had all the momentum going into the fifth set. In the back row, it's really easy to get frustrated, but we were able to keep our heads up and push through."