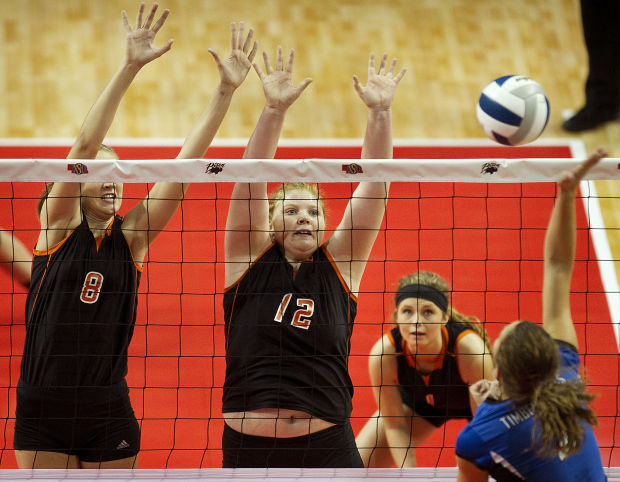 Second-ranked Giltner found a different way to win in Friday's Class D-2 state volleyball semifinal against No. 4 Exeter-Milligan.
After an easy three-set sweep over Crawford on Thursday, the Hornets found themselves in a back-and-forth affair. After winning the first set, Giltner found itself behind 16-5 in the second set. The Hornets went on a 14-2 run to swing the momentum and win the set before closing out the Timberwolves in three sets, 26-24, 25-21, 25-23.
"When you're down like we were in second set, you have to fix the reason," said Giltner coach Kurt Polt. "We weren't getting the ball where it needed to be, but we got together and talked about it. We had to get the ball back in the system, play one point at a time, and the girls did a great job of it."
The Hornets had a 16-11 lead in the first set before the Timberwolves rallied to eventually tie it at 18. The teams exchanged points until the end, but two late service aces from Chainey Tompkin helped Giltner close out the set.
The second set pushed all the momentum to Giltner's side, but the third set played out similarly to the first. The biggest lead held by either side in the set was 21-16 for Exeter-Milligan, but the Hornets came storming back to take nine of the last 11 points and move onto the championship game.
"In the second and the third set, our hitting errors just really got us down, and you can't hit like that against a team like Giltner," said Exeter-Milligan coach Darcy White. "I knew we were a state-caliber team and we had our ups and downs this season, but I hope they can look back and be proud."