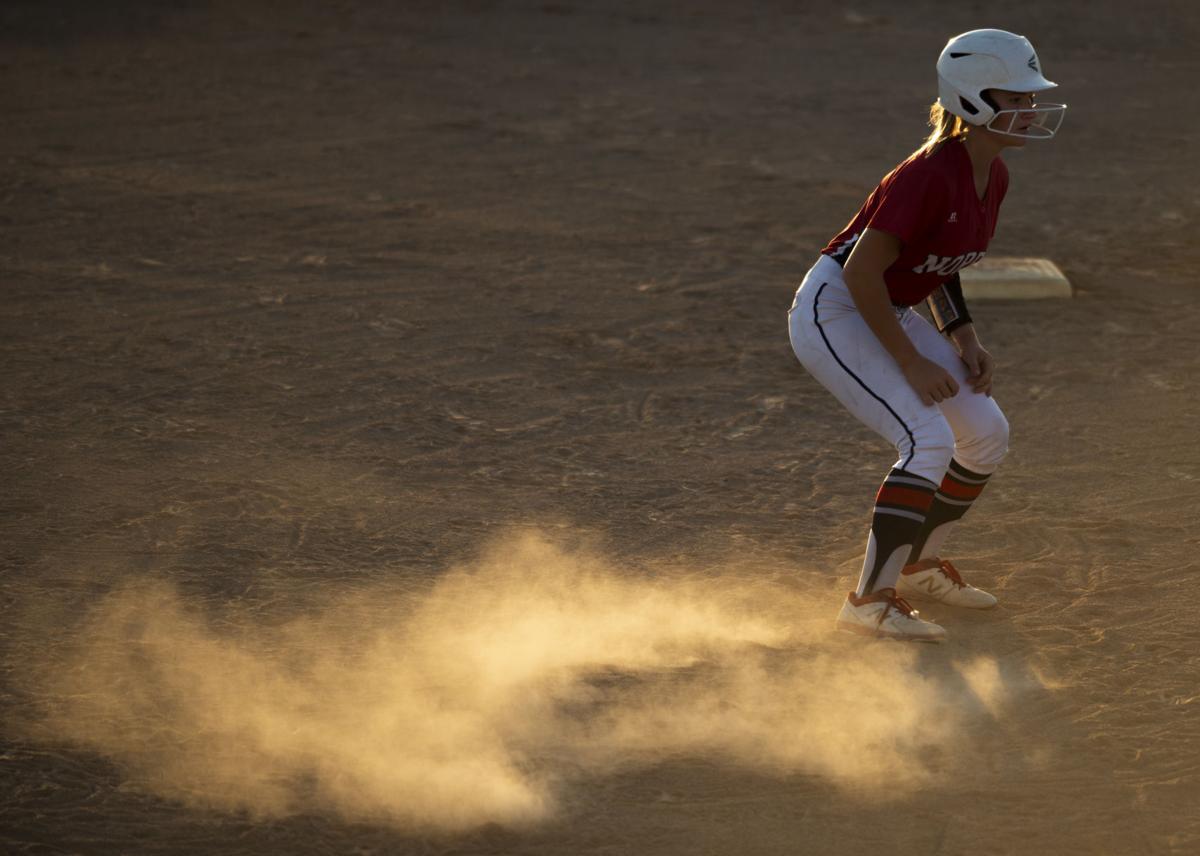 FIRTH — Norris will be taking the field in a state tournament environment for a third straight year.
Last year's visit to Hastings was quite memorable for the Titans, who placed third in Class B.
But if your plan is to bring a year-old state softball program to identify who is who in Norris' defensive alignment, then throw it out for good.
Sure, Norris returns a strong trio of players in seniors Delaney White and McKenna Becher and junior Alexis Bishoff. But when the Titans open against top-ranked Omaha Skutt at 11:30 a.m. Wednesday, the nine fielding spots will be held by nine new names.
Bishoff, a first-team all-state catcher a year ago, is in center field now. White, a second-team all-state third baseman last year, has moved to shortstop. Becher, a designated hitter at state last year, is in the outfield. And around those three are six players ready for their first big taste of the state tournament as starters.
"We had a great team last year and so a lot of players that would play on any other team didn't get a chance to play last year, and that shows we had a really talented team," said White, a South Dakota recruit. "They just didn't have the experience."
Because Norris had to replace a lot of varsity players from last year, coach Kyle McMurray and his staff spent a lot of time in August and the early part of the season looking for the right combinations. And then it was a matter of getting those new players the needed experience so they were ready for bigger games toward the end of the season.
Because of her skill set as a third baseman, it was not easy moving White to short, McMurray said. But shifting White there gave the Titans a strong defender at a critical spot and it allowed junior Maisie Brown to grow at third.
When the idea of moving the athletic Bishoff to the outfield was thrown out there midway through the season, the junior leadoff hitter was on board. Norris wanted to take advantage of her quickness and experience (she plays outfield in the summers).
"She's a tremendous athlete," McMurray said. "She just has a tremendous softball knowledge, so moving her around you know you're probably going to put her in a position that she's going to be very successful in regardless to where she is on the field."
Ryleigh Ossowski took over at catcher to handle senior pitcher Jaycee Carlow, who has thrown the bulk of the innings.
Once Norris solidified its lineup, the team got comfortable and better. Norris grinded out two wins against Beatrice in Friday's district final to secure a state berth. Though low on experience, the team has talent, and more importantly, buy-in.
"We have a lot of kids that are playing positions that they don't play on their summer teams," McMurray said. "Some of them are in new spots entirely, and they do it all for the team. They do it because they really love Norris softball, they love their school and they want to go out represent their school as good as they can."
Last year's Norris team won 31 games and rode a 16-game win streak into state, so, yeah, it was a special group. The Titans have had to do it differently this year, scratching and clawing to a 17-14 record playing a very difficult schedule. The route to state was different, but just as satisfying for the returning players.
"It's fun to see the reward," White said. "There was definitely a time in the season where it was a little rough and it was frustrating at times, but after Friday (vs. Beatrice), it was the most rewarding set of games I think we've ever played."
Part of the reward for Bischoff and White — who were starters the past two state tourneys — was leading a younger team to the state tournament.
"We just wanted all the other girls, especially the freshmen and sophomores who are on the roster, get the environment, because it's a whole different setting in Hastings," Bishoff said.