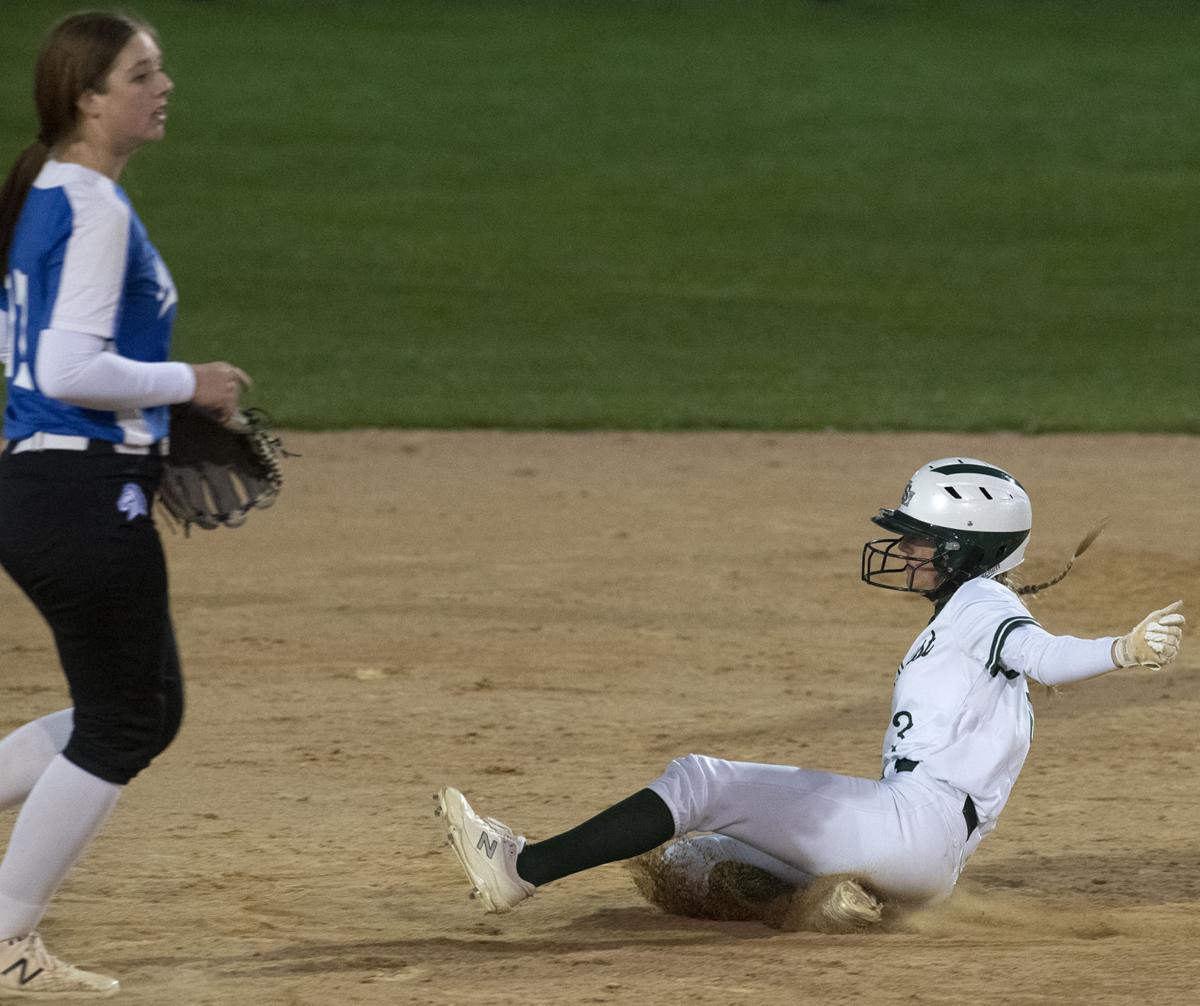 HIGHLIGHTS
CLASS A
Gretna 10, Norfolk 2: The Dragons turned a 3-2 lead into 10-2 with seven runs in the sixth. Faith Mills was 2-for-4 with three RBIs for Gretna.
Gretna 5, Papillion-La Vista 4: Ensley Frame had three hits, including an tiebreaking RBI double in the bottom of the sixth inning to lift the Dragons.
Lincoln Southwest 5, Millard North 3: Taylor Fritz broke a 3-3 tie in the bottom of the sixth with a two-run hit. Desi Cuevas and Katherine Johnson each homered, both in the third inning, for the Mustangs.
Lincoln Southwest 7, Papillion-La Vista South 4: Ashley Smetter and Madison Divis each had three hits for Southwest, which jumped to a 5-0 lead. Shayla Warak had two hits for Papio South.
Millard North 12, Millard South 0: Katherine Johnson blasted her 15th homer of the season and Hayden Nelson added another and drove in three for the Mustangs. Desaree Cuevas didn't allow a hit in three perfect innings.
Papillion-La Vista 14, Lincoln East 4: The Monarchs scored eight runs in the fifth inning. Haley Wilwerding homered twice and Alex Stoner had five RBIs. Emilee Haggadone homered and doubled for the Spartans.
CLASS B
Bennington 11, Northwest 7: Bennington hit back-to-back home runs in the second inning. Maddie Scobee hit a two-run shot, and Abi Brown and Daisy Lowther followed with solo shots.
Hastings 11 Elkhorn 2: Faith Molina struck out eight over five innings for Hastings, which cranked out 10 hits. Peytin Hudson was 2-for-3 with three RBIs. Camryn Cramer had two hits for the Antlers.
Hastings 6, Wahoo 2: Kaelan Schultz homered twice and Faith Molina struck out 14 while allowing only one hit to lead the Tigers. Wahoo's Kylee Kenning homered.
Omaha Skutt 8, Bennington 1: Lauren Camenzind homered twice, including a leadoff blast. Hannah Camenzind, Ruby Meylan and Paige Roessner also homered for the SkyHawks. Meylan struck out 14. 
Omaha Skutt 10, Norris 5: Ruby Meylan hit a three-run homer into the strong wind and Hannah Camenzind struck out 10 to lead the SkyHawks. Alexis Bishoff and McKenna Becher each doubled for Norris.
Wahoo 13, Scottsbluff 5: Kylee Kenning hit a grand slam for Wahoo, and Sidney Smart, Harper Hancock, Jaiden Swanson and Ava Lausterer each added homers for the Warriors. Scottsbluff's Taryn Spady had three hits, including a double and homer.
CLASS C
Bishop Neumann 9, Cozad 1: Mary Chvatal had a bases-clearing hit in the second inning and Macy Sabatka homered as Neumann cruised. Sabatka earned the win, scattering five hits over five innings.
Bishop Neumann 5, Malcolm 4: Avery Mayberry had three hits, including a double and homer and Macy Sabatka earned the win. Jessica Sandell doubled for the Clippers.
Guardian Angels CC 19, Freeman 11: Aubrey Kreikemeier hit a grand slam and finished with five RBIs to lead GACC, which took advantage of seven Freeman errors. Freeman's Kloey Johnson was 4-for-4 with four runs scored.
Guardian Angels CC 4, Kearney Catholic 2: Shelby Perchal, Livia Hunke and Kayla Fischer each had two hits for GACC. Bralen Biddlecome had two hits for the Stars.
Kearney Catholic 6, Hastings SC 4: Lauren Marker's three-run homer sparked a four-run first inning for the Stars, and teammate Bralen Biddlecome had three hits. The Hawkettes' Bailey Kissinger was 2-for-4 with two RBIs.
Malcolm 13, Yutan/Mead 1: Malcolm exploded for nine runs in the second inning. Alanea Babb had two hits and four RBIs, and Abbi Arroyo limited Yutan/Mead to two hits over three innings.