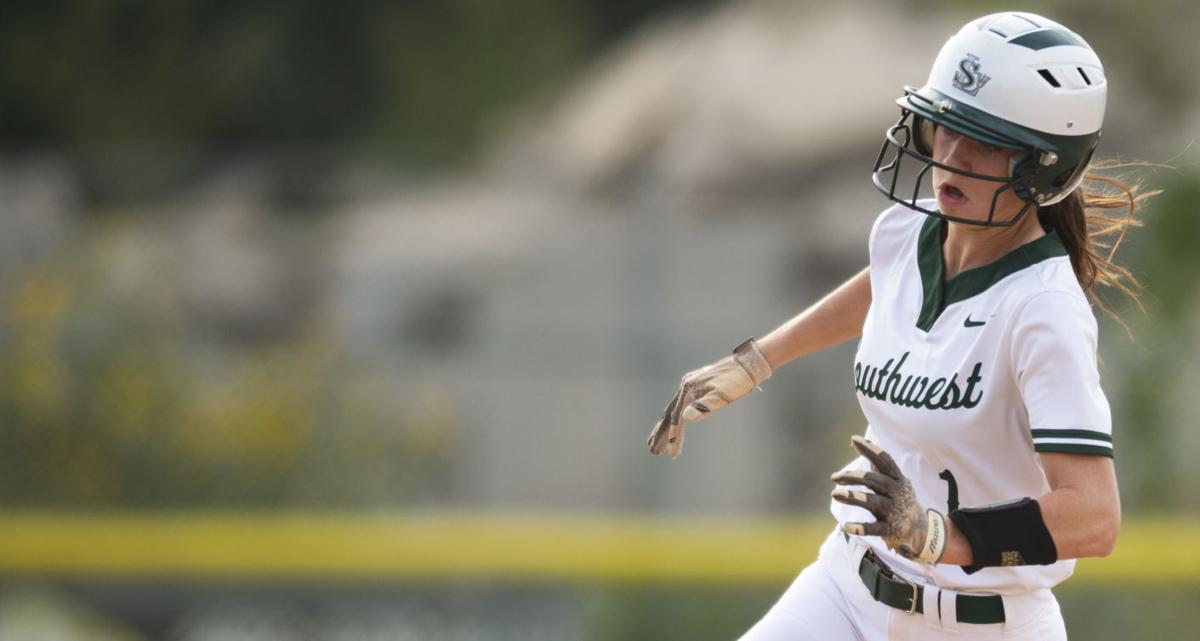 Mark Watt is penciling some new names into his lineup card this season.
The hits are still coming.
Lincoln Southwest players have been swatting hot bats lately and it continued Monday evening at Doris Bair Complex. The Class A No. 3 Silver Hawks ignited for nine runs in one inning in an 11-3 softball victory in Game 1 against rival Lincoln Southeast. Southwest hit a couple more home runs in the nightcap — a 7-1 victory highlighted by Bailey Selvage's two-hit complete game.
"I think we just started to feed off each other," Southwest lead-off hitter Ashley Smetter said of the offense coming alive in Game 1. "We struggled a little bit and then once one person got a hit, we started feeding off of them."
Offense is a big reason why the Silver Hawks (16-4) have sustained success over numerous seasons. Players like Emma Kauf, Caelyn Christiancy, Abbie Squier, Carson Fischer, Emma Hain and Skylar Pieper have taken turns leading the team offensively in recent years.
Their shoes and production haven't always been easy to fill. But Southwest continues to keep the power switch on.
Husker recruit Smetter, Madison Divis and Taylor Fritz had key offensive roles last year and are back. Taylor Korecky has emerged as one of the state's top bats, sophomore Kennadi Williams has transitioned well in her first varsity season and batting second, and Lincoln North Star transfer Taylor Coleman is hitting the ball hard.
"I think most of us play for the same teams so we're kind of bred the same, and we're all really close, so I think people help each other," Smetter said of Southwest's continued offensive success.
On Monday, freshman Reagan Vokoun showed how tough the bottom of Southwest's lineup can be. She hit two home runs — her first two varsity blasts — including a three-run shot from the No. 8 hole.
"Her swing has improved a lot since the beginning of the year," said Watt, Southwest's coach. "She's made some adjustments and she feels good about driving the ball."
Vokoun's Game 1 homer was part of a big fourth inning. Southwest sent 12 batters to the plate in a six-hit frame. The bottom five hitters in the LSW lineup combined for five of the Hawks' seven hits.
Divis had three hits in the nightcap, and Korecky smoked a ball over the fence for a two-hit game. Southwest has scored seven runs or more in six straight games.
"At the beginning of the year, the three or four hitters at the top were carrying us and everybody else was low, but now we're getting hitting throughout the lineup and it makes such a big difference," Watt said. "They've got some confidence, they've got some experience (and) some of those kids that didn't have a role or a small role last year have taken a bigger role."
Moira Baxter hit two homers in the first game for Southeast, which dropped to 5-13.
"Right now the thing that we're trying to focus on is, yeah, it sucks this situation that we're in but if we're playing good at the end of the year, that's what matters," Southeast coach Toni Closner said. "We started off pretty good, but that one inning (in Game 1) …"
Gretna wins Metro title
Faith Mills' three-run homer capped a four-run fourth inning as No. 2 Gretna defeated No. 9 Papillion-La Vista 7-0 in the Metro Tournament championship game. Gretna joined the Metro Conference in 2019.
Allison McGee and Morgan Secora combined to limit the Monarchs to three hits. Papio reached the final with a 1-0 walk-off win against top-ranked Omaha Marian in the semifinals.