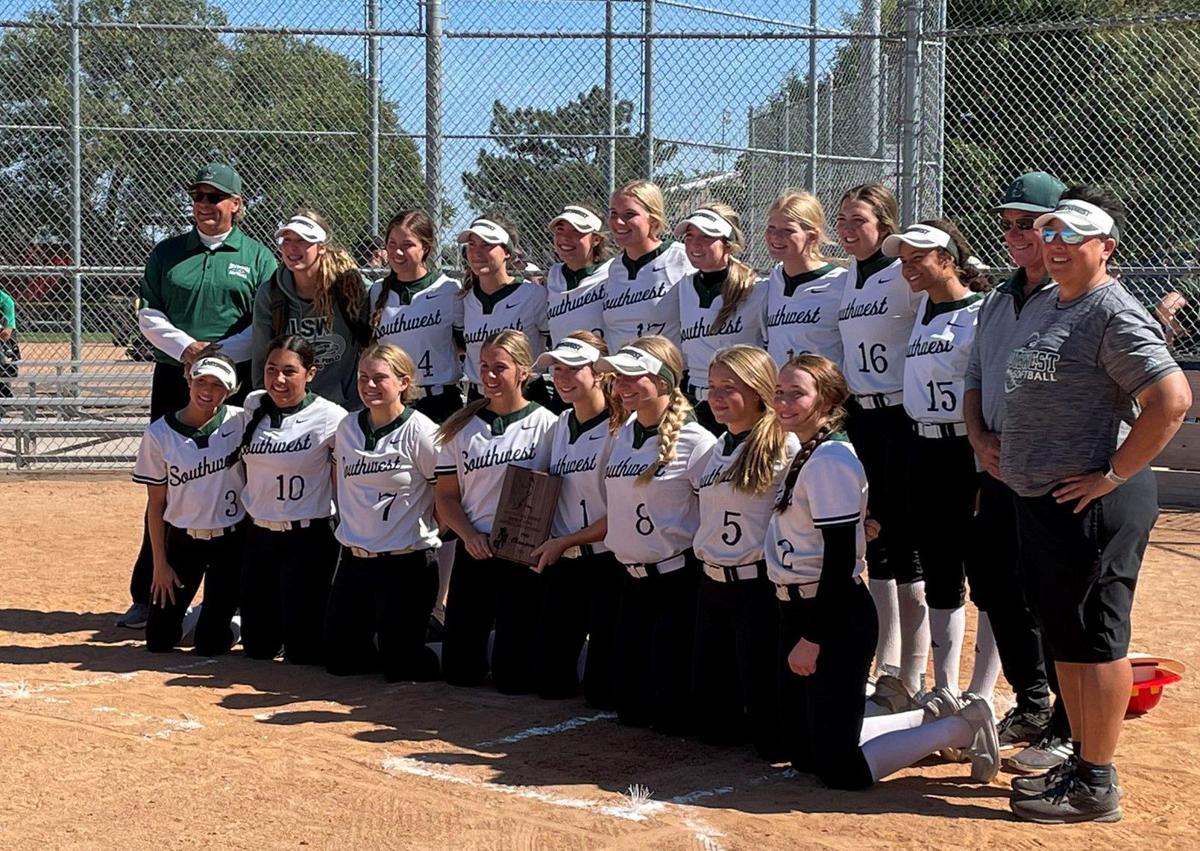 An 8 a.m. contest at Doris Bair Complex had the Lincoln Southwest softball team at the field for warmups at 6:45 Saturday morning.
Seems a tad early for the weekend, right? But these Silver Hawks were glad to come up with the sun.
"They were out there dancing," Southwest coach Mark Watt said. "They were ready to go. There was a lot of spirit and enthusiasm at 6:45."
A top-four showdown right out of the gate may have had something to do with that.
Behind a consistent offensive attack, Class A No. 3 Southwest was up and going, opening with a 17-2 win against No. 4 Omaha Marian. The Silver Hawks followed with a 9-2 win against Class B No. 5 Elkhorn and an 8-2 victory against an improving Lincoln Pius X team to win a pool title at the Southeast Invitational.
Southwest (26-5) had 16 hits against the Crusaders, who did not throw Super-State pitcher Maddia Groff in their opener. Husker recruit Ashley Smetter hit two homers and drove in four against Elkhorn. Kennadi Williams homered and Taylor Fritz had three hits against the Thunderbolts.
There was no hitting of the snooze button for the Southwest offense, which also was backed up by strong showings in the circle from Alexis Bradley, Bailey Selvage and Sam Bank.
"We really took good approaches," Watt said. "It wasn't like one big inning or anything. We scored consistently throughout the day, so we took good swings."
Junior Taylor Coleman took several good cuts. The Silver Hawk third baseman went 4-for-4 with a homer and five RBIs against Marian, and added another blast against Elkhorn.
How close is Southwest to reaching its full potential?
"I would say that we're there, honestly," Coleman said. "Our first game (against Marian) really showed that we can get it done."
Watt said the Silver Hawks haven't peaked just yet.
"I know we'll continue to get better and work hard at it," Watt said.
Omaha Marian (20-4) rebounded with wins against Elkhorn (8-2) and Pius X (9-5).
Other pool winners Saturday included Class A No. 2 Lincoln East, Class B No. 1 Omaha Skutt, Norfolk and Kearney from the early session.
East's pool title run was sparked by a dramatic 1-0, nine-inning win against No. 10 North Platte. In a pitchers' duel — East's Jordan Bussey struck out 21 and allowed only two hits, and Tatum Montelongo struck out 17 and allowed only three hits — it was Emilee Haggadone's game-winning hit with one out in the bottom of the ninth that lifted the Spartans. 
East (26-5) followed with wins against Norris and Blair.
Kearney held off Lincoln Northeast 7-5 for a pool title, but it didn't come easy. The Rockets, who defeated Columbus (9-0) and Bellevue East (6-2) earlier in the day were riding momentum and made a late rally after trailing 4-0.
Though the Rockets (9-25) fell short, the team is starting to click, senior Kirsten Peterson said.
"Monday is going to be a good day of work for us for sure," Peterson said. "We'll be able to build off of what we worked on this weekend."
Whatever Peterson had for breakfast, she should consider it for future games. She hit three home runs in the win against Columbus. She entered Saturday having never hit a homer.
"Honestly, it felt more like a dream than anything because I've never hit a home run, and the next thing you know I'm 3-for-3 with three homers," she said.
"I thought that I was still asleep. I thought I was still dreaming."