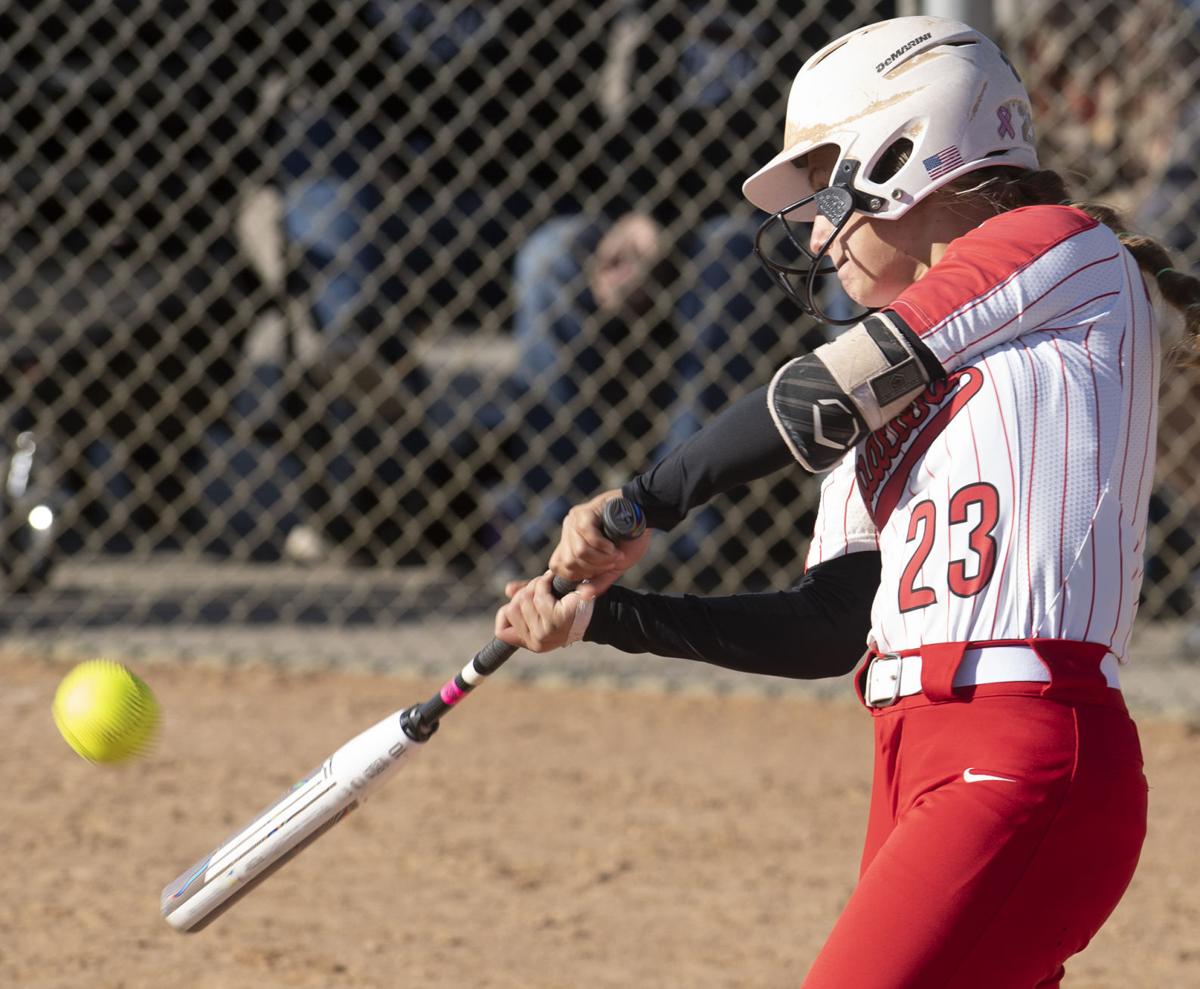 HASTINGS — Bishop Neumann will run the routine hitting and defensive stuff in practices.
The Cavalier coaches, however, like to throw in ricochet drills.
Those ricochet drills came into play during a critical moment of the Class C state softball tournament Wednesday at Bill Smith Complex.
With the game-tying run on third base with no outs, Malcolm's Alanea Babb lined a ball at Neumann third baseman Kya Schulz and the ball ricocheted off her glove and toward shortstop Mary Chvatal. The senior picked up the ball and fired it home to wipe out the lead runner on a bang-bang play, helping No. 1 Neumann hold on for a 5-4 victory to cap a 2-0 day.
"It's just one of those deals, practice makes perfect, but it doesn't happen very often in games, but when it does I feel like (Chvatal) was prepared and she's done that a million times over her life playing softball," Neumann coach Dave Brabec said.
"She's a gamer, for sure."
Macy Sabotka earned a strikeout for out No. 2 and Chvatal gobbled up the next ball put in play to seal the win and send the Cavaliers (32-2) to Thursday's 7 p.m. winners bracket game against No. 6 Kearney Catholic.
"We just played some gritty defense there," Brabec said. "That's what we build our team on. We're never going to blow a pitch by anyone. We're not going to go pump 60 at you, but we throw pitches that make our defense make plays, and that's how we got this far."
Neumann opened the day with a 9-1 win against No. 10 Cozad, and Malcolm, ranked fifth, blitzed No. 2 Yutan/Mead 13-1 in three innings. But both teams found themselves in a battle later in the night.
Malcolm took a 4-3 lead in the third inning before Neumann rallied with run-scoring hits from Avery Mayberry and Logan Sylliaasen in the fifth.
But the Clippers didn't go away. Leadoff hitter Jaiden Helms opened the seventh with a hit, stole second and reached third on a passed ball. But Chvatal's play saved the Cavaliers from working through the losers bracket.
"I always have a lot of trust in (Kya), our third baseman, and I feel like she could always make a lot of plays for us," Chvatal said. "That gap's really big and I like to back her up.
"It's like a shock of energy that runs through you guys. It takes a little ease off Macy, it allows her to pitch her game and totally do what she does best while also getting energy and the momentum back on our side of the field."
Jessica Sandell had two hits and two RBIs for the Clippers (24-10), who drop to the losers bracket.
"We get to play more softball, right?" Malcolm coach Travis Meyer said. "We should be able to work our way back through it and see what happens."
Game of the day
Malcolm-Neumann: A no-brainer.
"The closest games are the most fun because everybody is on the edge of their seat and you never know what's going to happen," Chvatal said.
Worth noting
Malcolm's 13-1 win against No. 2 Yutan/Mead was an impressive display of clutch hitting and aggressive base running by the Clippers.
They sent 12 batters to the plate in a nine-run second inning, a frame that was punctuated by Cora Schweitzer's two-run homer to left field.
In the past two weeks, Malcolm has defeated No. 2 (Yutan/Mead) and No. 1 (Neumann), the win against the Cavaliers coming on the final day of the regular season.
Even though Malcolm is 1-1 here, Meyer said he likes where his team is.
"We haven't thrown Emma (Brown) yet, I feel comfortable with our two pitchers," Meyer said. "I think we can outhit anybody here, I know we can out-defend anybody here."
Did you see that?
There were some great defensive plays Wednesday. Chvatal's seventh-inning play against Malcolm is up there, but Malcolm shortstop Alyssa Fortik had her own "SportsCenter Top 10" moment against Neumann, making an incredible snag on a line drive, which led to her teammates engulfing her in the infield.
Looking ahead
Bishop Neumann will meet No. 4 Guardian Angels Central Catholic at 7 p.m. Thursday, with the winner advancing to the final.
GACC outslugged No. 7 Freeman 19-11 in five innings in a game that lasted 2 hours, 39 minutes Thursday. The defending state champion Bluejays (24-7) came back and grinded out a 4-2 win against No. 6 Kearney Catholic after trailing 2-0.
Neumann and GACC met three times during the regular season, with the Cavaliers winning all three.