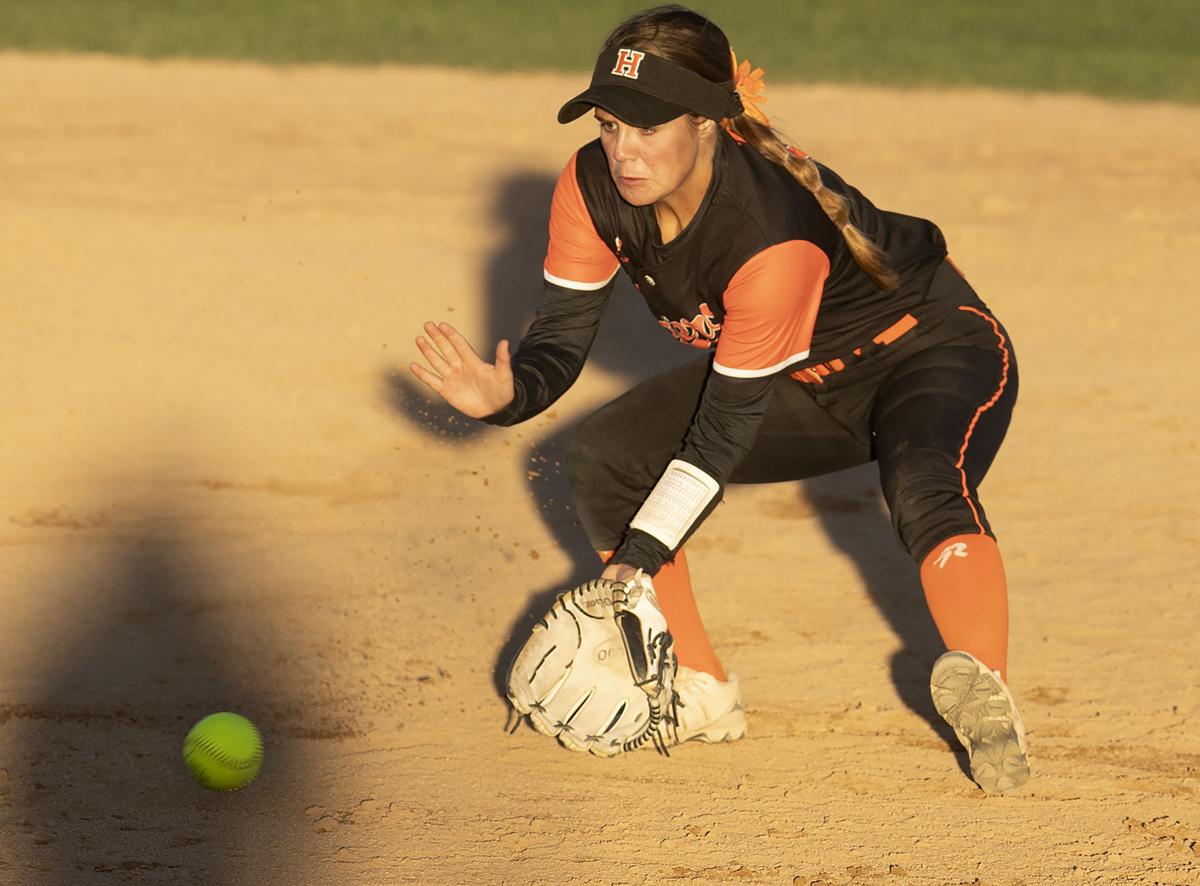 HASTINGS — Kaelan Schultz doesn't recall her first home run as a high school softball player.
She won't forget the two she hit Wednesday.
The standout Hastings third baseman clubbed two home runs to set the all-class record — Nos. 64 and 65 — in the Tigers' 6-2 win against No. 7 Wahoo during the opening day of the Class B state tournament at Bill Smith Complex.
Schultz broke the record, set last year by Lincoln Southeast's Rylan Ewoldt and Auburn's Kylie Allen, with a two-run shot to center field in the third inning. Her second blast — and it was a blast — sailed over the temporary fence set up for softball and hit the permanent fencing, which is 300 feet from home plate.
"It meant a lot to me because we have been working so hard this year and everyone is here watching," said Schultz, who is committed to South Dakota State. "A lot of people from my family are here watching and it's a very special moment to be surrounded by the community."
Schultz also set the Class B record for career RBIs. She's now at 211 and is four away from the all-class record.
"She deserves it," Hastings coach Ashley Speak said. "She's been busting her rear the whole season and she's done a nice job being patient at the plate after getting walked so many times. Sometimes it gets a little frustrating, but she's done a nice job for us and had a really balanced approach here."
Schultz has 22 home runs this season. Her career even includes a check-swing homer that went over the left-field fence when she was as sophomore.
Her big game at the plate — coupled with Faith Molina's one-hitter in the circle — lifted the Tigers (34-4) to their first 2-0 start ever at the state tournament. They'll play top-ranked Omaha Skutt at 4:30 p.m. Thursday.
Speak said it can be a bit of a relief to have the record out of the way. But the coach and Schultz said her mental approach has stayed the same.
"I just have been hitting like normal," said Schultz, who entered state hitting .598. "I tell myself to hit the ball hard and if it goes over, it goes over, that type of thing.
Hastings opened the day with an 11-2 win against No. 5 Elkhorn (17-15), which dropped the Antlers to Thursday's losers' bracket.
Defending champion Omaha Skutt (31-0) opened with a 10-5 win against No. 8 Norris, and an 8-1 win against No. 4 Bennington. Lauren Camenzind hit two homers against the Badgers (26-5), who opened the day with an 11-7 win against Northwest.
Warriors' grand entrance
Wahoo (28-4), making its first state appearance since 2015, opened the day with a 13-5 win against Scottsbluff. The Warriors hit five homers, including a grand slam from senior Kylee Kenning.
"I think getting that first win is that most important one," Wahoo coach Trina Christen said. "It kind of gets you into a little more into the day tomorrow.
Despite only one hit against Hastings — a two-run homer from Kenning — Christen said she was encouraged how her team battled.
"(Molina) kind of kept us off our toes and I think it gave them a lot of confidence tomorrow that we can play with the teams that we're here with," she said.
Game of the day
Hastings 6, Wahoo 2: Hastings pulled away with three runs in the sixth, but it close and a great pitchers' duel between Molina, who struck out 14, and Warriors junior Autumn Iversen, who struck out eight.
Worth noting
Omaha Skutt had only give up more than five runs in a game this year once (11-7 win vs. North Platte) until allowing five to Norris on Wednesday.
Looking ahead
Omaha Skutt and Hastings will meet at 4:30 p.m. Thursday with the winner headed to Friday's final. It's a rematch of last year's state championship won by Skutt.
The SkyHawks and Tigers also met earlier this year in the Hastings Invitational final. Skutt won 1-0.
Norris (17-15) will play No. 3 Northwest in an elimination game Thursday morning.