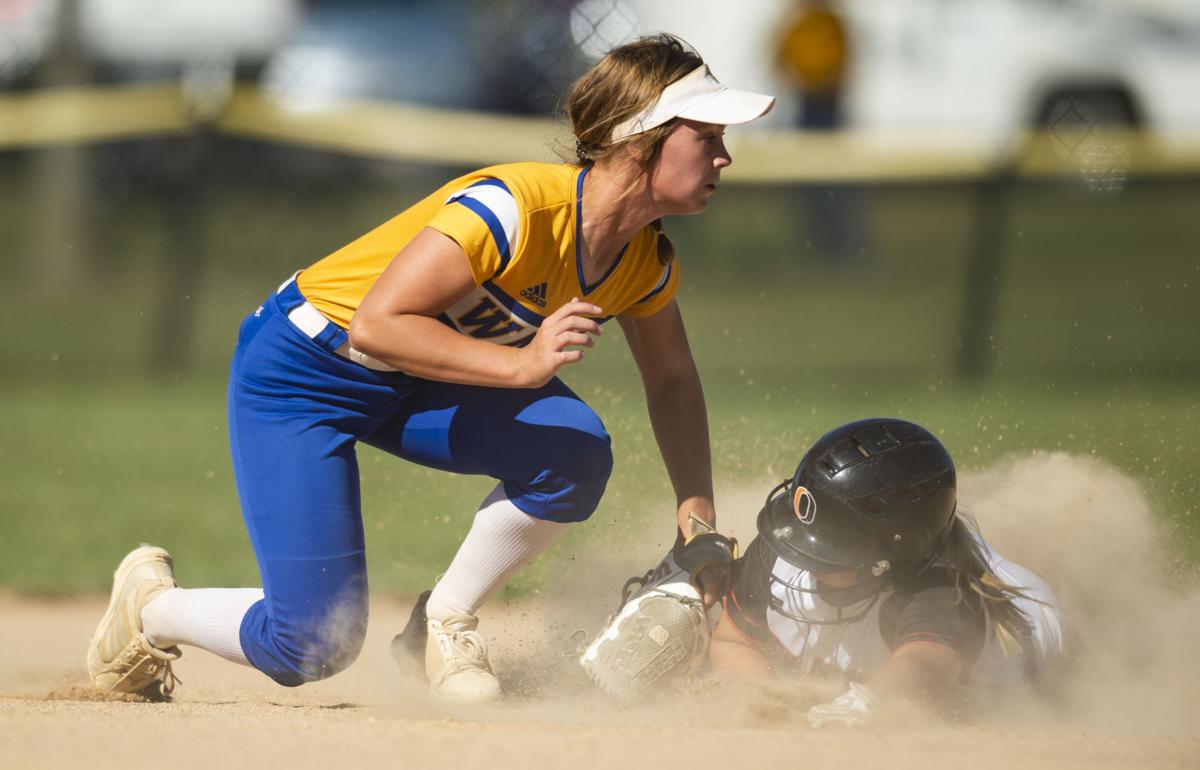 First-round matchups
All games at Hastings' Bill Smith Complex
No. 1-rated Omaha Skutt (29-0) vs. No. 8 Norris (17-14), 11:30 a.m.
No. 4 Bennington (25-4) vs. No. 3 Northwest (27-7), 11:30 a.m.
No. 7 Wahoo (27-3) vs. Scottsbluff (29-7), 11:30 a.m.
No. 2 Hastings (32-4) vs. No. 5 Elkhorn (17-14), 11:30 a.m.
Players to watch
Hannah and Lauren Camenzind, Omaha Skutt, sr.: Twin sisters are headed to Arkansas; Hannah is hitting .658 with 18 homers and is 14-0 in the circle; Lauren is a standout shortstop batting .468 with 11 HR and 48 runs scored.
Ruby Meylan, Omaha Skutt, sr.: She's been the most dominant pitcher in state; Washington recruit is 15-0 with a 0.37 ERA; also hitting .527 with 16 HR.
Kaelan Schultz, Hastings, sr.: South Dakota State recruit has 63 career homers, including 20 this year.
Faith Molina, Hastings, sr.: Tiger ace is 17-4 with a 2.81 ERA and also is hitting .547 with 12 homers.
Taylor Sedlacek, Bennington, sr.: Wichita State recruit hitting .450 with nine homers and 46 runs scored.
Brady Laucomer, Scottsbluff, sr.: Hitting .500 with 14 homers and 69 RBIs and has great range at short.
Autumn Iversen, Wahoo, jr.: 14-3 with a 1.50 ERA in the circle; .495 BA with 17 homers and 34 RBIs from leadoff spot.
Two questions for Hastings
Will it be SkyHawks and Tigers II? Omaha Skutt and Hastings, the final two teams standing in last year's state tournament, have been the best two teams in Class B all season.
Both have lineups that can light up scoreboards in a hurry. Both teams have pitchers that keep runs off the board, too.
Skutt hasn't lost to anyone. Hastings has only one loss against Class B competition, and that came early in the season against Wednesday's first-round foe, Elkhorn.
Skutt is aiming for history. No Class B team has finished a season unbeaten.
Is the two-way talent as good as it gets? Most of the B teams headed to Hastings have talented players who can pitch and hit their teams to wins, beginning with Skutt's Hannah Camenzind and Ruby Meylan.
Hastings' Faith Molina, Wahoo's Autumn Iversen and Bennington's Daisy Lowther can swing and sling, and Norris' Jaycee Carlow and Northwest's Ava Laurent have had success on both sides, too.
Buzzword: Blast
We could see a lot of home runs in the Class B bracket. Omaha Skutt's Big Three (Meylan and Camenzind twins) has combined for 45 homers, and Hastings has blasted 60 as a team. How many of those could be game-changing homers?