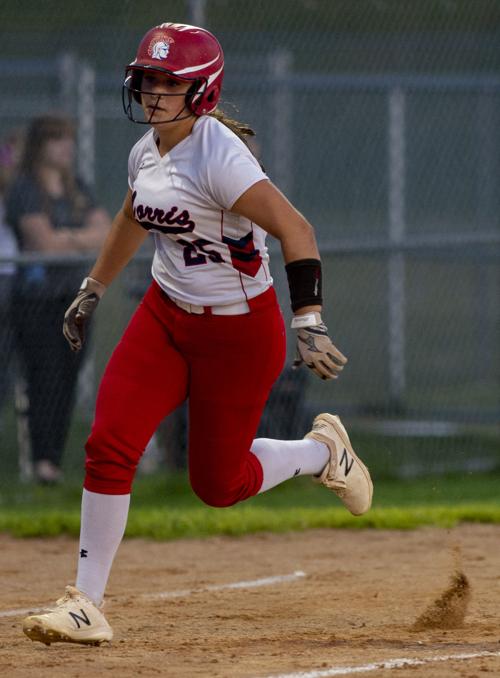 Sixteen teams. Eight state berths. The new Class B district format (best-of-three series) will determine the state field Saturday. Here's a look at the 10 matchups.
B-1: McCook (13-17) at No. 1-rated Omaha Skutt (25-2), 10 a.m.
Regular season: Skutt beat McCook 22-0 on Aug. 29.
The matchup: Omaha Skutt can hammer the ball better than any team. The SkyHawks have 51 homers this season, and Ruby Meylan and Sophia Hoffman have each hit 10. Sophomore Hannah Camenzind is hitting .556 with 25 extra-base hits this season. McCook has won five of their past six games.
B-2: York (15-11) at No. 2 Beatrice (27-4), noon
Regular season: Beatrice beat York 11-1 on Sept. 10.
The matchup: Beatrice was playing at another level in subdistrict play (three wins, two against Crete, and zero errors committed). Senior Addison Barnard leads the way, but she has plenty of help around her. York clinched a district berth with a 3-0 run through subdistricts.
B-3: Gering (20-10) at No. 3 Crete (27-3), noon
Regular season: Crete beat Gering 2-1 on Aug. 23.
The matchup: Crete is aiming for a third straight state appearance, and the Cardinals are looking to bounce back after two losses to Beatrice in subdistrict play. Izzy Eltze is a tone-setter atop the Cardinal lineup. Gering is led by Kiana Island (.395, seven homers), Madeline Wiese (.462, six homers) and Brylee Dean (.477, four homers).
B-4: Adams Central (19-12) at No. 4 Wayne (28-3), 1 p.m.
Regular season: Wayne beat Adams Central 13-0 on Sept. 28.
You have free articles remaining.
The matchup: After losing three games at the LPS Classic in August, Wayne has rattled off 23 straight wins. Senior pitcher Tori Kniesche has played a leading role in that, and she recently set a Class B single-season record for strikeouts. The Patriots have a lot of good hitters, including Sadie Carpenter (.400, eight homers, 39 RBIs).
B-5: No. 10 Blair (12-11) at No. 8 Hastings (26-7), noon
Regular season: Did not meet.
The matchup: Blair has played one of the toughest schedules in the state and it is paying off at the end of the season. Hastings bounced back from a couple last-season losses by breezing through subdistrict play. Senior Ellie McCoy and sophomore Kaelan Schultz may be the best 1-2 punch at the plate in Class B.
B-6: Seward (18-12) at No. 5 Waverly (19-10), noon
Regular season: Seward beat Waverly 2-1 on Aug. 22.
The matchup: Waverly has improved greatly since a season-opening loss to the Bluejays, and the Vikings' offense has really come on lately. This series features two of the top pitchers in Class B in Seward's Sydney Parra and Waverly's Kennedi Claycomb.
B-7: No. 7 Northwest (21-11) at No. 4 Norris (18-7), 1 p.m.
Regular season: Did not meet.
The matchup: Both teams are looking to wipe away the bad taste of subdistricts. Norris lost two close games to Waverly, and Northwest went 1-2. The middle of Norris' lineup — Delaney White, Olivia Ozenbaugh and Carli Kohout — is very strong and sophomore Alexis Wiggins has had a breakout season. Northwest's Emily Stein is a standout two-way player.
B-8: NEN (18-6) at No. 9 Omaha Gross (19-7), 10 a.m.
Regular season: Did not meet.
The matchup: Omaha Gross has won 12 of their past 14 games, and the Cougars didn't give up a run in three subdistrict games. NEN started the season 12-0, which included a 4-3 win against Seward.