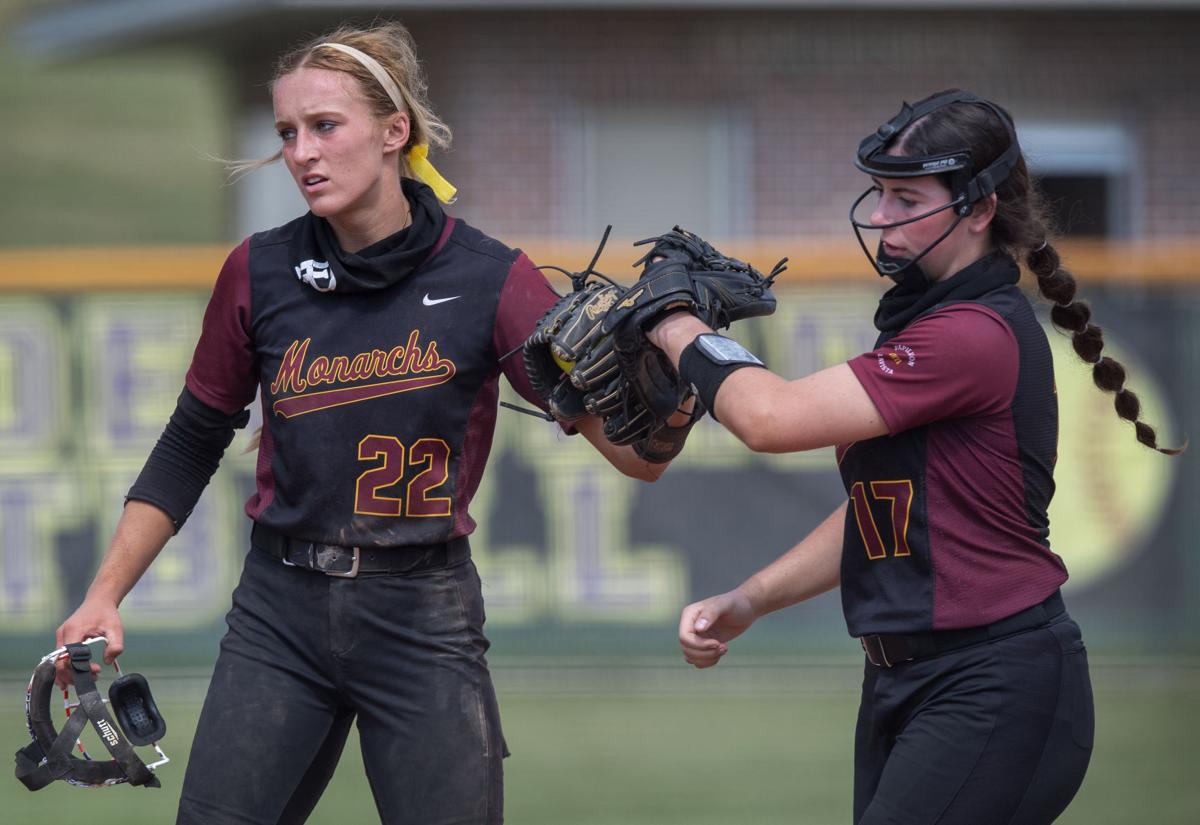 Papillion-La Vista is the defending state champion, and the Monarchs are making another run at perfection. Who can challenge Papio in Hastings?
The essentials
Site: Bill Smith Softball Complex in Hastings.
Dates: Wednesday, Thursday, Friday (championship at 2 p.m.).
Wednesday's first-round matchups
No. 1-rated Papillion-La Vista (32-0) vs. No. 5 Papillion-La Vista South (22-15), 11:30 a.m.
No. 3 Lincoln East (32-9) vs. No. 2 Omaha Marian (24-7), 11:30 a.m.
No. 4 Lincoln Southwest (32-7) vs. No. 7 Bellevue East (21-13), 11:30 a.m.
North Platte (29-9) vs. No. 8 Lincoln Southeast (30-13), 11:30 a.m.
Numbers to know
68: Papillion-La Vista, which hasn't lost a game in nearly two years, rides a state-record 68-game winning streak into Hastings.
1st: Bellevue East will be making its first trip to the state tournament.
16: State appearances by Lincoln Southeast, the most of any team from Lincoln.
Pitchers to know
Jordyn Bahl, Papillion-La Vista, sr.: Not only the top player in the state, Bahl is the top recruit in the country. The Oklahoma recruit is 26-0 with a 0.11 ERA.
Maddia Groff, Omaha Marian, so: She started as a freshman, and has only gotten better (20-6, 2.40 ERA).
Tatum Montelongo, North Platte, so.: She is 17-8 with a 1.48 ERA while sharing the circle with fellow sophomore Kylee Tilford.
Hitters to know
Bahl: She can also dominate at the plate; has a state-leading 20 homers and 55 RBIs.
Brooke Dumont, Papillion-La Vista, sr.: The South Dakota State recruit is the state's top catcher; hitting .506 with 10 homers and 36 RBIs.
Mia Jarecki, Papillion-La Vista, sr.: The South Dakota State recruit is one of the toughest outs in the state, hitting .506 from atop the lineup. She can also flash power (11 homers).
Madison Divis, Lincoln Southwest, jr.: Southwest has many outstanding hitters on its roster, and Divis is doing her part, hitting .485 with a team-best 13 homers and 46 RBIs.
Morgan Adams, Lincoln East, jr.: The Spartan junior is not your typical leadoff hitter. She's batting .496 and can launch softballs over the fences (17 homers).
Our take
It would be a stunner if Papillion-La Vista is not in the Class A final for a sixth straight year. But who else gets to Friday afternoon is anyone's guess. Lincoln Southwest, Lincoln East and Omaha Marian have been the most consistent teams among the other seven teams. The Silver Hawks have multiple players with state experience, so that could work in their favor. When the Hawks' pitching is on, they're hard to beat. Marian has the makeup — a dominant pitcher in Maddia Groff, and Tatum Villotta, Abigayle Russell and Kaydence Skiles atop the lineup — of a team capable of winning many games in Hastings. East is 6-1 against teams in the state tournament, the loss coming to Class B Omaha Skutt.
Get in the game with our Prep Sports Newsletter
Sent weekly directly to your inbox!