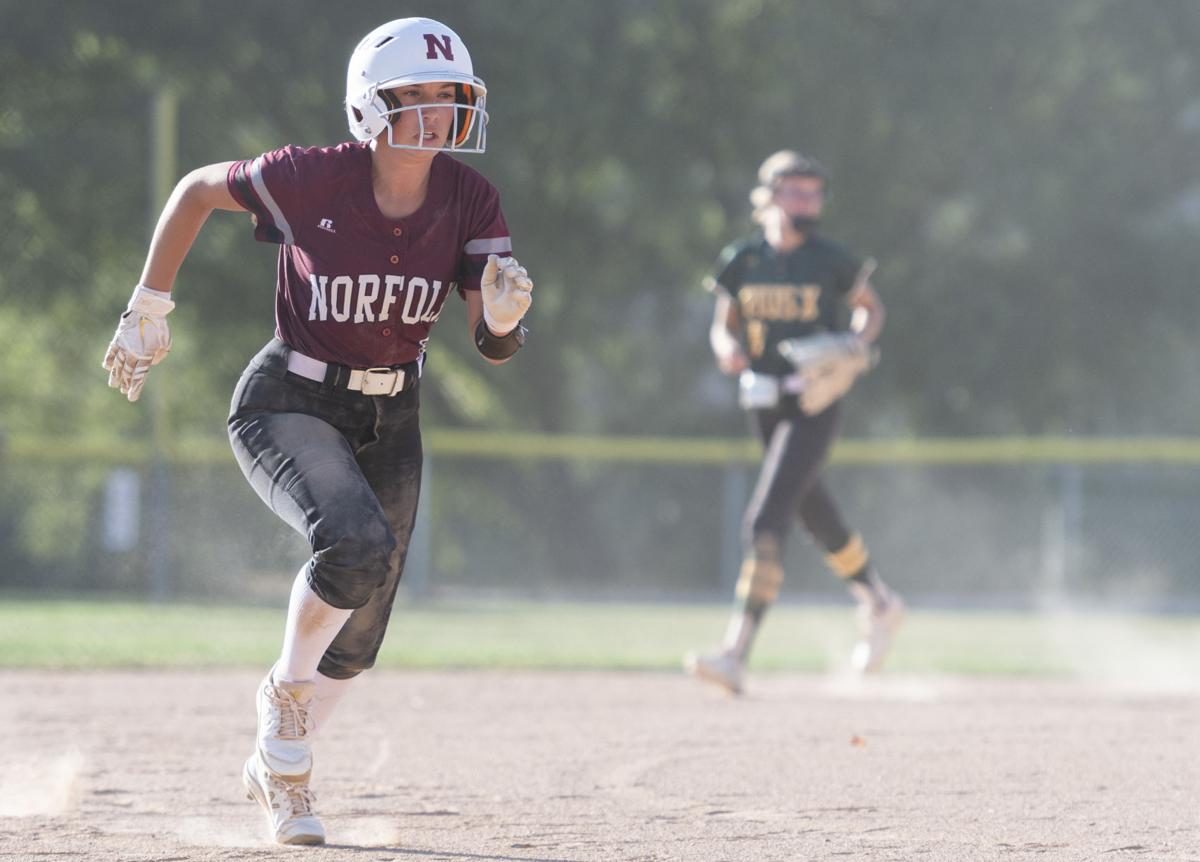 First-round matchups
All games at Hastings' Bill Smith Complex
No. 2-rated Lincoln Southwest (36-6) vs. Papillion-La Vista South (14-16)
No. 6 Millard South (22-10) vs. No. 7 Millard North (22-9)
No. 3 Lincoln East (31-8) vs. No. 5 Papillion-La Vista (21-10)
No. 1 Gretna (27-5) vs. No. 9 Norfolk (28-14)
Players to watch
Morgan Adams, Lincoln East, sr.: School-record 21 homers, 57 RBIs and 63 runs scored.
Ensley Frame, Gretna, sr.: Creighton recruit batting .460 with 46 hits from top of lineup.
Katherine Johnson, Millard North, jr.: Infielder/outfielder has 16 homers and 47 RBIs.
Amari Laing, Millard South, jr.: Has 14 homers and team-best 34 runs scored.
Morgan Secora, Gretna, sr.: Is 8-0 with 1.56 ERA and has pitched in many big moments this year.
Ashley Smetter, Lincoln Southwest, sr.: Husker recruit batting .487, has scored 56 runs and has shown some more power (eight homers).
Three questions for Hastings
Can it get wilder? The final day of district play was quite bananas. Papillion-La Vista South stunned No. 1 Gretna, forcing the Dragons to grab the wild card. Norfolk beat No. 4 Omaha Marian twice to reach Hastings and Millard South had to beat Millard West twice.
If Class A is as wide open as coaches think, then we may see an upset or two, and maybe a surprise team playing Friday.
How does Gretna respond? The Dragons were rolling along before losing twice to Papio South in districts. Maybe the losses will help the Dragons refocus. Maybe it takes some of the pressure off, too. With a lineup loaded on seniors and a talented pitching staff, Gretna remains one of the favorites.
Can Papio keep the streak going? The Monarchs are at state for the 29th straight year. More impressive, they have won 27 straight first-round games at state.
Papio, which has won 16 Class A crowns, gets No. 3 Lincoln East to start, so that streak will be put to the test. The Monarchs have to be feeling good heading to Hastings. They have won 10 straight games.
Buzzword(s): Wiiiiiiide open
Papillion-La Vista was so good the past two years, that, really, the only question was who would play the Monarchs in the final. As we learned last week in districts, any number of teams could win it all this year. Gretna, Lincoln Southwest and Lincoln East have deep lineups, and keep an eye on the defending champs, who are hitting their stride.
One upset on the first day could throw the bracket for a complete loop.