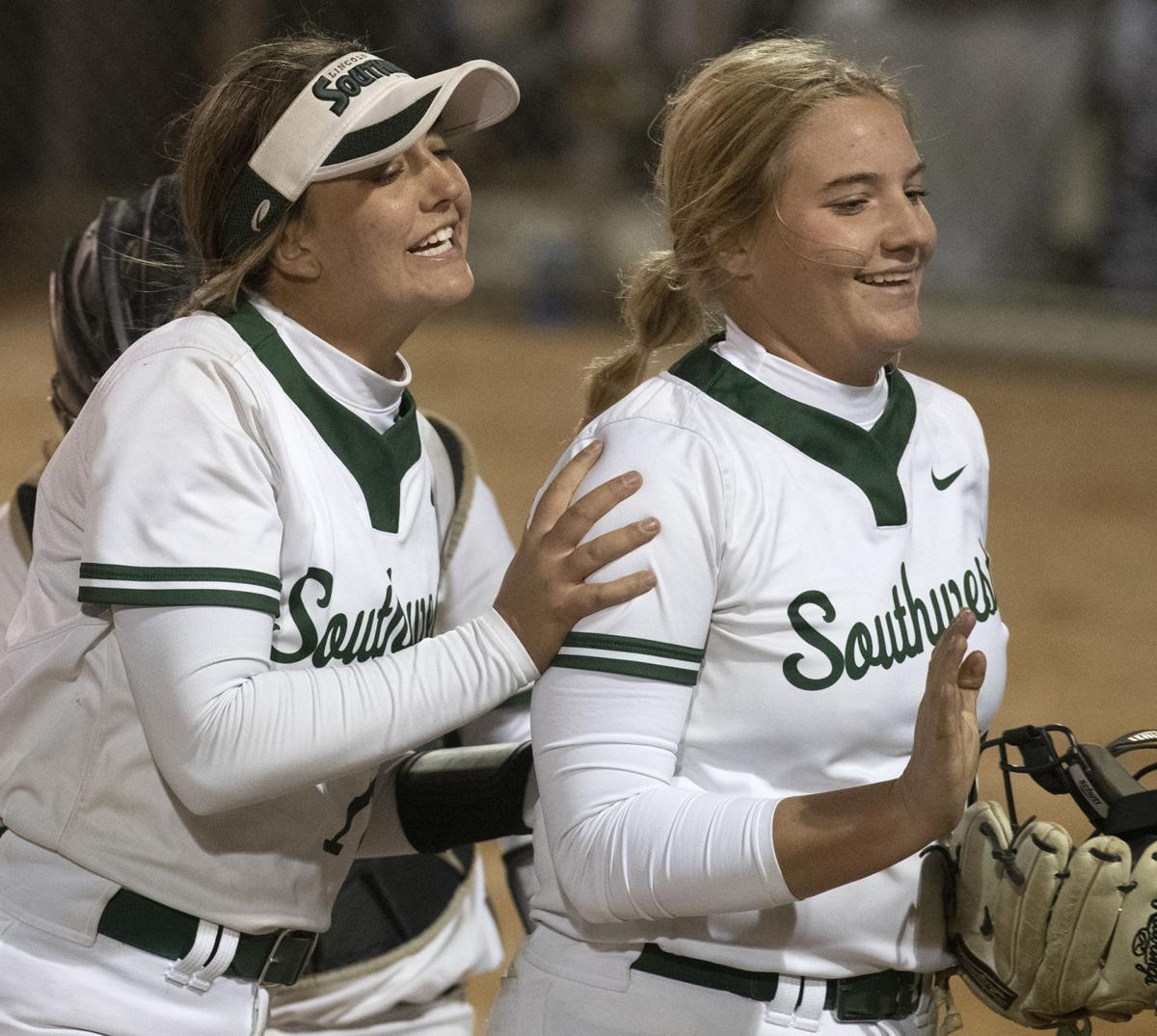 HASTINGS — Taylor Fritz has recorded some big hits late in her final season with Lincoln Southwest.
The senior added maybe her biggest to date Wednesday at the Class A state softball tournament at Bill Smith Complex.
Fritz drilled a tiebreaking two-run hit down the left-field line in the sixth to lift No. 2 Lincoln Southwest to a 5-3 win against No. 7 Millard West in a winners' bracket game. The victory capped a 2-0 day for the Silver Hawks, who will meet No. 1 Gretna at 4:30 p.m. Thursday and are already guaranteed a spot on Championship Friday.
"It's so huge," Fritz said of the Silver Hawks' start here. "I feel like it just puts us in good position to move forward and keep our energy up."
Southwest opened with a 7-4 win against upset-minded Papillion-La Vista South (14-17). The Silver Hawks then fell behind 3-0 to Millard North (23-10) after the Mustangs got third-inning homers from Desi Cuevas and Katherine Johnson (her 18th of the season).
Southwest got two back in the bottom of the third and tied the game at 3-3 when Fritz scored on a passed ball.
But Fritz's biggest play came an inning later.
"Taylor has really come on in the last half of the season," Southwest coach Mark Watt said. "She has hit a ton of clutch RBIs for us and I've been really, really impressed with the improvement she's made over the last half of the season."
Southwest won its first two games at state for the first time since 2009. The Silver Hawks won a state title in 2018, but did so while working through the losers' bracket after losing the opening game to Millard West.
"It's exactly where we want to be," Watt said. "We had the right mentality and we're just focused (on) trying to move on. It's win and move on, and we did that twice today."
Gretna responds
Top-ranked Gretna was stunned less than a week ago when it lost two games to Papillion-La Vista South in districts, forcing the Dragons to reach state via the wild card.
The Dragons (29-5) welcomed a fresh start Wednesday, though they had to fight for it. They rallied for a 5-4 win against surging Papillion-La Vista to cap a 2-0 day. Earlier, the Dragons pulled away for a 10-2 win against No. 9 Norfolk after leading 3-2 in the sixth inning.
Gretna coach Bill Heard was happy how his team bounced back.
"That was very little of me," Heard said. "The seniors talked Monday. I told our coaches how good I felt about our team at that point. They really care.
"We didn't handle last week very well. It doesn't matter. There's eight teams in it, we're one them, you just let it go and keep going."
Game of the day
Gretna 5, Papillion-La Vista 4: It was arguably the best game across all three classes.
Gretna trailed 2-0 early, tied the game at 4-4 in the fifth inning, and took its first lead on Ensley Frame's run-scoring double in the bottom of the sixth.
"You know what? That's the kid that we want in there," Heard said. "She's been a starter for four years. Right kid, right spot."
Frame, a Creighton recruit, finished with three hits.
Worth noting
No. 5 Papillion-La Vista scored 14 consecutive runs, including eight in the fifth inning, to run past No. 3 Lincoln East 14-4 in the opening round. Haley Wilwerding and Alex Stoner each hit two homers.
It marked the Monarchs' 28th straight first-round victory at state, and extended their season win streak to 11 games.
Looking ahead
The top two teams in Class A, Gretna and Southwest, will meet at 4:30 p.m. Thursday, with the winner advancing to Friday's championship game.
The Silver Hawks and Dragons did not meet during the regular season. They were both in the Papillion-La Vista Invitational but missed seeing each other on the field.
Lincoln East (31-9) will play Norfolk (28-15) in an elimination game at 9 a.m. Thursday. The Spartans and Panthers split a regular-season doubleheader.