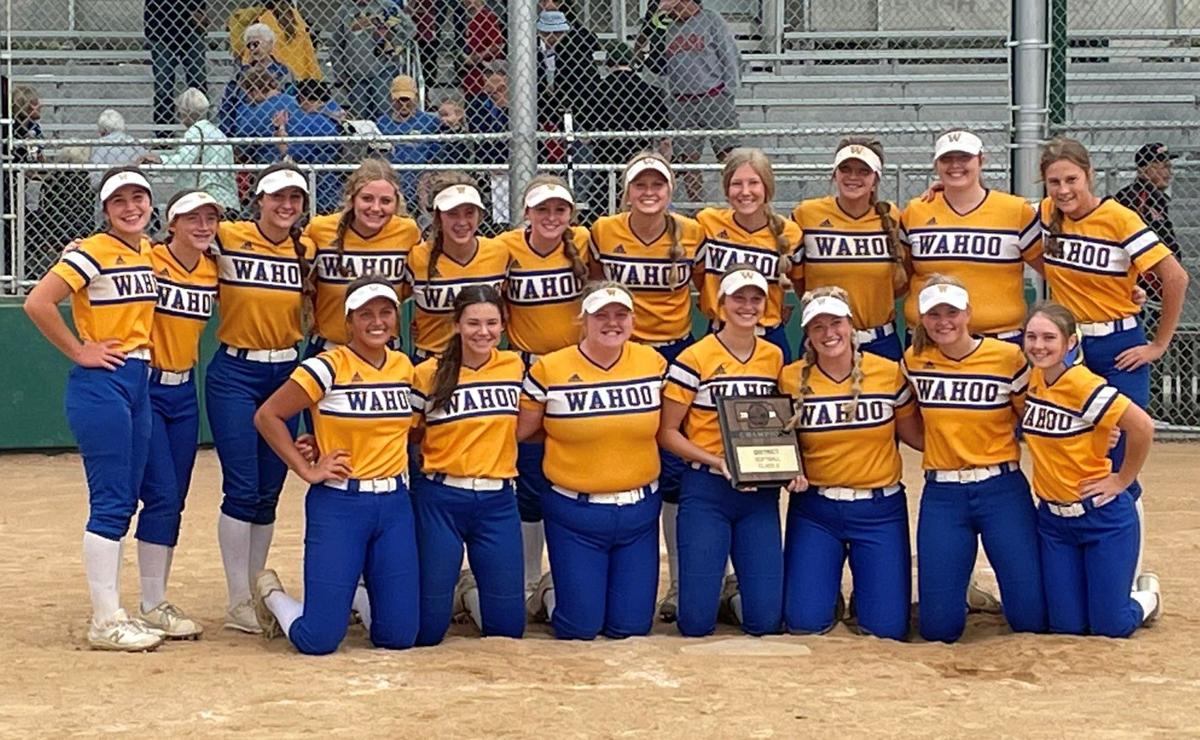 WAHOO — Assistant coach Ashley Otte likes to find ways to motivate the Wahoo softball team each season.
"She always has that inside (motivator) that she's going to find and bring," head coach Trina Christen says.
So before this season, Otte handed out a pair of drumsticks to each player. When the players head out to play games, they don't forget to pack those drumsticks with their bats and other gear.
In a season where the Warriors are drumming to the right notes, it seems like an appropriate touch.
The No. 7 Warriors will be taking a 27-3 record and those drumsticks to Hastings next week after beating Gering 8-0 and 9-0 in a best-of-three Class B district final Saturday at Hackberry Park. It's the Warriors' first state ticket since 2015 and it comes a year after Wahoo fell one game short of the end goal.
"Last year was hard, taking that loss against Crete, but it feels really good that we came together as a team and put it all on the line," said senior catcher Katelyn Urban, who had three hits and two RBIs in Game 1. "That's something that we've been working on — one pitch at a time, all out, just stay in ourselves."
Wahoo didn't look like a team facing a lot of pressure Saturday. The relaxed-looking Warriors jumped to a 4-0 lead after the first inning. They were up 5-0 after two innings in Game 2.
Junior two-way standout Autumn Iversen has been setting the tone all season, and Saturday was no different. She struck out nine and allowed only two hits in six innings in Game 1. Iversen's leadoff homer in the the second game kept the energy going, and the Warriors got another strong outing in the circle from Jaiden Swanson, who struck out nine and allowed only one hit — a fourth-inning single — in the five-inning win.
It capped a special week for the Warriors, who beat No. 6 Beatrice 7-4 in Monday's subdistrict final.
But the Warriors felt like they had something special going much sooner. They had to replace their entire outfield, but many key contributors, including Iversen and sophomore middle infielder Sidney Smart, were back from a team that took a big step in 2020 and was 23-11.
"Honestly, it felt special from the beginning, we just had to jump on together," Urban said. "We have really good team chemistry. Each win built confidence."
No win was bigger than a 2-1 triumph against then-No. 3 Bennington midway through the season. Iversen called it a "groundbreaking" win.
"It gave us the confidence that we could go out there and beat any team if we play as a team," the junior pitcher and shortstop said.
This is Christen's 17th season as Wahoo's coach. She guided the Warriors to Class C state championships in 2010, 2011 and 2013. They followed with state appearances in 2014 and 2015.
Christen sees traits from those teams in this year's bunch.
"One of the biggest traits is the one through nine," she said. "It's somebody different each game. It was our eight hitter against Bennington getting that hit. (Against) St. Cecilia, it was our seven hitter.
"Autumn's going to do what Autumn does, but it seems like it's always somebody picking up, no matter where we are in our lineup, and that's a lot of the characteristics we had in some of those other teams."
Iversen's sisters were on those state tournament teams, including one on the 2013 state-winning team. That fueled Iversen to follow a similar path and lead the blue and gold to Hastings.
"It's literally been my dream," Iversen said. "Watching my older sisters go to state tournaments and knowing that they (Wahoo) haven't been to a state tournament in a long time, I wanted to make it happen so bad.
"It was a huge deal because I looked up to my sisters so much, so when they made it to state, I wanted to make it to state."
This year's Class B state tournament will feature eight talented teams, and a lot of eyes will be on defending state champion and unbeaten Omaha Skutt and Hastings, the 2020 runner-up. But behind the pitching of Iversen, a deep lineup and the confidence from the Bennington win, the Warriors feel this could be more than a just-happy-to-be-there trip to Hastings.
Don't be satisfied, Christen said of next week's message.
"We're not done," the coach said. "Getting there was their first goal, but we can win some games while we're down there, too."
Said Urban, "We just put in so much time and effort. We've all been working towards (this) since we were really little."