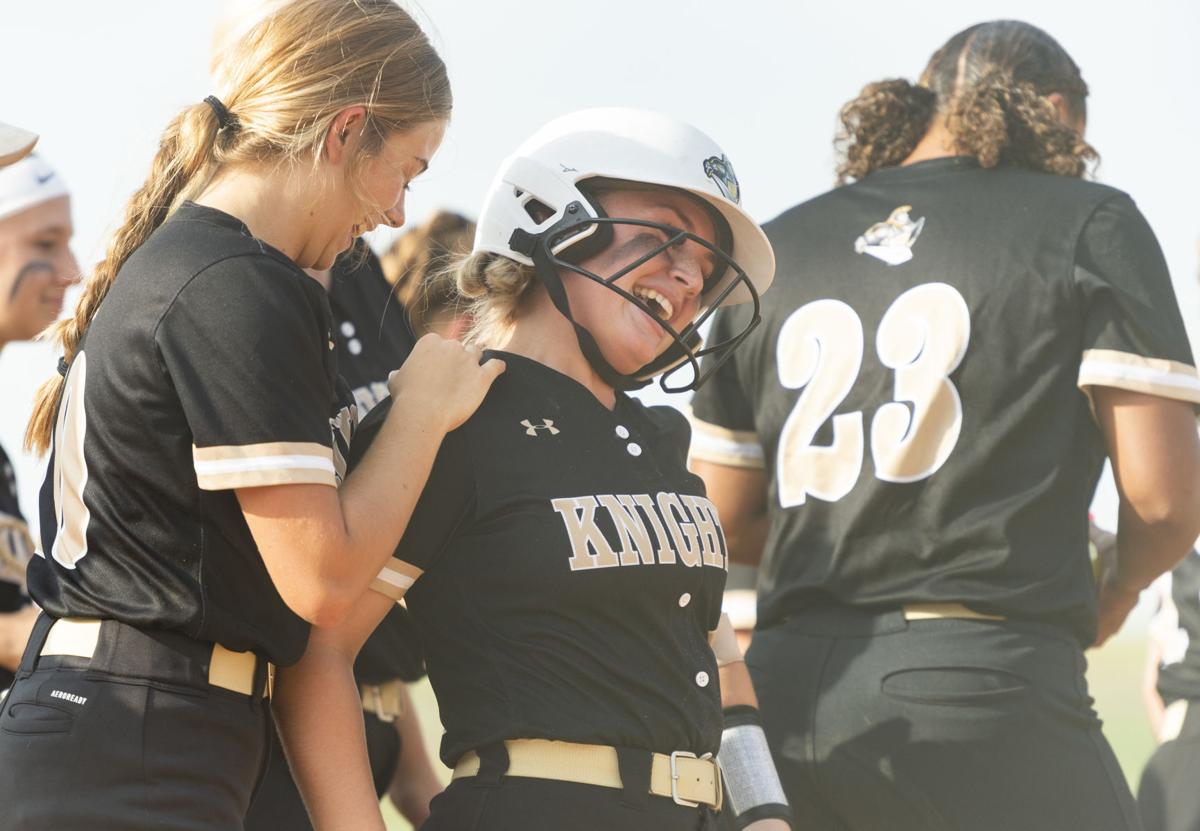 Moira Baxter says it's tough. It's tough not being behind the plate, catching softball games for her team.
The Lincoln Southeast senior has been starting since she was a freshman. This should have marked season No. 4 as a starting catcher at the varsity level, no small feat in Class A. Instead, Baxter is in the dugout when her team is on defense, cheering them on between pitches and outs.
But Baxter is grateful. She's grateful to be part of a team that feels like family, she says. And she's grateful to be playing in a limited role. No, Baxter can't catch. She can barely toss a softball. But she can hit, and her bat has been a big help for the Knights.
A torn labrum during the offseason almost nixed her senior season completely.
"It's really hard for me to sit back and watch the girls, especially since I'm hurt right now, wishing I could be out there playing with them," Baxter said. "We're having a lot of girls step up, especially (at catcher) Emma Kirby, and Reagan (Kjeldgaard), too."
Southeast may not have Baxter's defensive presence to work with, but the Knights are getting production from Baxter as a leadoff hitter. She's hitting around .400, has shown some pop (she had two homers against No. 3 Lincoln Southwest) and recently had a four-hit game.
Her power can keep defenses honest, but she can lay down a bunt, too.
"We know that she's always giving us a chance offensively," Southeast coach Toni Closner said. "She doesn't really strike out a lot, so she's going to put it in play, to at least give us a chance to have her score, and she's pretty quick, too."
Baxter also is pretty quick at recovering.
Last winter she felt a pop in her right shoulder after taking part in long toss. Something immediately didn't feel right. "My shoulder just felt like it weighed 200 pounds," Baxter said.
She went to see a doctor, and two months of physical therapy followed. The shoulder didn't get better, so an MRI was next.
"(The doctors) told me it was a complete tear from the back of my shoulder all the way down to my bicep," said Baxter, who underwent surgery in June and had three screws and two anchors placed in her shoulder.
The recovery time was to be six to seven months. That meant no high school softball. Baxter was bummed.
But determination, grit and a ramp-up in rehab took over. It was Baxter's goal to be an all-state player, and she wasn't ready to let go of that, so she dug deep.
Around three months after surgery, Baxter went back to the doctor and got the all-clear to begin swinging a bat. She was surprised.
"We (Baxter and her father) went hitting right after that because I was totally excited," said Baxter, who only missed the season opener against Lincoln High.
It didn't take long for Baxter to regain her hitting form. She credits that to the extra work she put in the hitting cages and a new focus on practices, taking no reps off.
But it was her coach's belief in the senior that put Baxter back on track.
"I think for me it was just gaining my confidence and trust in myself back, and that came a lot from Toni," Baxter said. "Seeing her trust me to be at the top of the lineup after this just happened, it made me a lot more confident."
Baxter, who played her first two seasons at Lincoln Pius X, is one of several seniors in a Southeast lineup that includes Liv Bollen, Katelyn Neumeyer, Maggie Helms, Ella Culhane and Alexis Hubbard.
Though Baxter isn't on the field defensively, Closner said the team relies on her to work with the catchers, talking plays and technique. Baxter remains one of the more vocal players on the team, the coach added.
The next time Baxter, who recently started light throwing again, plans to catch is when she gets to Iowa Western Community College. Until then, she'll continue to set the tone for a dangerous Knight lineup, happy to have a senior season. 
"I just have to be grateful for what I am able to do and just realize that this is it for high school," Baxter said. "I just have to make the best of it. I try my best every game and give my full effort in practice, and I think it's starting to pay off."