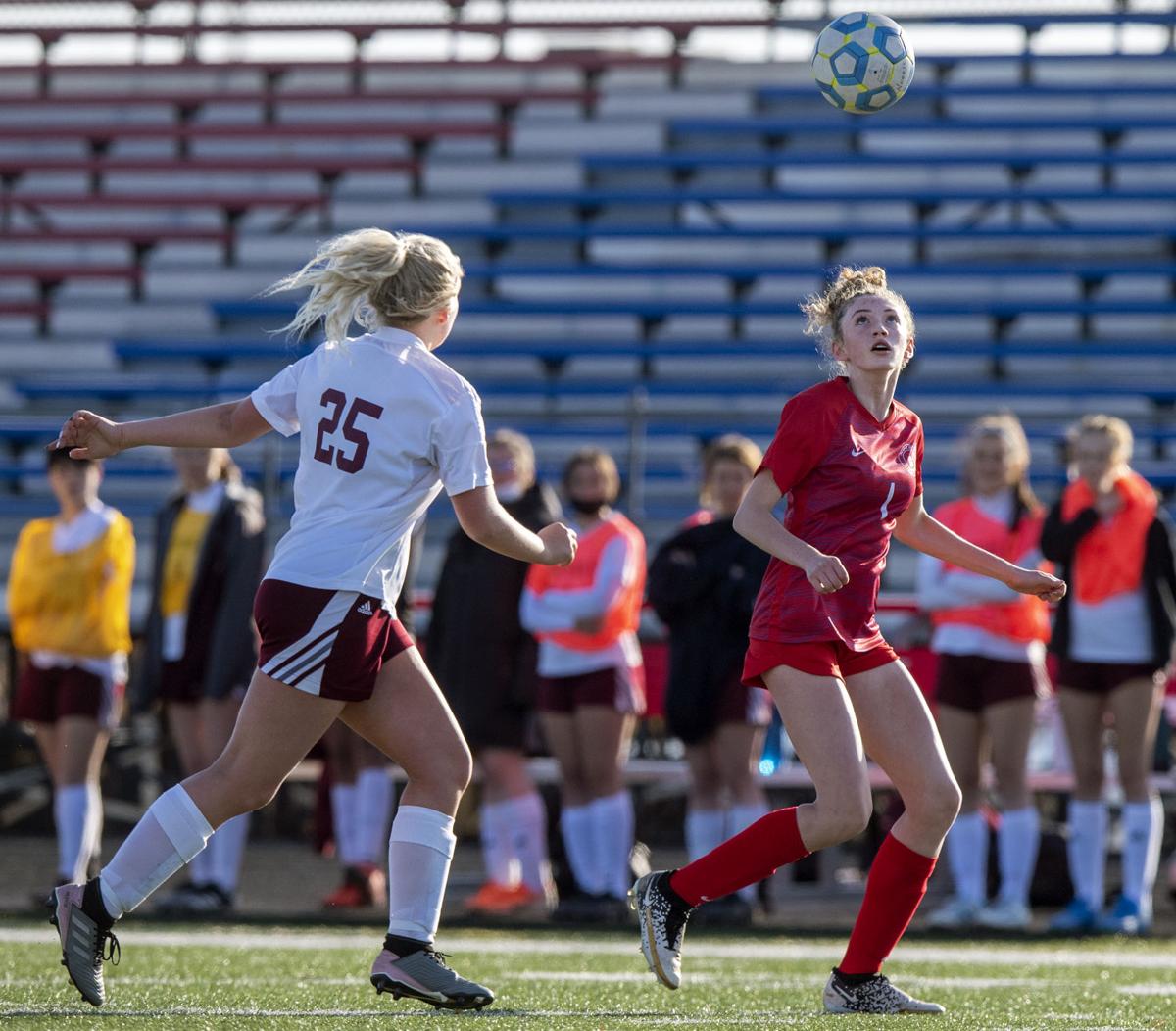 Coach Arnold Talero says he didn't have to say anything.
His Norris girls soccer team on Friday trailed Blair 1-0 after the first overtime period of the Eastern Midlands Conference Tournament championship match.
When the Titans circled around each other before overtime No. 2, they took it upon themselves to regroup. They were doing the talking.
"It was something to watch, to tell the truth," Talero said.
Norris followed with not only the game-tying goal, but the game-winning goal in overtime and the Titans community celebrated another EMC trophy.
Recent weather patterns would say otherwise (Did you see the snow flurries on Monday?), but the seasons do change. Sports seasons change, too, but Norris' success has remained constant through the fall, winter and spring.
Norris' EMC Tournament championship title capped a rare and impressive feat in Titan land. In girls sports alone, Norris won EMC titles in volleyball, softball and girls basketball.
The majority of Norris' soccer players are multi-sport athletes, so they have been a part of multiple hardware runs. That includes senior Molly Ramsey, who was the starting libero for the volleyball team and the starting point guard for the basketball team.
"I never really thought I could do it in all three sports, let alone even one," said Ramsey, who will play volleyball at Kansas State next fall, but grew up loving soccer. "I just think the competitiveness at Norris right now, especially in the girls' programs, is really amazing and we just push each other in practices and out of practices just to get better.
"Just the support we have with the Titan community helps a lot, too."
The Norris girls soccer team is in the midst of its best season. The Titans are 12-0 and have risen to No. 3 in the Class B ratings. The team blends a veteran corps that includes four seniors with a talented group of freshmen and sophomores.
Sophomore Reese Borer leads the team with 14 goals, and three freshmen — Kennedy Sullivan, Clare Macklin and Grace Kohler — have combined for 19 scores.
"A lot us upperclassmen knew we had the potential and we just needed a few more bodies and a few more competitive minds in there," said Ramsey, who has seven goals. "It's been a lot of fun just seeing the competitiveness grow at practices and games, and honestly it brought us as a team a lot closer together, winning those tight games and being able to compete together."
Talero, who is in his second season as the girls coach after coaching the Norris boys, has seen a group of girls embrace high expectations and exhibit great work habits.
"They've kind of bought into the system, and the best thing is playing as a team," he said. "There really is no outstanding player, but they're really playing as a team."
The Titans' team mentality has led to some close wins, including Friday's EMC Tournament final. For many of Norris' players who have played in big moments on the volleyball and basketball courts, and on the softball diamond, an overtime game was right up their alley.
"Obviously we've had a lot of competitive games in volleyball and basketball and now on the soccer field, and I feel like softball has, too," Ramsey said. "Just having that mentality that we're not losing this game and we can work together, we can work harder than the team in front of us is super-awesome fun to see, and also not getting nervous."
The Norris girls would like to match their counterparts in postseason play. Norris finished Class B state runner-up in basketball and volleyball, and took third in softball.
And though this kind of success is new to the soccer program, the championship mentality is not.
"I think that state title is definitely up there for us," Ramsey said. "I think the confidence has been building, and along with confidence we're willing to work hard and we're willing to do whatever it takes to first of all make it to state, but second of all, I think a lot of us have our eyes on that state title."