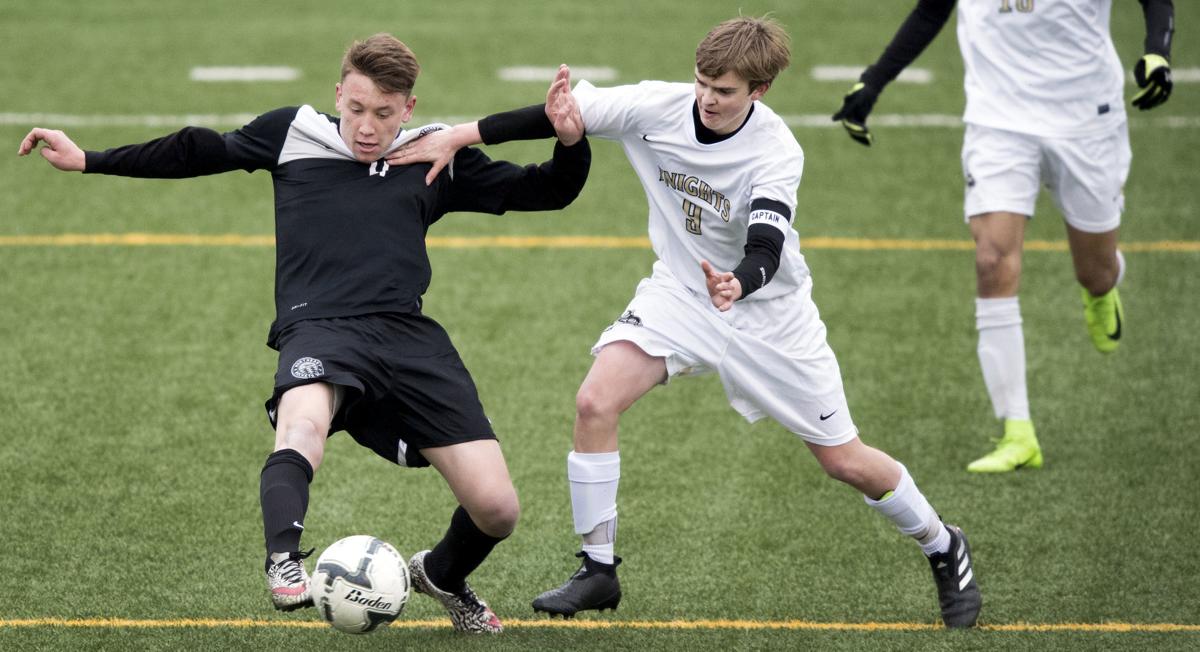 NORTH: Brayan Zuniga, Bellevue East; Ben Knust, Creighton Prep; Harrinson Vicente, Crete; Melvin Uz Perez, Fremont; Kortlan Franke, Gretna; Spencer Anderson, Holdrege; Christian Dakan, Kearney; Lester Perez, Lexington; Jordan Stoehr, Lincoln East; Caleb Goldsmith, Lincoln Southeast; Jackson McGowan, Millard West; Rocky Guevara, Norfolk; Malik Lillard, North Platte; Pay Reh, Omaha Benson; Ram Kabore, Omaha Northwest; Adrian Felix, Omaha South; Johan Centeno, Omaha South; Cade Witmer, Scottsbluff; Brady Foral, Omaha Skutt; Ryan Mendick, Omaha Skutt.
Coaches: Justin Zabawa, Omaha Skutt; David Fisch, Gretna; Derek Spence, Crete.
SOUTH: Luke VanHaute, Mount Michael; CJ Abels, Papillion-La Vista; Brian Covarrubias, Grand Island; Cole Alfrey, Elkhorn; Bret Lange, Elkhorn; Damien Burger, Papillion-La Vista South; Jonah Katt, Bennington; Cameron Henson, Kearney Catholic; Garrett Adams, Norfolk Catholic/Lutheran High Northeast; Leo Devalos, South Sioux City; Logan Lawrence, Papillion-La Vista South; Anudan Thapa, Millard South; Jonathan Velasquez, Lincoln North Star; Simon Joseph, Lincoln High; Jason Gutierrez, Omaha Burke; Cade Pilkington, Elkhorn South; Trevor Jones, Northwest; Hayden Rech, Blair; Peter Novoa, Omaha Westside; Griffin Trude, Omaha Westside.
Coaches: Dave Lawrence, Papillion-La Vista South; Fred Doscher, Elkhorn; Dean Limbach, Bennington.
NORTH: Chloe Behrens, Omaha Skutt; Carly Cameron, Elkhorn; Brylie Meyer, Lincoln Pius X; Emma Wilson, Omaha Westside; Merrissa Espinoza, Scottsbluff; Jordan Thoene, Blair; Missy Shockley, Omaha Roncalli; Grace Wickham, Columbus Scotus; Tiannah Moore, Lincoln Northeast; Cameron Rutsay, Lincoln High; Moya Murray, Millard North; Miriam Bolonas-Rubio, Omaha Bryan; Cheyanne Otten, Norfolk; Kaitlyn Hansen, North Platte; Monica O'Donnell, Lincoln Pius X; Baylee Seaman, Omaha Westside; Cristal Delatorre, South Sioux City; Kylee Nixon, York; Emily Rosenthal, Omaha Mercy; Shylee Armstrong, Omaha North.
Coaches: Jason Moore, Omaha Bryan; Mark Stanton, Omaha North; Steve Andersen, Lincoln Pius X.
SOUTH: Lindsey Johnson, Gretna; Alyssa Bagley, Papillion-La Vista South; Amanda Clements, Millard South; Rylie Albers, Elkhorn South; Abigail Kastens, Waverly; Izzy Dragoo, Lincoln Southeast; Nicole Gornell, Millard West; Madeline Caniglia, Omaha Burke; Kisa Omerovic, Lincoln East; Julia Reimer, Hastings; Meredith Haubensak, Platteview; Kennedy Jones, Columbus; Morgan Finley, Lincoln Southwest; Leah Kichner, Millard West; Anna Stratman, Millard South; Tara Thompson, Lincoln North Star; Sydney Peitzmeier, Elkhorn South; Daisy Ochoa-Rojs, Omaha South; Kendall Bonam, Omaha Central; Kenzie Homan, Omaha Gross.
Coaches: Jane Elam, Millard South; Lindsay Alianao, Elkhorn South; Julie Puetz, Elkhorn South.
Get in the game with our Prep Sports Newsletter
Sent weekly directly to your inbox!