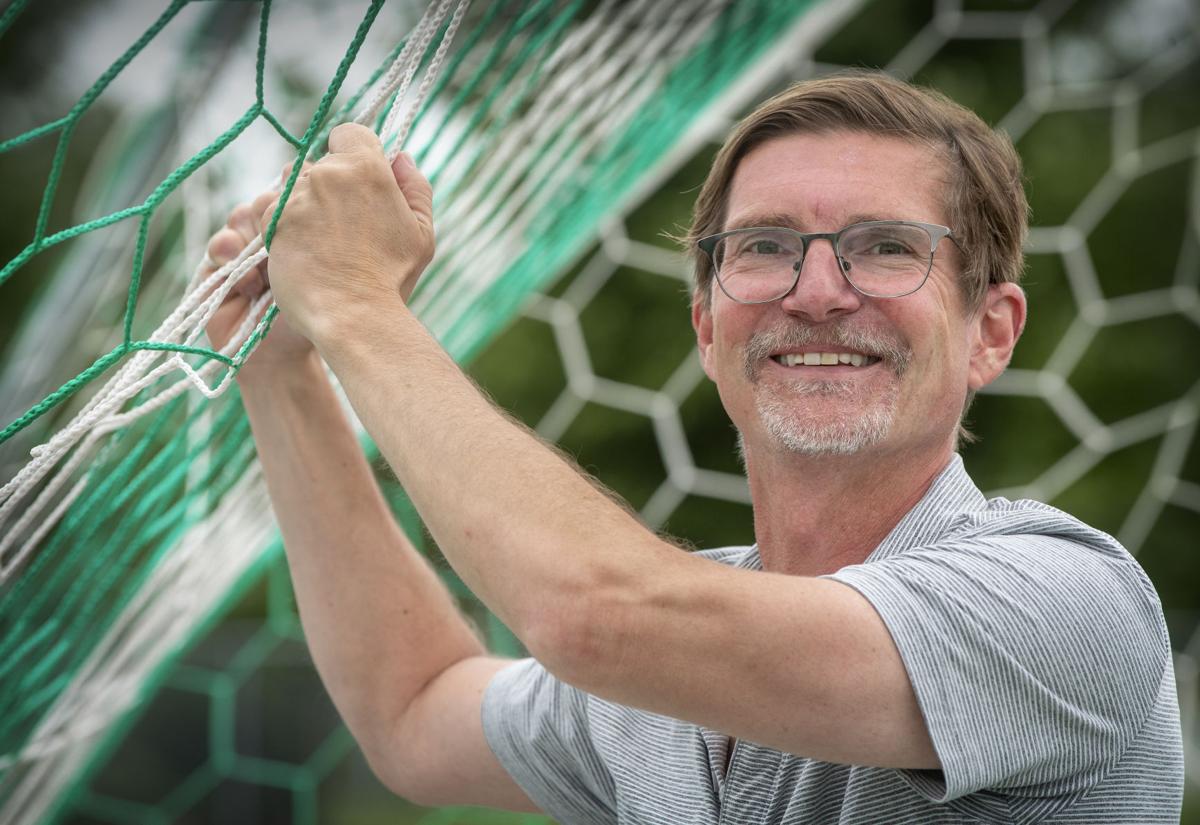 A successful career as a soccer coach started simply enough for John Carlson.
He was a student at the University of Nebraska-Lincoln in the late 1980s when he saw a help-wanted advertisement in the student newspaper.
"My junior year I saw an ad in the Daily Nebraskan that just said, 'Coach wanted at Pius X,'" Carlson said.
Carlson helped coach the Lincoln Pius X boys soccer team, which was still a club sport at the time. He was hooked. That was the start of 30 years of coaching high school soccer. It's in Carlson's current job as the Omaha Skutt girls coach where he's helped build a high school dynasty in the sport.
The state championship Skutt won this season was the eighth for the program, each since Carlson became head coach in 2000. For that, Carlson is the Journal Star co-coach of the year for girls sports, along with Lincoln Pius X girls basketball coach Ryan Psota.
Carlson is the first soccer coach to earn the girls coach of the year award, and just the second soccer coach overall, joining former Lincoln East boys coach Jeff Hoham.
Skutt's eight state titles are second-most for girls soccer, trailing the 14 by Omaha Marian.
Skutt has been remarkably consistent under Carlson, reaching the state tournament during each of his 24 seasons. Skutt has played in the Class B state championship match 13 of the past 16 seasons. It has been more than 15 years since a graduating class of Skutt soccer players didn't win at least one state title.
The SkyHawks also have won their conference tournament 16 straight seasons, and lost just one conference match since 2005.
Carlson has won 81% of his matches at Skutt, with a record of 317-73. Including previous stops at Mount Michael and Omaha Roncalli, his overall record as a high school coach is 372-118.
And Carlson is one of the people in Nebraska who remembers when high school soccer looked nothing like it does now. When Carlson played high school soccer at Omaha Central, it was still a club sport. It wasn't until 1988 that soccer became an official NSAA sport.
"To see it now where we're playing at Morrison Stadium (in Omaha) with the downtown backdrop at one of the best soccer-specific stadiums in the country, and then (the state finals are) on TV, it's just been great to see how the game has grown here," Carlson said.
In college, Carlson studied journalism, and after graduation, he was a business reporter at the Fremont Tribune newspaper. But after a short time, he went back to school so he could be a soccer coach and teacher.
He coached the Mount Michael boys team for three years, and then the Omaha Roncalli girls squad for three years. In 1997, during his second year at Roncalli, the team made it to the Class B championship match before losing against Omaha Duchesne 1-0.
"That was kind of my first taste of coaching a team that made it to a championship game," Carlson said.
Current Skutt principal Rob Meyers started the Skutt girls team, and when he became athletic director he hired Carlson as girls soccer coach.
Carlson has also been a college head coach with the Nebraska Wesleyan men's team and College of Saint Mary women's program. He's also worked in club soccer, both with a large organization in Elkhorn and smaller clubs in Omaha, where Carlson enjoys trying to provide opportunities for students in all areas of the city to play.
He enjoys the lifelong relationships he's had through coaching, such as seeing former players attend Skutt matches during the state tournament, and having players come back as assistant coaches.
Carlson says he's been fortunate to get to coach athletes who have already played a lot of soccer before reaching high school, which isn't the case for all Class B teams.
"I'm lucky to have talented players, and talented people," he said. "I think athletic success ties a lot of times with academic success and vice versa. At the (team) banquet I can't even tell you how many academic all-conference awards I handed out. It's a group of players that every year are committed to academic and athletic excellence."
About 45 players go out for soccer each season, and Carlson has never had to cut a player.
This season Skutt had a 20-1 record, with the only loss coming in a shootout against North Platte. Skutt beat Norris 2-1 in the Class B championship match.
Like all soccer coaches, Carlson had to regroup after the 2020 season was canceled due to COVID-19.
"This was a difficult year for all of us," Carlson said. "You couldn't see each other like you wanted to. I kept in touch a lot through texts and emails, and I used the word 'special.' I thought this was going to be a special season. I'd say to my seniors, 'Just know 2021 is going to be a special year.' … I just thought we had all of the makings. When you have 13 seniors, and then we had four sets of sisters, so I knew it was really going to be a family atmosphere."
Skutt benefited this season from having a deep roster of good players. When substitutes came into the match, they could still score goals, or stop them.
"They're all competitors, so they all wanted to play 60 or 70 minutes a game, every one of them, one through 24," Carlson said. "But they never sat on the end of the bench and complained. They accepted their roles and they accepted that they're playing for something bigger, and at the end they were rewarded. It's kind of giving me goosebumps talking about it."
All-state soccer: Meet the first-team Super-State soccer girls
SARAH WEBER (captain)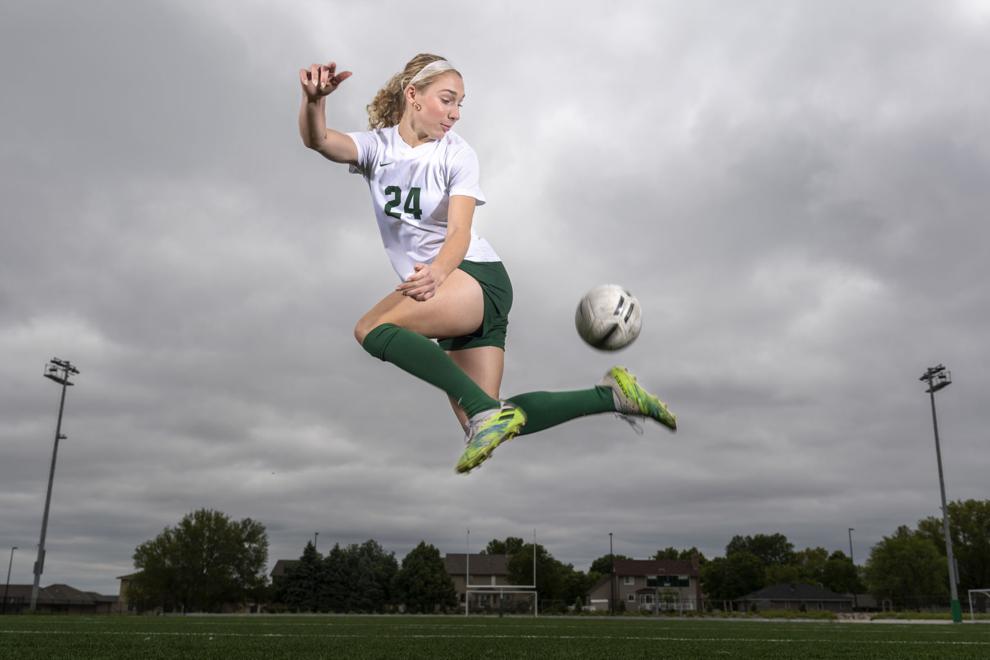 𝙈𝙞𝙙𝙛𝙞𝙚𝙡𝙙𝙚𝙧 /// 𝙂𝙧𝙚𝙩𝙣𝙖 /// 𝙨𝙚𝙣𝙞𝙤𝙧
The details: She set a Class A state record for goals in a season with 48. That includes four goals over three matches at the state tournament while leading Gretna to the state championship.
What she's known for: "She can score goals with her right foot, left foot and on headers. She's scored solo goals, and goals on assists from her teammates. You name it, that kid can certainly do it." — Gretna coach Digger Hawkins
CECE BEHRENS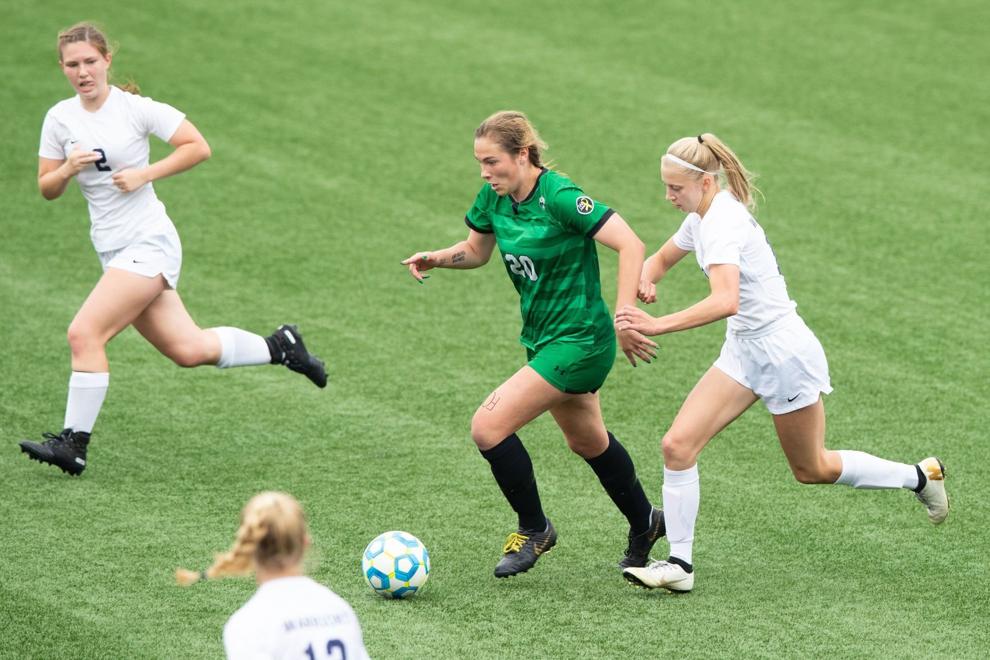 𝙁𝙤𝙧𝙬𝙖𝙧𝙙 /// 𝙊𝙢𝙖𝙝𝙖 𝙎𝙠𝙪𝙩𝙩 /// 𝙨𝙚𝙣𝙞𝙤𝙧
The details: She scored a school-record 39 goals this season, breaking the record previously held by Liz Bartels. She scored six goals over three matches at the state tournament to help the Skyhawks win the state championship. She'll play soccer in college at Omaha.
Super-State moments: "In the second game of the season, Cece scored five goals against Omaha Mercy, which was ranked second in Class B at the time, to set the tone for the season." — Omaha Skutt coach John Carlson
KAYMA CARPENTER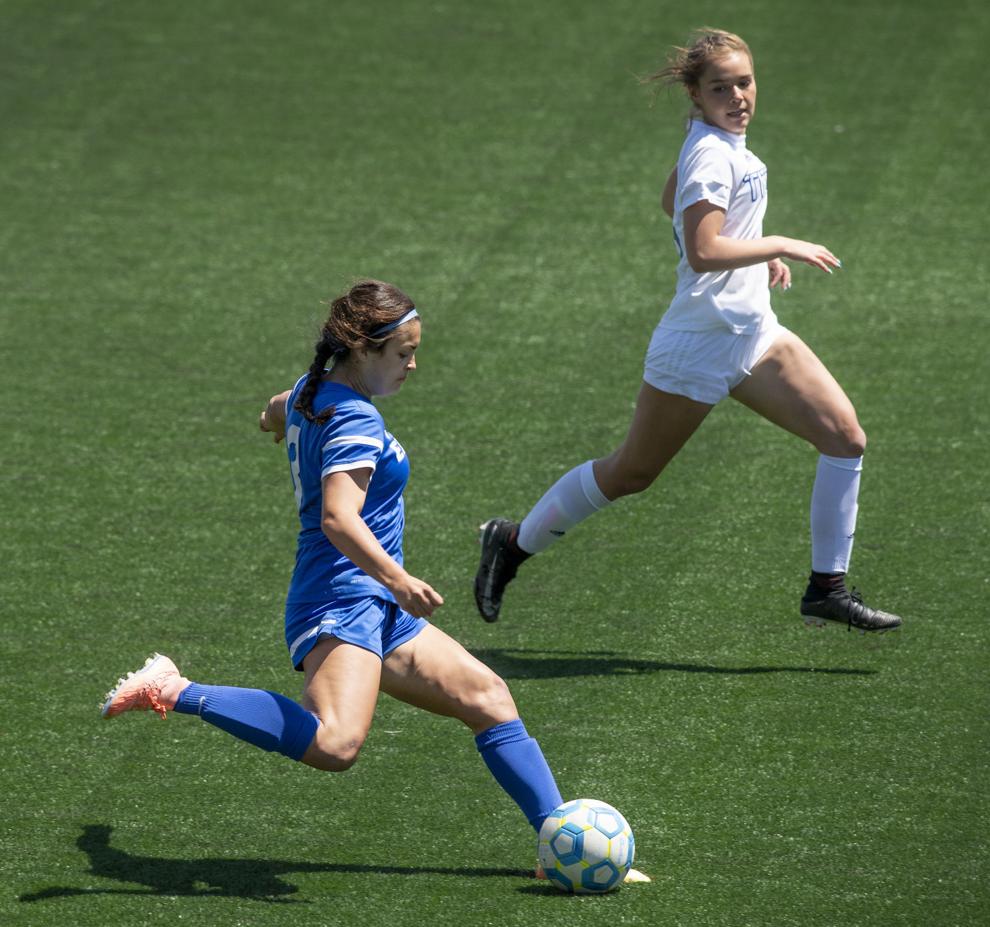 𝙁𝙤𝙧𝙬𝙖𝙧𝙙 /// 𝙇𝙞𝙣𝙘𝙤𝙡𝙣 𝙀𝙖𝙨𝙩 /// 𝙨𝙤𝙥𝙝𝙤𝙢𝙤𝙧𝙚
The details: She scored 31 goals, smashing the previous school record for goals in a season of 20 previously held by Jenna Cole and Ali Portell. Carpenter had four matches where she scored at least four goals.
Super-State moments: She scored three goals in the first half during a 5-0 win against Millard North, a team that would later reach the state finals. Against Lincoln Pius X, the Spartans trailed 1-0 with 10 minutes remaining before Carpenter scored two quick goals for a 2-1 win in regulation. She scored two goals in a 6-4 win against Papillion-La Vista South in the first round of the state tournament.
SAVANNAH DEFINI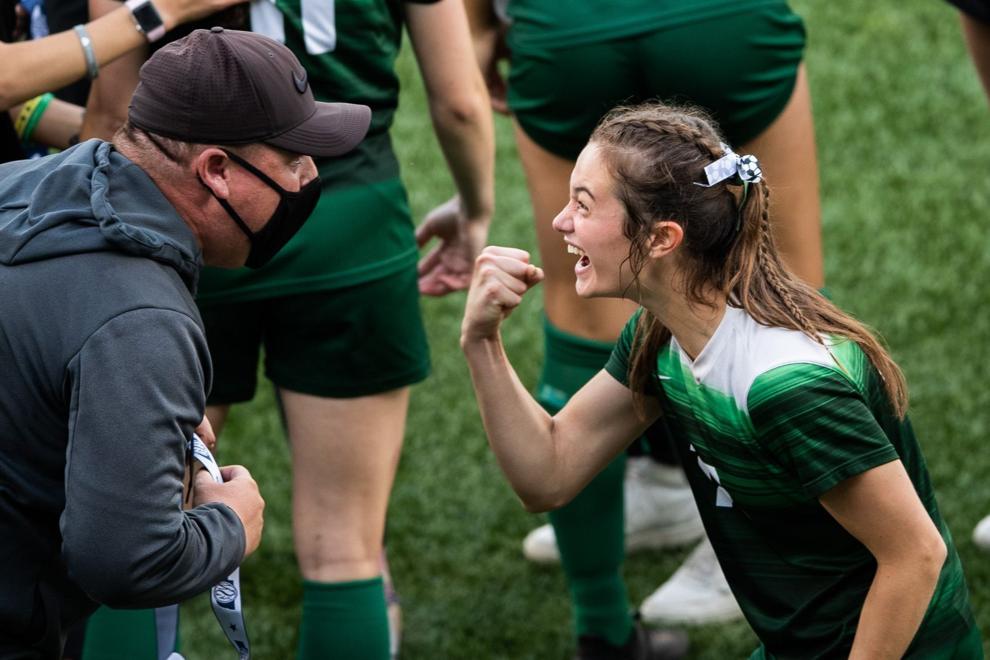 𝙁𝙤𝙧𝙬𝙖𝙧𝙙 /// 𝙂𝙧𝙚𝙩𝙣𝙖 /// 𝙟𝙪𝙣𝙞𝙤𝙧
The details: She scored 24 goals and had a massive amount of assists (18) for the state champion Dragons. She scored the game-winning goal when Gretna beat Millard North 2-1 in the state championship match.
What she's known for: "Savannah is a very competitive player. She had a great goal tally, and a great assist tally, but she does a lot more for the team than just those stats. She's another important part of our success this season." — Gretna coach Digger Hawkins
BRILEY HILL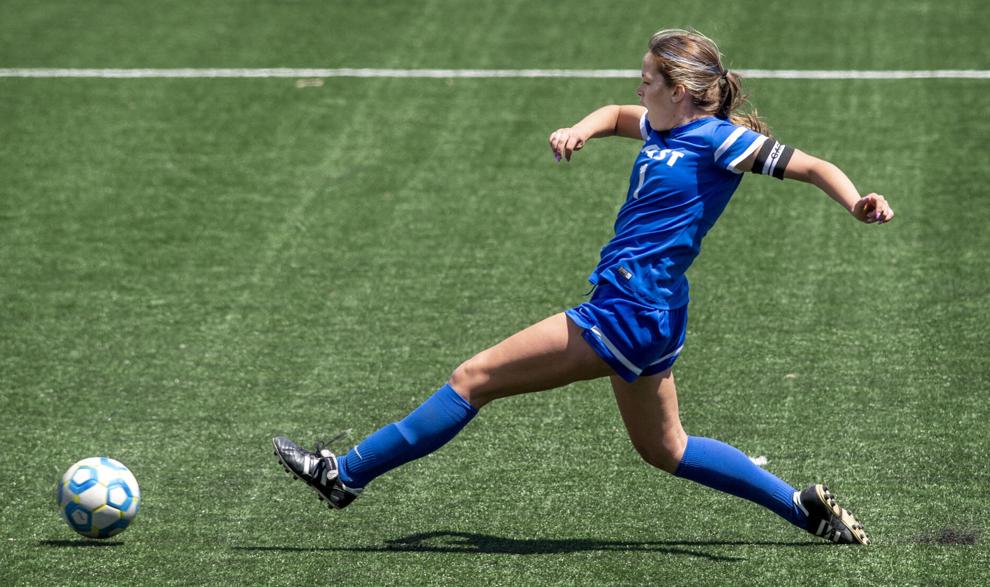 𝙁𝙤𝙧𝙬𝙖𝙧𝙙 /// 𝙇𝙞𝙣𝙘𝙤𝙡𝙣 𝙀𝙖𝙨𝙩 /// 𝙨𝙚𝙣𝙞𝙤𝙧
The details: She scored 16 goals and had 11 assists while helping East reach the state tournament semifinals. She ranks No. 3 in program history in career goals (38) despite having her junior season canceled. She'll play soccer at Nebraska this fall.
Super-State moments: "She had a hat trick in the district championship against Elkhorn South, with so many calm and composed finishes in a pressure situation." — Lincoln East coach Emily Mathews
ALLIE NAPORA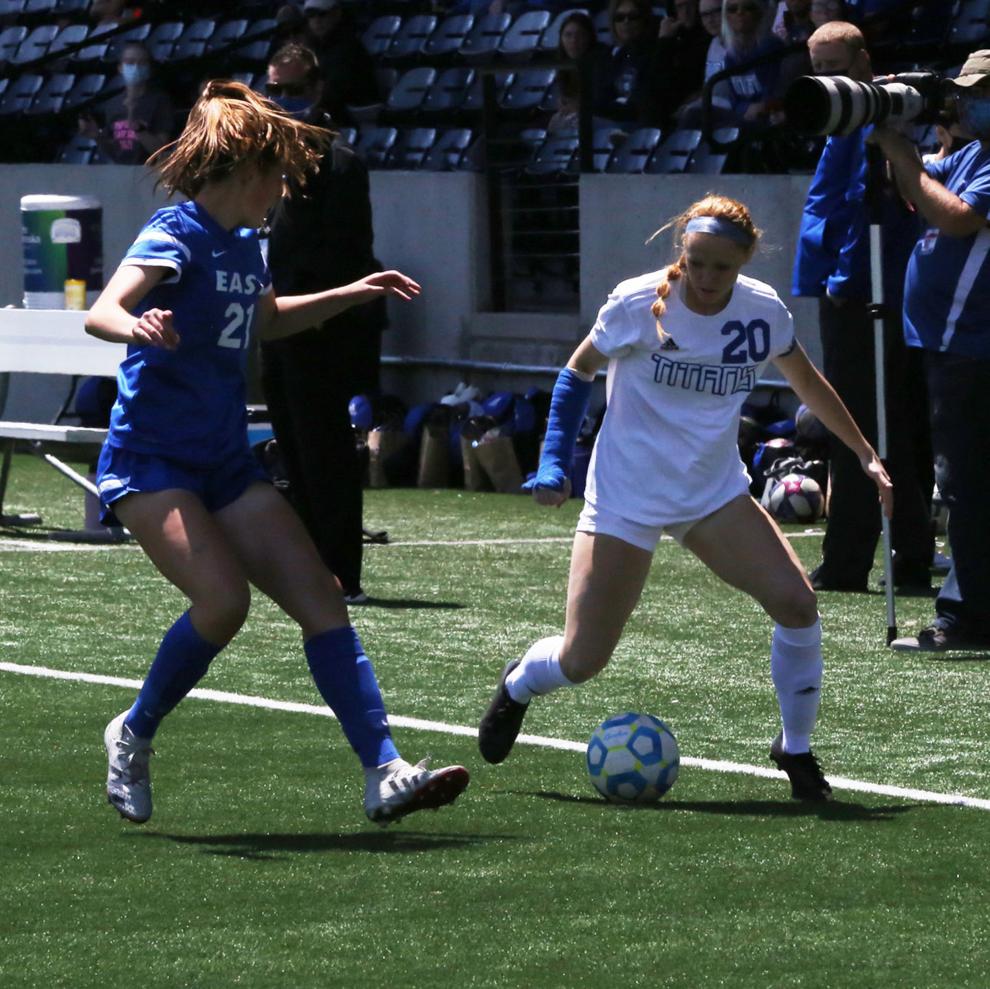 𝙁𝙤𝙧𝙬𝙖𝙧𝙙 /// 𝙋𝙖𝙥𝙞𝙡𝙡𝙞𝙤𝙣-𝙇𝙖 𝙑𝙞𝙨𝙩𝙖 𝙎𝙤𝙪𝙩𝙝 /// 𝙨𝙚𝙣𝙞𝙤𝙧
The details: She scored 21 goals despite missing part of the season with a broken arm. She'll play soccer in college at Nebraska.
Super-State moments: "Allie came back for the state tournament and scored three goals in her first contest. She knows how to put a team on her back and constantly beats defenders one-on-one to get her shot off. She is truly an outstanding player." — Papillion-La Vista South coach Jacob Watson
GRACIE HANEBORG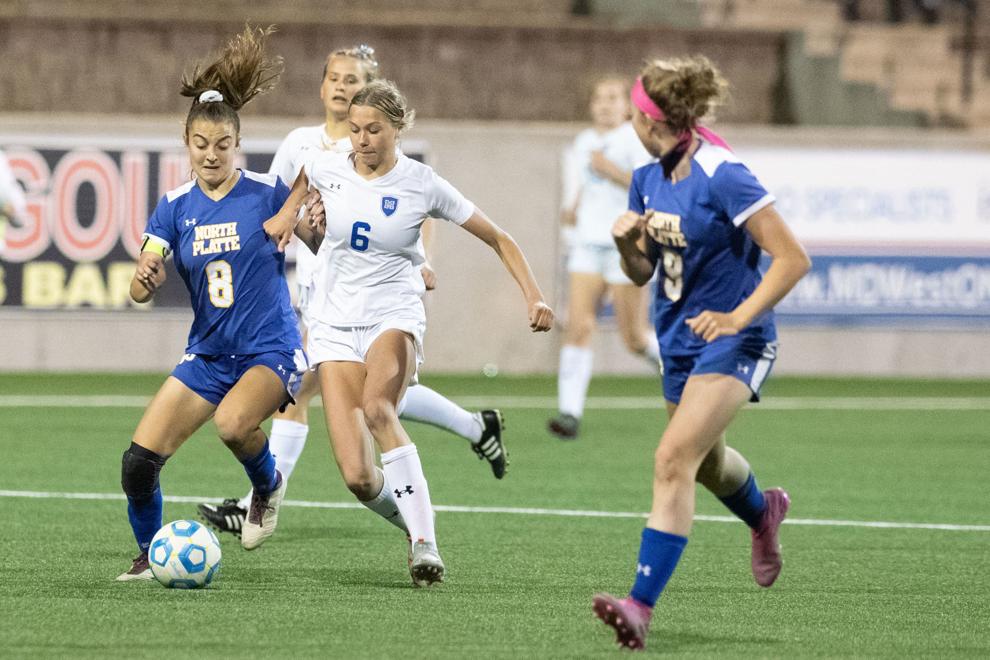 𝙈𝙞𝙙𝙛𝙞𝙚𝙡𝙙𝙚𝙧 /// 𝙉𝙤𝙧𝙩𝙝 𝙋𝙡𝙖𝙩𝙩𝙚 /// 𝙨𝙚𝙣𝙞𝙤𝙧
The details: She scored 33 goals and had 15 assists to lead North Platte to the state tournament. She also has the school record for career goals (75 in just three seasons) and match (six).
What she's known for: "Her foot skills are phenomenal and she can maneuver around anyone on the field. She is a top-notch competitor who has the drive of a marathon runner and the aggression of a warrior." — North Platte coach Sarah Kaminski
HALEY PETERSON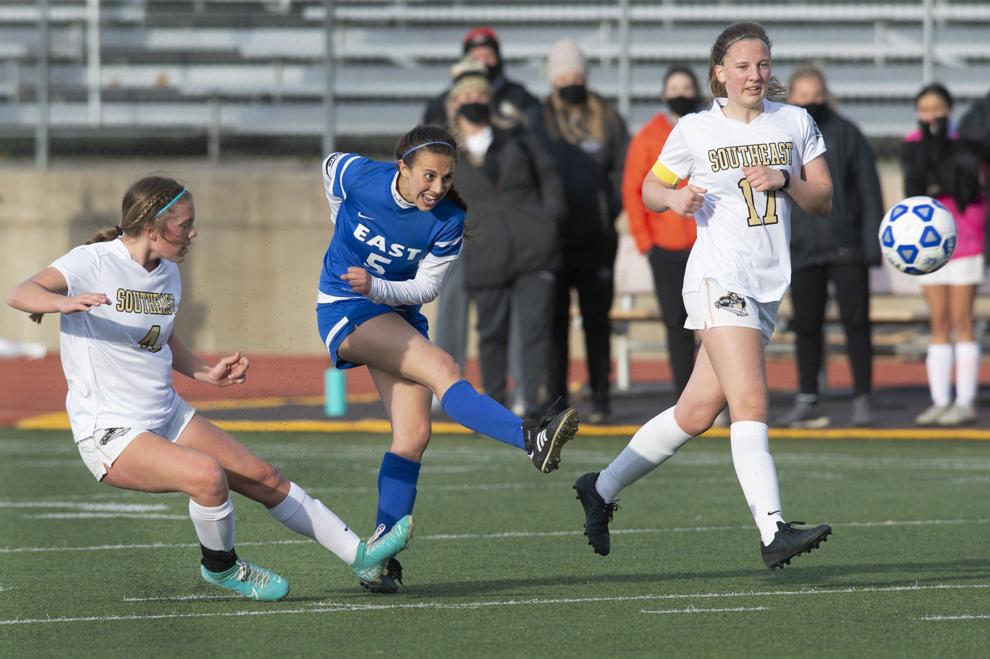 𝙈𝙞𝙙𝙛𝙞𝙚𝙡𝙙𝙚𝙧 /// 𝙇𝙞𝙣𝙘𝙤𝙡𝙣 𝙀𝙖𝙨𝙩 /// 𝙨𝙚𝙣𝙞𝙤𝙧
The details: Lincoln East scored a ton of goals this season, and Peterson was a big reason why in helping the Spartans build the attack in the midfield. She had 15 goals and eight assists. She was dangerous on free kicks, and scored two goals at the state tournament on impressive free kicks. She ranks No. 9 in program history for career points (80) and No. 10 in career goals (30).
What she's known for: "Her overall creativity in the midfield helped us be a dangerous attacking team. Her first touch and confidence with the ball at her feet is beautiful to watch." — Lincoln East coach Emily Mathews
ALYSSA JUDKINS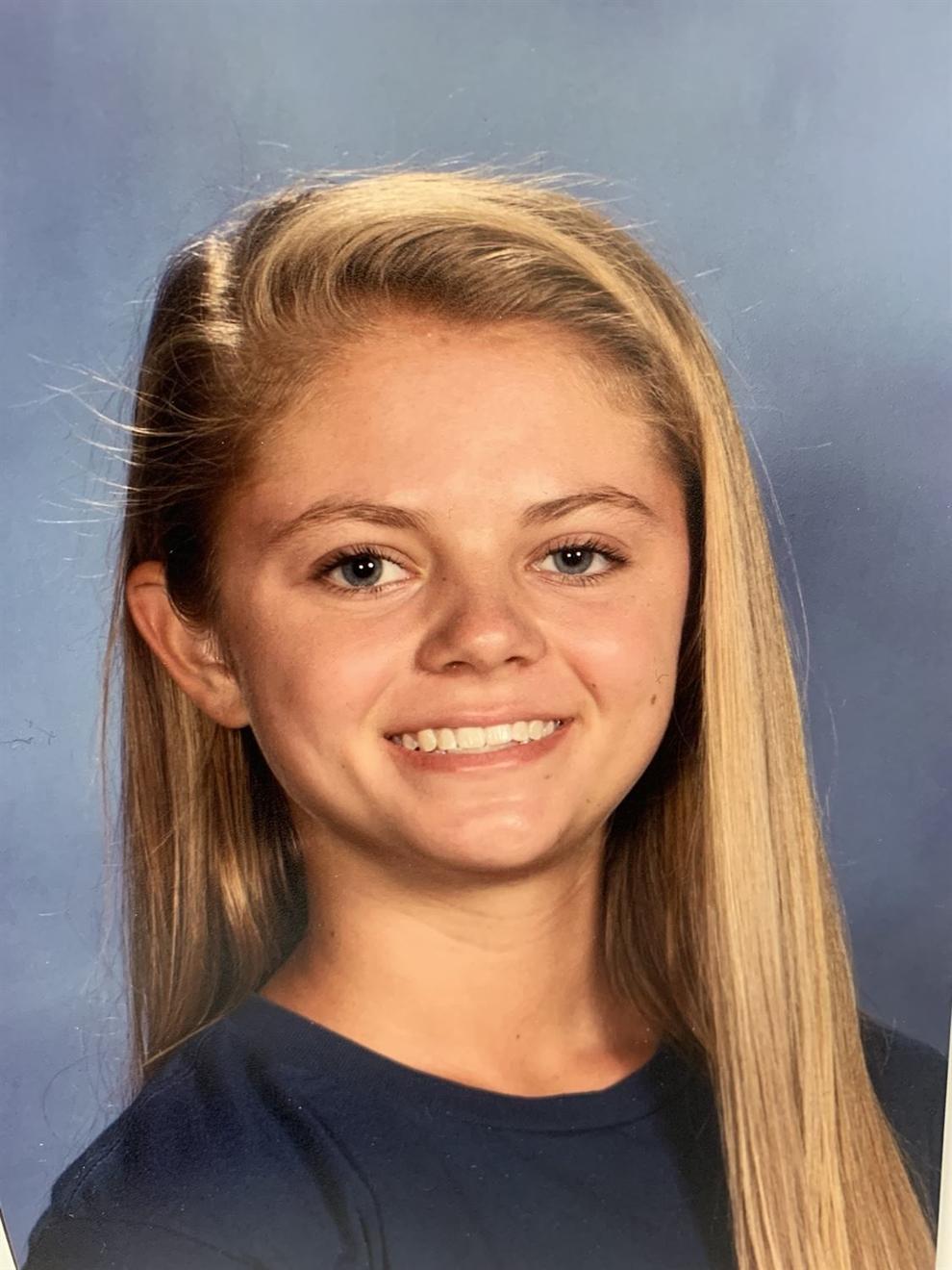 𝘿𝙚𝙛𝙚𝙣𝙙𝙚𝙧 /// 𝙊𝙢𝙖𝙝𝙖 𝘽𝙪𝙧𝙠𝙚 /// 𝙨𝙚𝙣𝙞𝙤𝙧
The details: She put up big numbers for a defender with eight goals and four assists. She'll play college soccer at Creighton.
Super-State moments: "Her free kicks were dangerous from anyplace on the field. Alyssa helped open our season's scoring by assisting our first goal of the season from a huge free kick from our defensive end 80 yards from goal that one of our forwards got on the end of and put in from 35 yards out. That moment replayed three more times with the same forward, and two of them in huge games." — Omaha Burke coach Brian Anderson
AVI GONZALEZ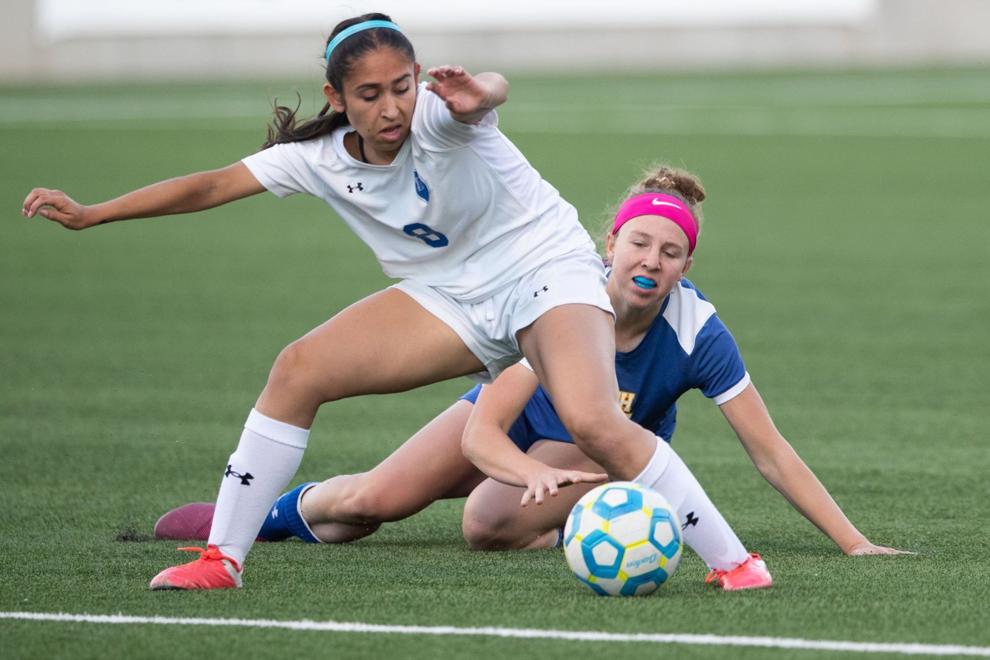 𝘿𝙚𝙛𝙚𝙣𝙙𝙚𝙧 /// 𝙊𝙢𝙖𝙝𝙖 𝙈𝙖𝙧𝙞𝙖𝙣 /// 𝙟𝙪𝙣𝙞𝙤𝙧
The details: After a few losses early in the season, Gonzalez helped Marian have a 10-match winning streak to get back to the state tournament semifinals.
What she's known for: "Avi is a fantastic defender. She is aggressive, quick, and reads the game very well. She has a tremendous work rate." — Omaha Marian coach Teresa DeGeorge
ABBY ORR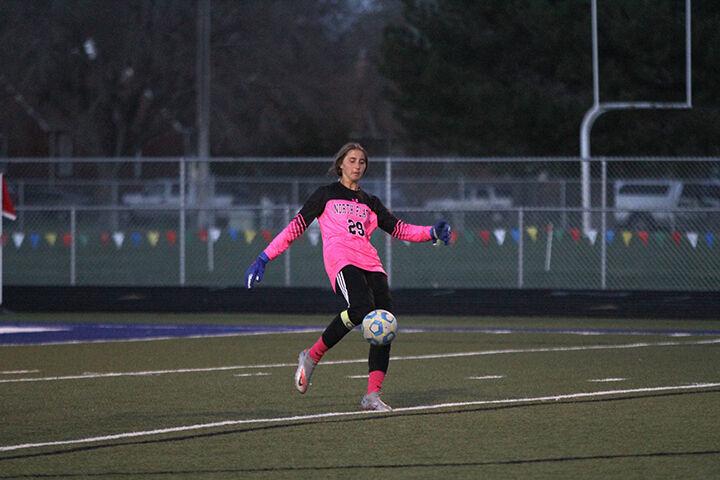 𝙂𝙤𝙖𝙡𝙠𝙚𝙚𝙥𝙚𝙧 /// 𝙉𝙤𝙧𝙩𝙝 𝙋𝙡𝙖𝙩𝙩𝙚 /// 𝙨𝙚𝙣𝙞𝙤𝙧
The details: She had the crowd buzzing at the state tournament with all of her saves against Omaha Marian that kept the Bulldogs in the match before losing 1-0 in overtime. She made 202 saves this season. Orr had a 2-0 record in shootouts, including winning a shootout against Class B No. 1 Omaha Skutt. She tied the school record for career shutouts (26) despite being the starting goalkeeper for only two seasons. She'll play college softball at Tennessee-Chattanooga.
Super-State moments: "When we played Omaha Skutt and took the game to a shootout, Abby had two keys saves in the shootout to let us go on to hand Omaha Skutt their only loss of the season. An obvious defining moment would be her game against Omaha Marian at the state tournament, where she held off a barrage of 25-plus shots allowing us to take Omaha Marian into overtime after going 0-0 in regulation play. She was all over the place making saves that shocked everyone watching." — North Platte coach Sarah Kaminski