ELKHORN — Skylar. When coaches sent in their all-state soccer forms listing the players they thought were the best in the state this season, that's all that a few coaches wrote, like Skylar was LeBron, or Adele, or something.
Skylar is Skylar Heinrich, a junior at Elkhorn High School, and as the first-name-only listing would indicate, most people involved with high school soccer have heard of her.
She burst on the scene in 2016, scoring 33 goals and being a rare freshman to earn first-team Super-State honors. But now she's leaving us sooner than most would want. After scoring 102 goals in three years, she's played her final high school match. Heinrich will graduate from high school in December and enroll at Creighton, skipping her senior soccer season and getting a start on college classes and soccer training.
And while there have been great goal scorers as recently as last season, when Lincoln Southwest's Hannah Davis ended a 117-goal prep career, what wowed you with Heinrich was her speed, and then scoring the goal. She has track speed, long-distance endurance and elite soccer skills, a combination that left many opponents shaking their heads as they left the stadium.
Heinrich is the honorary captain of the Lincoln Journal Star Super-State soccer team. The boys captain is high-scoring Omaha Westside midfielder Peter Novoa.
Elkhorn coach Troy Stoller hadn't seen Heinrich play before high school, but her older sister, Sydney, played at Elkhorn and had been telling him about her.
"Sydney kept saying, 'Oh, wait until next year, my sister is really good,'" Stoller said. "And then I saw Skylar her freshman year and basically thought, 'Holy cow, she's legit.' I remember that first week of tryouts we were indoors and just the quickness, it was quickness I hadn't seen ever."
Heinrich scored 33 goals as a freshman, and then 38 as a sophomore. She scored just 31 this year, but it came with the best result: Elkhorn won the Class B state championship, with Heinrich scoring both goals in the championship match.
She could have scored more. Stoller wouldn't let her keep firing in goals against lesser competition. Once she scored four goals in seven minutes to start a match, and then her day was done.
Waverly coach Joel Fritz got to see Heinrich play a few times each season. As good as she was during her first two years of high school, Fritz didn't think you'd be able to notice her still improving, but he did this year.
"I think honestly with the ball at her feet she's one of those players who doesn't lose any speed at all," Fritz said. "Most kids when they get the ball at their feet they slow down a little bit, but she's able to keep that same pace up. And then the thing that makes her super-dangerous is she's able to finish with her right and her left foot."
You have free articles remaining.
Fred Doscher coaches the boys soccer team at Elkhorn. He got to watch Heinrich play a few times each season, and then usually watched her play when he helped at the state soccer tournament.
"I've been around a lot of athletes, girls and boys, and I've never seen a player in any sport accelerate like she does," Doscher said. "Her ability to get to top speed so quick and keep that ball at her feet is unlike anything I've really seen, and I've been coaching soccer for 23 years. I even went to the Women's World Cup in Winnipeg and watched those girls, and obviously they're all great, but I even saw some things from Skylar that I don't think that I saw when I was at the World Cup."
Doscher has thought about what it would be like if Heinrich played in a boys match. Doscher thinks it would depend on the teams, and how big and physical the players were, but he thinks Heinrich could still get off shots.
"She's got the skill set where I believe if she played in a varsity game, you'd still notice her," Doscher said.
Doscher had Heinrich in class, and he says you'd never know she's the success she is.
"She is the most humble, nice, polite, respectful person," he said. "A lot of times when people are that good, you don't see that."
She's fast, but Heinrich thinks speed is only useful in soccer if you can get a defender off balance, and then use that speed.
"Usually everybody always knew me for my speed, but that only took me so far in soccer, until I had to start getting actual skills," Heinrich said. "So I've just been working on those since then because everybody gets faster. I just was faster earlier."
Heinrich has the work ethic to match her talent. Stoller tells the story about how the team had a big match on a Monday, so he told the team to rest on Sunday. Then another player told him she'd seen Heinrich at the football field that day doing a conditioning drill where you flip car tires.
"I called her out on it," Stoller said. "She said something about strengthening her legs, and I was like, 'All right, good for you.' Here she is flipping tires. She's special. She's just not done yet. She's the best player I've ever seen, and she's still hungry for more."
F | Delaney Gunn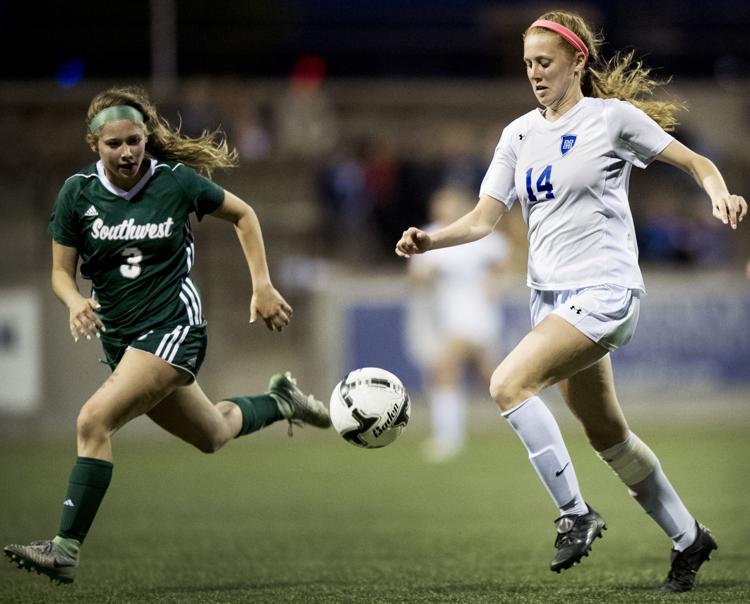 F Delaney Gunn, Omaha Marian, senior
The details: She led the state runner-up Crusaders with 21 goals, including three during the state tournament. She also had a team-best nine assists. Off the field, she is the valedictorian of her class.
The defining moments: "She rose to the top at state with a hat trick against Millard South. I will be expecting great things from her at Saint Louis University." – Marian coach Teresa DeGeorge
F | Skylar Heinrich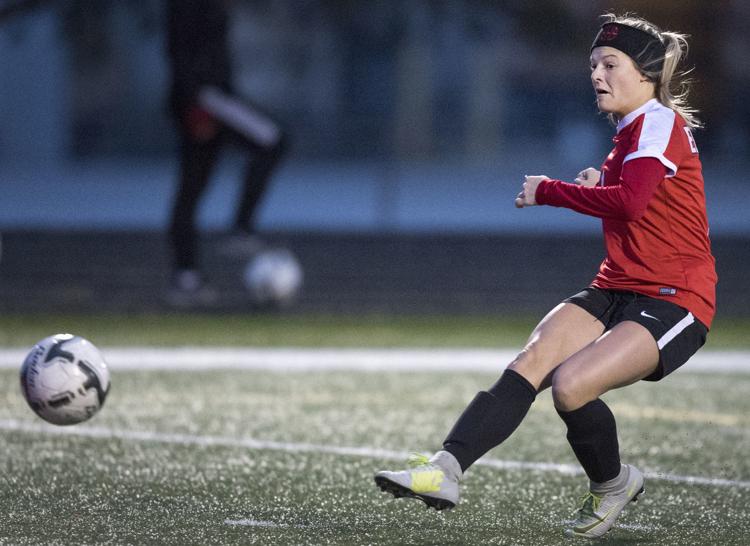 F Skylar Heinrich, Elkhorn, junior
The details: She scored 31 goals this season and added 14 assists, leading Elkhorn to the Class B state championship. With 102 goals through three seasons, she could have gone after the all-time Nebraska scoring record of 146. But she's decided she'll graduate one semester early and not play her senior season. Instead she'll enroll at Creighton early and begin training with the soccer team.
It wouldn't have been the same without her: "I don't look at it as I'm losing a year. I got three years with her that other coaches would dream for. I got to look at the positive." – Elkhorn coach Troy Stoller
F | Tiannah Moore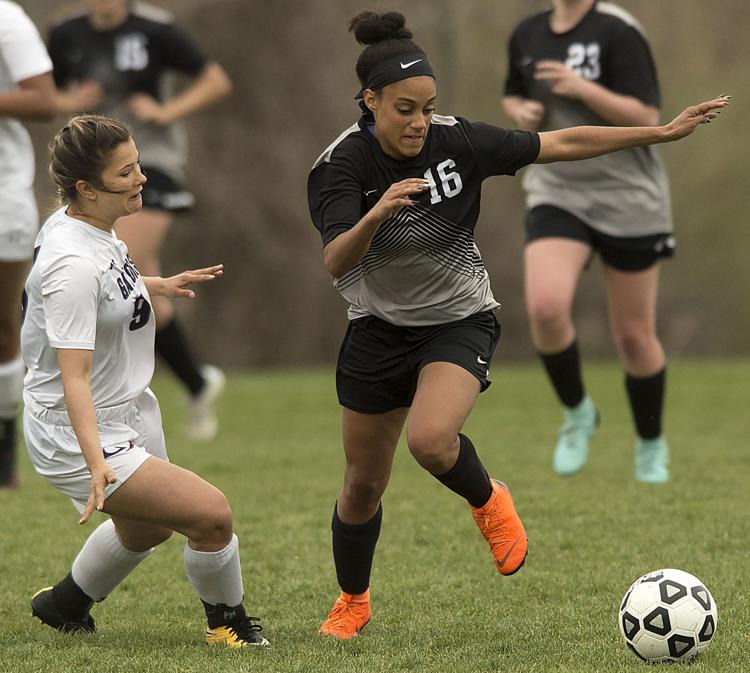 F Tiannah Moore, Lincoln Northeast, senior
The details: She scored a school-record 24 goals this season. Moore also holds the school record for most goals in a game (seven) and career (67), despite not playing high school soccer as a freshman.
It wouldn't have been the same without her: "Coaches and players alike would note that she not only has great foot skills, but she is usually the fastest one on the field, even with the ball at her feet. I don't know that there is one specific goal that stands out as a favorite, but just the confidence that would ignite our team after she scored, and knowing that we were going to give the opponent a run for their money." – Northeast coach Becca Hiller
F | Lindsey Prokop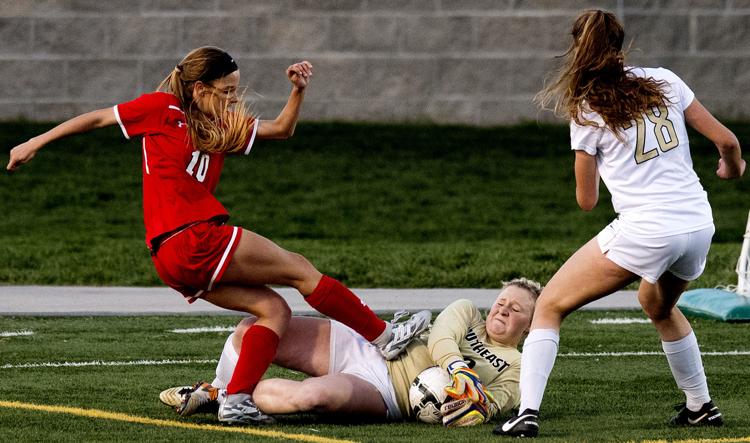 F Lindsey Prokop, Millard South, junior
The details: She's the school-record holder for most goals in a game (seven), season (34 this year) and career (77).
The defining moments: "Against Columbus Scotus she scored two goals in 30 seconds. The first one was one of the best goals I have ever seen, an upper 90 shot from the top of the box. The other was off her drawing a penalty kick right after she just scored the tying goal in the match." – Millard South coach Jane Elam
MF | Gwen Lane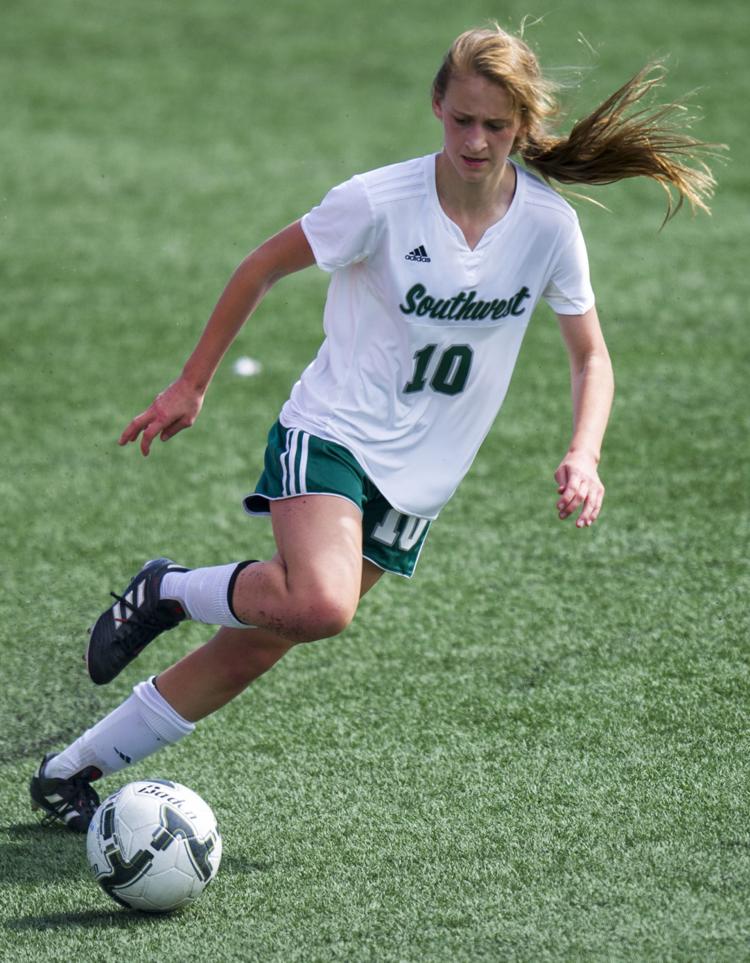 MF Gwen Lane, Lincoln Southwest, sophomore
The details: She scored 14 goals and had six assists, helping the Silver Hawks win the Heartland Conference and A-4 district tournaments and finish with a 13-5 record. She's committed to play soccer at Nebraska.
The defining moments: "Gwen was a player that showed moments of brilliance. She was critical in wins against Lincoln Southeast in the conference championship, and Lincoln East in the regular season. She set up the game-winning goal in the first round of the state tournament against Omaha Westside." – Southwest coach Thomas Nettleton
MF | Delaney Stekr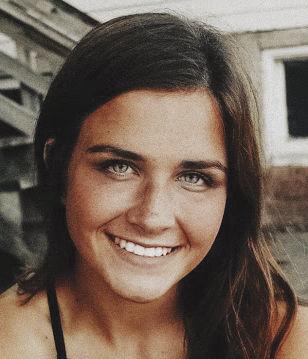 MF Delaney Stekr, Omaha Marian, senior
The details: She scored seven goals and had six assists while helping Marian reach the state championship match. She'll play next season at Minnesota.
It wouldn't have been the same without her: "Delaney has always played defense, and I was impressed with her willingness to take on a new position as the center midfielder. She was the quarterback of our team and did an exceptional job. Delaney has been an integral part of two runner-up and two state championship teams." – Marian coach Teresa DeGeorge
MF | Emma Wilson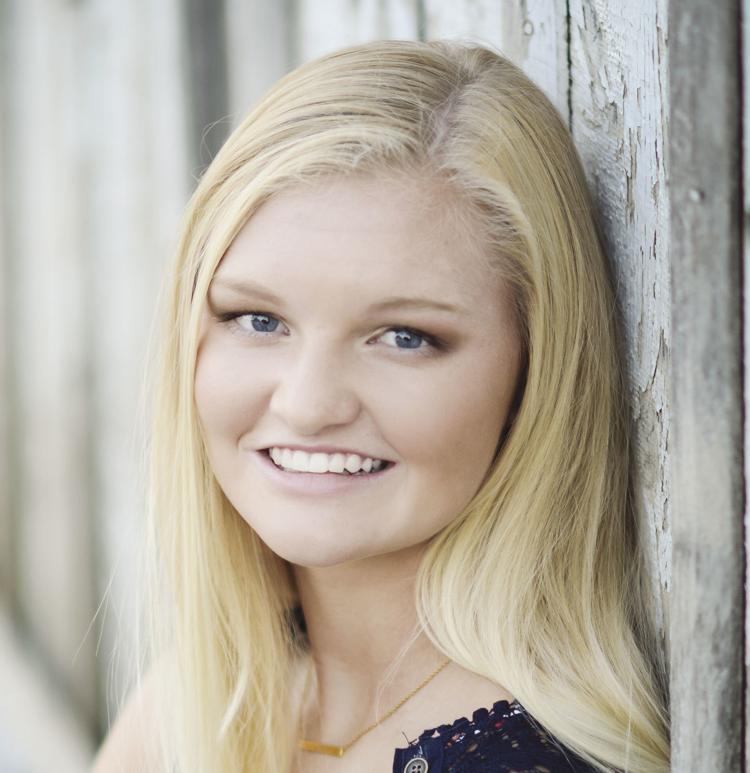 MF Emma Wilson, Omaha Westside, senior
The details: She scored six goals and had three assists in helping Omaha Westside qualify for the state tournament.
The defining moments: "She scored on several set pieces this season, none bigger than the winning header on a corner kick in our district championship match against Lincoln East." – Westside coach Nathan Moseley
MF | Regan Zimmers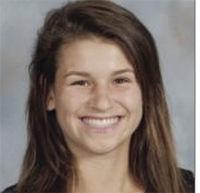 MF Regan Zimmers, Millard North, junior
The details: She led the Class A state champion Mustangs with 17 goals.
It wouldn't have been the same without her: "Regan has great vision on the field and knows where players will be to distribute the ball. Regan was our most dependable player when it comes to corner kicks, and scored seven goals off of corner kicks. Regan is like a general in the midfield for us, organizing formations and telling girls where to be." – Millard North coach James Abueg
D | Rylie Albers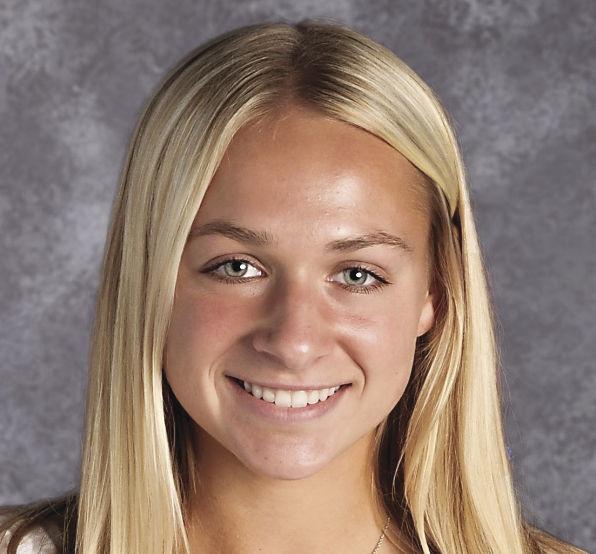 D Rylie Albers, Elkhorn South, senior
The details: The soon-to-be Kansas State soccer player scored three goals this season, and led the Storm with 12 assists, a hefty total for a player at her position.
It wouldn't have been the same without her: "Rylie was a huge threat on the attack building out of the back. She is aggressive, fast and very skilled. Our team would not be as dangerous on the counterattack without her." – Elkhorn South coach Lindsay Aliano
D | Mackenzie Boeve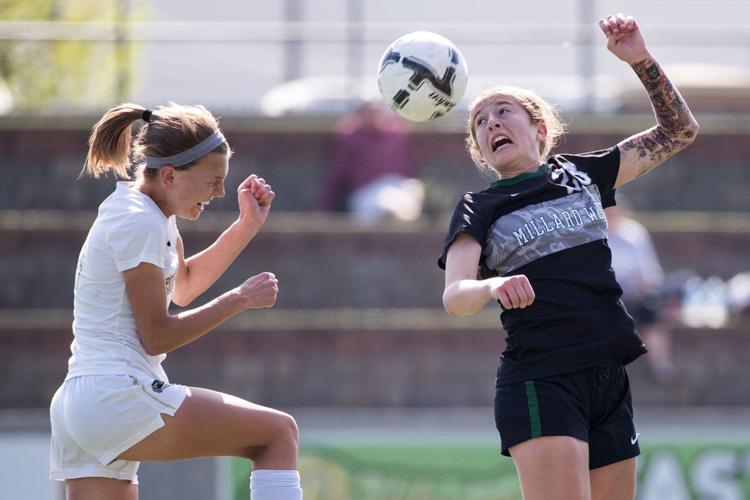 D Mackenzie Boeve, Lincoln Southeast, sophomore
The details: She often defended the opponent's best player and helped the Knights have a great season with a 15-2 record. She still moved up in the attack enough to have six assists and one goal.
It wouldn't have been the same without her: "When I think about Mackenzie, the picture in my head is of a player flying around the pitch taking on bigger players with tenacity. Her impact for our team because of her tenacity and ability to win the ball out of the air cannot be overstated." – Southeast coach Jim Ageton
GK | Maddie Smith
GK Maddie Smith, Millard South, junior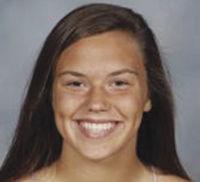 The details: With 10 more shutouts this season, she moved up to No. 3 in program history in career shutouts. She made a remarkable 16 saves in a 1-0 loss against Omaha Marian in the district championship.
It wouldn't have been the same without her: "Maddie made game-changing saves in almost every game we played." – Millard South coach Jane Elam