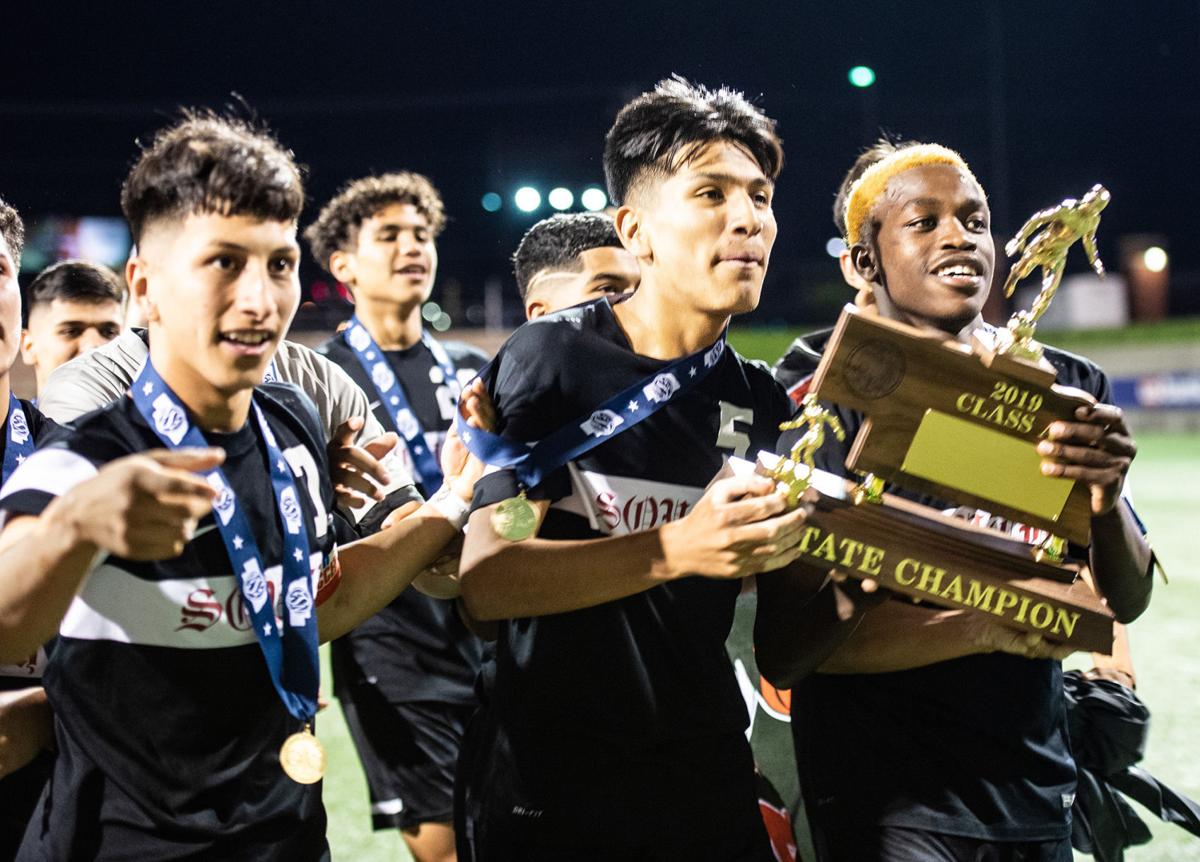 After nearly two years away from the pitch, the high school soccer season begins Thursday. Brent C. Wagner dives in the preseason ratings.
1. Creighton Prep (18-3);2
4. Lincoln Southwest (13-3);6
6. Omaha Central (12-6);10
8. Omaha Westside (6-10);-
10. Papillion-LV South (12-7);8
Contenders: Columbus, Millard North, Millard West, Omaha Bryan, Omaha Burke, Papillion-La Vista.
Refresher: After the entire 2020 season was canceled due to the pandemic, it's probably worth a quick refresher on where we left things in high school soccer about 22 months ago. Omaha South won the Class A title in 2019 with a 2-1 victory against Creighton Prep in a shootout. Longtime state tournament observers called it one of the best high school soccer matches ever in Nebraska, in part because there were goals scored 13 seconds apart and the rare sequence of both goalies making a save to start the shootout. Also that season, Kearney had won 28 matches over two seasons before being upset by seventh-seeded Papillion-La Vista in the first round of state.
Comments: Creighton Prep has a few more returning players than Omaha South and starts the season at No. 1. Lincoln Southwest has 10 seniors and looks poised for a good season. Gretna may have the players to be a top team during its second season in Class A.
3. South Sioux City (14-5);4
6. Omaha Roncalli (12-7);7
7. Columbus Scotus (13-5);10
10. Mount Michael (8-9);-
Contenders: Norris, Schuyler, Scottsbluff.
Refresher: Omaha Skutt won the 2019 state championship match with a 1-0 shootout win against Columbus. Skutt had a great finish to the season, winning all six postseason matches by shutout. The 2018 state champion, South Sioux City, got knocked out with a shocking loss in the district final, with the second-seeded Cardinals losing to 15th-seeded North Platte in a shootout.
Comments: Skutt has seven returning starters, which is a lot for a boys team after not playing last season, including one of the top goalies in the state (Zach Weis). Skutt also won the very unofficial state championship in 2020 by winning the Cornhusker State Games soccer tournament. Two state qualifiers from 2019 — Columbus and North Platte — moved up to Class A.
4. Elkhorn South (17-4);1/B
7. Lincoln Southwest (11-4);9
8. Papillion-La Vista (12-6);7
9. Omaha Westside (10-7);8
Contenders: Lincoln Southeast, Millard South, Omaha Burke, Papillion-La Vista South.
Refresher: Millard West won the 2019 state championship with a 4-2 victory against Omaha Marian in the title match. We wondered when that season began how one Omaha club soccer team joining a development academy league — and players choosing to stay with that club and not play for their high school — would affect girls soccer, and it certainly did. Three of the teams that took big hits to the club team — Millard North, Lincoln Southwest and Millard South — did not qualify for the state tournament. Millard West didn't lose any players and won state.
Comments: Omaha Marian has eight players from its 2019 state runner-up team and starts No. 1. Lincoln East has a lot of talent, led by Nebraska soccer recruits Briley Hill and Haley Peterson. The aforementioned club team has since broken up, so several good players returned to their high school teams at Millard North, Omaha Marian, Elkhorn South, Omaha Burke and elsewhere.
3. Omaha Duchesne (13-7);5
6. Columbus Scotus (13-4);8
7. Omaha Roncalli (10-7);-
9. Lincoln Lutheran/RC (11-3);10
Refresher: In what will probably be Elkhorn South's final year in Class B, the Storm won the 2019 state championship with a 2-0 victory against Omaha Skutt. Elkhorn South was Class B champion twice and runner-up twice.
Comments: Omaha Skutt has seven players with starting experience, including Omaha signee Cece Behrens, and starts the year No. 1. Two of the semifinalists from 2019 — Elkhorn South and North Platte — have since moved up to Class A, so the door is open for some new teams to emerge in Class B.