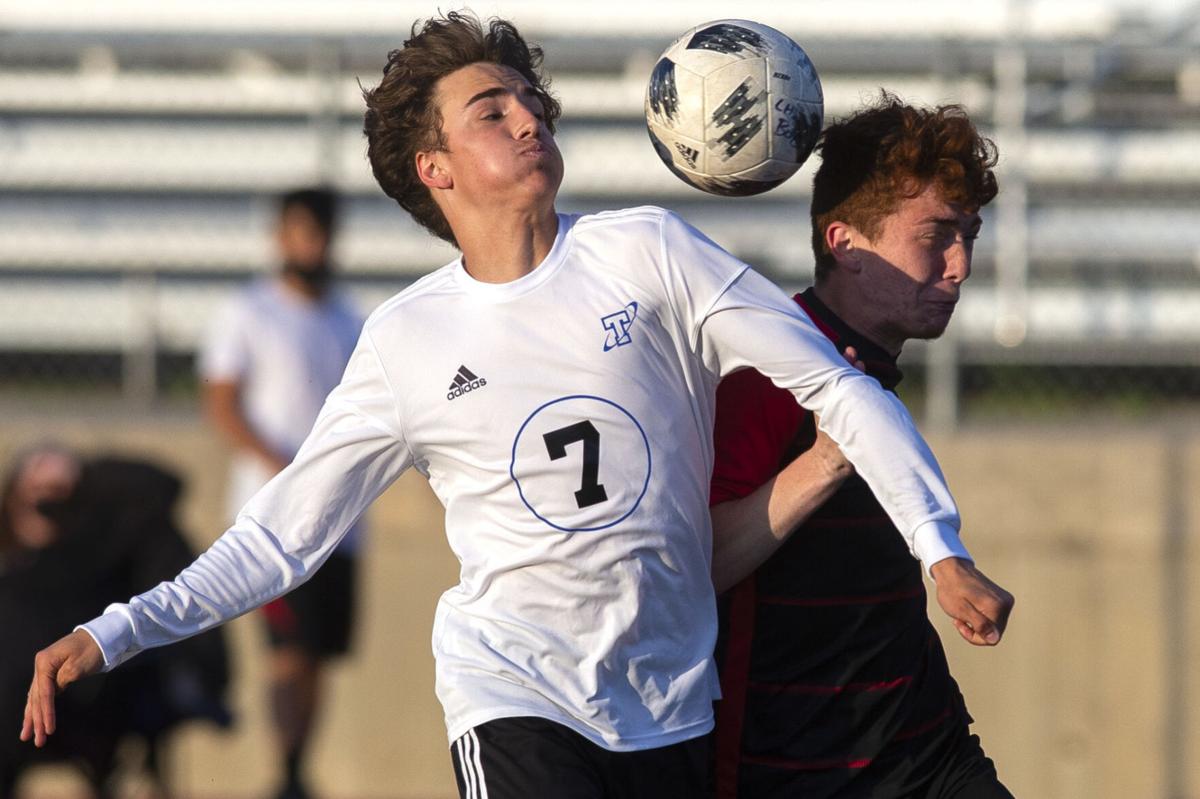 Experience matters in the postseason and that sure showed Monday at Beechner Athletic Complex, where Papillion-La Vista South scored a late first-half goal and then held off a steady Lincoln High attack to claim a 1-0 win in an A-1 district semifinal match.
The Titans are in familiar territory — Monday's victory marked a 10th straight trip to the district final.
This also marked the second time the Titans and Links have played; Papio South won 2-1 on March 20. Just like then, it was a windy affair Monday.
"You know, it was a crazy wind game, where in the entire second half we were on our defensive third just fighting them off," said Titan co-head coach Dave Lawrence on the early season match. "We possessed better in this game than we did that first time. We did a better job and got some through balls."
However, unlike this first time, it was the first half that the Titans had to fight off Lincoln High, retreating to their defensive third for the opening 30 minutes.
Slowly but surely, things become more even and that came to fruition in the last 10 minutes, when Lawrence decided to move attacking midfielder Andre Santamaria up top, where it seems he likes it much better.
That change paid dividends for Papio South, which who saw Santamaria take a through ball from Gus Kiegler, swing left and chip it over Links' goalkeeper Andres Moreno for his team-leading seventh goal of the year.
"Our forward couldn't get through, so we took our attacking mid (Santamaria), who's pretty quick, but he seems to like the open space and make runs," Lawrence said. "But we put him up top because one of the things that we're getting chances with is just tossing the ball up and letting somebody run onto it."
Fast forward to the second half and it was going well for the Titans, who seemed in control, but things got complicated when senior defender Alex Eby received his second yellow card, resulting in a red card and ejection.
Left with 10 men, the Titans loaded things up defensively and survived a Links offense that seemed destined to score a goal all night, but ultimately came up short.
"I'm just really proud of these seniors, all of them, and just the fight that we had all night," Lincoln High coach Alex Cerny said. "I thought we had our chances, but that's been the last couple weeks of the season, for whatever reason."
The Titans will play No. 2 Lincoln Southwest (5:15 p.m. Wednesday at Seacrest Field), but they'll play shorthanded as Creighton commit Jack Redd is out with an injury he's had most of the season. In addition, senior defender Chance Hergott is most likely out with a back injury suffered Monday and Eby is suspended (red card).
"We will have to play the perfect game in order to have a chance to compete with Lincoln Southwest," Lawrence said. "So, we're going to go to the drawing board, and we got one day to plan the perfect game."