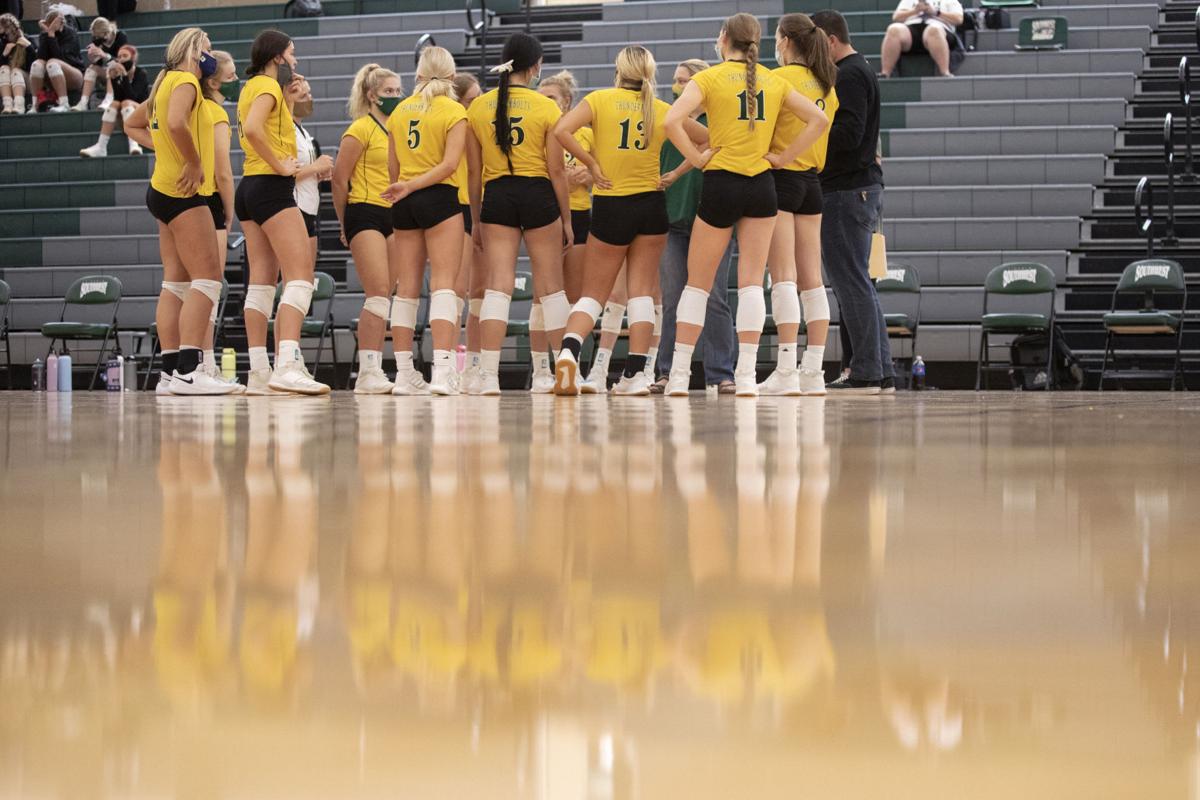 A look at the latest volleyball ratings from Luke Mullin.
(Records through Saturday)
1. Elkhorn South (18-0); 2
2. Papillion-La Vista South (17-3); 1
3. Lincoln Pius X (12-3); 3
4. Millard West (15-5); 4
5. Papillion-La Vista (11-7); 5
6. Lincoln Southwest (9-6); 9
8. Bellevue West (11-8); 7
9. Millard South (9-7); 10
Contenders: Fremont, Lincoln High, Lincoln North Star, North Platte.
Comments: A pair of losses to Omaha Skutt and Papillion-La Vista drops Papillion-La Vista South to No. 2, leaving Elkhorn South to claim the top spot for the first time this season. Lincoln Southwest rises after beating Omaha Skutt and Millard West, while Bellevue West and Kearney are in the midst of losing streaks.
Key matches: Tuesday—Bellevue West at Papillion-La Vista South. Thursday—Lincoln Southwest at Millard West, Papillion-La Vista at Millard South. Friday—Lincoln Northeast Invite (Elkhorn South, Gretna, Kearney, Lincoln North Star, Lincoln Northeast, Lincoln Pius X, Lincoln Southeast, Omaha Marian).
6. Omaha Duchesne (6-8); 6
8. Ashland-Greenwood (11-4); 10
Contenders: Bennington, Seward.
Comments: Omaha Skutt lost its first match to a Nebraska opponent in more than a year with a loss to Lincoln Southwest, but the SkyHawks retain their top spot ahead of a match against No. 2 Elkhorn this week. The Antlers bounced back from their LPS Classic struggles with a 3-0 weekend, and they jump Norris after beating the Titans on Saturday.
Key matches: Tuesday—Aurora at Lexington, Omaha Skutt at Elkhorn. Thursday—York at Beatrice, Platteview at Omaha Duchesne.
3. Kearney Catholic (16-2); 4
4. Grand Island CC (15-1); 3
5. Lincoln Lutheran (15-2); 5
6. Columbus Lakeview (13-2); 6
7. Battle Creek (15-2); 7
Contenders: Adams Central, Hastings St. Cecilia, Malcolm, Oakland-Craig, West Point-Beemer.
Comments: Wins over Lexington, Aurora and Columbus Lakeview propel Kearney Catholic to third, but St. Paul and Wahoo remain strong at the top. Syracuse and Broken Bow both have long winning streaks and continue to rise in the ratings.
Key matches: Tuesday—Columbus Scotus at Columbus Lakeview, Grand Island CC at Kearney Catholic, Wahoo at Malcolm. Thursday—Raymond Central at Syracuse.
1. Lutheran High Northeast (21-0); 1
3. Norfolk Catholic (9-2); 3
4. Thayer Central (15-1); 4
5. Clarkson/Leigh (12-1); 5
6. Howells-Dodge (11-3); 7
Contenders: Cross County, Elm Creek, Fullerton, Gordon-Rushville, South Loup.
Comments: Class C-2 remains the same at the top, but that could change Tuesday when No. 3 Norfolk Catholic meets No. 1 Lutheran Northeast. Centennial and BRLD continue to gain experience against tough opponents, and Palmyra enters at No. 10.
Key matches: Tuesday—BRLD vs. Howells-Dodge, Lutheran Northeast at Norfolk Catholic, Syracuse at Palmyra. Thursday—Thayer Central at Centennial.
3. Johnson-Brock (11-6); 5
5. Archbishop Bergan (12-6); 3
9. South Platte (13-3); 10
Contenders: Alma, Hartington CC, Kenesaw, Silver Lake, Wausa.
Comments: Class D-1 had a wild week as seven of last week's top 10 lost at least one match. Johnson-Brock and HTRS had successful weeks amid the chaos, as did the newest team to enter the ratings — Axtell.
Key matches: Tuesday—Archbishop Bergan at Clarkson/Leigh, Johnson-Brock at Diller-Odell, Mead at Yutan. Thursday—Alma at Overton.
1. Diller-Odell (17-0); 1
2. Maywood-Hayes Center (14-0); 3
6. Falls City SH (13-4); 6
8. Exeter-Milligan (11-3); 8
10. Garden County (14-3); -
Contenders: Franklin, Hay Springs, Nebraska Christian, Sioux County.
Comments: Class D-2 is down to three unbeaten teams after CWC and Humphrey SF lost their first matches of the season last week. Falls City SH and Mullen picked up impressive wins recently, and Garden County reenters the top 10.
Key matches: Tuesday—Dorchester at Diller-Odell, Mullen at North Platte St. Pat's. Thursday—Nebraska Christian vs. Humphrey SF, Maywood-Hayes Center at Wauneta-Palisade.