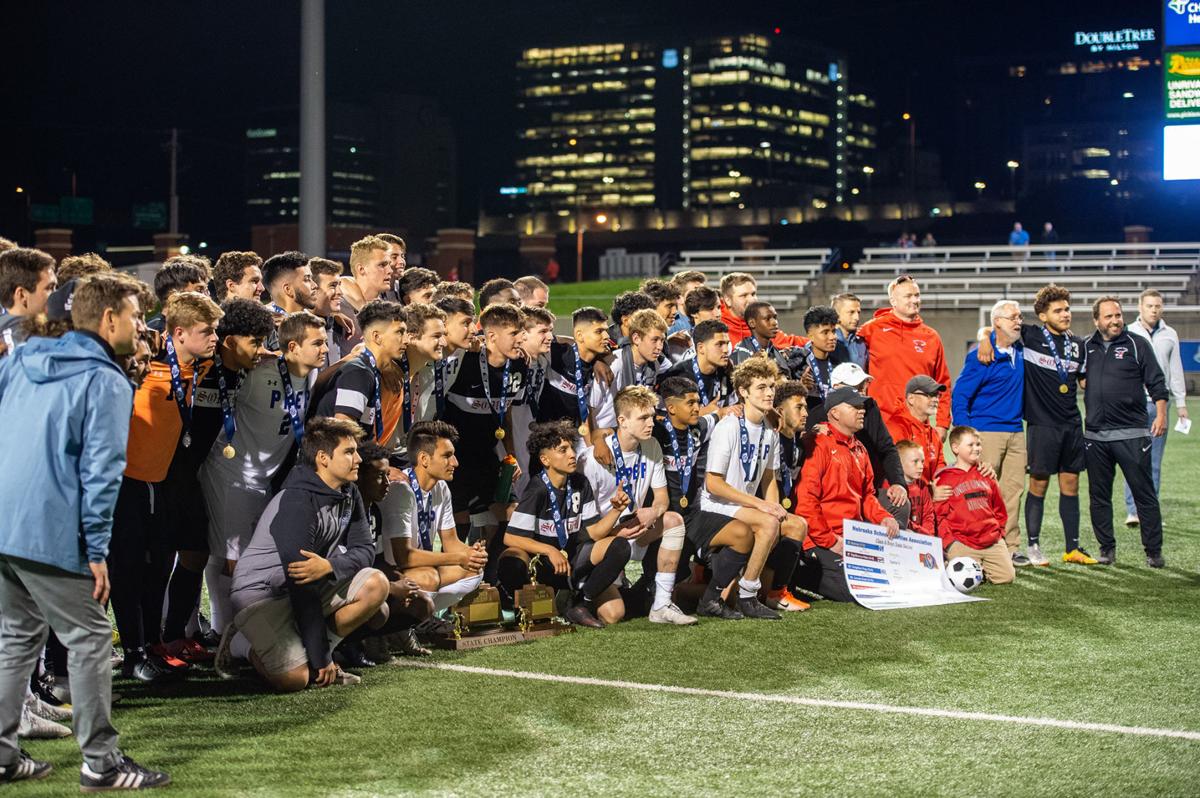 1. Omaha South (21-1) | 2
2. Creighton Prep (18-3) | 3
5. Papillion-La Vista (15-6) | 7
6. Lincoln Southwest (13-3) | 4
7. Lincoln East (12-4) | 6
8. Papillion-La Vista South (12-7) | -
9. Millard West (9-9) | -
10. Omaha Central (12-6) | 10
Comments: During a season when there was more parity than some others — the No. 1-rated team in Class B (South Sioux City) didn't make state, and at one point, there were 17 Class B boys teams in contention for the top-10 — it seems appropriate that for just the second time ever, both boys state championship matches went to overtime. In Class A, Omaha South beat Creighton Prep 2-1 in a shootout in one of the best high school matches ever in Nebraska. Season-long No. 1 Kearney had its 17-0 record this season, and 28-match winning streak over two seasons, come to an end with a 1-0 loss against Papillion-La Vista in the first round of state. Papillion-La Vista had a major turnaround, going from four wins last season to 15 wins and the state semifinals. Gretna had a great season to make the state semifinals after playing in Class B last year. Millard West was one of just two teams to beat Creighton Prep during the regular season, and moves into the final ratings.
1. Omaha Skutt (15-4) | 2
4. South Sioux City (14-5) | 1
6. Omaha Gross (14-5) | 6
7. Omaha Roncalli (12-7) | 10
8. North Platte (11-10) | -
10. Columbus Scotus (13-5) | 8
Comments: Omaha Skutt won the state championship match with a 1-0 shootout win against Columbus. Skutt had a great finish to the season, winning all six postseason matches by shutout. Skutt was rated No. 2 to start the season. Defending state champion South Sioux City got knocked out with a shocking loss in the district final, with the second-seeded Cardinals losing to 15th-seeded North Platte in a shootout. That was the only Class B team to beat South Sioux City all season. Four teams finished in the top 10 that weren't in the preseason ratings: Columbus, Omaha Roncalli, Northwest and Columbus Scotus. Columbus went from not making state in 2018 to the state championship match in 2019.
State sportsmanship winners
Class A: Papillion-La Vista.
You have free articles remaining.
1. Millard West (18-1) |1
2. Omaha Marian (18-3) | 2
3. Lincoln East (14-4) | 5
5. Lincoln Southeast (11-3) | 3
6. Papillion-La Vista (12-6) | 6
7. Papillion-La Vista South (13-7) | -
8. Omaha Westside (10-7) | -
9. Lincoln Southwest (11-4) | 4
Comments: Millard West won the state championship with a 4-2 victory against Omaha Marian in the title match. We wondered when the season began how one Omaha club soccer team joining a development academy league — and players choosing to stay with that club and not play for their high school — would affect girls soccer, and it certainly did. Three of the teams that took big hits to the club team — Millard North, Lincoln Southwest and Millard South — did not qualify for the state tournament. Millard West didn't lose any players and won state. But Omaha Marian lost four players to the club team and still made the finals, and Elkhorn South lost five players and still won state. There were about 40 girls who could have played high school soccer that didn't. Lincoln East had a good finish to the season to make state for the first time in five years, and reached the state semifinals.
1. Elkhorn South (17-4) | 1
2. Omaha Skutt (16-4) | 2
3. Omaha Mercy (15-5) | 3
4. North Platte (18-3) | 4
5. Omaha Duchesne (13-7) | 7
8. Columbus Scotus (13-4) | 5
10. Lincoln Lutheran/RC (11-3) | -
Comments: In what will probably be Elkhorn South's last year in Class B, the Storm won the state championship with a 2-0 victory against Omaha Skutt in the championship match. Elkhorn South was rated No. 1 to start the season, with 13 players back from a state semifinal team. With Elkhorn South and Gretna each in Class A now, it will be interesting to see who can challenge Omaha Skutt for championships. Omaha Duchesne, Bennington and Lincoln Lutheran/Raymond Central were the teams not in the preseason ratings who end the season rated. Lincoln Lutheran/Raymond Central went from six wins last year to 11 wins and move into the final ratings.
State sportsmanship winners