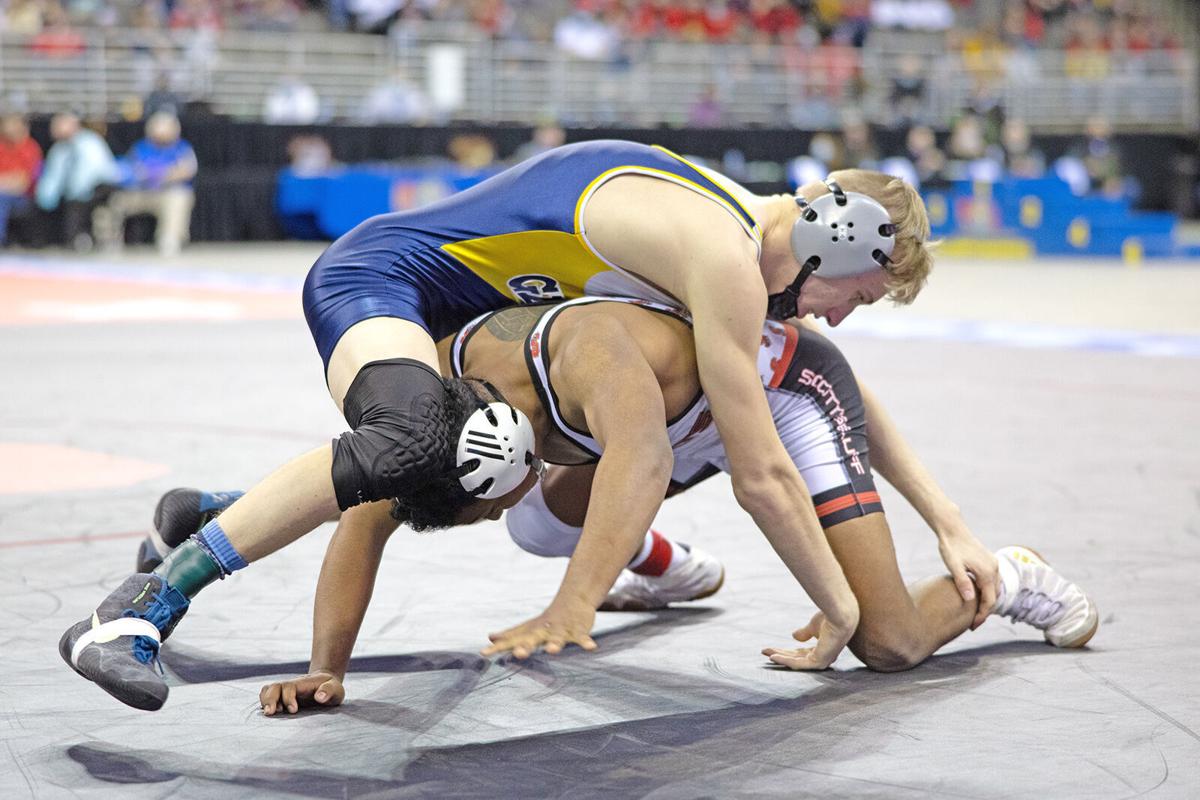 Gering senior Paul Ruff had just beaten Broken Bow's Cyrus Wells by pin fall during the Nebraska State wrestling tournament on Saturday, Feb. 20
He brimmed with excitement, because he'd earned his spot to wrestle in the Class B wrestling finals. He was matched to wrestle with Scottsbluff's Paul Garcia, a three-time state champion.
"I knew this wasn't gonna be an easy match," Ruff said. "I knew it was gonna be either an overtime match, or it was going to go a full six minutes.
"I was happy (I drew Garcia in the finals) because it would be an exciting match. It would be nice to get the crowd to go wild."
However, Ruff, who has been deaf from a young age and wears a cochlear implant, never thought his hearing would cause him to lose a match. Garcia was given a point Ruff was given a caution on the way he was lining up at a restart. Ruff said his hearing has never been an issue in his high school wrestling career, even in the previous three state tournaments he has competed in.
"The first time when (the referee) cautioned me I didn't understand," he said. "He was pointing at something. I thought it was my hands, or I started too early."
Ruff said everything seemed fine after he got back into position.
"The (referee) restarts it and it seems fine, and then we go out of bounds," he said. "We go back to the center. I get back into position and he cautions me again and gives (Garcia) that point. I didn't know he gave the point; I thought it was just another caution."
When it was Ruff's turn to take bottom in his portion of the double overtime, he didn't really put up too much of a fight, he said.
"If I had known there was a point, I would have at least tried to do something," he said.
When the match ended, Ruff said, he was still in the dark about the matches outcome.
"As soon as that period was over, I saw Paul Garcia celebrating," he said. "At first, I thought he was injured."
Once he realized what had happened, he said, he was crushed. He said losing in that manner sucked and he felt he had been kicked around.
Garcia said the match didn't go the way he wanted either.
"That caution point, unfortunately, gave me the win," he said. "I wasn't really surprised when that caution came, because I knew his knees were above the line. I didn't say anything. I was just going to let it happen. It just is what it is."
Garcia said he got a lot of undeserved backlash on social media after the match.
"(The backlash) kind of got to me (Sunday) night," he said. "You have people who you think who are really good friends going against you. It kind of makes you realize how most people want to see you lose, even though they say they want you to win."
Though accepting of the loss, Ruff and his coach remain frustrated by the loss because of easy accommodations that could have been made in the match to account for Ruff's deafness that weren't made.
Gering wrestling coach Jarred Berger said he communicated clearly with the referees before and throughout the match.
"I think, and again, this is all hindsight, because we never had an issue before," Berger said. "(In the past) we would tell (the referees that Ruff was deaf) and they would adjust. That official didn't seem to adjust very well. I told him before the match, 'Paul is deaf, You got to make sure he sees you. He's got to be able to see the whistle. You've got to move your hand to start, and you have to touch them to stop.'"
Berger, though, said the referee kept trying to verbally give commands to Ruff.
"Throughout the entire match, the (referee) was yelling commands at Paul, like, 'Hey, you need to circle a circle back,' I'm like, 'He's deaf. He can't hear you.' The problem was that he tried to explain it to Paul and did a very poor job of it. I said, 'He still doesn't understand. He can't hear you. So, he goes up after the first caution (to give a verbal warning to Ruff). I said, 'He can't hear you. He has no idea what you're saying. You have a mask on.'
"And so he goes over there, tries to show him, and he's got his mask on again. So he pulls down his mask. Meanwhile, Paul's looking down at the mat wondering what's going on. (The ref) yells from 10 feet away, 'You need to be on the line.' Well, is that a satisfactory job of explaining to him? No. Paul was confused because he just comes over and points at the mat, and (Ruff) didn't understand what he was trying to say, He was further confused."
Berger said there were some better courses of action, rather than giving a point to Garcia.
"Maybe he could have come over to the bench and explained it some more. I still think it's up to the official to make sure (Ruff is) understanding what you're saying, because nobody's going to do that twice in a row. No, come on. That's pretty silly. … The assistant judge could have stepped in and told the referee, 'He doesn't understand what you're saying.'"
Berger also thinks the NSAA should have made accommodations prior to the match.
"(The NSAA) could have sat down and said, 'We have a hearing-impaired kid. Who is the best official to take that match?' It would have taken six seconds of time that they could have planned that out. (There were referees) who have refereed Paul many times. They understand how to run the match. Let someone else referee the match that has experience," Berger said.
The following day, Ruff's sister Riley Ruff discussed the issue in a Facebook post, tagging the Commission for the Deaf and Hard of Hearing.
Susan Whitaker, an advocacy specialist for the commission, saw the post and decided to take action.
"I had seen it because my son-in-law shared the post. I saw it (Sunday) night," Whitaker said. "That kind of got my juices flowing. (Monday) morning, we talked about it at our staff meeting, and the whole staff was upset. The commission has gotten comments from people, questioning it regarding what happened and what's going to be done about it."
Whitaker said she immediately started to look into the circumstances surrounding the match.
"It's our responsibility, under the commission, to act as an advocate for the deaf and hard of hearing in our communities," she said. "I took on that responsibility and decided to reach out to the athletic director in Gering and wanted to set up a meeting with Paul and his parents and the coach to find out exactly what happened — was the referee told (about Ruff being deaf), and just kind of find out who is responsible. There was clearly a lack of communication, and that violated Paul's right as a deaf person to effective communication."
Whitaker said the commission's executive director has set up a meeting on Friday with the NSAA to go over what recourse is available.
"(The commission's executive director) is going to be meeting with the executive committee and talking with them to find out what's going on and what can be a remedy for this situation. Obviously, there's been a violation of his rights. It should be made right because he was not offered a level playing field."
Whitaker echoed Berger's comments and believes there was an easy fix during the tournament.
Ron Higdon, who is the NSAA's assistant director in charge of wrestling, said Berger should have formally requested special accommodations before the tournament.
"If the accommodations are over and above what's normal, then they will have an accommodations hearing," he said. "We accommodate those requests whenever possible. I don't remember us ever denying any requests."
Berger said they shouldn't have had to request special accommodations because they weren't asking for anything above and beyond what referees have done during Ruff's entire four years of high school wrestling.
"i think it was mismanaged," he said. "I think the NSAA is trying to save face by saying we should have requested special accommodations. What are we supposed to say, 'Use sign language?' He reads lips. The only official in the entire arena that wore a mask the whole time is that official. … We didn't need special accommodations. (The NSAA should) have been smart enough to say, "Well, we have a deaf kid wrestling. We probably should not use the ref who wears a mask. Or maybe he can take it off for this match. I feel like that was the ball dropped on NSAA's side."
Whitaker said there is sufficient evidence to proceed in taking action against the NSAA.
"Paul's family certainly has a right to file a complaint. (The NSAA and the referee) violated the Americans with Disabilities Act by not giving Paul access to effective communication. There is a case there," she said.
Whitaker said she is unsure of what the resolution might be.
"We just have to see how it's going to unfold in the next few days. I'll meet with the family and they can decide where they want to see it go from there. Then, we as an agency will decide how we want to proceed with our action."