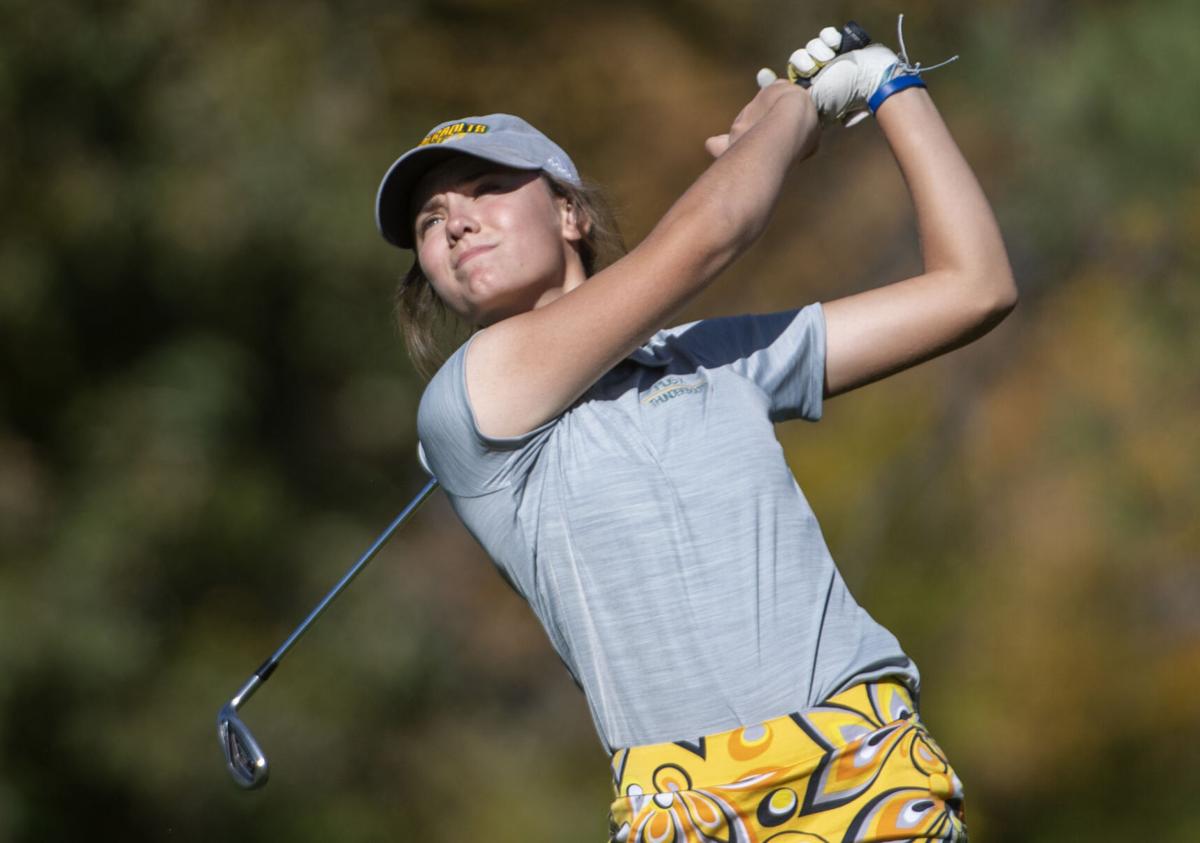 It's state tournament season in high school sports and it begins with girls golf. The Class A individual race may be the top storyline, but there many other golfers and races to watch.
Play will begin at 9 a.m. Monday and Tuesday.
Class A
Site: Norfolk Country Club.
2020 state champion: North Platte.
State-qualifying teams: Lincoln Southwest (293 district score), Millard North (313), Lincoln East (317), Omaha Marian (321), Lincoln Pius X (328), Elkhorn South (344), Columbus (346) Omaha Westside (347), Lincoln Southeast (353), Kearney (355), North Platte (355), Millard West (359).
Returning '20 state medalists: Nicole Kolbas, Pius X (1st in 2020); Kaitlynn Hanna, Omaha Westside (2nd); Karsen Morrison, North Platte (3rd); Katelyn Ruge, Millard North (4th); Ansley Sothan, Lincoln Southeast (T7th); Kaitlyn Dumler, Lincoln East (T7th); Jeslynn Baumgart, Omaha Marian (T10); Adalia Maiyo, Lincoln Southeast (13th); Sarah Lasso, Columbus (15th).
Outlook: The individual race has the potential to be one of the more exciting competitions in recent history of the state tournament. The field includes Kolbas, the defending state champion, and Hanna, who won state in 2018 and 2019. Millard North's Ruge won the Metro Tournament and outlasted Hanna in a playoffs in districts, and Southwest's Strickland, who shot a 67 in district play, is one of the state's top talents.
Class B
Site: Scotts Bluff Country Club, Scottsbluff.
2020 state champion: Scottsbluff.
State-qualifying teams: Omaha Duchesne (332 district score), Elkhorn North (336), Scottsbluff (354), Northwest (396), Beatrice (402), Bennington (406), Norris (406), Nebraska City (407), York (414), Gering (415), Ogallala (425), Aurora (467).
Returning '20 state medalists: Anna Kelley, Scottsbluff (1st); Julia Karmazin, Elkhorn North (3rd); Emily Karmazin, Elkhorn North (4th); Emily Krzyzanowski, Gering (6th); Nieli Heinold, Scottsbluff (7th); Isabelle Gutschewski, Omaha Duchesne (13th); Kathleen Kelley, Omaha Duchesne (14th).
Outlook: Omaha Duchesne, which won four straight Class B titles from 2015-18, is looking to winning another one, but Duchesne will receive a big test from Elkhorn North and defending state champion Scottsbluff. Elkhorn North is led by sisters Julia and Emily Karmazin. Scottsbluff has Kelley, who won last year's Class B individual title in a playoff, and the Bearcats will be playing on a course they are very familiar with.
Class C
Site: Elks Country Club, Columbus.
2020 state champion: Broken Bow.
State-qualifying teams: Broken Bow (372), Columbus Scotus (379), Mitchell (380), Lincoln Lutheran (385), Valentine (394), Cozad (395), West Point-Beemer (397), Lincoln Christian (405), Laurel-Concord-Coleridge (410), Grand Island CC (412), O'Neill (412), Superior (417), Archbishop Bergan (437), Fullerton (463), Creek Valley (469).
Returning state medalists: Lynzi Becker, Cozad (2nd); Olivia Lovegrove, Lincoln Christian (4th); Elizabeth Mestl, Heartland (5th); Payton Wise, Kimball (6th); Brook Diekemper, West Point-Beemer (T7th); Angela Messere, Grand Island CC (T7th); Cecilia Arndt, Columbus Scotus (9th); Rachael Volin, Lincoln Lutheran (10th); Emery Custer, Broken Bow (12th).
Outlook: The team and individual races are wide open in Class C. Eight of last year's top 10 medalists are back in the field, including a pair of sophomores in Lincoln Christian's Lovegrove and Columbus Scotus' Arndt. Both broke under 80 in district play. Broken Bow had three golfers medal in district play, including Becker. Lincoln Lutheran, which won the team title two years ago, looks to factor in the team race.