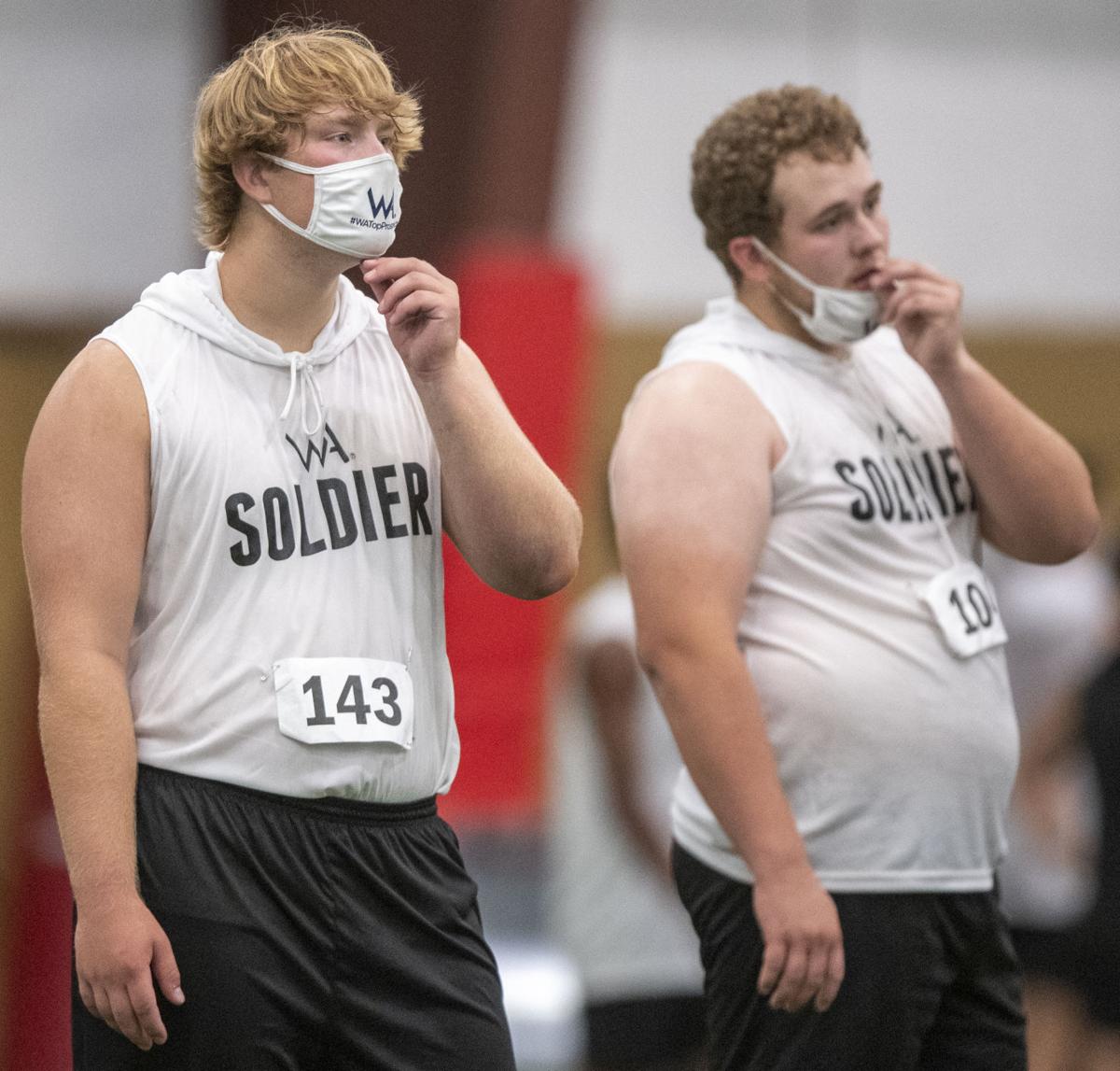 For some, it is brilliant. For others, it is a disaster. The year of the highlight tape is a mixed bag for college football hopefuls far and wide.
As colleges formally welcomed 2021 commits on early National Signing Day on Wednesday, many coaches, such as NU's Scott Frost, did so without seeing each player in person. Many players signed without seeing their home for the next four-plus years except on a phone screen. 
Due to coronavirus concerns, high school football bleachers were occupied mostly by parents of the players, and not many college recruiters. As such, technology stepped up.
Highlight tapes. One would be hard-pressed to find a recruit without one. The flashy graphics and thumping music — with their best plays sandwiched between — aimed to appeal to college coaches who couldn't travel to scout or host talent camps.
These videos are helpful to many players, particularly those in skill positions. Dropped pass? Delete. Overthrown ball? Trim. But what good does that do for those in intricate positions like offensive line? Not everyone can look like Michael Oher in "The Blindside," bull-rushing over defenders. That doesn't mean they don't have the skill set to play for a Power Five program.
Take Isaac Zatechka as an example. The Elkhorn South center, standing 6-foot-4 and 280 pounds, has seen relatively tepid interest on the recruiting market. He's a natural center and showed the ability to constantly deliver an on-target snap in an offense that often operated in the shotgun or read-option scheme. He's smooth, timely and, yes, he can power a guy to the turf, too.
His lone scholarship offer is to Montana State, and he has a preferred walk-on offer to Missouri. He's "in contact" with Nebraska, Kansas State, North Dakota and North Dakota State. 
"Not being able to go to camps this past spring really hurt my recruiting, and for linemen in general," Zatechka said. "You have a season to show what you can do, but after that, you don't really have that.
"Me, as a lineman, I need to get in front of a coach at camps to show how much I have grown from last season."
Omaha Westside's Cole Payton is another player who may have benefited from camps. His ascension reached its peak when he capped off a strong season with a Class A crown, accumulating over 350 yards and scoring five touchdowns — three rushing, two passing.
After the game, Koby Bretz, a Nebraska signee, called Payton "Superman." He added that he "definitely" doesn't like trying to tackle him in practice, highlighting a physical element of Payton's game that attracted some suitors interested in him at tight end or safety.
But Payton is a quarterback — and he's sure of it. From the start, North Dakota State made it clear it wanted Payton under center. In return, Payton stayed true to his commitment, even after receiving a phone call from Frost the day after his state title game heroics.
Payton signed with the Bison on Wednesday.
"I made a little highlight tape of throwing certain routes, a quick thing," Payton said. "I think going to camps might have changed things a little, but I am so glad where I ended up."
Aside from the camps, there's another pesky caveat for those trying to take the next step: eligibility waivers. The NCAA granted college football seniors the option to return for another season next year, no questions asked. As such, rosters are in flux, and coaches in position to offer players must wait until seniors make decisions as the depth chart and areas of necessity come into better focus.
Zatechka says he talks weekly with Frost and his staff. Same goes for other staffs. 
"A lot of the coaches have been telling me what their numbers are and how many seniors they think will return for them," Zatechka said.
"It's never happened before, so no one knows."