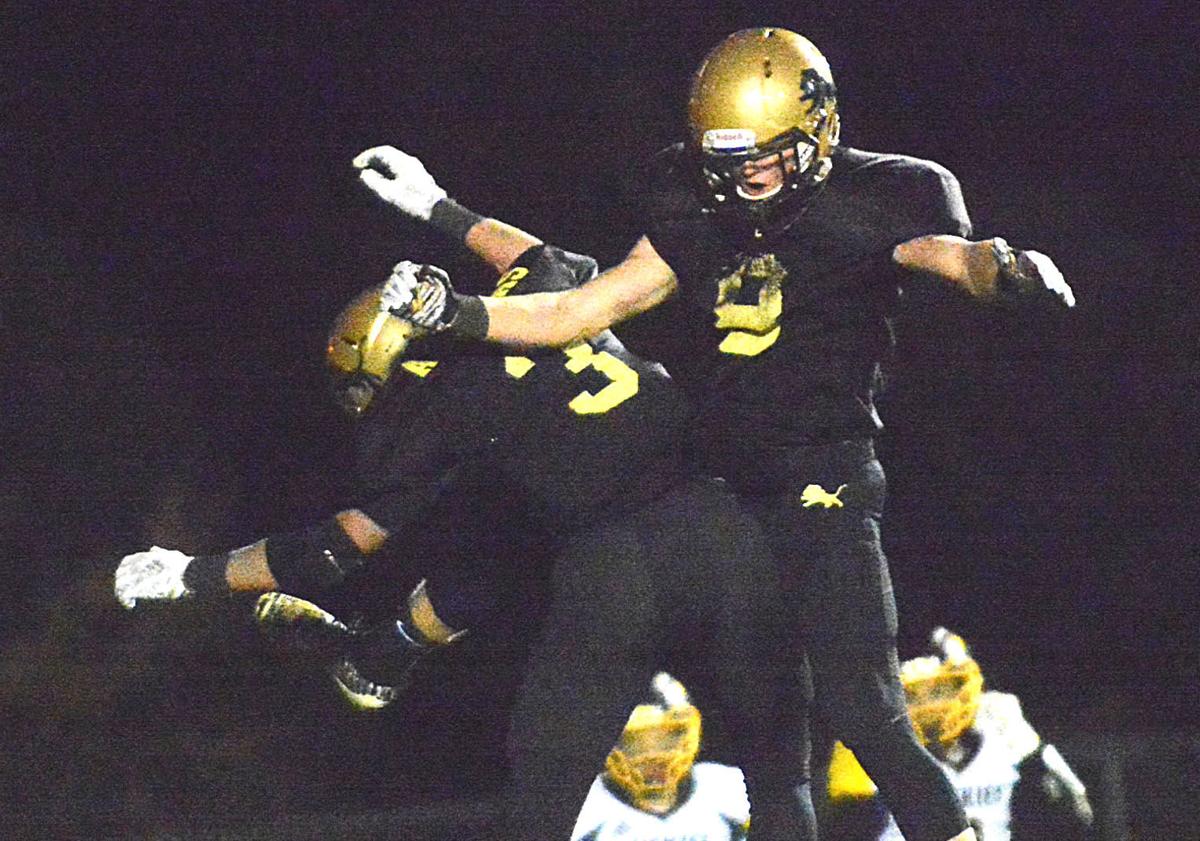 Efficiency and execution.
Those are the cornerstones of Aquinas' football team this season, and Coach Ron Mimick has the numbers to prove it.
The statistic he likes to points to is the total offensive yards-to-points ratio. Mimick's Monarchs average one point per 9.2 yards gained. Aquinas' opponents average one point per 26.2 yards gained.
Some other numbers that point favorably to the Class C-2 No. 6 Monarchs (8-2) are a plus-16 in the turnover margin (10 turnovers for Aquinas; 26 for the opposition). Aquinas also has 14 fewer 5-yard penalties than its opponents, and the Monarchs have blocked five punts this season and averaged 9 yards per punt return.
It's all adding up to another run at a state championship for the Monarchs, who won their 12th straight first-round playoff game with a 27-0 victory over No. 10 Shelby-Rising City last Friday. Aquinas is at No. 2 St. Paul (10-0) in the quarterfinals Friday night (7 p.m.).
"We're not a flashy team, so we need to do the little things well to be successful," said Mimick, who has guided Aquinas to seven state titles and 25 playoff appearances in his 29 seasons as coach. The Monarchs are in the postseason for the 19th straight season.
"We can't afford turnovers and we don't want to get off schedule (offensively) with penalties because we're basically a running team," he added. "We try to win with field position and defense."
Aquinas has balance in its running attack that makes it difficult to key on one player. Aquinas played Shelby-Rising City in back-to-back weeks, and in the final regular-season game on Oct. 24, senior Kyle Napier (5-foot-9, 160 pounds) rushed for 116 yards and three touchdowns, including a 63-yarder, and caught a 35-yard TD pass.
You have free articles remaining.
Napier is Aquinas' leading rusher this season with 556 yards.
On Friday, the Huskies limited Napier to 26 yards on 12 carries, but senior halfback Caden Kozisek stepped up with 65 yards on just five attempts, three of which went for touchdowns of 45, 4 and 5 yards. Senior fullback Zach Pandorf provided the tough yards inside with 55 on 13 carries. Sophomore quarterback Caleb Thege scored Aquinas' other TD on a 2-yard run.
"They (Shelby-Rising City) played a little different front, we ran the other way and had success with that," Mimick said. "We don't depend on one or two guys to run the ball. We rotate our backs and all of them do a good job."
Defensive tackle Konner Adamy sparked Aquinas' third shutout of the season with five tackles, four of which were behind the line of scrimmage and two quarterback sacks. The 6-foot-1, 200-pounder has 18 tackles for loss this season.
After a 27-19 season-opening loss to C-1 quarterfinalist Columbus Scotus, Aquinas rolled off five straight wins before being upset by No. 9 North Bend Central 13-0 in Week 7. The Monarchs responded with an 83-14 thumping of Twin River the next week before the back-to-back wins over Shelby-Rising City.
"The first three times we had the ball, we got inside the 20 and fumbled three times — once on fourth down and the other when we lost 12 yards with a center snap that went over the quarterback's head," Mimick said about the North Bend Central game.
"That seemed to give them confidence and they were the better football team the last two and a half quarters," he added. "That kind of lit a fire under our guys because they'd like to make a run at it (a state title) again."
Since winning the C-2 state championship in 2015, Aquinas has been stopped in the state quarterfinals the past three seasons. The Monarchs will be facing a St. Paul team that has not had a game closer than 19 points all season and features one of the top players in the state in Eli Larson.
The 6-foot, 210-pound junior running back/linebacker has rushed for 1,818 yards and 29 touchdowns, registered 59 tackles and forced three fumbles. The Wildcats advanced with a 36-0 first-round win over Centura.
"Larson is definitely a Division I college scholarship athlete, and he'll be extremely difficult to tackle and block," Mimick said. "We've played six playoff teams and been in fourth-quarter battles a couple times this season. Hopefully that experience will help us."