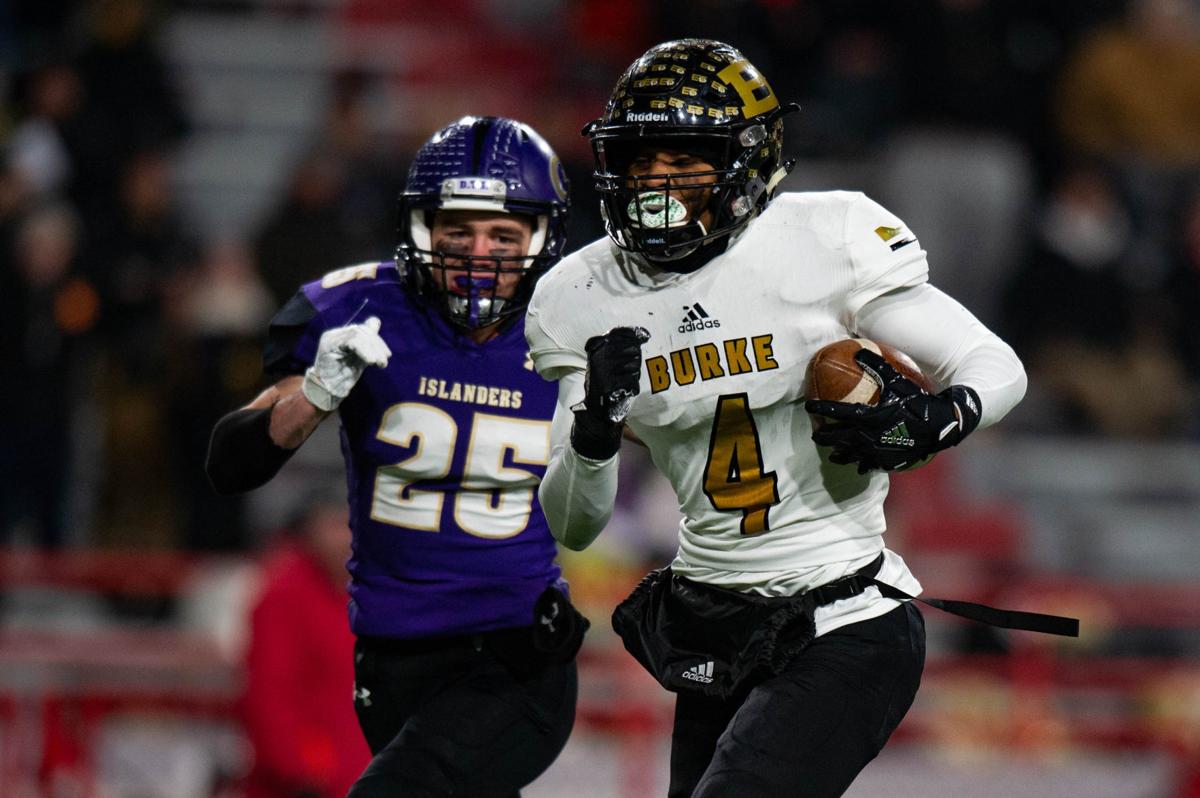 When Omaha Burke needed a fire lit, Xavier Watts supplied the power.
With his team trailing by 11 points in halftime, the junior wide receiver raced past the Grand Island defense and caught third-quarter touchdown passes of 62 and 37 yards from Tyler Chadwick.
The Nebraska recruiting target then hauled in a 12-yard pass on fourth down with just under a minute left to preserve the top-ranked Bulldogs' 24-20 win over No. 10 Grand Island in the Class A state championship football game Monday night at Memorial Stadium.
"That second half felt pretty good," said Watts, a 6-foot-1, 190-pound junior who finished with 11 receptions for 159 yards.
"I had to do what I do and help this team get this 'W,'" Watts added. "They (Grand Island) played pretty good 'D' on the first plays I ran and I saw that I had to step my game up."
Chadwick, the three-year starting quarterback, ended up 17-of-24 through the air for 238 yards.
Burke finished off a 13-0 season with the victory and captured the school's first football state title. It was an emotional end to a season the players dedicated to their head coach, Paul Limongi, who was diagnosed with tonsil cancer last spring and spent the first half of the summer going through chemotherapy. He was given a clean bill of health in early September.
"It's unbelievable, it's such a privilege to be the head coach at Omaha Burke," Limongi said. "I'm still a little in awe. There have been a lot of great football teams at Burke the last 55 years and we've been awfully close. This one is for them."
Limongi called Watts "one of the best players in the state. He's athletic, he's tough. He came through tonight.
"We needed something and we got the momentum there," the Burke coach added, referring to the touchdown passes. "Once we get the momentum and start feeling it, we're tough to beat."
Senior all-state running back James Burks added a football gold medal to the three golds he's earned in wrestling, doing his part by rushing for 219 yards and touchdown — a 7-yard TD run that produced the final score with 3:04 left in the game and capped a 71-yard, nine-play march.
"He was a warrior, he's been that way for four years," Limongi said of Burks. "He's a champion."
An interception by Burke's Terrell Turner with 1:14 left in the game ended the Islanders' (10-3) final possession. The 12-yard pass from Chadwick to Watts then snuffed out any Grand Island hope.
You have free articles remaining.
"We were looking for the slant," Watts said about the victory-clinching reception. "They had been coming down the whole time, so just throw it to me. I was wide open. I knew I was going to catch it."
Chadwick read the safety on both TD passes and hit Watts in stride.
"I saw the safety come down on both of those touchdown passes and Xavier is the best receiver in the state. All I had to do was deliver a ball he can catch," Chadwick said. "He did the rest."
Grand Island's balanced attack in the first half — 104 yards rushing and another 104 through the air — kept the Burke defense guessing and produced a 14-3 halftime lead.
Quarterback Cole Evans completed 10 of 13 passes and threw a 33-yard touchdown pass to Caleb Francl on a fourth-and-7 late in the opening period, a play in which Evans rolled to the left to avoid the rush.
Bulldog Super-State linebacker and Nebraska recruit Nick Henrich made his first start in four games, but the senior re-injured his knee late in the first quarter on a tackle behind the line of scrimmage on Evans.
Grand Island's ground game came to life in the second quarter after Burke's Colin Campin kicked a 23-yard field goal with 5:43 left before intermission. A 43-yard run by Timo Sikes put John Reilly in position for his 18-yard TD run to the left side on the next play to give the Islanders their 11-point halftime advantage.
Burke nearly totally switched the momentum in the final seconds of the half. After taking over at the Grand Island 45 following an Evans incomplete pass on fourth down, Watts appeared to score when Chadwick heaved a jump ball down toward the GI goal-line and Watts snagged the batted ball by an Islander defender and scampered 5 yards to the end zone as time ran out.
Burke, however, was flagged for having an ineligible receiver downfield to wipe out the score.
"We're an experienced team; we didn't let the first half bother us," Chadwick said. "We know how to win games."
The Bulldogs missed a third quarter field goal after GI dropped a punt snap at the Islander 3.
Burke wasn't denied on its next two possessions. Chadwick found a streaking Watts deep down the middle for a 62-yard TD strike. Then, they hooked up again on Burke's next possession as Watts came down with the 37-yarder between two Islander defenders to give the Bulldogs their first lead of the game, 17-14, late in the third quarter.
Just when it appeared the Bulldogs were ready to take over in the fourth quarter, the Islanders stopped Burke on downs after getting as close as the Grand Island 23. The Islanders then marched 69 yards in seven plays to take a 20-17 lead with 6:49 left in the game on a 1-yard run by John Reilly.
"It was a tough one," Grand Island coach Jeff Tomlin said. "Burke obviously played great defense in the second half, and one of our goals was 'no explosive plays.' And they got those two explosive plays. He's (Watts) a great player on a really good team."