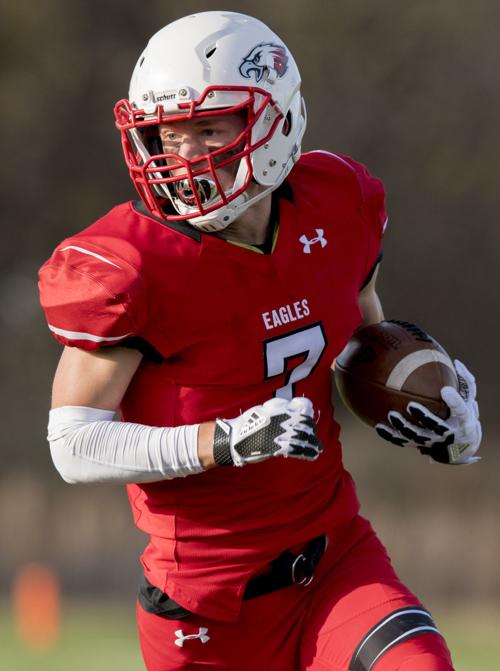 Monday's games
Class D-1
North Central (8-3) at No. 3 Burwell (11-0), 6 p.m.: Burwell's defense, led by senior Bode Jensen (113 tackles this season), has been stellar the past two games, shutting out Sutherland 48-0 in the second round before posting a 43-8 win in the quarterfinals over Arcadia-Loup City. The Longhorns, D-1 state champions in 2016 and the 2015 state runner-up, will look to establish junior running back Jase Williams (1,451 yards rushing, 30 TDs). Burwell shut out North Central 35-0 in the season-opener, but the Knights' offensive weapons like quarterback Jake Heerten (2,095 yards passing, 37 TDs) and running back Charlie Gale (725 yards rushing, 12 TDs) have developed steadily through the season.
You have free articles remaining.
No. 4 Exeter-Milligan/Friend (11-0) at No. 2 Creighton (11-0), 5 p.m.: Creighton has been dominant all season behind senior all-state running back Bryce Zimmerer and his brother, Brayden, a junior quarterback. The Bulldogs had three players rush for more than 100 yards — Bryce Zimmerer (200 yards on 11 carries, three TDs), Brayden Zimmerer (155 yards, 11 carries) and receiver Thad Hazen (106 yards, four carries) in the 76-28 quarterfinal victory over Lutheran High Northeast. EMF had a nice 1-2 punch in its 46-12 quarterfinal triumph over Guardian Angels Central Catholic as Edwen Baptista and Mitchell Manning combined for 347 yards and all seven TDs.
Class D-2
No. 5 Mullen (11-0) at Lawrence-Nelson (8-3), 3 p.m.: It appears Lawrence-Nelson's difficult schedule early is paying off in its playoff run. The Raiders avenged a 60-12 loss to No. 7 Kenesaw on Sept. 28 with a 28-12 win in the quarterfinals behind quarterback Lane Heikkinen's 130 yards rushing and two TDs and 94 passing yards and one score. The Raiders' other two losses are to No. 1 Johnson-Brock and No. 2 Falls City Sacred Heart. Lawrence-Nelson will be facing one of the best running backs in D-2 in senior all-stater Lane Edis who has 2,291 yards and 38 TDs on the ground. He went off for 242 yards and six TDs in the Longhorns' 52-36 quarterfinal triumph against Overton.
No. 1 Johnson-Brock (11-0) at No. 4 Humphrey St. Francis (11-0), 5 p.m.: The Johnson-Brock vs. Falls City Sacred Heart rematch in the playoffs never materialized as Humphrey St. Francis reeled off 30 unanswered points to close the game to knock off No. 2 Sacred Heart 54-36 in the quarterfinals. Taylor Wemhoff had two kickoff returns for touchdowns in the win and rushed for 113 yards in the victory. No one has slowed down Johnson-Brock's offense in the postseason as the Eagles are averaging 76 points per game in three playoff contests. Quarterback Cole Fossenbarger threw for 375 yards and seven TDs to lead the Eagles to a 72-32 quarterfinal victory over No. 6 Bloomfield.