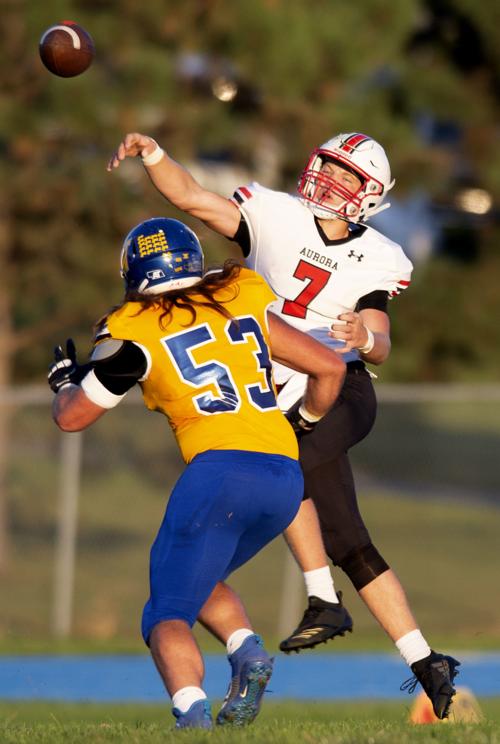 Taking a look at Friday's key Class C-1 and C-2 state playoff games.
Class C-1
No. 3 Adams Central (10-0) at No. 5 Aurora (7-3), 7 p.m.: Adams Central toppled the defending state champion Huskies 24-8 in the season-opener. But Aurora has been on a roll, winning six straight since a 1-3 start, with all three teams still alive in the playoffs (Adams Central, Wahoo and Northwest). Adams Central has QB Evan Johnson (1,951 yards passing, 19 TDs), RB Gabe Conant (1,399 yards rushing, 27 TDs) and WR Leif Spady (42 catches, 539 yards, seven TDs). Aurora QB Trevor Dvorak had 310 yards of total offense in the Huskies' 32-13 first-round win over Ogallala, 149 passing and two TDs and 161 rushing and another score. Kaleb Moural added 160 yards on the ground for the winners.
No. 1 Pierce (10-0) at No. 8 Ord (7-3), 7 p.m.: Pierce pulled out a 28-14 win at Ord in the first meeting during week 3. Pierce was undefeated and No. 1 a year ago going into the quarterfinals and was upset by Bishop Neumann, so expect the Bluejays to be dialed in. Pierce all-stater Dalton Freeman missed the final five games of the regular season because of injury but returned for Pierce's 55-28 first-round win over Chase County. That will take pressure off Brett Tinker and Carson Oestreich, who have 1,132 and 1,102 yards rushing, respectively, and a combined 35 TDs. Ord, which avenged an earlier loss to Gothenburg in the first round, has a huge offensive line that has paved the way for junior Tommy Stevens to rush for 1,451 yards and 15 scores.
No. 4 Ashland-Greenwood (10-0) at No. 9 Wayne (8-2), Wayne State College, 7 p.m.: Wayne's only losses this season are to No. 1 Pierce and No. 2 Wahoo, so expect the Blue Devils to give Ashland-Greenwood all it can handle. Wayne rushed for 318 yards in the 28-21 first-round win over Kearney Catholic, an effort led by Blake Bartos' 164 yards and one TD and Reid Korth's 151 yards and three scores. The Bluejays counter with a balanced attack led by quarterback Hunter Washburn (1,635 yards passing, 19 TDs) and all-state running back Bryce Kitrell (1,159 yards rushing, 16 TDs). Kitrell had 181 yards on just nine carries in the 53-14 first-round win over Cozad.
You have free articles remaining.
No. 10 Columbus Scotus (8-2) at No. 2 Wahoo (10-0), 7 p.m.: Wahoo beat Scotus 49-0 in the final regular-season game, but the Shamrocks were without injured all-stater Tyler Palmer in that one. Palmer returned for Scotus' 48-28 first-round win over Bishop Neumann last week, hitting 10 of 12 passes for 138 yards and two TDs and rushing for two more scores. Wide receiver Garrett Oakley also had a big game for Scotus with 124 receiving yards and a pair of TDs. The Wahoo defense, led by Kole Bordovsky, has shut out its last two opponents, and Trevin Luben has raised his rushing totals to 1,527 yards and 30 TDs for the season.
Class C-2
No. 6 Battle Creek (9-1) at No. 3 Sutton (9-1), 7 p.m.: Behind a running game led by junior Reece Bode (953 yards, 13 TDs) and Kadin Renner (708 yards, 12 TDs), Battle Creek has won nine straight since a season-opening loss to Shelby-Rising City. Sutton counters with a potent running game of its own with senior Jackson Perrien (1,561 yards, 19 TDs) and junior quarterback Cade Wiseman (1,029 yards, 14 TDs).
No. 4 BRLD (9-1) at No. 9 North Bend Central (9-1), 7 p.m.: All eyes will be on the quarterbacks in this one. BRLD quarterback Will Gatzemeyer has passed for 2,340 yards and 27 TDs and rushed for 1,425 more and 16 scores. Injured all-state receiver Lucas Vogt returned to action in the 39-21 first-round win over Wilber-Clatonia and contributed 10 catches for 172 yards and a pair of scores. On the other side, North Bend Central's Austin Endorf has thrown for 2,110 yards and 22 TDs, with Breckin Peters being his favorite target with 73 receptions for 904 yards and 11 scores. Running back Ethan Mullally takes pressure off Endorf with 1,269 yards rushing and 14 TDs.
No. 7 Aquinas (8-2) at No. 2 St. Paul (10-0), 7 p.m.: Aquinas' difficult schedule and playoff experience should help the Monarchs. St. Paul has not been challenged yet this season and might have the best all-around player in C-2 in junior running back/linebacker Eli Larson, a 6-foot, 210-pounder who has 1,818 yards rushing and 29 TDs to go with 59 tackles (18 for losses).
No. 5 Doniphan-Trumbull (9-1) at No. 1 Oakland-Craig (10-0), 7 p.m.: Oakland-Craig survived an upset bid from Hartington Cedar Catholic, advancing with a 28-26 win in which QB Colton Thomsen passed for 153 yards and a score and rushed for another touchdown. Doniphan-Trumbull, which knocked off defending state champion Centennial, has a dual-threat quarterback in Griffin Hendricks (1,467 yards passing, 400 yards rushing) and a go-to running back in Keithan Stafford (1,341 yards rushing, 13 TDs).