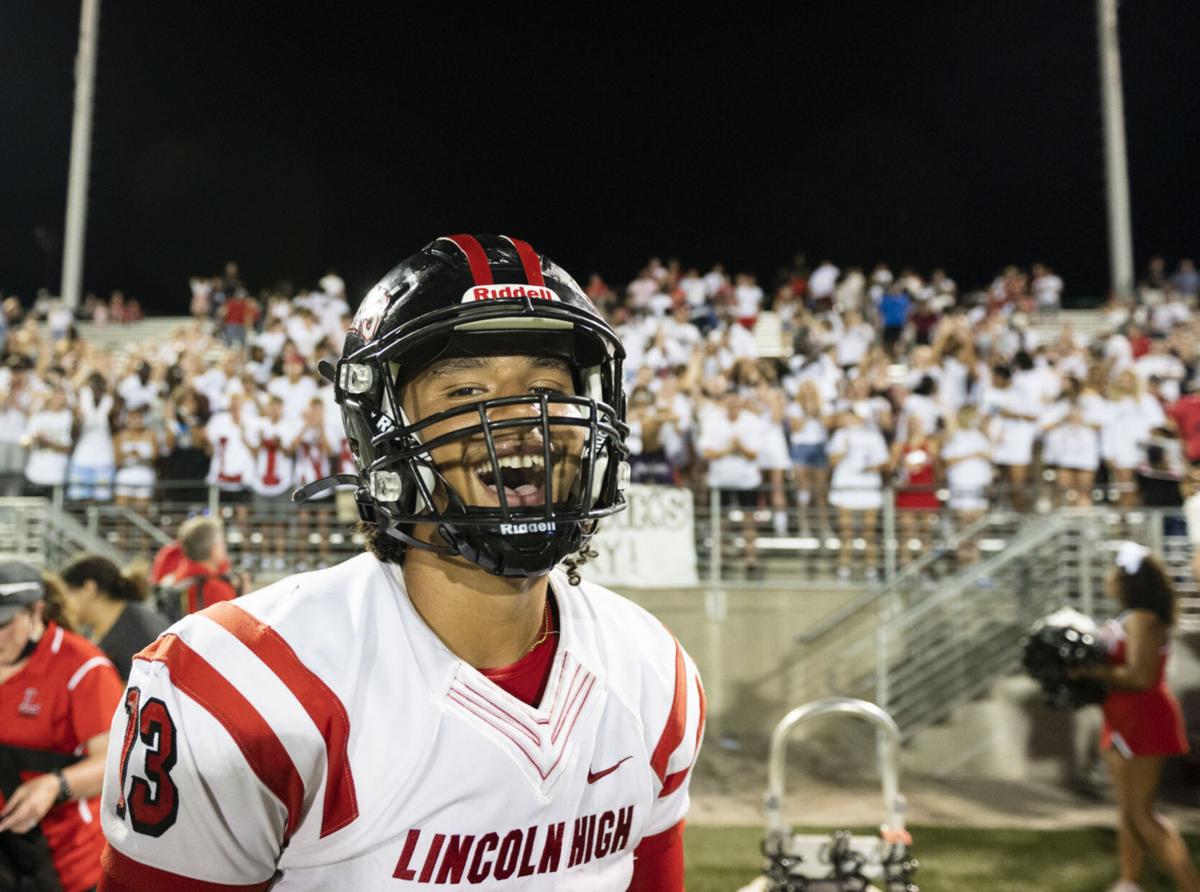 The high school football season kicked off with a bang in Week 1 with great matchups across the state, including some thrillers in Lincoln.
Here's what you need to know for Week 2.
Games of the Week
Class A: No. 4 Elkhorn South (1-0) at No. 2 Millard South (1-0), 7 p.m. Thursday: This top-five matchup will test both teams, and it may reveal whether or not Elkhorn South is at the same level of last year's state runner-up team. Cole Ballard ran for three touchdowns in the Storm's 35-21 win over Millard West last week, while Millard South cruised to a comfortable 55-14 victory over Millard North.
Prediction: Millard South 38, Elkhorn South 30.
Class B: No. 3 Waverly (1-0) at No. 1 Omaha Skutt (1-0), 7 p.m. Friday: Last year, the Waverly defense flexed its muscles with a 17-7 win. The Vikings are just as strong last year, and it showed in their 20-14 season-opening win over No. 10 Elkhorn North. Skutt quarterback Caden Becker leads a great offense, and whichever side wins that matchup should prevail overall.
Prediction: Omaha Skutt 21, Waverly 17.
Class C-1: No. 5 Columbus Lakeview (1-0) at No. 1 Pierce (1-0), Friday: Another top-10 opponent rolls through Pierce this week after the Bluejays defeated No. 7 St. Paul 45-21 last week. Columbus Lakeview faces a much tougher opponent in Week 2 after opening with a win over Boys Town. Wide receiver Adam van Cleave headlines Lakeview's talented offense.
Prediction: Pierce 38, Columbus Lakeview 26.
Class C-2: No. 5 Sutton (1-0) at No. 9 Wilber-Clatonia (1-0), 7 p.m. Friday: Paxton Olson ran for 220 yards and four touchdowns in Sutton's 37-7 win over Grand Island CC, while Wilber-Clatonia eased past Hastings St. Cecilia 34-20. A strong defensive performance from the Wolverines might be needed to come away with a win.
Prediction: Sutton 34, Wilber-Clatonia 27.
Eight-man: Johnson-Brock (1-0) at Class D-2 No. 3 BDS (1-0), 3 p.m. Friday: Two of the last three state champions in Class D-2 meet for an early afternoon clash. BDS is nearly impossible to beat at home, but could Johnson-Brock have an upset in it this week? Johnson-Brock ran for 250 yards last week, and has talent on offense.
Prediction: BDS 48, Johnson-Brock 44.
Six-man: No. 1 Cody-Kilgore (1-0) at No. 4 Arthur County (1-0), Friday: Arthur County put up 620 yards of offense and 101 points last week, while Cody-Kilgore held Paxton to just 12 points. The two title contenders will meet somewhere in the middle but scoring should be high once again.
Prediction: Cody-Kilgore 61, Arthur County 52.
Other city games
Lincoln Lutheran (1-0) at Class C-1 No. 9 Lincoln Christian (1-0), 7 p.m. Friday: Both teams rolled to big wins last week, but this rivalry matchup tends to be tight. Lincoln Christian usually brings an electric home atmosphere in games like this, and both teams have talent on offense.
Class A No. 6 Lincoln East (1-0) at Papillion-La Vista South (0-1), 7 p.m. Friday: Papillion-La Vista South opened its year with a close loss to rival Papillion-La Vista, and the Titans are still a potential playoff team. Lincoln East will look to improve from its 17-point output last week.
Omaha Bryan (0-1) at Lincoln High (1-0), 7 p.m. Friday, Beechner: A gritty 26-24 win over Lincoln North Star should propel the Links into this matchup, while Bryan is coming off a loss to Omaha Northwest. After winning one game last year, a 2-0 start is within Lincoln High's grasp.
Grand Island (0-1) at Lincoln Pius X (0-1), 7 p.m. Friday, Aldrich: Both teams lost by three points to strong opponents last week, making this game key to getting on a winning path. Grand Island put up 38 points against Kearney, but the Thunderbolts proved their strength on defense against Lincoln East.
Parkview Christian (1-0) at six-man No. 2 Sterling (1-0), Friday: Parkview Christian opened its season with a solid win over St. Edward, but it'll be a whole new challenge against Sterling. The Jets won this matchup 47-13 last season.
Lincoln Northeast (0-1) vs. Lincoln North Star (1-1), 4:30 p.m. Friday, Seacrest: Northeast had a difficult 35-0 loss to Fremont last week, but will hope to get on the board against a North Star team with two close games under its belt so far.
Two storylines
Aurora's tough start: Last year's Class B runner-up, Aurora is again one of the best teams in its class. However, a Week 1 loss to Class A opponent North Platte puts the No. 5 Huskies in a tough spot this week against No. 2 Bennington. The Badgers are a difficult opponent to beat, and Aurora started off 0-2 last year against the same teams.
Junior Trey Bird gets his first start at quarterback for Bennington, while running back Mack Owens leads the charge for Aurora. As shown last year, Aurora was plenty successful despite a slow start. Plus, a win for Bennington would show the Badgers are still a title contender after an injury to Seth Wempen.
Millard woes: While Millard North and Millard West are traditionally playoff contenders in Class A, both schools had down years in 2020 as Millard North went 4-5, and Millard West went 2-7. Both would have expected an improvement coming into this season, but a pair of top-five opponents in Millard South and Elkhorn South dealt them early losses last week.
With the Wildcats and Mustangs set to face off this Friday, one team will drop to 0-2 with difficult schedules still on the horizon. Each team faces at least three of the current top 10 teams in Class A during the rest of their season, and playoff chances fade when teams go winless through Week 2.
One burning question
Can Lott-Buzby keep it going? In just one game, Lincoln High senior quarterback Ja Reese Lott-Buzby already surpassed his passing total from last season. A nagging knee injury and inconsistent play led to Lott-Buzby only throwing for 211 yards across six games in 2020, but he put in some serious work this offseason and it showed in Week 1.
Lott-Buzby threw for 316 yards and four touchdowns in a 26-24 win over Lincoln North Star, including a pair of long touchdown passes to Beni Ngoyi. According to MaxPreps, Lott-Buzby is the state's current leader in passing across the top four classes. The big numbers didn't come due to Lott-Buzby attempting a large number of passes, though, as he completed 8-of-15 attempts last week.
That type of efficiency is hard to sustain, but the Links have the offensive talent to break big plays as they proved last week. This week's opponent, Omaha Bryan, hasn't won a varsity game since August 2018, but Omaha Benson snapped a similar winless streak last week. Lott-Buzby has another favorable matchup this week, and it'll be key to the Links' season success if he can come up with big plays every week.
Recap a wild Week 1 with the Journal Star crew. Here's all of our high school football content from Friday
OK, Week 1 brought it. Our team was out around the city and area to uncover all of the stories that came out of Friday night. Check them out here.