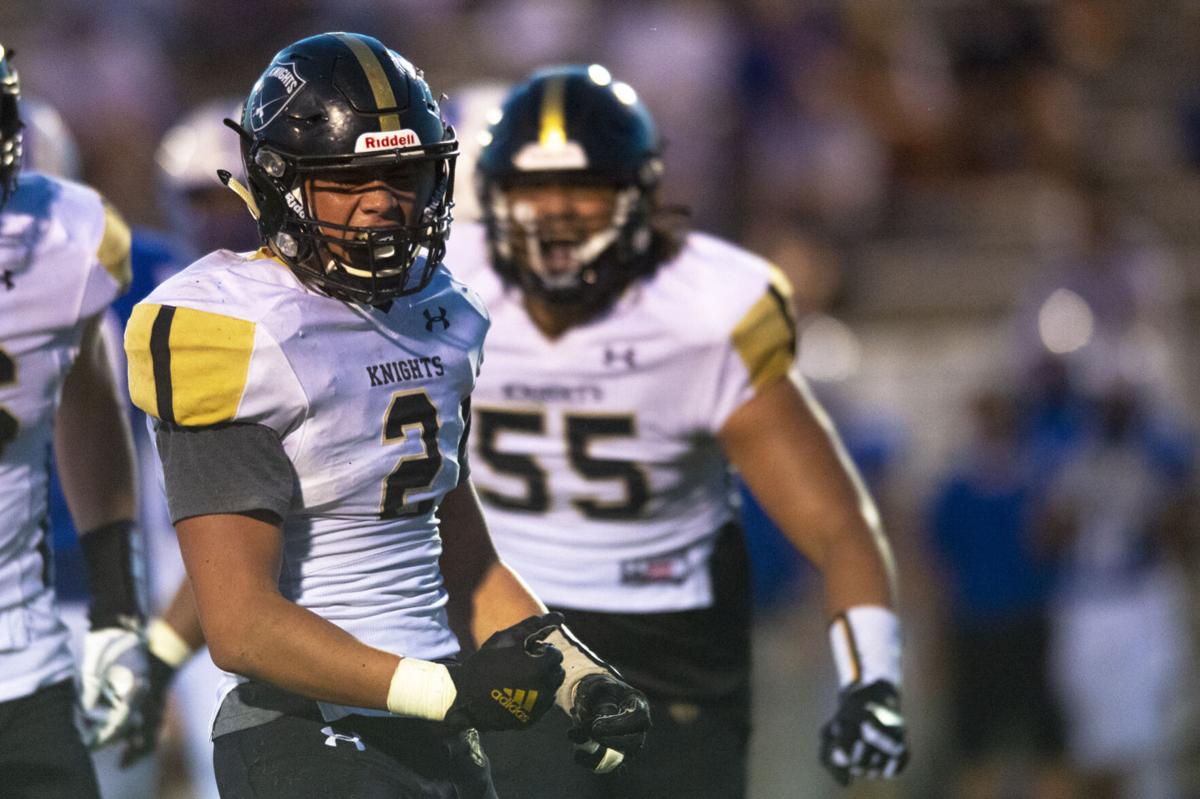 A few teams started their season early with Week 0 contests last Friday, but the high school football season truly kicks into action this week across the entire state.
Here's what to know for Week 1:
Games of the Week
Class A: No. 5 Lincoln Southeast at No. 9 Omaha North, 7 p.m. Friday: One of four top-10 matchups in Class A this week, it'll be a great early test for both teams. Southeast quarterback Willem Reddick will be challenged by Omaha North's defensive line, but the Knights return four starters on the offensive line to keep them at arm's length. The Vikings have talent on offense, too, with Jordan and Keshaun Williams.
Prediction: Lincoln Southeast 28, Omaha North 20.
Class B: No. 5 Elkhorn at No. 7 Norris, 7 p.m. Friday: Norris won this matchup to open the 2020 season, but Elkhorn had the last laugh when it secured a Class B state title. The defending champions have new starters all over the field and a first-year coach, but the Antlers are still a strong team. Norris may be debuting a new-look offense, and if all goes to plan, the Titans will be scoring in bunches.
Prediction: Elkhorn 24, Norris 21.
Class C-1: No. 6 St. Paul at No. 1 Pierce, 7 p.m. Friday: It's fair to say the whole town of St. Paul has been eyeing this matchup for a few months now, considering both of the Wildcats' losses last season came to Pierce, including in the state semifinals. Both of these teams return considerable talent, but the Bluejays remain the team to beat in C-1.
Prediction: Pierce 38, St. Paul 28.
Class C-2: No. 6 Yutan at No. 1 Archbishop Bergan, 7 p.m. Friday: It's the exact same situation as in Class C-1, because Archbishop Bergan provided both of Yutan's losses last season and ended the Chieftains' season in the state semifinals. Led by senior quarterback Koa McIntyre, it's hard to believe that any C-2 defense will be able to hold the Knights below 21 points this season.
Prediction: Archbishop Bergan 34, Yutan 21.
Eight-man: Class D-1 No. 5 Lourdes CC at Class D-2 No. 1 Falls City SH, 7 p.m. Friday: Two title contenders from separate classes meet in this exciting contest, which featured 86 combined points last season. The scoring should continue this year, with Lourdes CC's Aidan Aldana and Fall City SH's Jakob Jordan leading the way.
Prediction: Falls City SH 45, Lourdes CC 37.
Six-man: No. 5 Arthur County at No. 10 S-E-M, Friday: A disappointing semifinal playoff exit should push Arthur County this season, and senior quarterback Bryce Hanna is one of the best athletes in six-man football. S-E-M has state playoff hopes, too, behind quarterback Noah Eggleston.
Prediction: Arthur County 52, S-E-M 33.
Other city games
Lincoln Pius X at No. 6 Lincoln East, 7 p.m. Thursday, Seacrest: Pius X put up a good fight in the battle for A Street last season, but Super-State quarterback Noah Walters will be hard to stop once again.
Gretna at Lincoln Southwest, 4:30 p.m. Friday, Seacrest: Southwest managed just seven points in this matchup last season, but got its offense rolling later in the year. Gretna quarterback Zane Flores can put up the points, as well.
Lincoln High at Lincoln North Star, 8 p.m. Friday, Seacrest: North Star brings the momentum of its Week 0 win over Hastings into this matchup, while an improved Lincoln High offense is looking for a statement win of its own.
Omaha Concordia at Lincoln Lutheran, 7 p.m. Friday, Aldrich: One of Lutheran's three wins last season came in this matchup, and with senior quarterback Josh Duitsman at the helm once again, the Warriors will be feeling good about their season-opener.
Fremont at Lincoln Northeast, 7 p.m. Friday, Beechner: Northeast had one of its best offensive performances of the season against Fremont last year, and it would be a big statement win if the Rockets can take down the Tigers in Week 1.
Lincoln Christian at Syracuse, 7 p.m. Friday: The Crusaders easily rolled to a 38-0 win in this matchup last season, but Syracuse has a new starting quarterback who could provide a tougher test for the Lincoln Christian defense.
St. Edward at Parkview Christian, 4 p.m. Friday: Parkview won this matchup by almost 30 points last season, and the Patriots will be eyeing another big win to open the year.
Week 1 storylines
Prep and Westside meet again: One of the exciting top-10 matchups in Class A this week is the fierce rivalry between Creighton Prep and Omaha Westside. The Warriors have dominated this matchup in recent years, having won the last four contests by a combined margin of 151-36.
But this isn't the same Westside team that went undefeated in 2020. The Warriors enter the season at No. 3 in Class A, while Prep starts at No. 8. Another convincing win for Westside would go a long way in keeping the Warriors as a title contender, while a win for Prep would vault the Junior Jays higher into Class A's elite.
Week 0's impact: It will only affect a few of this week's matchups, but it will be interesting to see if the teams that played Week 0 games will have a leg up on their competition. After losing its season opener to Lincoln North Star, Hastings has another difficult game ahead against McCook, while Class D-1 schools Cross County and Laurel-Concord-Coleridge can carry the momentum from big wins into Week 1.
One burning question
Will OPS return to full strength? While the rest of the state managed a slightly abbreviated 2020 season, Omaha Public Schools' seven teams (Omaha Benson, Omaha Bryan, Omaha Burke, Omaha Central, Omaha North, Omaha Northwest and Omaha South) didn't play a single game. The effects of this decision will be clearer at the end of the season, but Week 1 could offer insights as to whether the OPS teams can return to their previous heights.
Omaha Benson, Bryan, Northwest and South have not made the state tournament in the last 10 years, and it could be difficult to keep interest high in those programs considering there was no freshman or JV football played last season, either.
Omaha Burke, Central and North have all been state playoff caliber programs within the last 10 years, with North winning a state title in 2017 and Burke in 2018. The Vikings and Bulldogs start the season in the Class A's top 10, but any early losses could provide another setback for those programs.