(Second-team Super-Staters not included)
Bellevue East: Gage Dengel; Bellevue West: Evan Kieser, Caedin Hays, Nate Sullivan, Logan Bird; Columbus: Carson Zwingman, Joey Braasch; Creighton Prep: John Bullock, Jack Hasz, Mason Armstead, Michael Sunclades, Nasire Perry; Elkhorn: Drew Christo, Kyler Beekman, Aidan Young; Elkhorn South: Jack Paradise, Jason Carlos, Noah Ethen, Cole Skradis, Kobe Ballard; Fremont: Cody Carlson, Jackson Ritchhart, Jake Heineman; Grand Island: Caleb Francl, John Reilly, Riley Krolikowski, Javier Cruz, Kodjo Atikpohou, Jack Wemhoff, Ace McKinnis, Timo Sikes, Eric Allen; Gretna: Caden Opfer, Hunter Chilton; Kearney: Gabe Heins, Brayden Miller, Jeremiah Hagemann, Grant Kowalski, Seth Stroh; Lincoln East: Barrett Sellon, Blake Ingamells, Connor Riekenberg; Lincoln High: Morgan Perry, Drake Krogh, Draven Long, Zavion Garcia-Hill, Garrett Hoagland; Lincoln Northeast: Caleb Kyes, Nick Halleen, Quinn Keller; Lincoln North Star: Tristan Stroup; Lincoln Pius X: Austin Jablonski, Grant Gubbels, Josh Miller, Jake Kumke, Jonathan Andreasen; Lincoln Southeast: Jampe' Gergen, Isaac Appleget, Isaac Gifford, Xavier Trevino, Michael Anderson, Jackson Kraus; Lincoln Southwest: Nick Leader, Frazzie Wynn, Easton Boyd, Taylor Boutmahavong; Millard North: Jackson Creek, Matt Goetzmann, Tommy Roland; Millard South: T.J. Urban, Tyson Gerdes, Gage Thomas, Joe Folda, Tate Hinrichs; Millard West: Braydon Cundiff, Dalys Beanum, Matt Huser, Jackson Wright, Tristan Gomes, Jacob Harmdierks; Norfolk: Conner Cowling, Connor Clayton; North Platte: Jake Johnson, Hunter Bose; Omaha Bryan: Antione Curtis, Jack Wiebelhaus, Jaylon Walker; Omaha Burke: Caleb Robinson, Terrel Turner, Gio Mainor, Billy Kennedy, Hunter Jones, Nolan Olafson, Mason Williams, Trevon Peak; Omaha Central: Torrence Jackson, Abraham Hoskins III, Donald Perry, James Archie; Omaha North: Steven Krawczyk, Jared Venner, Tre'on Fairgood-Jones, Marques Sigle, DeAnthony Cribbs; Omaha Westside: Brett Curran, Cade Jochum, Nolan Miller-Johnston, Tyson Guzman, Cole Payton, Joe Stegman; Papillion-La Vista: Preston Kellogg, Joe Bianchi, Conner Barnett, A.J. Dumont; Papillion-La Vista South: Chandler Cotton, Chase Norblade, Dallas Rogers, Trajen Linear, Zach Keup, Mike McClanahan, Tony Nisotis.
Alliance: Mason Hiemstra, Baily Hood; Beatrice: Andrew Mahoney, Dakota Adams, Zack Hoffman; Bennington: Karson Gansebom, Nick Bohn, Benton Cornett; Blair: Andy Straube, Dexter Larsen, Colin Quick, Grant Rosenbaum, Stewart Cemer, Gabe Rand, Trevor Rutcosky, Jack Nielsen; Crete: Zach Fye, Ethan Steer, AJ Page; Hastings: Alex Swoboda, Carson Shoemaker, Laif Hultine, Jake Schroeder. Ivan Ramirez-Beiber; Lexington: Logen Callahan, Jake Leger, Riley Kopf; McCook: Paxton Terry, Alec Bunger, Gabe Sehnert; Mount Michael: Sid deMayo, Garrett Hunstedt, Matt Zarybnicky; Norris: Aidan Oerter, Zach Serna, Dylan Meyer, Jon Kroese, Cade Argo; Northwest: Ryan Melvein, Ty Heaton, Andrew Korte; Omaha Gross: Will Rice; Omaha Roncalli: Jack Dotzler, Justin Niederle; Isaiah Wheeler; Omaha Skutt: TJ Skradski, Gunner Ott, Alex Stumpff, Max Brinker; Plattsmouth: Conner Pohlmeier; Ralston: Isaac Dannehl, Michael Heig; Scottsbluff: Jeremiah Dlezer, Jack Darnell, Luke Rohrer; Seward: Carson Core, Adam Garton, Gabe Knisley, Reece Foreman, Max Perry, Ben Myers, Josh Sagehorn; Waverly: Jay Adams, Trevor Brown; York: Jeb Lucas, AJ Beins, Gabe Miller, Jacob Diaz.
Adams Central: Evan Johnson, Leif Spady, Gabe Conant, Conner Brown, Noah Machnicki, Eli O'Dey, Derek Vonderfecht; Arlington: Remington Gray, Jesse Thompson; Ashland-Greenwood: Kyle vonRentzell, Hunter Washburn, Jacob Ludwig, Sawyer Buller, Nolan Kasuske, Blake Kobs; Auburn: Branden Lavigne, Drew Dixon, TJ Roybal, Brody Darnell, Weston Reiman; Aurora: Kaleb Moural, Carter Pursley, Trevor Dvorak; Bishop Neumann: Brandon Blum, David Lilly, Luke Fairbanks, Trey Miller; Boone Central/Newman Grove: Jon Merten, Brandon Beierman, Weston Choat, Ethan Dozler; Broken Bow: Josh Harvey, Drew Drake, Trey Brooks, Grayson Garey, Lathan Duda; Central City: Koby Brandenburg, Dyllan Lee, Michael Rutherford; Chadron: Clark Riesen, Jake Lemmon, Dan Dunbar; Chase County: Evan Fischer, Parker Dillon, Scott Wheeler, Trevor Peterson; Columbus Lakeview: Lucas Thatcher, Brook Behlen; Columbus Scotus: Caden Pelan, Grant Shanle, Abe Perault, Eric Mustard; Cozad: Conner Wescoat, Dillon Geiser, Luke Breon; Douglas County West: Ty Eggren, Trevan Billings, Jack Hodge; Fairbury: Seth Firmanik, John Kerwood; Falls City: Alex Rathje; Fillmore Central: Jacob Stoner; Fort Calhoun: Tyler Strauss; Gothenburg: Trenton Harbur, Vincent Nichols, Brennan Seitsinger, Tucker Wyatt; Holdrege: Aaron Drews, Drake Johnson, Zach Reed; Kearney Catholic: Linden Howe, Sam Clinch; Lincoln Christian: Joe Dworak; Lincoln Lutheran: Cayden Bergt, Ethan Zager, Dalton Paxton; Logan View: Brady Hull; Milford: Mitch Wingard, Nate Mensik, Sam Copley, Carson Stauffer, Evan Richards; Minden: Elijah Lovin; Nebraska City: Jaydin Aldana, Bryce Levy; Ogallala: Clayton Murphy; O'Neill: Spencer Davis, Kolby Dean, Michael Poese; Ord: Soloman Campise, Riley Warner, Jaden Reilly, Clayton Shoemaker; Pierce: Carter Rohrich, Kage Heisinger, Jakob Meier, Ryder Fuchs, Gavin Larson, Colby Richart; Platteview: Jed Christensen; Valentine: Lane McGinley, Brayden Fowler, Gage Krolikowski; Wahoo: Kole Bordovsky, Brandon Swahn, Grant Kolterman, Peyten Walling; Wayne: Kaden Kneifl, Drew Buck, Juan Vergara, Reid Korth; West Point-Beemer: Blake Anderson, Ben Vander Griend.
Aquinas: Nolan Hartman, Kyle Napier, Tad Naiberk, Andy Lyons, Konner Adamy; Archbishop Bergan: Ethan Vilwok, Jake Ridder, Eli Herink, Riley Lindberg; Battle Creek: Luke Stueve, Austin Marx, Dylan Mettler, Ty Heimes, AJ Hawthorne; BRLD: Seth Totten, Dustin Burgett, Nick Ronnfeldt, Derek Petersen; Centennial: Kalten Bauers, Sidney Farley, Max Tomes, Joel Bargen; Centura: Austin Simmons, Kile Bentley, Eli Wooden, Juan Perez; Conestoga: Josiah Nolting; David City: Will Danielson; Doniphan-Trumbull: Jordan Spilinek, Griffin Hendricks, Caleb Schuppan, Alex Thomas, Keithan Stafford; Freeman: Gabe Eisenbarth, Garrett Lenners, Luke Archer; Gibbon: Chi Onate, Sean Hampton, Sam Kucera; Grand Island Central Catholic: Jack Goering; Hartington Cedar Catholic: Josh Pinkelman, Eric Hoesing; Hastings St. Cecilia: Jared Prevette, Ben Clark, Luke Rodriguez, Alex Thomas, Jake Esch, Thomas Redinger; Johnson County Central: Simon Rother, Kole Kleespies, Aldo Reyes, Eli Waring; Louisville: Stealth Reeves, Brady Geise; Malcolm: Haydn Deinert, Adam Stewart; Norfolk Catholic: Jalen Robinson, Riley Carlson, Wyatt Smydra, Jack Marsden, Ryan Vetter; North Bend Central: Austin Endorf, Ben Rolenc, Jeremy Doernemann, Jacob Ray; North Platte St. Patrick's: Nick Niesen; Oakland-Craig: Robby Mayberry, Justyn Hale, Ian Lundquist; Ponca: Michael Logue, Cole Richards, Gage McGill, Evan Anderson; Shelby-Rising City: Mason Schleis, Nick Vavricek, Antonio Lopez; St. Paul: Eli Larson, Kaleb Pedersen, Carson Morgan, Wyatt Placke, Jackson Seward, Nathan Scheer; Stanton: Kadyn Fernau, Sutton Pohlman, Ben Wilke, Nathan Arens, Sam Bates; Superior: Hunter Healey; Sutton: James Griess, Braden Peterworth, Tyler Ortman, Jacob Rogers, Jarvis Smith, Kinser Rafert, Jordan Davis; Syracuse: Burton Brandt; Tekamah-Herman: Gage Drummond; Wilber-Clatonia: Tad Moldenhauer, Markus Nystrom, Mason Zimmerman, Michael Pulliam, Eric Escobar; Yutan: Clayton Nelson, Ethan Abraham.
Ainsworth: Grant Stec, Oren Pozehl; Amherst: Sam Florell, Deric John, Jarred Ivey; Ansley-Litchfield: Chris Paitz; Arapahoe: Gentry Anderson, Yordi Gutierrez, Branigan Schaben; Arcadia-Loup City: Caden Kusek, Clayton Dethlefs, Prestyn Rogers; BDS: Jacob Schoenholz, Dylan Domeier; Boyd County: Garrett Boettcher, Jared Koenig; Burwell: Josh Urbanovsky, Coy Gideon, Sage Konicek; Creighton: Cameron Tyler, Sam Van Metre, JD Kuhlman, Clay Curtis, Thad Hazen, Brenden Waldow; Cross County: Grant Hollinger, Thomas Harrington-Newton, Dylan Sperling; Dundy County-Stratton: Serbando Diaz, Quade Myers, Dominic Sis; East Butler: Jaden Rhynalds, Collin Bouc, Nolan Makovicka; Elkhorn Valley: Josh McFarland, Braedyn Ollendick; Elm Creek: Karsten McCarter, Keaton Trampe, Dalton Keeton; Elmwood-Murdock: Drake Spohr, Andy Meyer; Exeter-Milligan/Friend: Johnny Babula, Slater Wells, Max Zeleny, Mitchell Manning, Spencer Pribyl, Colton Bossaller, Trever Zelenka; Fullerton: DJ Dubas; Guardian Angels Central Catholic: Jadyn Smeal; Hemingford: Cade Payne, Justin Davis; Hitchcock County: Diante Perkins, Pierce Utherback; Howells-Dodge: Lane Hegemann, Kade Hegemann, Darrin Pokorny, Levin Belin; Laurel-Concord-Coleridge: Izac Reifenrath; Lourdes Central Catholic: Andrew Aldana, Damon Honeysuckle, Colter Fulton; Lutheran Northeast: Connor Wilcox, Marcus Echtenkamp; Madison: Gabe Romero, Kolby Johnson, Elijiah Delacruz; Nebraska Christian: Jake Twogood, Toby Watson, Noah Boerson; Nebraska Lutheran: Dillon Malchow, Sam Otte; Neligh-Oakdale: Hunter Charf; North Central: Sage Miller, Marcus Reynolds, Wyatt Olson, Trace Ebert; Osceola-High Plains: Keaton Van Housen, Tanner Kropatsch; Dylan Soule; Palmer: Chad Samuelson; Palmyra: Kobe Jones; Perkins County: Alex Patrick; Ravenna: Jake Jarzynka, Alex Chapa, Trey Mieth; Southern: Drake Adams, Braden Klover, Nick Lyons; South Loup: Grant Jones, Gavin Robertson, Jace Connell; Sutherland: Adam Taylor, Bennett Floyd, William White; Thayer Central: Jared Hergott, Keith Hergott, Zach Koss; Wakefield: Esgar Godinez, Dylon Harder; Wisner-Pilger: Jayden Raabe, Jacob Borgelt.
Allen: Kyle Smith, Brogan Jones; Anselmo-Merna: Dawson Duryea, Seth Miller, Jace Leibhart; Bertrand: Tyler Callahan, Pepe Estrada; Bloomfield: Mitchell Mackeprang, Braden Eisenhauer, Brantson Gieselman, Trenton Holz; CWCE: Joshua Klabenes, Ryan Brummels, Wyatt Wagner; Clearwater-Orchard: Clay Thiele, Chris Kester; Creek Valley: Jackson McIntyre; Diller-Odell: Ryan Arnold, Bryston Warren; Elgin/Pope John: Hunter Reestman; Emerson-Hubbard: Nolan Belt, Jacob Kneifl, Nolan Ostrand; Falls City Sacred Heart: Jake Hoy, Branson Darveau, Tanner Cromer, Sloan Lenard; Giltner: Rody Lyon, Karter Watson, Trevor Linden; Hartington-Newcastle: Lincoln McPhillips, Ethan Koch, Turner Korth; Humphrey St. Francis: Taylor Wemhoff, Landon Kush, Bradan Freudenburg, Evan Foltz; Kenesaw: Ryan Denkert, John Schuster, Wyatt Hansen; Lawrence-Nelson: Jake Sharp, Boone Svoboda; Leyton: Josh Kruse, Seth Dvorak; Maxwell: Derek Gibson, Brett Riggs; Mead: Aidan Mongan; Medicine Valley: Sam Heapy, Dylan Davis, Quade Potter; Meridian: Micah Noel, Garrett Klipp; Mullen: Zac Sweet, Ty Durfee, Ty Kvanvig, Brendon Walker, Brady Gracey, Koby Walker, Justin Wiens, Teven Marshall; Osmond: Anthony Heiman, Nick Reikofski, Alexis Solorzano, Justus Maertins; Overton: Kien Martin, Caleb Moore, Ryan Lauby, Braden Kizer, Addison Vance; Pawnee City: Marcus Gray; Paxton: Bennett Perlinger; Pender: Jaydon Jump, Sam Mailoux, Dylan Vogt; Plainview: Keaton Eichberger, Jake Lingenfelter, Jacob Hoffmann, Nate Christiansen; Pleasanton: Tyce Westland, Riley Racicky, Jaxson Keaschall; Sandhills-Thedford: Gage Haake, Cauy Pokorny, Chase Haake, Lex Wilde; St. Mary's: Cole Rosenkrans; Stuart: Ethan Sattler; Twin Loup: Quade Young; Wauneta-Palisade: Caid Doetker; Wausa: Ghatlin Hegge, Ethan Baue, Drew Munter, Tyson Kaiser; Winside: Michael Jensen, Koby Ellis; Wynot: Landon Wieseler.
Arthur County: Kutter Rogers, Colten Storer, Trevan Rut; Cody-Kilgore: Claysen Davis, Robert Hooper, Daniel Busenitz; Creek Valley: Patrick Hansen; Deshler: Trenton Buescher; Elba: Brody Buckendahl; Eustis-Farnam: Jordan Fangmeyer, JD Bartell; Hampton: Brady Klute; Harvard: Hunter Wilkinson, Pelle Rocco; Hay Springs: Jarret Pieper; Heartland Lutheran: Daniel Warneke; Humphrey/Lindsay Holy Family: Dylan Hanzel, Jason Sjuts, Matthew Pfeifer; Maywood/Hayes Center: Colton Hodges, Ethan Broker; McCool Junction: Dana Hobbs, Hunter Cole, Isaac Melton; Minatare: Haydon Olds, Ephroen Lovato, Isaac Gomez; Santee: Michael Hoffman; Sioux County: Tommy Watson; South Platte: Truman Wilson; Spalding Academy: Jacob Diessner, Pol Navarro, Matthew Esch; St. Edward: Trevor Rasmussen; Sterling: Kaleb Masur, Logan Jasa; Walthill: Romello Porter; Wilcox-Hildreth: Sidney Gruwell.
DL | Garrett Nelson, Scottsbluff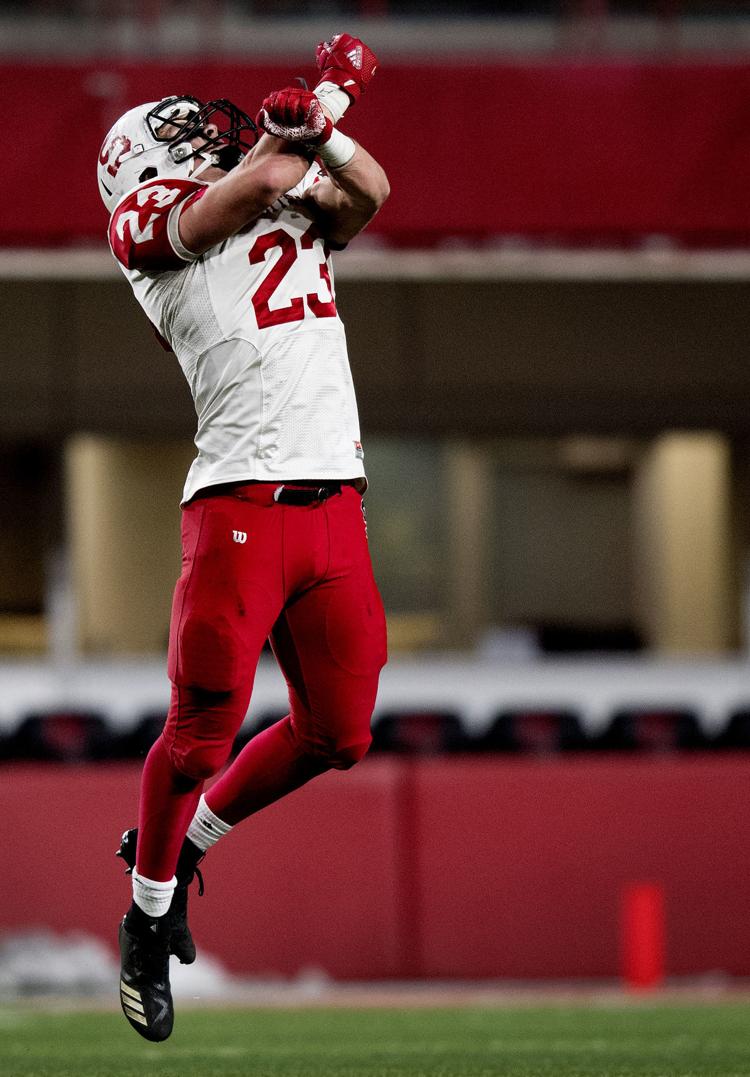 Scottsbluff | 6-3 | 245 | Sr. | College: Nebraska
Stats and stuff: Nelson possesses the size, strength and mobility to be either a linebacker or defensive lineman for the Huskers. His relentless pursuit produced 76 tackles for the 12-1 Bearcats, the Class B runner-up, with seven quarterback sacks and two fumble recoveries. The two-time first-team Super-Stater had eight tackles in the state final, two for losses and a forced fumble. Committed to Nebraska in June 2017.
DL | Ethan Piper, Norfolk Catholic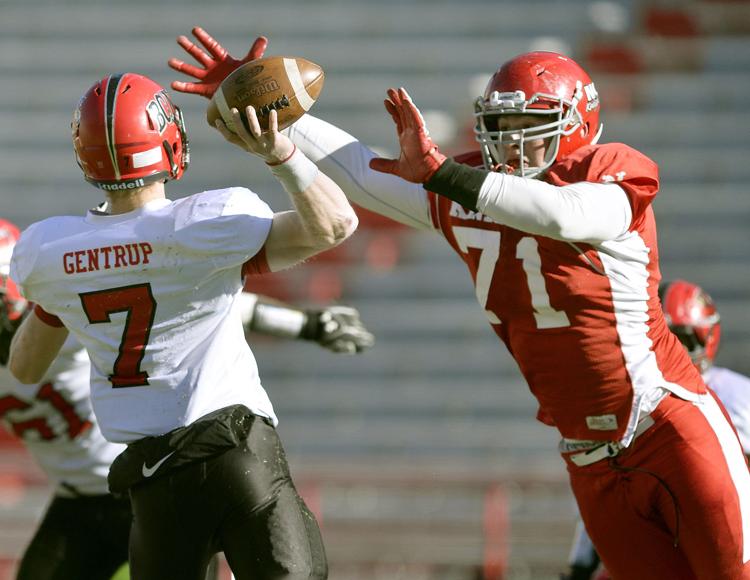 Norfolk Catholic | 6-4 | 290 | Sr. | College: Nebraska
Stats and stuff: By far the most intriguing in-state Husker recruit from the class of 2019 because of his size and strength (350-pound bench press), 4.81-second time in the 40-yard dash and 31-inch vertical jump. The repeat first-team Super-Stater used those physical tools to register 122 tackles and 14 quarterback sacks in helping the Knights reach the Class C-2 state championship game. Piper is also a standout basketball player and a state champion shot putter who took second in the Class C discus at last year's state track meet.
DL | Chris Hickman, Omaha Burke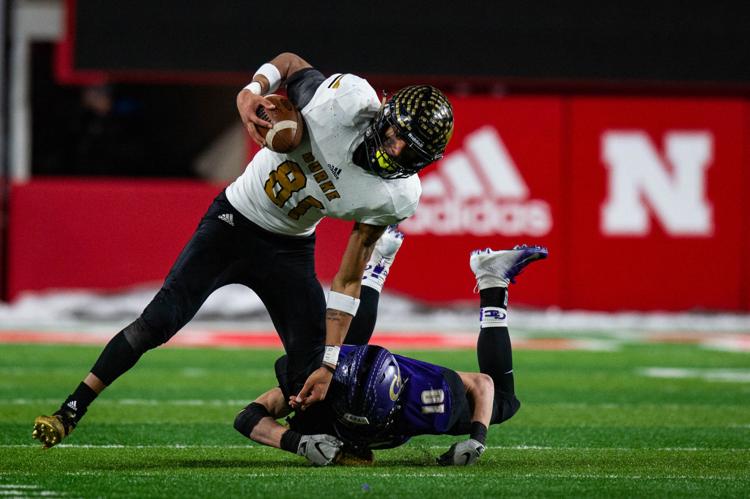 Omaha Burke | 6-6 | 200 | Sr. | College: Nebraska
Stats and stuff: Hickman is an elite tight end, but could also end up on defense at NU as he adds muscle and weight in the next few years. The defensive end had 39 tackles, 11 of which were behind the line of scrimmage. He also had two interceptions, forced two fumbles and blocked a field goal. As a tight end, Hickman had 19 receptions for 421 yards and four touchdowns. He was also a key blocker in helping James Burks rush for more than 2,000 yards this season.
DL | Caden Johnson, Bishop Neumann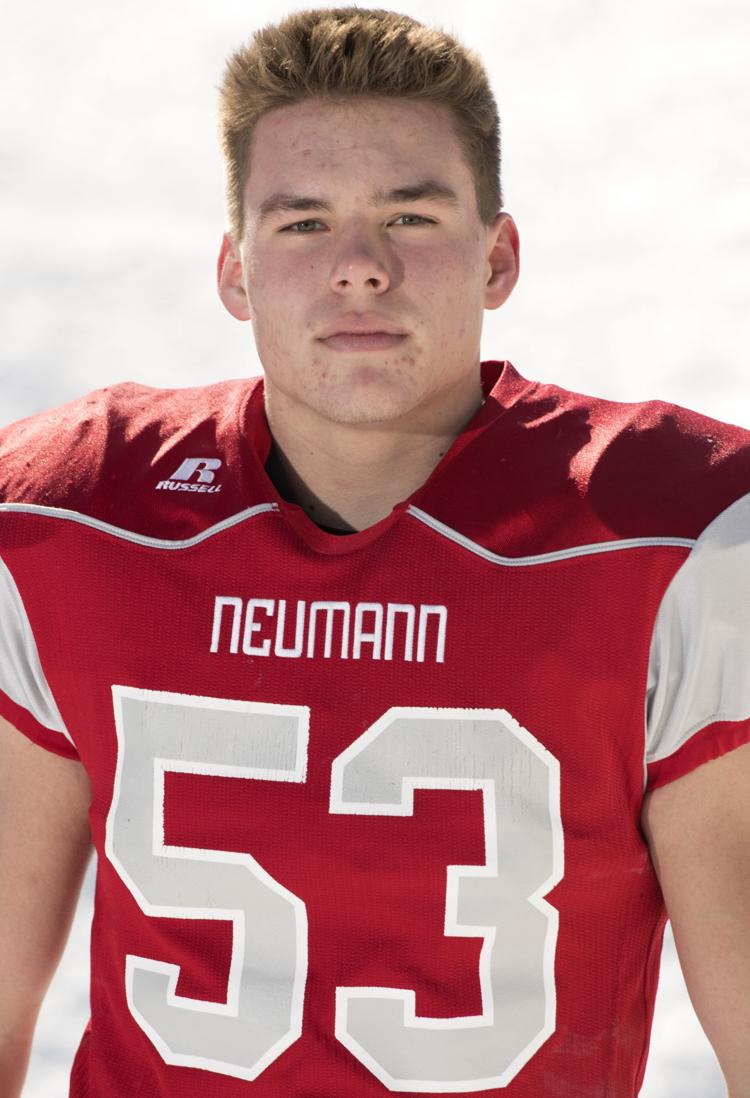 Bishop Neumann | 6-3 | 245 | Sr. | College: South Dakota State
Stats and stuff: The two-time all-stater's line play both offensively and defensively led the Cavaliers to the semifinals of the Class C-1 playoffs. Retiring Neumann coach Tim Turman says Johnson is the best defensive lineman he's ever coached after registering 93 tackles this past season. Turman calls him a relentless run blocker who doesn't stop until the defender he's working against is on the ground.
LB | Nick Henrich, Omaha Burke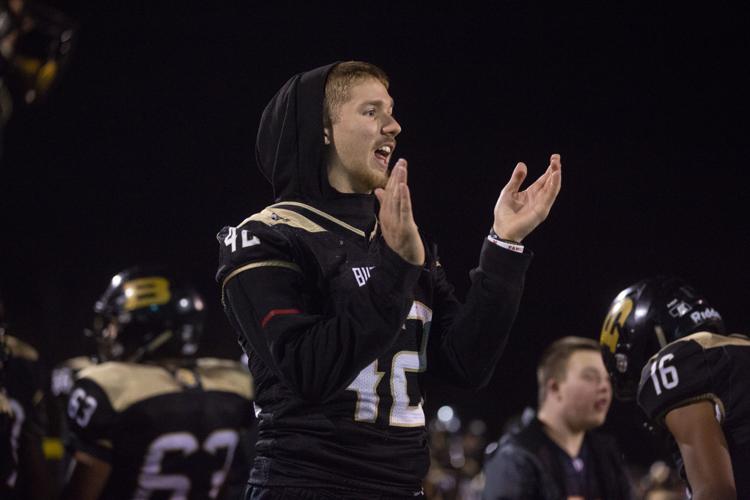 Omaha Burke | 6-4 | 215 | Sr. | College: Nebraska
Stats and stuff: The most highly recruited player out of Nebraska in the class of 2019 chose the Huskers over the likes of Iowa, Notre Dame, Penn State, Florida, Wisconsin, Oregon and LSU in July, then proceeded to show why he's one of the top linebacker prospects in the nation with dominant performances before his knee injury in Week 8. He finished with 96 tackles, including 20 behind the line of scrimmage and four quarterback sacks. He also blocked a punt against Millard North, the play in which he injured his knee.
LB | Garrett Snodgrass, York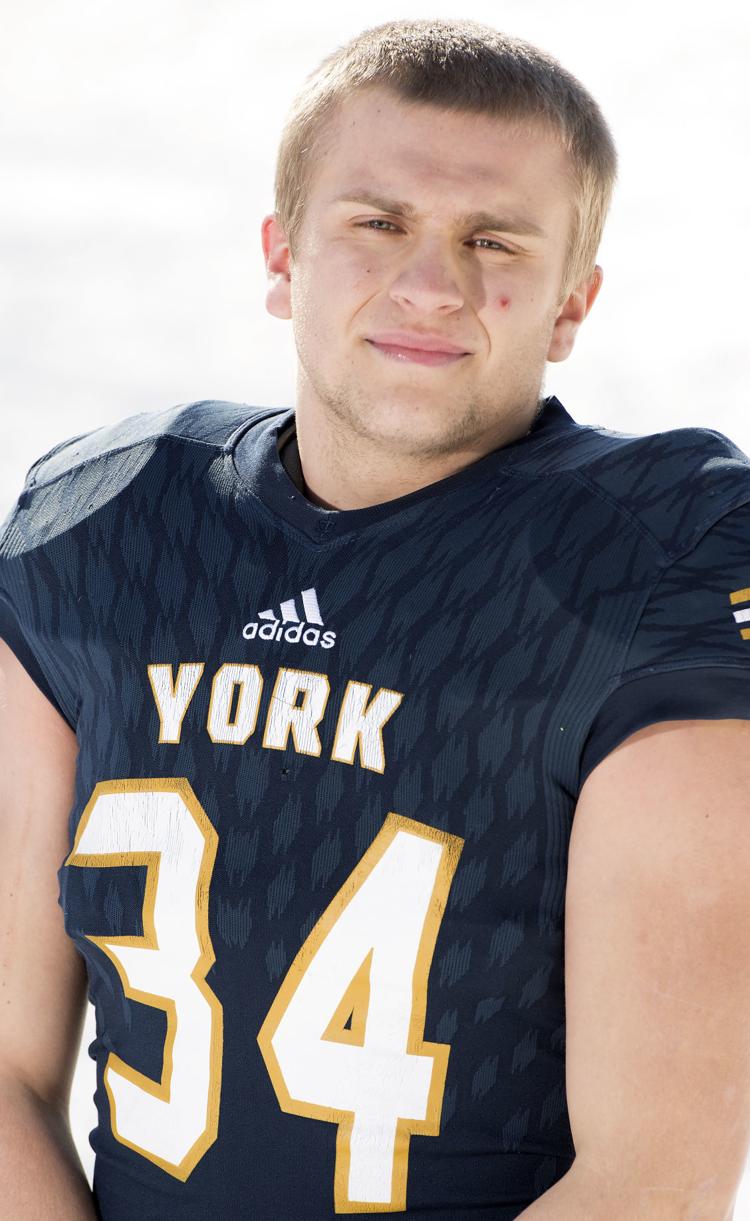 York | 6-3 | 225 | Sr. | College: Nebraska
Stats and stuff: Ankle injuries on both legs significantly slowed down the two-time first-team Super-Stater the last half of the season, especially on defense. But the multi-faceted Snodgrass still managed to pass for 1,780 yards and 17 touchdowns, and rush for 1,008 more and 23 TDs in leading York to the Class B state semifinals. His 404 total yards against Seward this season was a school record, as are his season total offense (2,788) and career total offense (6,180) numbers. Snodgrass had 41 tackles this season, four for losses, which ran his school record career total in that category to 30.
LB | Caden McCormack, Lincoln Southwest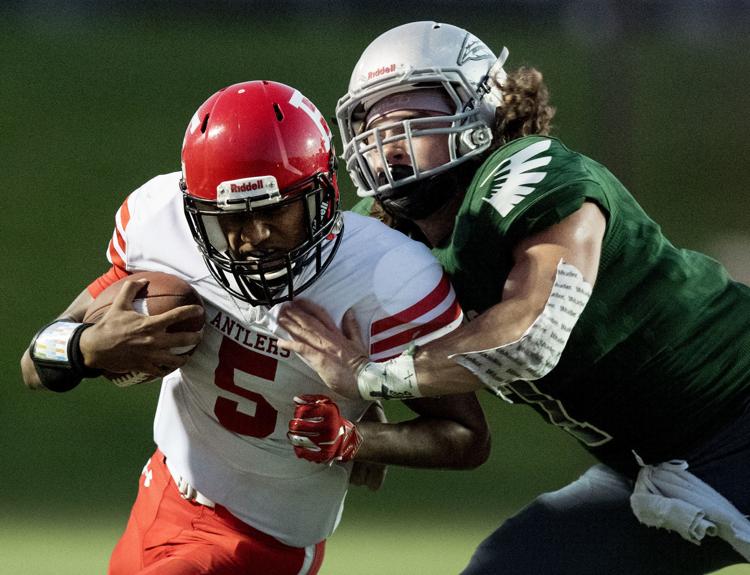 Lincoln Southwest | 6-3 | 225 | Sr. | College: Nebraska walk-on
Stats and stuff: McCormack's stock rose in the offseason when he was named the most valuable linebacker at a Rivals camp in Chicago last spring. He followed that up with a strong senior season in which he led the Silver Hawks with 149 tackles, 15 for losses, four quarterback sacks and an interception for a touchdown. McCormack, a sprinter in track, also contributed as a running back with 455 yards rushing and four touchdowns. His combination of size and speed makes him someone worth keeping an eye on when he gets to NU.
LB | Luke Reimer, Lincoln North Star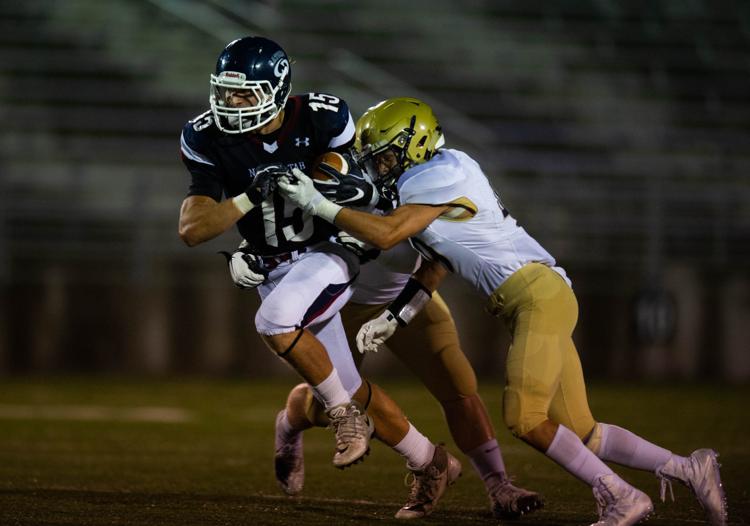 Lincoln North Star | 6-2 | 200 | Sr. | College: Nebraska walk-on
Stats and stuff: Reimer quickly climbed the ranks of college football prospects after moving to Lincoln from Ashland, Kansas, just before his junior season. Reimer moved to middle linebacker at midseason, and the change transformed his game. He finished with 74 tackles in eight games, including 22 against Elkhorn South. Reimer, who missed one game with a sprained ankle and was slowed in several others, also rushed for 328 yards and four TDs. Reimer is a sprinter in track, and his speed to the football and ability to deliver a blow makes him a potential star at the next level. Originally committed to a South Dakota State scholarship before switching to NU as a walk-on earlier this month.
DB | TaeVyn Grixby, Lincoln Southwest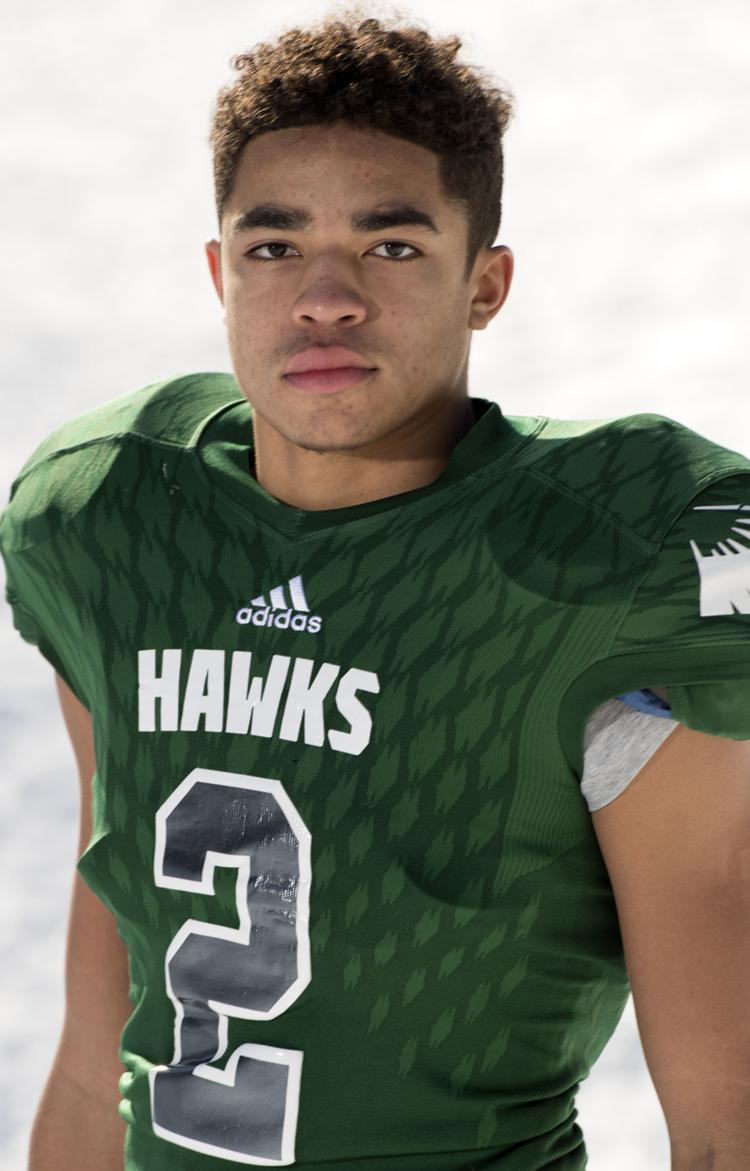 Lincoln Southwest | 6-3 | 185 | Sr. |College: Minnesota State Mankato
Stats and stuff: Grixby had seven interceptions, two of which he returned for critical fourth-quarter touchdowns that helped the Silver Hawks beat both Lincoln East and Grand Island (a 94-yarder). Grixby also made 65 tackles with a quarterback sack, a fumble recovery and nine pass breakups. As a wide receiver on offense, Grixby caught eight passes for 141 yards and two TDs. Grixby joins his father and uncle, former Huskers DeAntae and Cortney Grixby, as first-team Super-Staters.
DB | Avante Dickerson, Omaha Westside
Omaha Westside | 6-1 | 170 | So. | College: Undecided
Stats and stuff: Dickerson is the fastest athlete in Class A and is considered the top college football prospect in Nebraska from the class of 2021. Dickerson helped lead Westside to a 9-2 record and a Class A quarterfinal playoff appearance by allowing just four receptions against him all season and registering 38 tackles from his cornerback spot with two interceptions and three tackles for losses. On offense, he rushed for 794 yards and scored 12 touchdowns. Currently has an offer from Iowa State.
DB | Baily Darnell, Auburn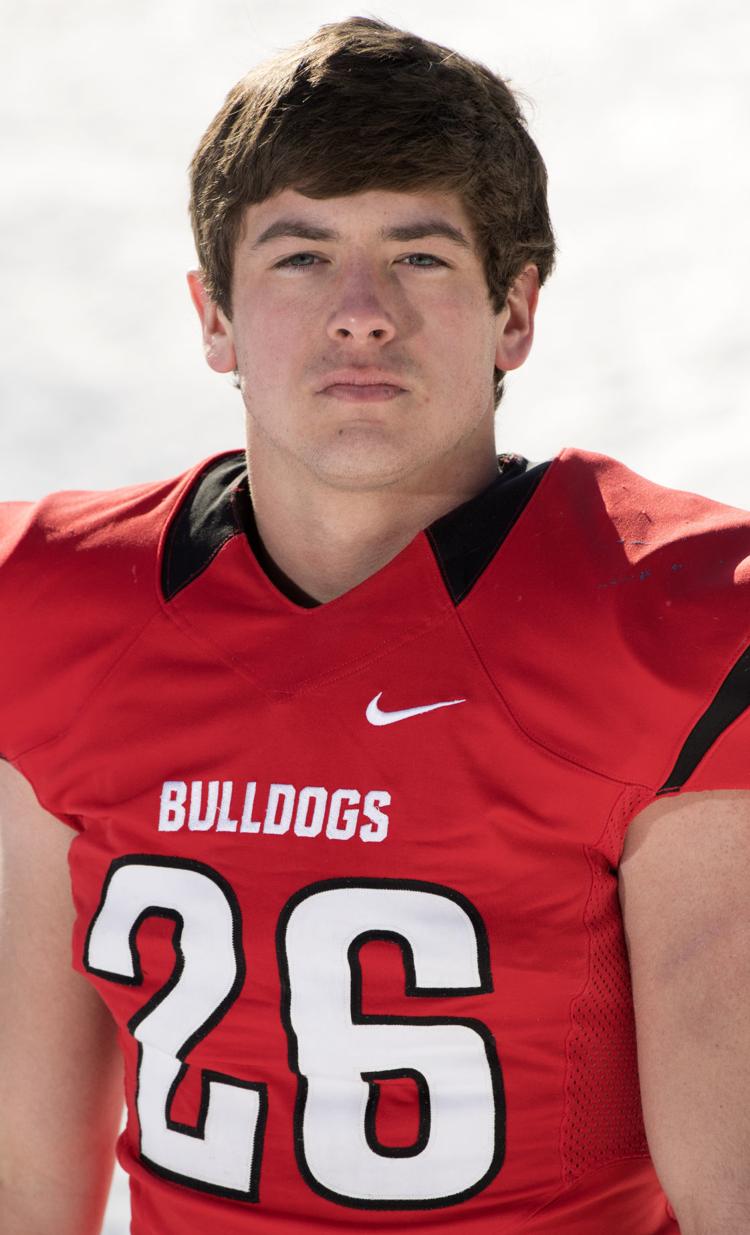 Auburn | 6-1 | 185 | Sr. | College: South Dakota State
Stats and stuff: Darnell's speed put him on the recruiting radar of Division I college programs, and it also set him apart on the football field this past fall as he led Auburn to an 8-2 record and the Class C-1 state playoffs. Projected to be a safety in college, Darnell had 63 tackles, four for losses with an interception and a fumble recovery. On offense, Darnell rushed for 1,253 yards and 18 TDs, and caught 21 passes for 460 yards and four more scores. His high school performances helped earn a scholarship offer from Wyoming this fall, but Darnell stuck with the commitment he made with South Dakota State back in the summer.
DB | Tyson Gordon, Omaha Skutt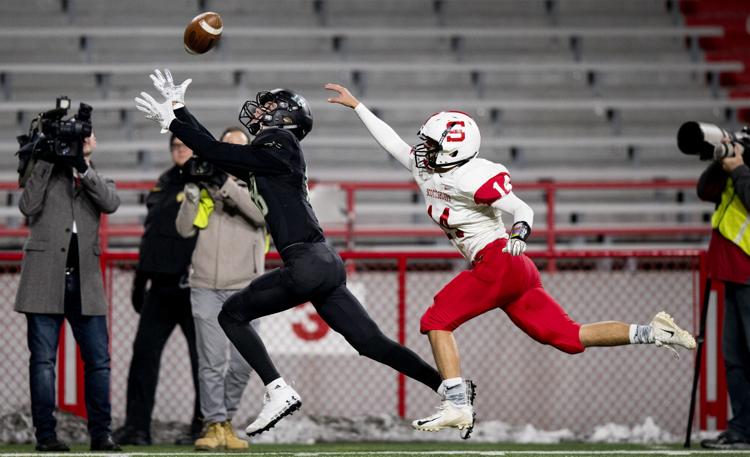 Omaha Skutt | 6-2 | 165 | Jr. | College: Undecided
Stats and stuff: As one of the top multi-sport athletes in the state, it's not surprising Gordon did a little bit of everything for the Class B state champion SkyHawks. Gordon led Class B with eight interceptions to go with 45 tackles. He averaged 20.1 yards on 19 punt returns, had 270 yards rushing on 27 attempts, caught 18 passes for 351 yards and was 19-of-26 passing for 241 yards as a backup quarterback. Gordon, one of the top basketball players in Class B as well, scored four TDs this season.
Ath. | James Burks, Omaha Burke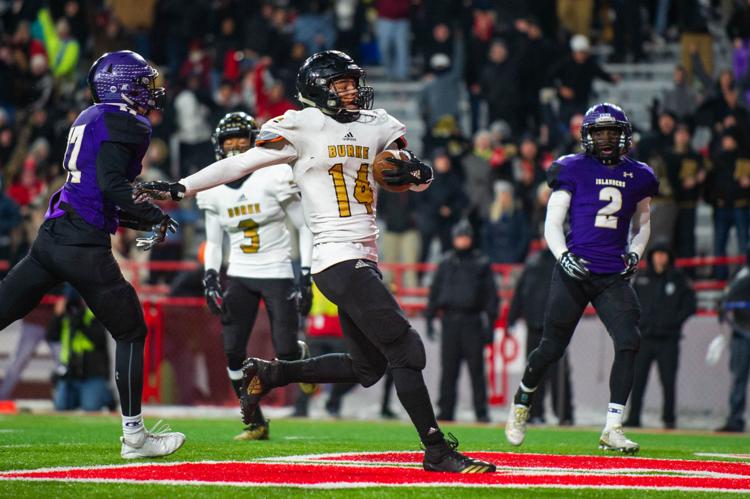 Omaha Burke | 5-10 | 175 | Sr. | College: Undecided
Stats and stuff: Everything the three-time state high school wrestling champion did this season on the football field was at a Super-State level. His rushing numbers of 2,053 yards and 28 touchdowns were unmatched in Class A this season, but he was also a Super-State defensive back with 55 tackles (six behind the line of scrimmage), six pass breakups and a fumble recovery. Burks was at his best in the state finals against Grand Island with 219 yards on the ground and the game-winning touchdown in the fourth quarter.
Ath. | Isaiah Alford, Lincoln High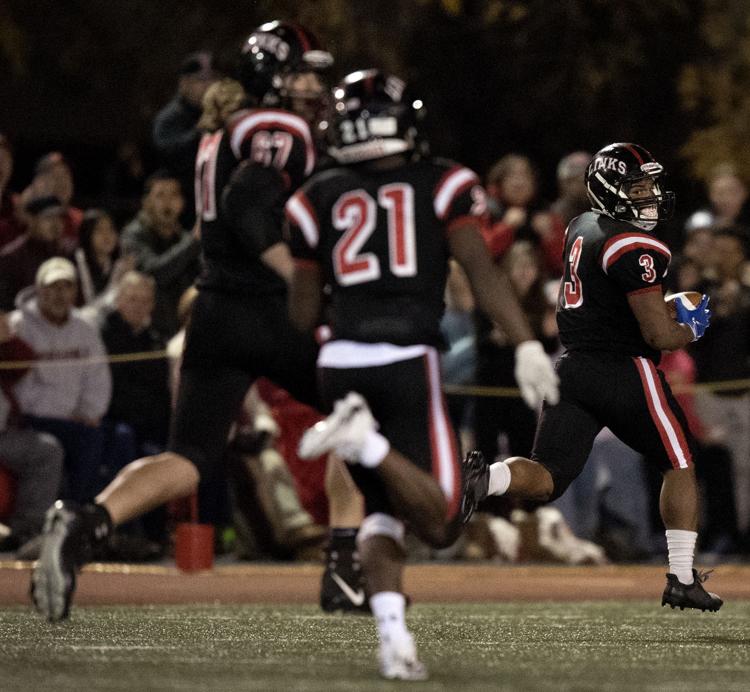 Lincoln High | 5-8 | 190 | Sr. | College: Nebraska, wrestling
Stats and stuff: Another state champion wrestler who was an impact player on both sides of the ball for his high school team. Alford stopped playing football at midseason last year to focus on wrestling, but returned this season to rush for 1,442 yards and 23 touchdowns, caught 23 passes for 238 yards and three TDs, registered 31 tackles as a strong safety, intercepted a pass, forced and recovered one fumble before returning a fumble 65 yards for a touchdown in Lincoln High's first-round playoff game against Elkhorn South. His top game came against Kearney when he went for 276 yards and four touchdowns. Thanks to exceptional balance and upper leg strength, Alford proved difficult for anyone to tackle this season.
P | Grant Detlefsen, Lincoln Southeast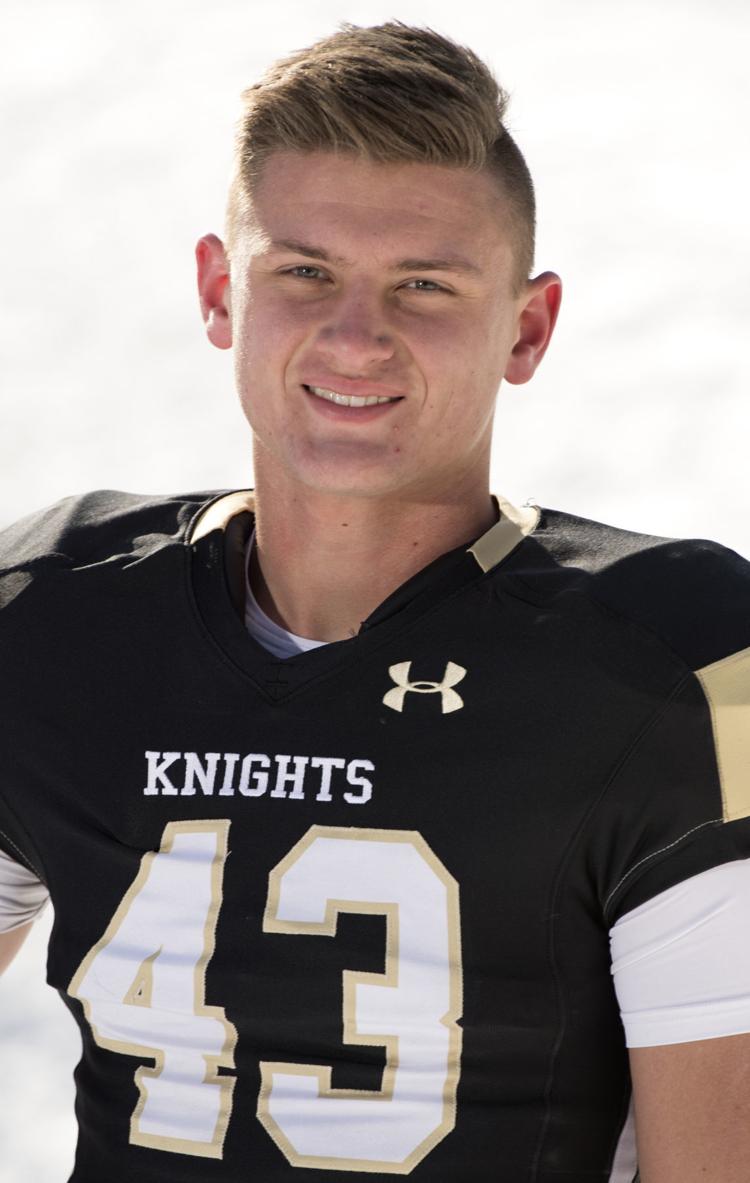 Lincoln Southeast | 6-4 | 210 | Sr. | College: Nebraska, walk-on
Stats and stuff: Detlefsen averaged just under 40 yards a punt this season and was a weapon for the Knights in a close game with his ability to flip the field. In a 14-12 win over Lincoln East, Detlefsen averaged 42.3 yards per punt on eight kicks, the longest being a 58-yarder. He averaged 50.7 yards per punt on three kicks in a 21-14 win over Lincoln Pius X before making his mark in a 14-10 conquest over Lincoln Southwest in the first round of the playoffs when he punted eight times for a 42.5-yard average. In addition to his punting duties, Detlefsen was Southeast's tight end, catching 10 passes for 129 yards this season.
QB | Cedric Case, Lincoln High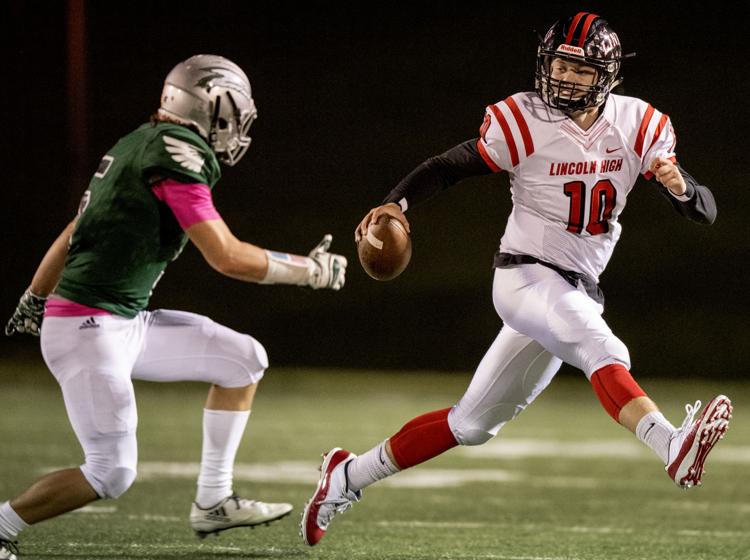 Lincoln High | 6-2 | 205 | Sr. | College: Texas State
Stats and stuff: The Links' football renaissance continued this season with Case at the controls as he led the Links to a 7-3 record and their third straight Class A state playoff appearance. Case showed the ability to make all the throws, completing a Class A single-season state record 73 percent of his passes (Case set the record at 68 percent last year) for 2,782 yards and 25 touchdowns. He finishes his high school career with a state 11-man record of 70 percent completion percentage with 8,020 yards and 81 touchdowns.
QB | Baylor Scheierman, Aurora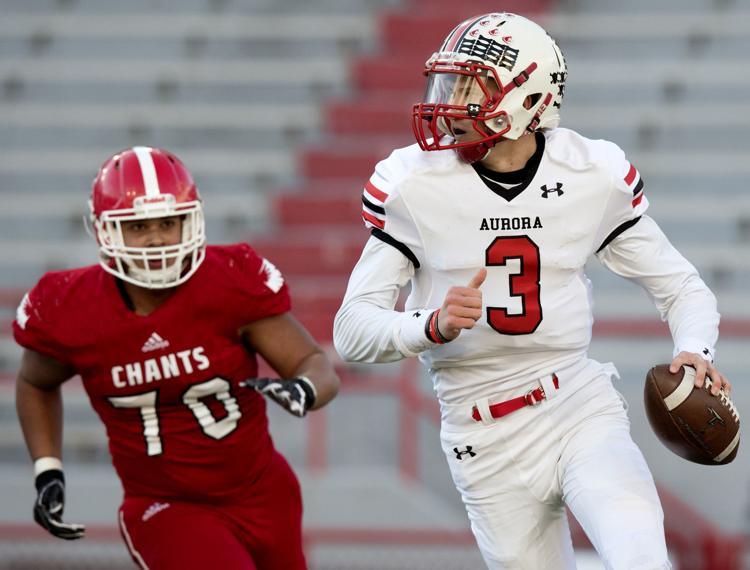 Aurora | 6-6 | 185 | Sr. | College: South Dakota State, basketball
Stats and stuff: The left-handed Scheierman may be playing Division I college basketball starting next season, but he proved he could have a future as a Division I quarterback in propelling the Huskies to a 13-0 record and the Class C-1 state championship. Scheierman broke C-1 state passing records for yards in a season (3,923, an 11-man record), most yards in a game (507), yards per-game in a season (301.7), completions in a season (255, an 11-man record) and most touchdown passes in a season (59, 11-man record). He finishes his career with 6,642 yards through the air and 88 TD passes.
RB | Zander Gray, Omaha North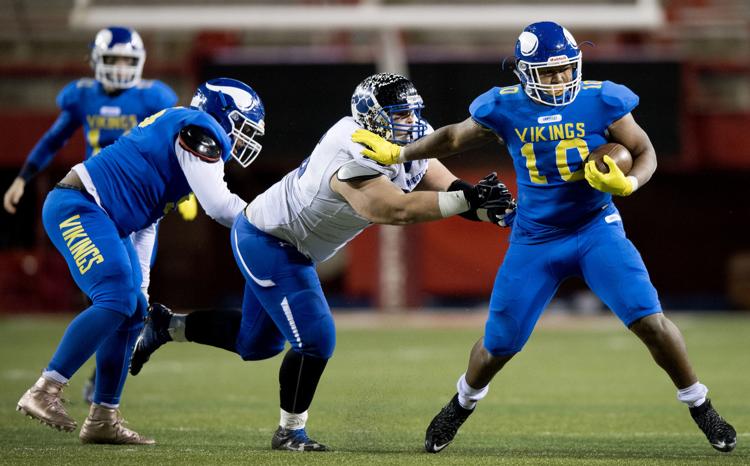 Omaha North | 6-1 | 230 | Sr. | College: Undecided
Stats and stuff: The repeat first-team Super-Stater suffered through an injury-plagued senior season, missing the Lincoln Southeast game at midseason with a concussion and going out in the first quarter of the first-round playoff game against Grand Island with a dislocated elbow. Gray still managed to rush for 1,555 yards and 20 touchdowns, and averaged 8.5 yards per carry despite defenses stacked up to stop him. Gray, the best combination of power and speed in the state, went over 200 yards in four games, including a 240-yard performance in a 52-49 win over Bellevue West in which he scored three TDs. He finishes his career with 4,731 yards and 65 TDs. Gray has offers from South Dakota and North Dakota, and is getting interest from several FBS schools.
RB | Jay Ducker, Bellevue West
Bellevue West | 5-10 | 185 | Jr. | College: Undecided
Stats and stuff: Ducker demonstrated why he's a recruiting target for a number of Power Five conference programs, using his diverse running style to gain 1,813 yards and score 30 touchdowns this season to help lead the Thunderbirds to the Class A state playoff semifinals. Ducker turned into a workhorse in Bellevue West's three playoff games in which he rushed for 609 yards and had eight TDs. Ducker also is a threat to catch the ball out of backfield with 23 receptions for 119 yards and two TDs this season. He enters his senior season with 3,635 career rushing yards and 57 TDs. Currently has an offer from Purdue with Iowa, Iowa State, Minnesota, Nebraska and Stanford all showing interest.
WR | Zavier Betts, Bellevue West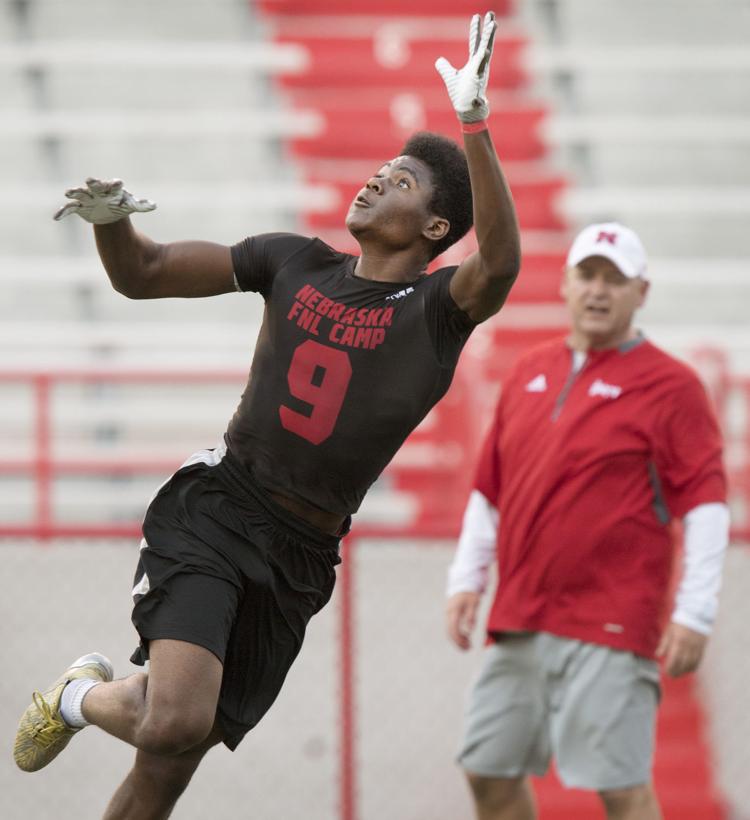 Bellevue West | 6-3 | 195 | Jr. | College: Undecided
Stats and stuff: Despite opposing defenses focused on stopping him, the two-time first-team Super-Stater still caught 48 passes for 856 yards and 12 TDs, combining with second-team Super-Stater Shane Dailey Jr. to give the Thunderbirds the best 1-2 punch in the state at wide receiver. Betts had five catches for 142 yards and a pair of fourth-quarter touchdowns as Bellevue West pulled away late for a 42-21 win over Lincoln Pius X. He had six catches for 150 yards and three TDs against Omaha North. He's had a scholarship offer from Nebraska for more than a year and is also being pursued by Iowa, Iowa State, Minnesota and Purdue, all of whom have also offered.
WR | Xavier Watts, Omaha Burke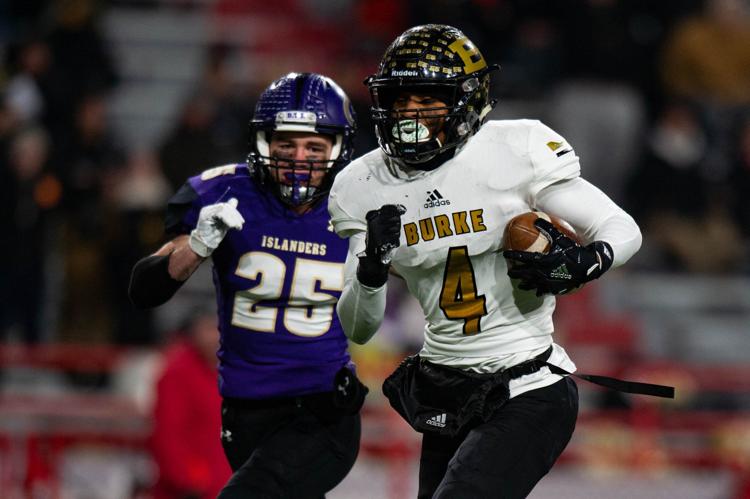 Omaha Burke | 6-1 | 190 | Jr. | College: Undecided
Stats and stuff: Watts provided the big-play ability on the outside for the Class A state champions, and it was never more evident than the state final in which he got loose for touchdown passes of 62 and 37 yards in the third quarter to erase a 14-3 halftime deficit to Grand Island. Watts, who had 11 catches for 159 yards in the state final, finished with 67 receptions for 1,093 yards and 14 TDs. Watts is also a standout defensive back with 58 tackles and five interceptions this season. Watts has scholarship offers from Nebraska, Iowa State, Minnesota, Northwestern and Purdue.
WR | Brady Danielson, York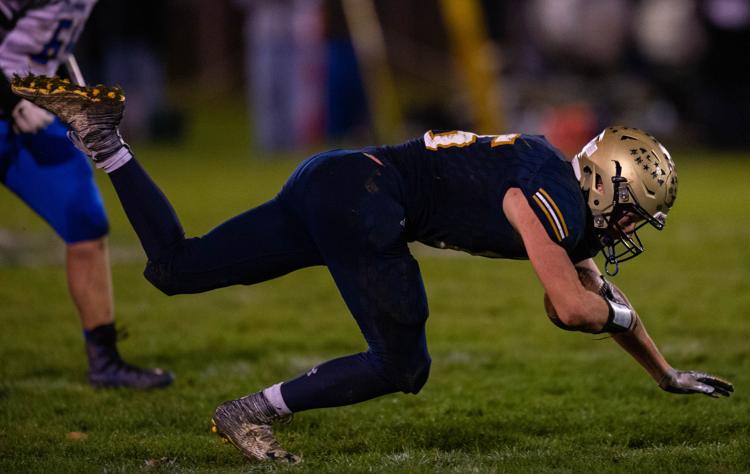 York | 6-3 | 205 | Sr. | College: Northern State, basketball (Has NU walk-on football offer)
Stats and stuff: The two-time first-team Super-Stater is one of the state's best combination wide receiver-defensive backs with an ability to high-point a football that's nearly unmatched in the state. Danielson battled a groin injury the last part of the season but still finished with a school-record 49 receptions for 929 yards (another school record) and seven TDs. His 198 receiving yards against Seward in the regular-season game and 2,000 yards for his career are also school records. Recorded 36 tackles and intercepted four passes on defense, running his career interception total to a school-record 15. Danielson is also a returning first-team all-state basketball player who led York to the Class B state title last March.
OL | Noah Stafursky, York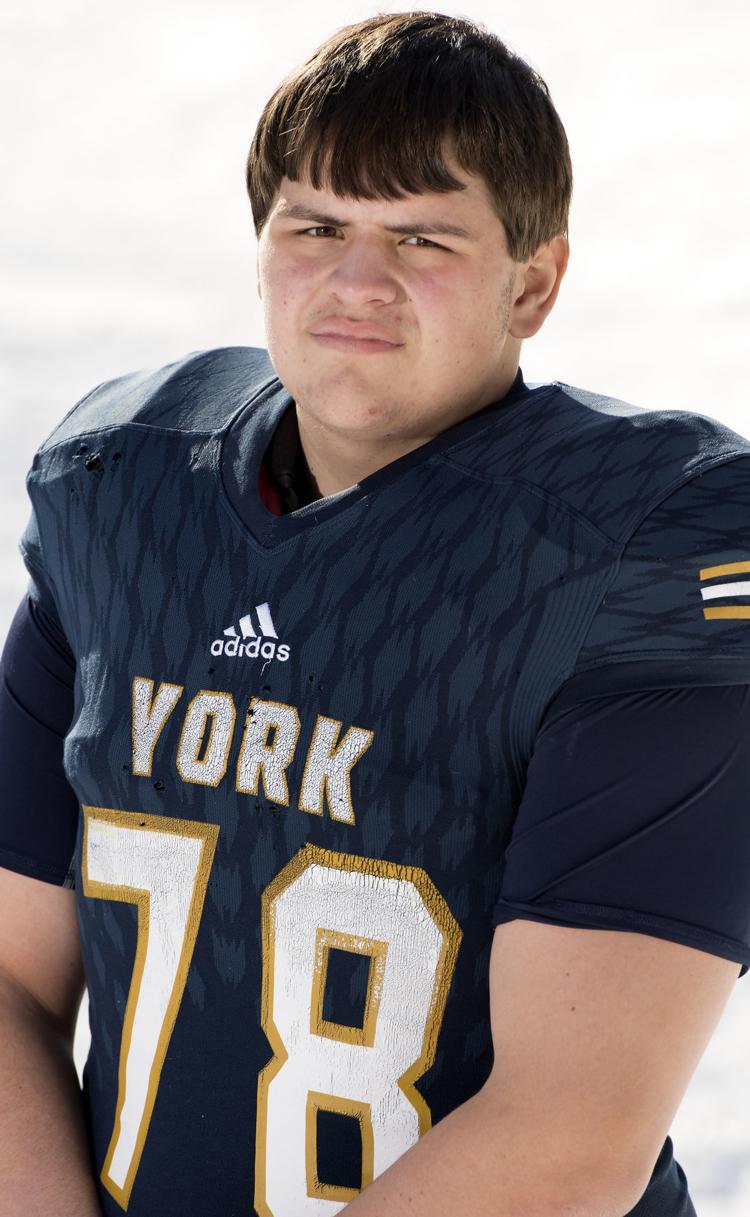 York | 6-4 | 315 | Sr. | College: Nebraska, walk-on
Stats and stuff: York coach Glen Snodgrass calls Stafursky the best offensive lineman he's ever coached. Stafursky registered 46 pancake blocks this season in which he put the defender to the ground, with 11 against Seward being the season high. He also left his mark on the other side of the ball as a defensive tackle with 34 tackles, four of which were behind the line of scrimmage. Stafursky's size, strength, mobility and tenacity on the field make him an intriguing prospect at the next level.
OL | Kohl Herbolsheimer, Millard South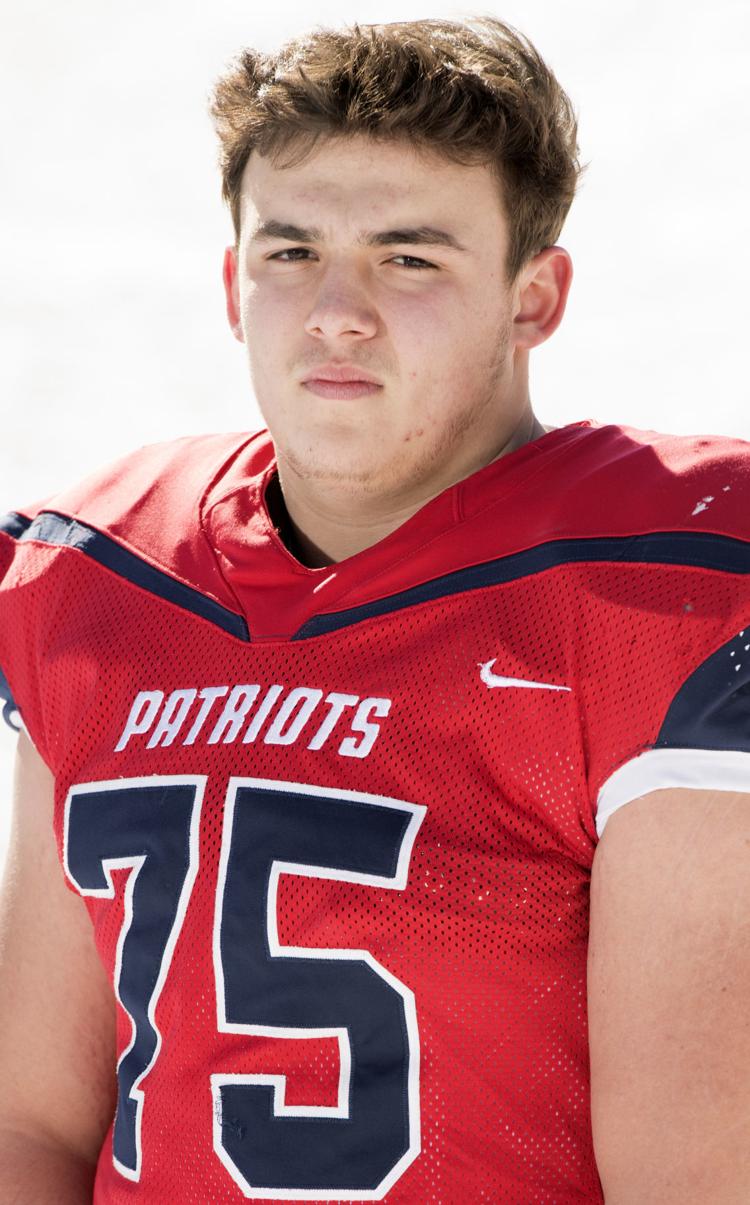 Millard South | 6-3 | 270 | Jr. | College: Uncommitted
Stats and stuff: Herbolsheimer, already a three-year starter, combined with second-team Super-Stater Jayden Merriman to help pave the way for two Patriot 1,000-yard rushers this season in second-team Super-State junior running back Isaiah Harris and sophomore quarterback T.J. Urban. Herbolsheimer, one of the top linemen in the junior class and a likely Division I recruit next season, also had 53 tackles as a defensive end with three sacks, eight stops for losses and a safety.
OL | Ryan Bena, Creighton Prep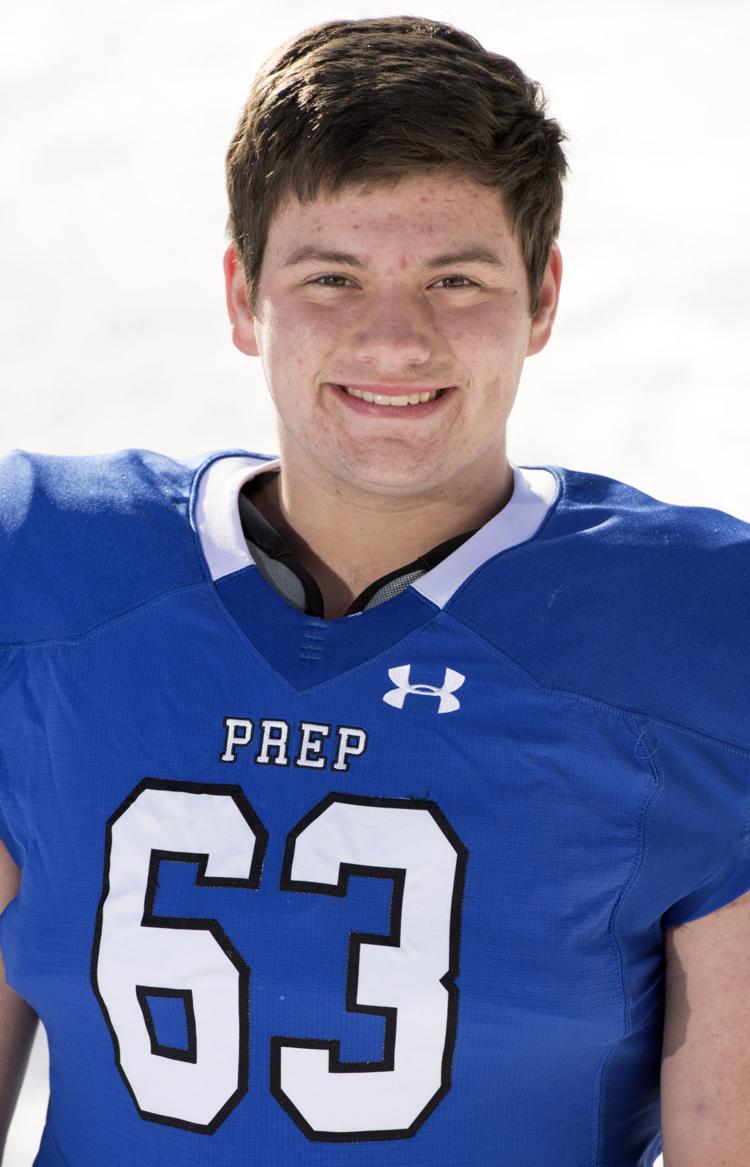 Creighton Prep | 6-4 | 275 | Sr. | College: South Dakota
Stats and stuff: Bena, a second-team Super-Stater last season, continued the Junior Jays' tradition of physical football this season. Creighton Prep coach Tim Johnk calls Bena the best offensive lineman he's coached in his 26-year career. "Ryan is athletic, smart and is nasty," Johnk says of Bena.
OL | Blake Anderson, Omaha Skutt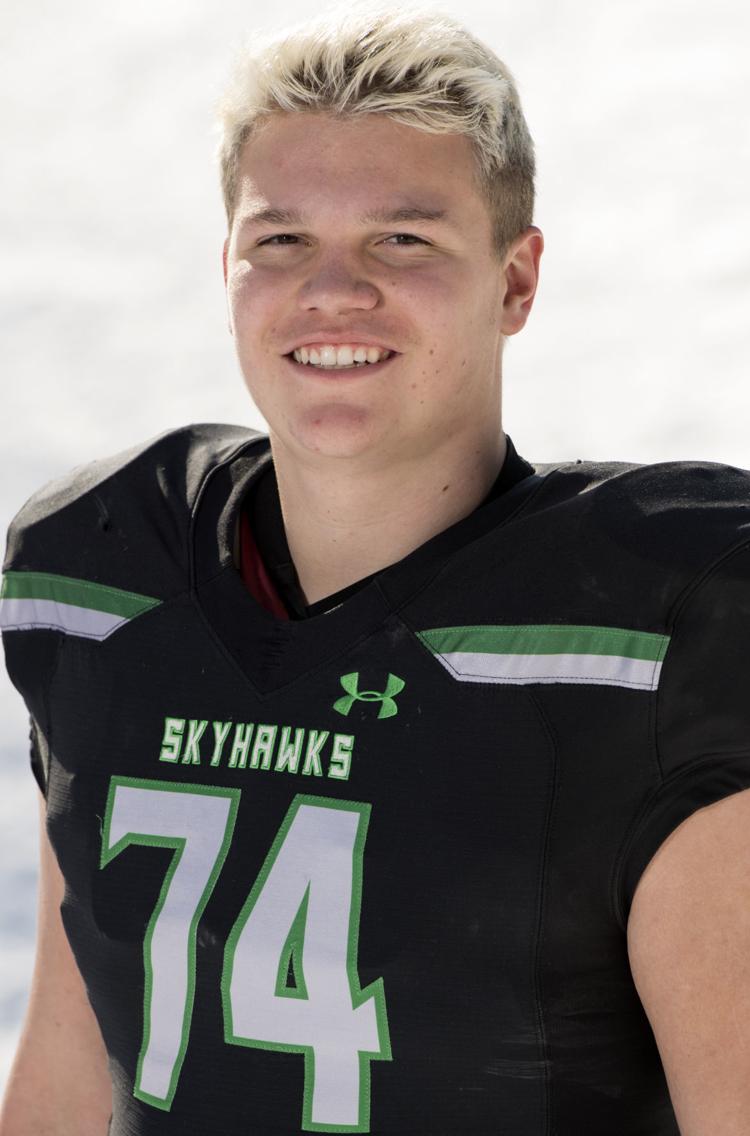 Omaha Skutt | 6-5 | 275 | Jr. | College: Undecided
Stats and stuff: Anderson provided the push upfront that helped make fellow first-team Super-Stater Jarod Epperson a 2,000-yard rusher and lift the SkyHawks to the Class B state championship. He was also key in Skutt's dominating defense, with 62 tackles from his defensive tackle spot. His height, size and athletic ability should make Anderson a Division I college recruit in the next year, according to Skutt coach Matt Turman.
OL | Mehki Butler, Omaha North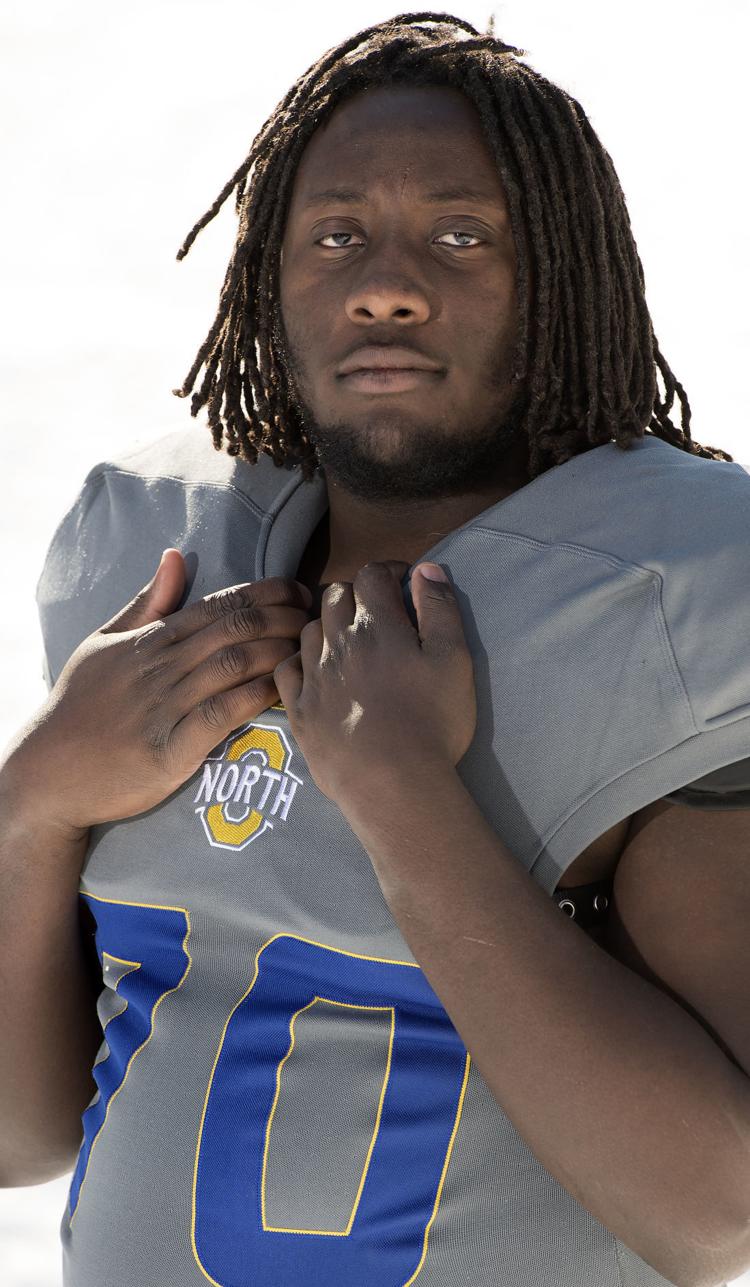 Omaha North | 6-3 | 325 | Sr. | College: Undecided
Stats and stuff: The last two years when the Vikings needed yards, they'd run 230-pound Zander Gray behind the massive Butler, a repeat, first-team Super-Stater. Butler is extremely mobile for his size, and he used that to make an impact defensively as well as; he had 23 tackles, four behind the line. Has offers from Northwest Missouri State and Iowa Western Junior College, but could pick up Division I interest late.
Ath. | Jarod Epperson, Omaha Skutt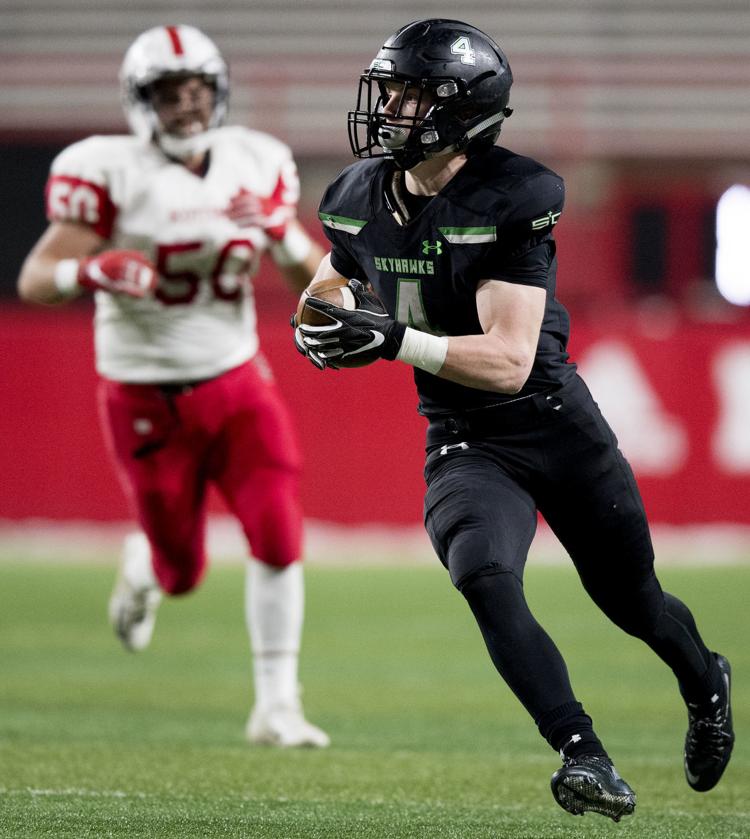 Omaha Skutt | 6-0 | 185 | Sr. | College: Undecided
Stats and stuff: Epperson finished his high school career in dream fashion, capping off Skutt's 13-0 Class B state championship season with 260 yards rushing and four touchdowns to go with two pass receptions for 77 yards and two more TDs in the SkyHawks' 48-27 win over Scottsbluff in the finals. Epperson emerged as one of the top running backs in the state as a senior with 2,319 yards rushing and 40 TDs (rushing and receiving). His combination of power and speed has colleges making a later push for his services.
Ath. | Cole Evans, Grand Island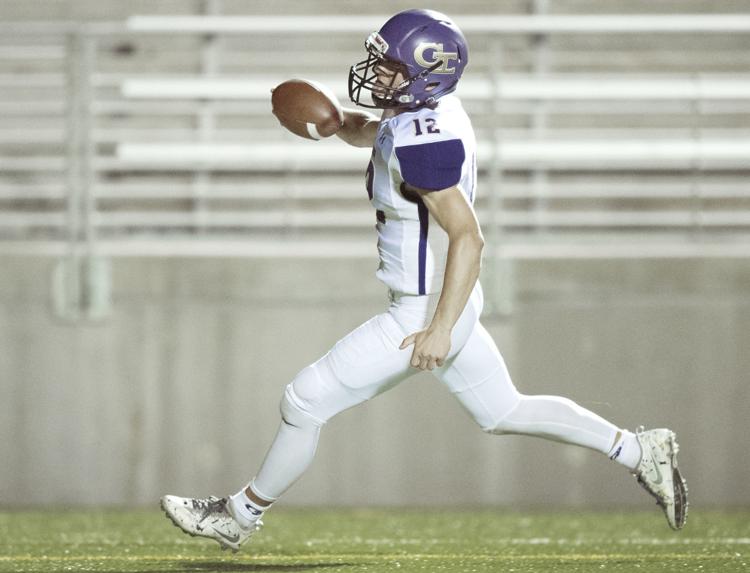 Grand Island | 6-2 | 190 | Sr. | College: Creighton baseball
Stats and stuff: A sprained ankle late in the regular season caused the quarterback to miss almost the entire double-overtime setback to Millard West and the next game, an upset loss to Lincoln Southwest. He returned for a win over Lincoln East in the regular-season finale and fueled the Islanders' playoff run with wins over Omaha North, Millard South and Bellevue West to reach the Class A state final. Evans completed 63 percent of his passes for 1,581 yards and 18 TDs, with the top performance coming against Lincoln High when he was 14-of-18 for 251 yards and three TDs.
K | Dylan Jorgensen, Lincoln Southwest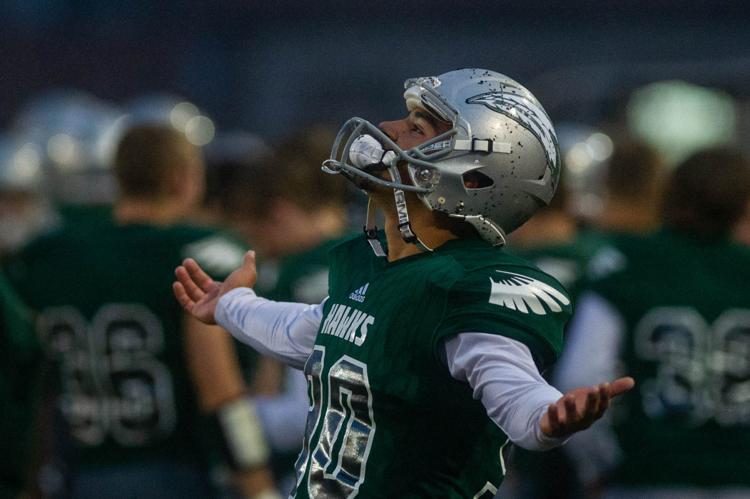 Lincoln Southwest | 5-9 | 175 | Sr. | Nebraska walk-on
Stats and staff: Jorgensen did not miss an extra point in his high school career, hitting all 29 as a senior after putting through 36-of-36 as a junior. Jorgensen was 7-of-11 in the field-goal department as a senior, with a 47-yarder and a game-winning 33-yarder in the final seconds against Kearney. He finished 14-of-21 for his career. His strong leg let the Silver Hawk defense start from a position of strength — 36 of his 48 kickoffs were touchbacks. Jorgensen was also the punter, averaging 36.5 yards per punt this season and scoring on a 78-yard run off a fake.